Today we will take a look at the most unique wireless earbuds that I have ever seen. You know, Gravastar Company is famous for its Sci-Fi speakers, earbuds and even smartphone cases.
The earbuds that I have is called Gravastar Sirius Pro. They are available in the war-damaged yellow, war damaged gray, matt black, space gray, and neon green colors. As you can see, I have a war-damaged gray version.
You know, design is not the only feature of these earbuds, because they also have Bluetooth 5.2, gaming, movie and music modes, in-ear detection sensor.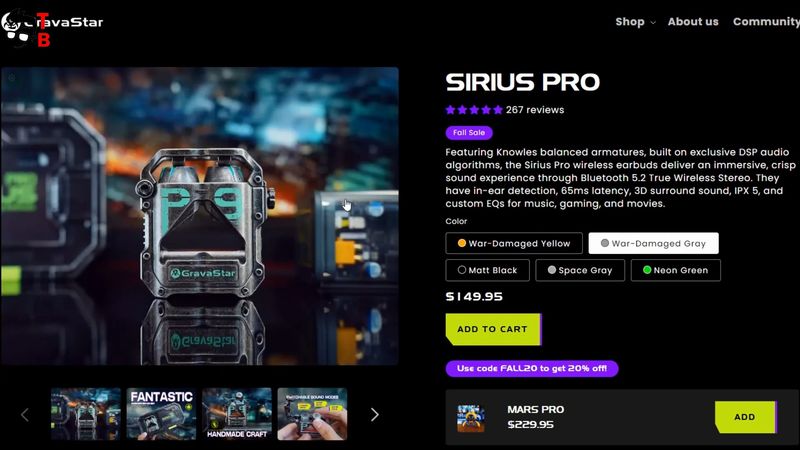 OK, let's start the review with unboxing. By the way, this is probably the most exciting unboxing of earbuds I've ever done.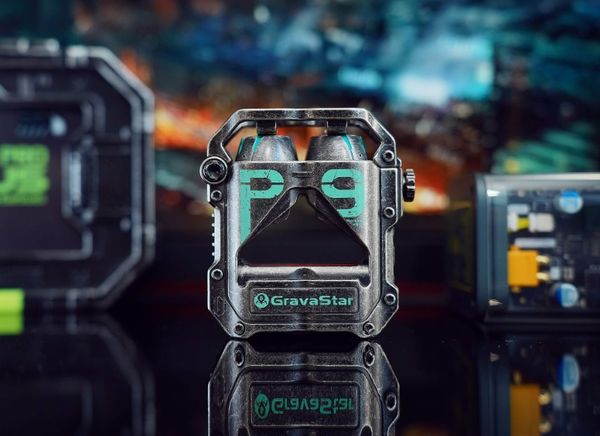 GravaStar SIRIUS PRO - 16% OFF Discount Code: TechBro
as of September 17, 2023 11:05 am
Unboxing
At first glance, it is even difficult to understand that these are wireless earbuds.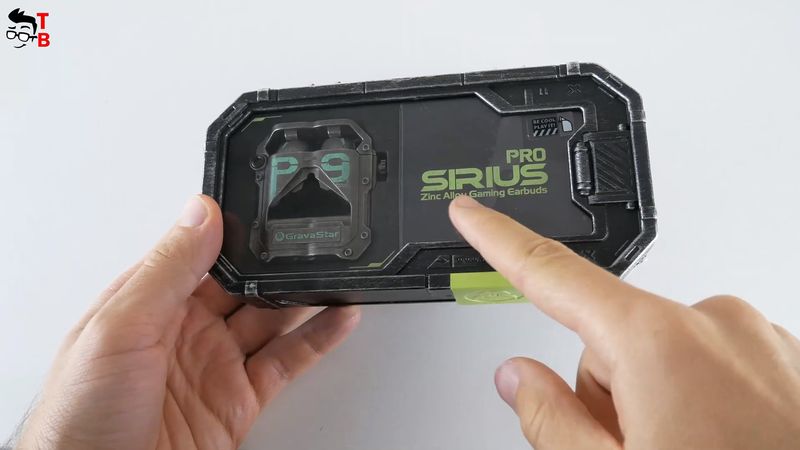 However, there is an inscription of Gaming Earbuds on the front, and specification list on the back.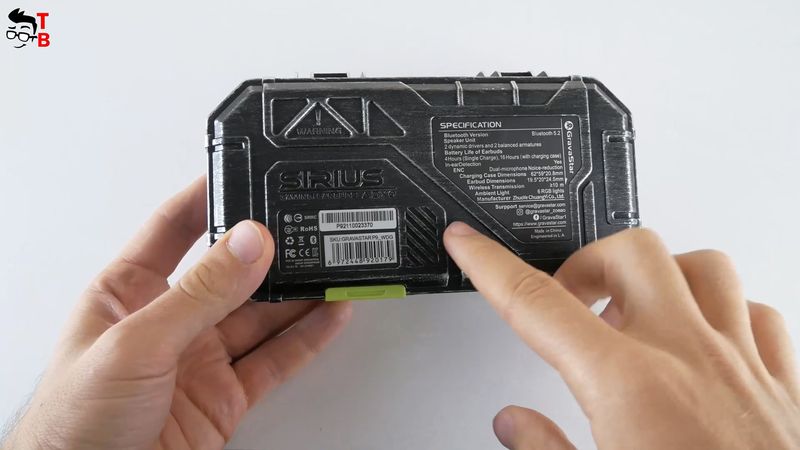 When you open the lid of the case, you will find a charging case and earbuds, as well as a box with accessories.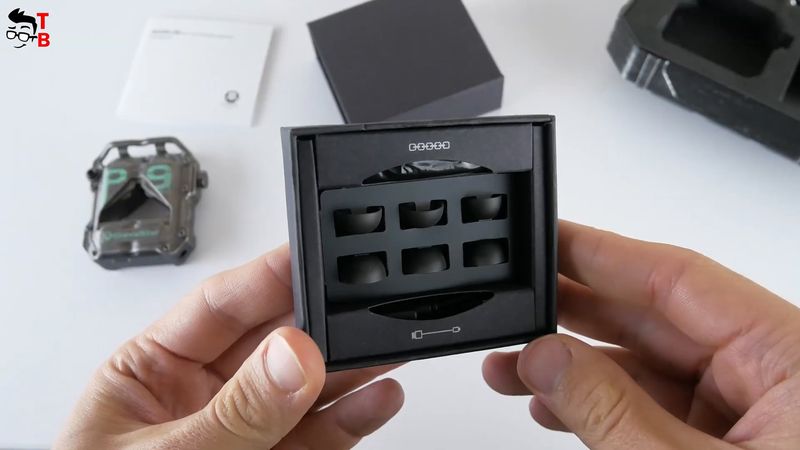 It has a user manual, silicone eartips of different size, USB Type-C charging cable and even metal chain.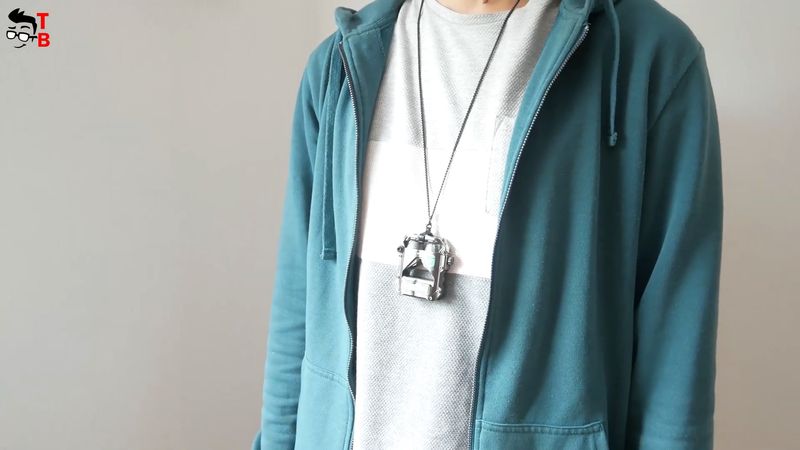 The company calls it a hip-hop necklace, so it is probably designed to wear a charging case and earbuds around your neck.
Design
So, Gravastar Sirius Pro have a very unique design. The charging case is made of zinc alloy, and only the bottom is plastic. Here we can see USB Type-C port and reset button.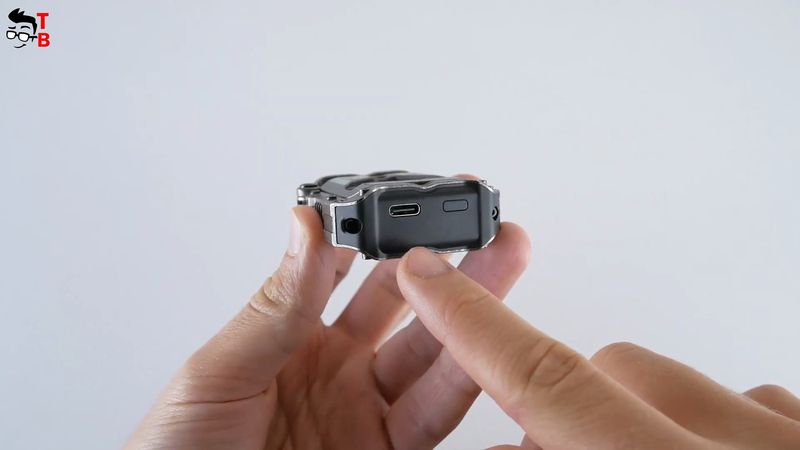 The case also has a triangular hole in the middle, and there is a large LED indicator inside.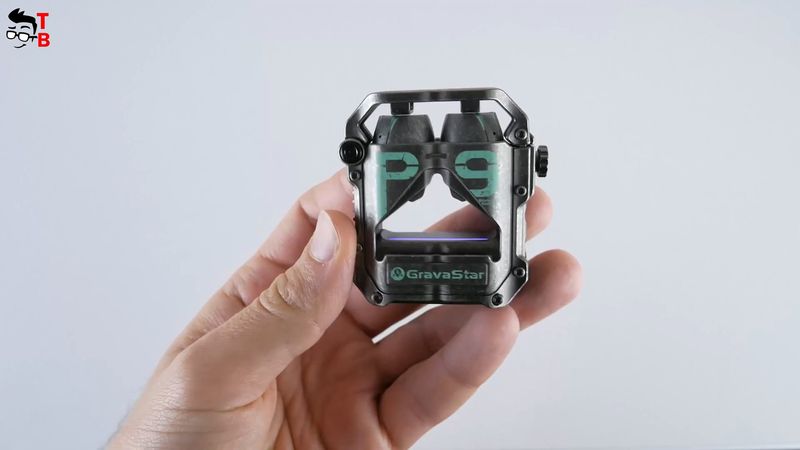 By the way, do you know what does P9 mean? Perhaps it is a reference to some game or movie. I don't know.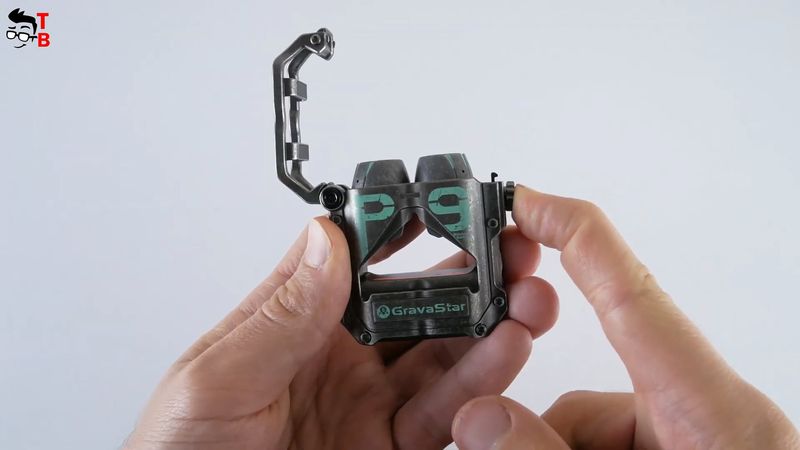 If you want to open a case, you need to press a button on the side.
Unlike the charging case, the earbuds are made of plastic. However, they are painted the same color as the charging case.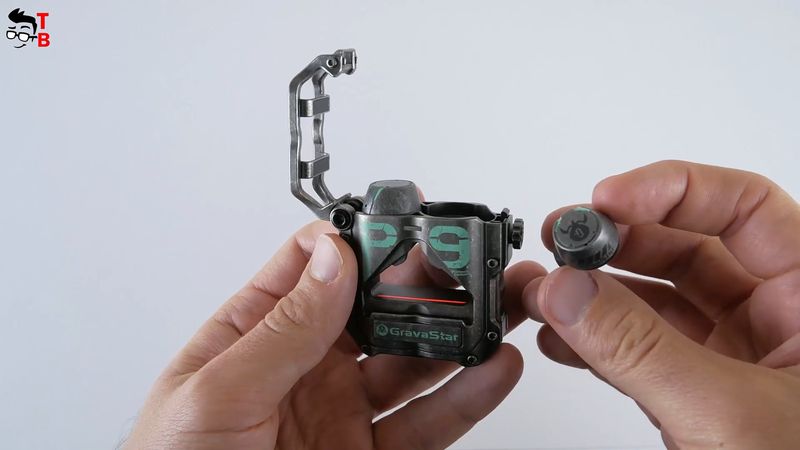 On the outside, we can see a Gravastar company logo, touch button, LED indicator, and dual mic.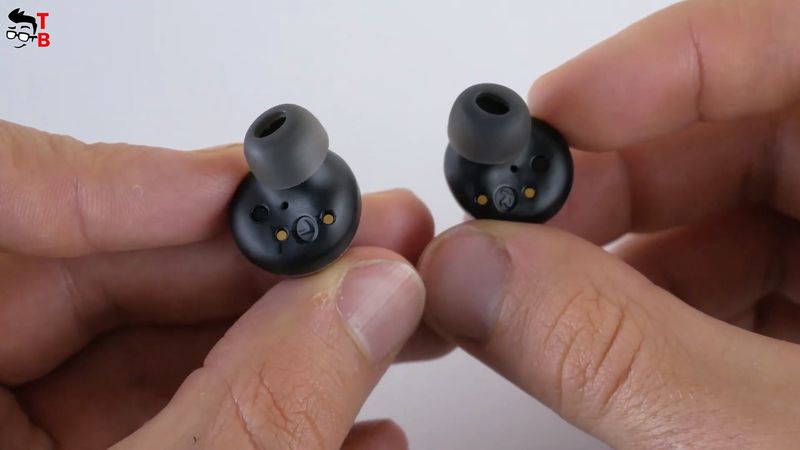 On the inside, there are two charging pins and in-ear detection sensor.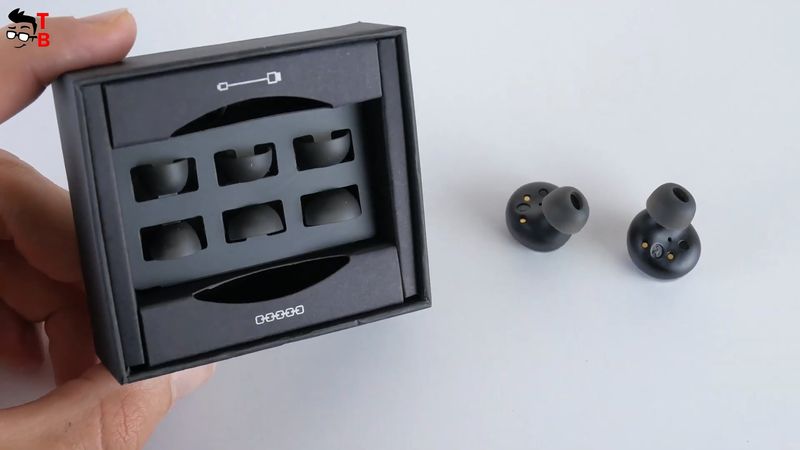 As you can see, the earbuds have silicone eartips, and you can choose their size from S, M, L or XL.
The earbuds are really comfortable, and they do not fall out of the ears. You can even do sports with them. By the way, Gravastar Sirius Pro have IPX5 waterproof rating, so they are sweat and water-resistant.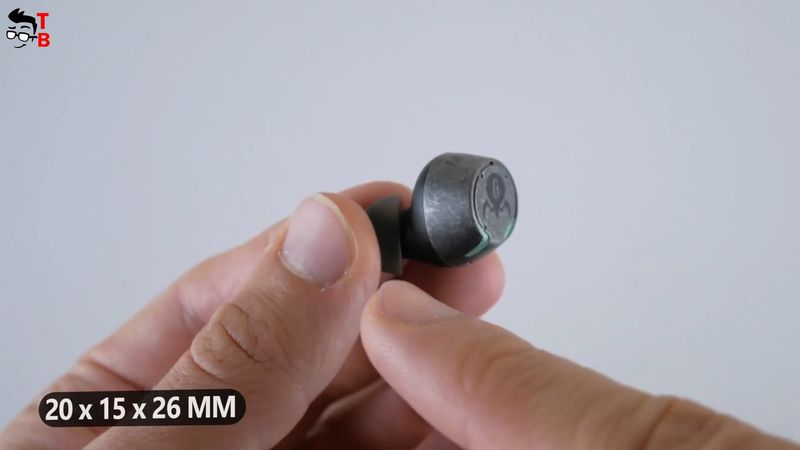 Talking about dimensions of the earbuds, the size of one is 20 by 15 by 26 mm. The weight is only 5 grams.
From other side, a metal charging case is quite heavy – 104 Grams.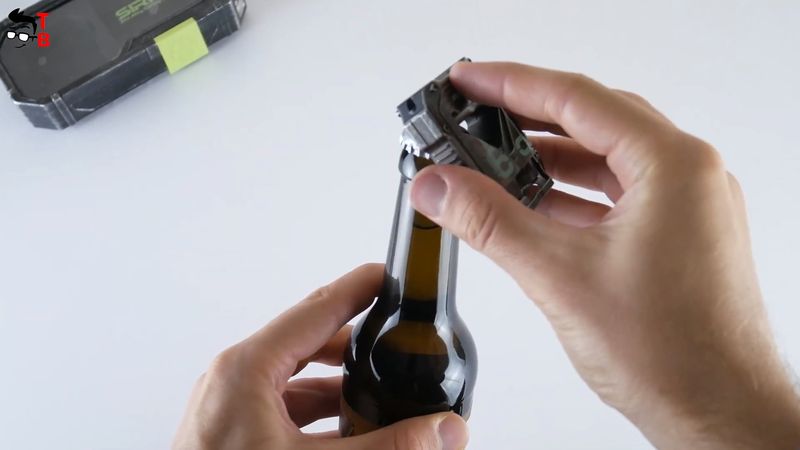 By the way, I thought for a long time why there was a hole inside the charging case, but then I saw a picture on the official website that the case can be used as a bottle opener. This is a very unusual but useful function of the charging case.
Control Functions
Now, we can turn on the earbuds, and talk about control functions.
You know, Gravastar Sirius Pro have all the control functions that I usually use.
You can single press on the left or right earbuds to play/pause the music.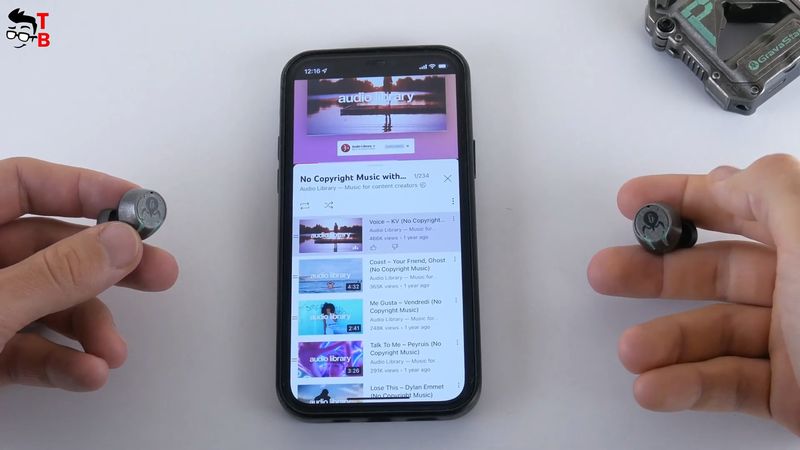 A double press on the left earbud switches to the previous song, while a double press on the right earbud switches to the next track.
If you want to activate movie mode, then you need to press the left earbud three times. A gaming mode is activated with a triple press on the right earbud.
Gravastar Sirius Pro even have a volume up and down functions. Press and hold the left earbud for 1.5 seconds to decrease volume, and right earbud to increase volume.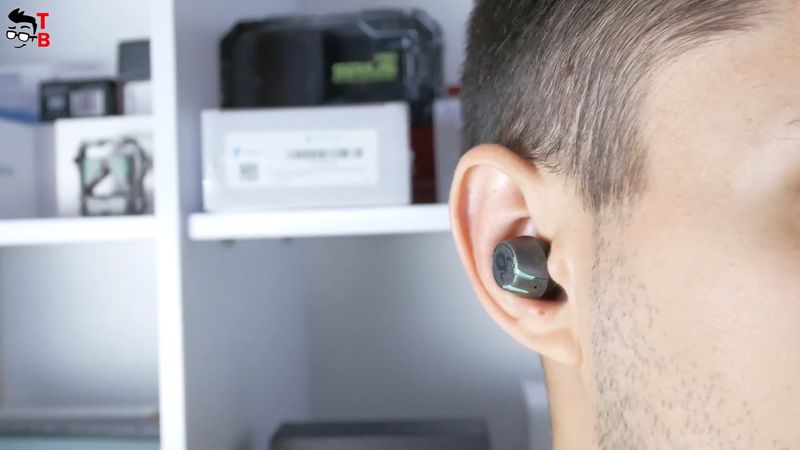 Finally, you can active a voice assistant on smartphone by pressing four times of any earbuds.
So, the control of these wireless earbuds is very good.
By the way, I forgot to tell you about in-ear detection sensor. The music automatically pauses, when you take the earbud out of your ear, and plays again, when you put it back. You know, this is a very useful feature, and I use it quite often.
Latency Test
The manufacturer says that Gravastar Sirius Pro are the gaming earbuds, so I should test a latency in games. First, I need to activate a gaming mode by triple press the right earbud, and then I can play PUBG Mobile.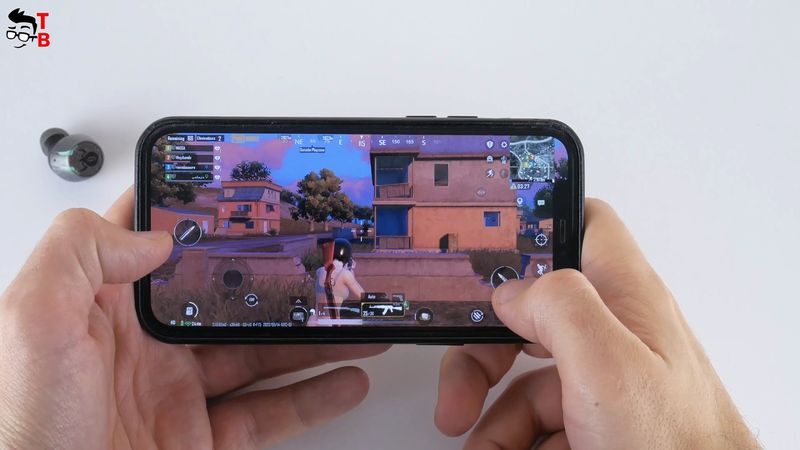 As you can see, the latency is really low. I cannot measure it, but the company says about 65ms latency.
Microphone Test
Now, I want to test a microphone quality of these earbuds.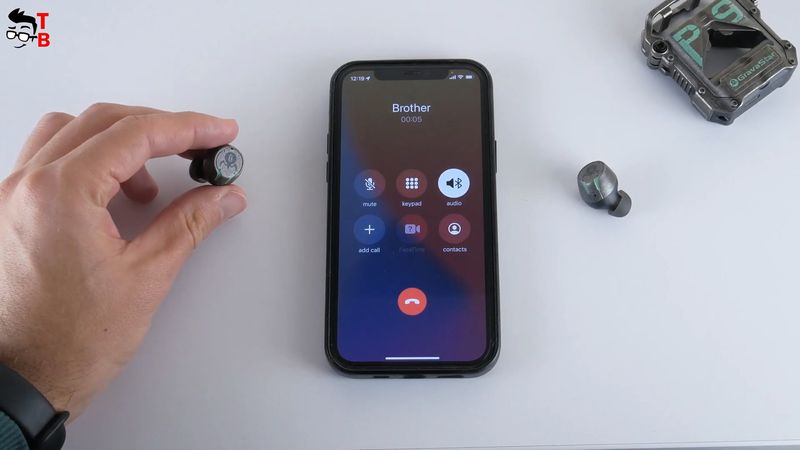 As I said before, Gravastar Sirius Pro have dual mic of each earbud. There is also environmental noise cancellation technology to cuts out the background noise. Let's check it out.
Hey, guys! I am testing a microphone of Gravastar Sirius Pro wireless earbuds. One, two, three, one, two, three. Do you hear me well?
Sound Quality
Talking about sound quality of the new Gravastar earbuds, first, I should say that they have 7.2mm dynamic driver. However, I didn't find any information about audio codecs support.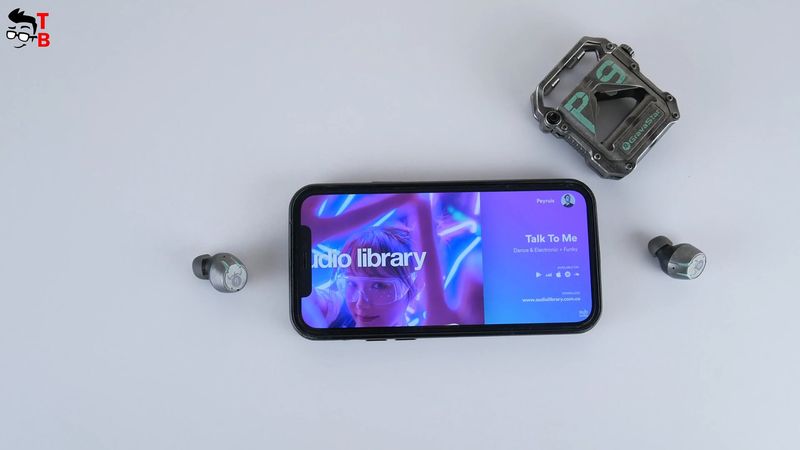 My impressions of the sound quality – it is really good. However, do not forget to change modes, because the sound does change.
For example, in a movie mode, the bass is stronger, while in a music mode, you can hear the treble better, which is good for instrumental music.
Battery Life
Let's talk a little about battery life. A charging case has a battery capacity of 400mAh. This is enough to recharge the earbuds 3 times.
The battery capacity of earbuds themselves is unknown, but a battery life on a single charge is about 4 hours.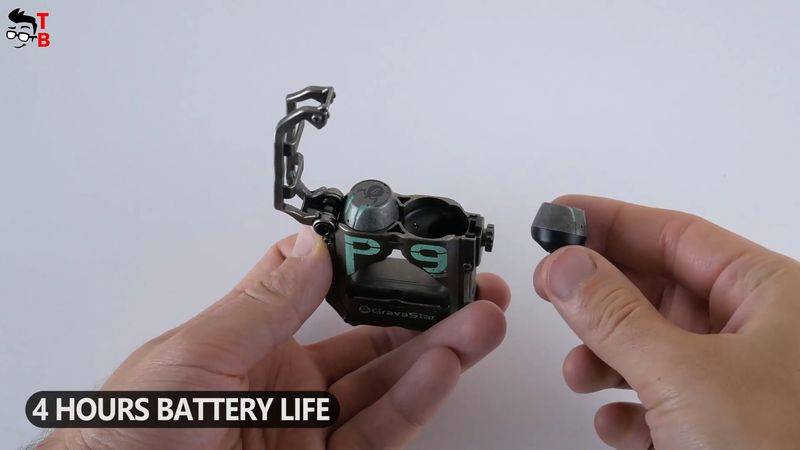 So, we can calculate that the total battery life of the earbuds with charging case is 16 hours. Actually, it is not very much, but enough for most people.
Conclusion
Gravastar Sirius Pro really impressed me, and, first of all, with their design. These are the most unusual looking earbuds that I have ever tested.
It can be a very good gift for Sci-Fi fans, because even the package looks amazing.
I also like the control functions of these earbuds. You can switch tracks, change volume, and choose from music, movie and gaming modes.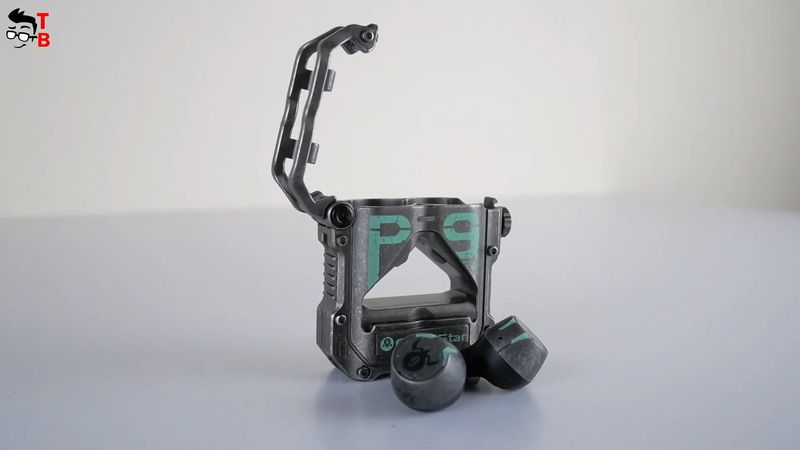 Talking about gaming mode, the latency in games is really low. The earbuds are very good for gaming.
As for the sound quality and battery life, they are good, but considering the price of the earbuds, they could be better.
For example, I have tested Xiaomi Redmi Buds 4 Pro some months ago, and they have much better sound quality, while the price is two times cheaper.
Of course, the design and the build quality significantly increase the price of Gravastar Sirius Pro. By the way, I forgot to tell you that the charging case of Sirius Pro is a handmade craft. So, these earbuds are more about impressions and feelings than just a sound quality and a battery life.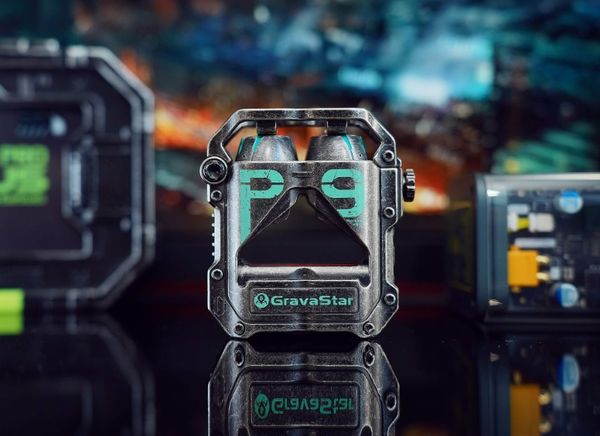 GravaStar SIRIUS PRO - 16% OFF Discount Code: TechBro
as of September 17, 2023 11:05 am