We have tested many budget projectors on our channel Tech Brothers, and you know most of them are good for home theater. However, budget projectors most often do not have smart operating systems, so you need to connect an external device, like a TV Stick, to watch streaming services.
I prefer projectors with smart systems because all you have to do is press the power button, go to the app you want, and watch a movie or show.
I have one of these projectors called GOODEE YG600-Movin. It has a built-in Netflix, Prime Video and YouTube, and you can also install any apps.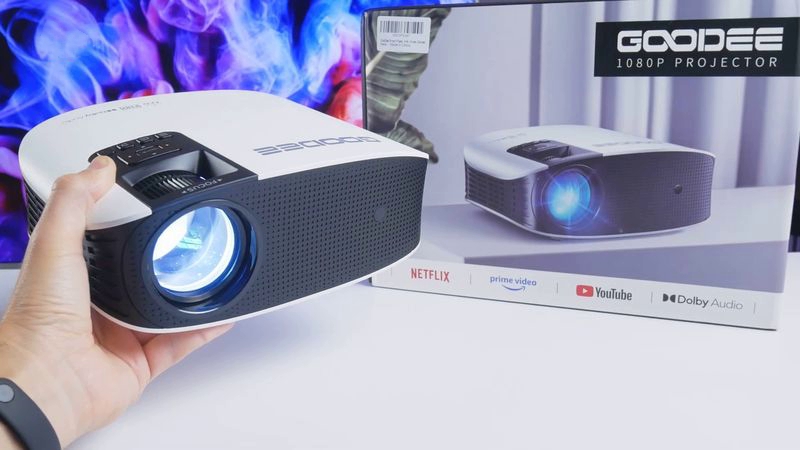 Other features of this projector include 1080p native resolution, 4K support, 800ANSI Lumens brightness, and up to 400 inches screen size.
By the way, the price of the GOODEE YG600-Movin is $899 on Amazon, but if you join Amazon Prime, it will only cost you $269.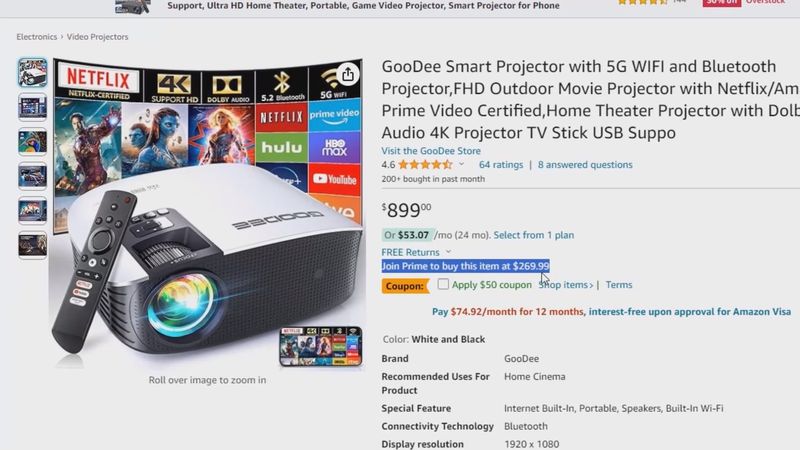 You should also note that the projector comes in different models such as YG600 Movin, YG600 Plus and YG600. They have a similar design but differ in features.
I have a top-of-the-line model GOODEE YG600-Movin, and I will tell you all about it in this article. Let's start by unboxing.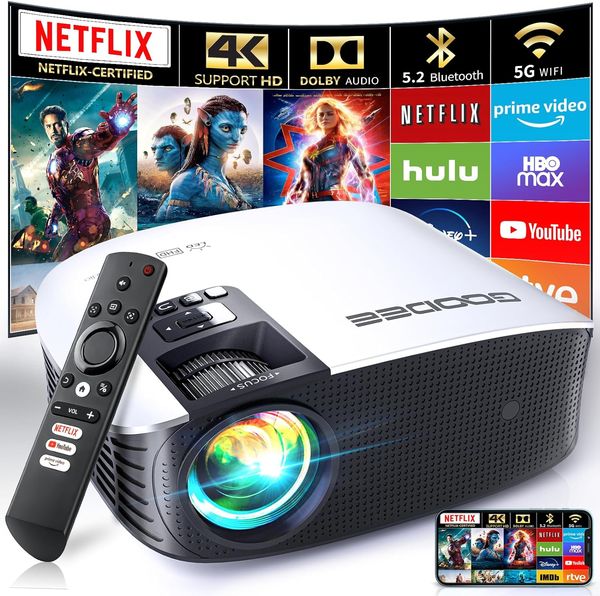 GooDee YG600-Movin Smart Projector - Amazon Prime
as of October 30, 2023 9:09 am
Unboxing
The front of the box is very bright. Here we can see an image of the projector, as well as Netflix, Prime Video, YouTube and Dolby Audio.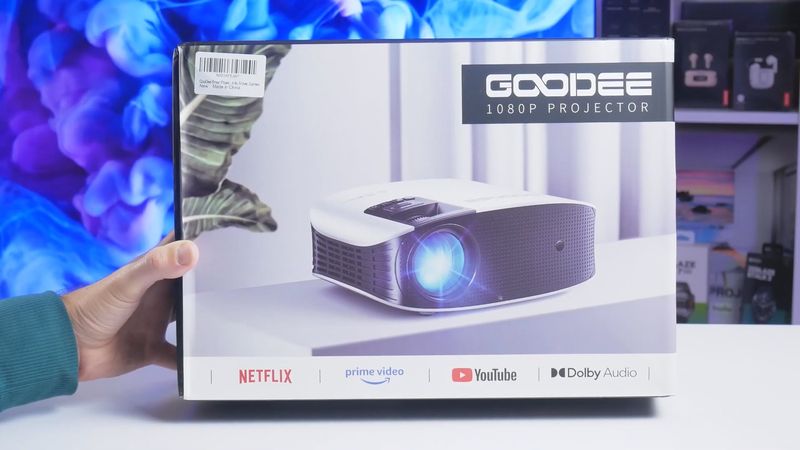 There is also a small specifications table on the back.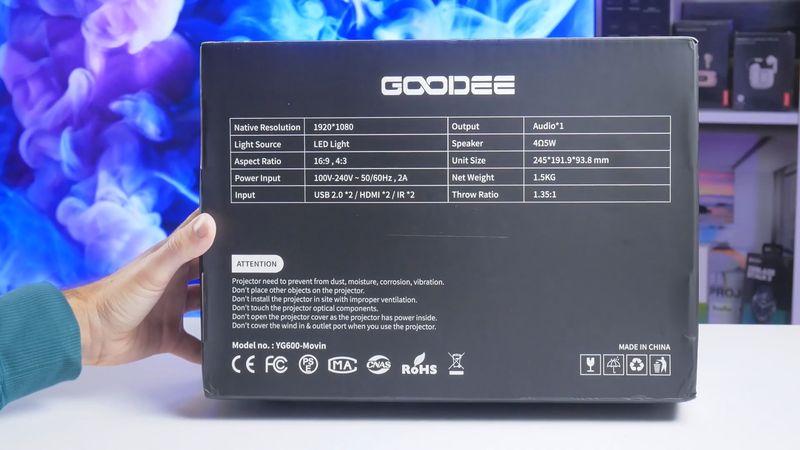 Inside the box is a carrying bag. This is very good because you can carry the projector with you everywhere.
When you open the bag, you will first find the user manual and cleaning kit in the side pocket.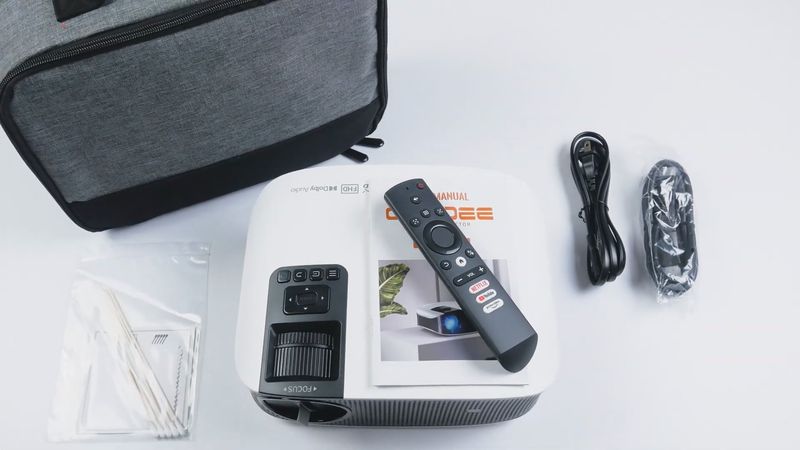 Then, we have a remote control, power cable, and HDMI cable.
Finally, we can take the projector out of the bag.
Design
You know, the GOODEE YG600-Movin is not very compact, but it has a very nice, rounded shape. The projector reminds me of the Play Station 5, doesn't it?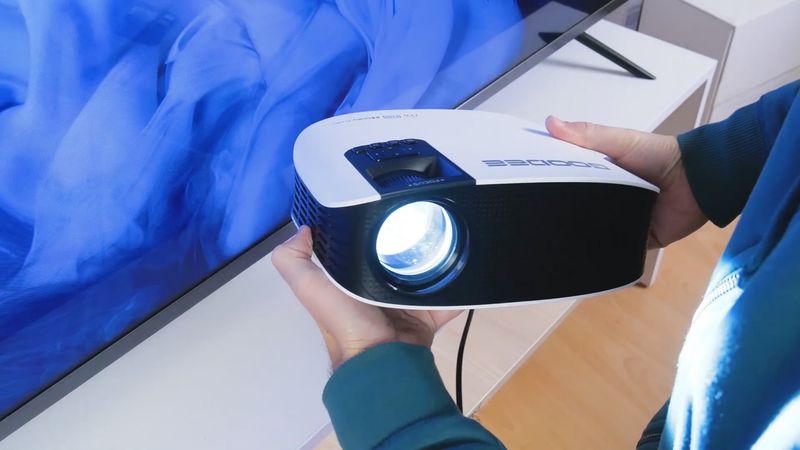 I really like the black and white color combination.
Overall, we can see that the manufacturer has paid attention to the design of this projector.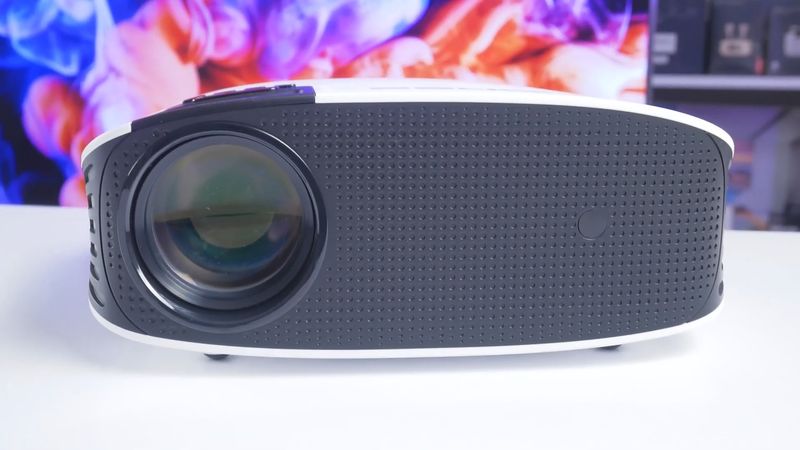 There is the lens under a plastic cover and the IR receiver on the front.
The entire front panel is covered with decorative holes, but they have no functionality because the cooling windows are on the sides.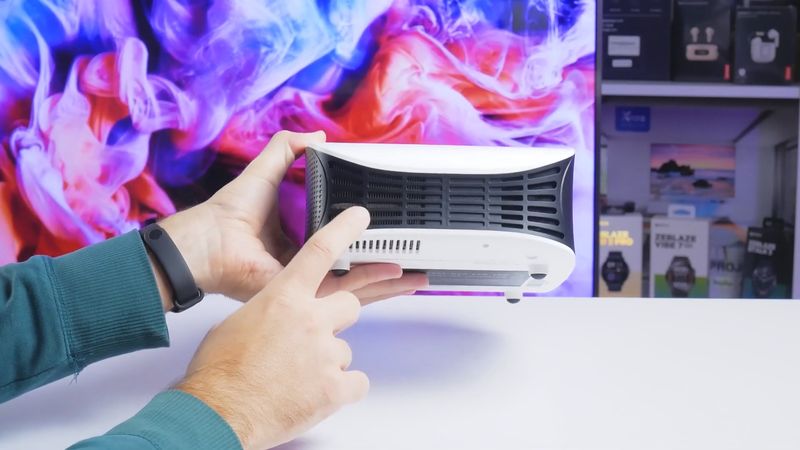 The air intake is on the right side of the projector, and you can even remove the filter and clean it from dust.
The air outlet is on the left side. We can also see a speaker here.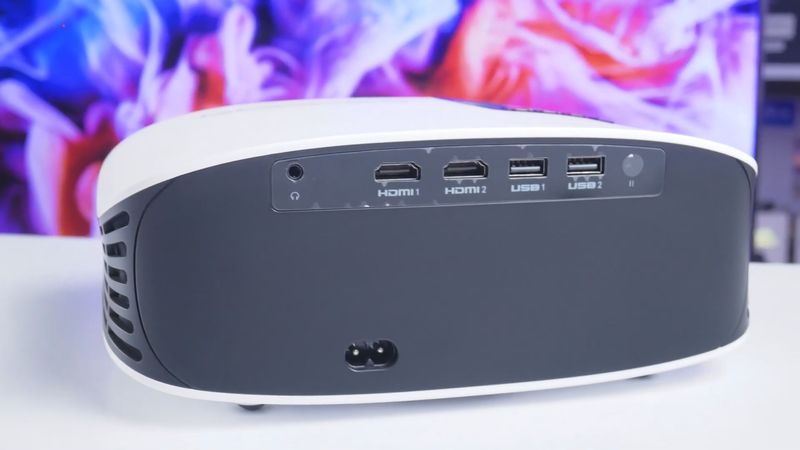 All the ports and connectors are on the back, such as audio jack, HDMI 1, HDMI 2, USB 1, USB 2, IR receiver and AC power.
The GOODEE YG600-Movin projector has manual focus adjustment and keystone correction. You can use two wheels on the top for that.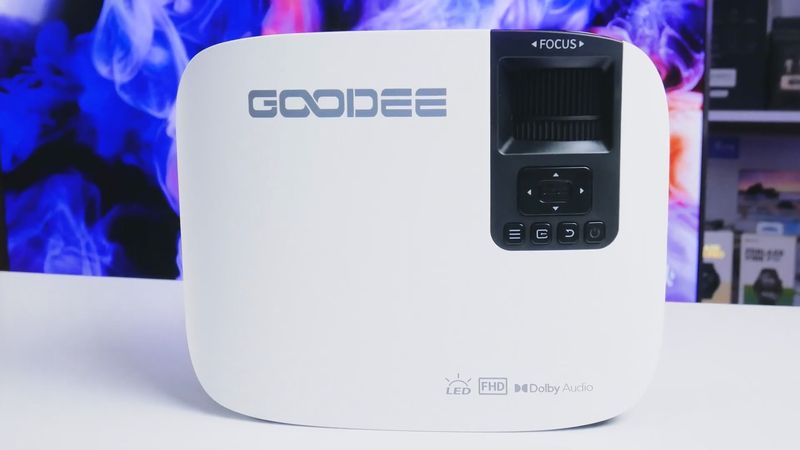 There are also control buttons on the top, but I think it is more convenient to use a remote control.
By the way, the remote control is very good. We can use it to adjust the focus, as well as quickly go to Netflix, YouTube, and Prime Video.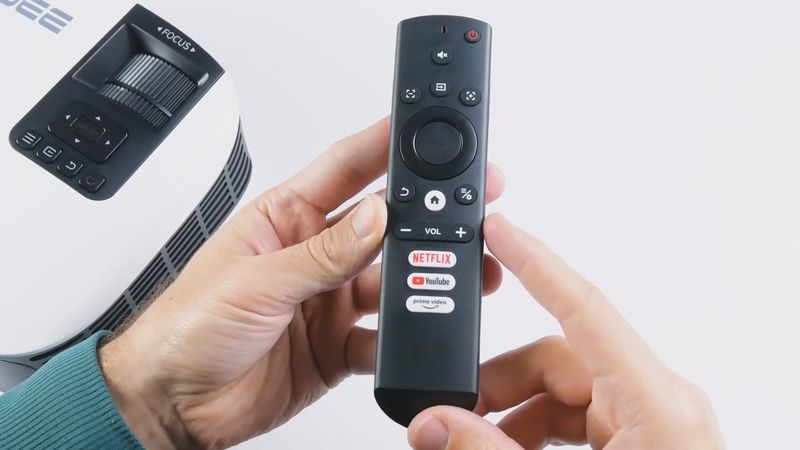 You know, the GOODEE YG600-Movin leaves me feeling like I am using an expensive flagship product. It has good build quality, an attractive design, and a nice remote control.
I really like this projector so far, but let's turn it on and look at the smart system.
Smart System
One of the main features of the GOODEE YG600-Movin projector is the smart system. It is not an Android TV, because when I logged into my YouTube account, I saw a Linux device. However, it is very similar to Android.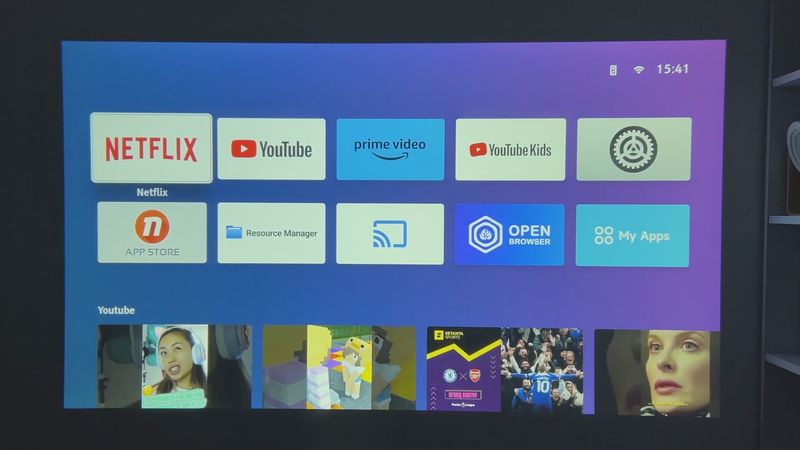 On the Home page, we can see pre-installed apps, such as Netflix, YouTube, Prime Video, YouTube Kids, Settings, App Store, Resource Manager, Screen Mirroring, Open Browser and My Apps.
If you go to My Apps, you will find Bluetooth Mode, E-Manual and App Assistant.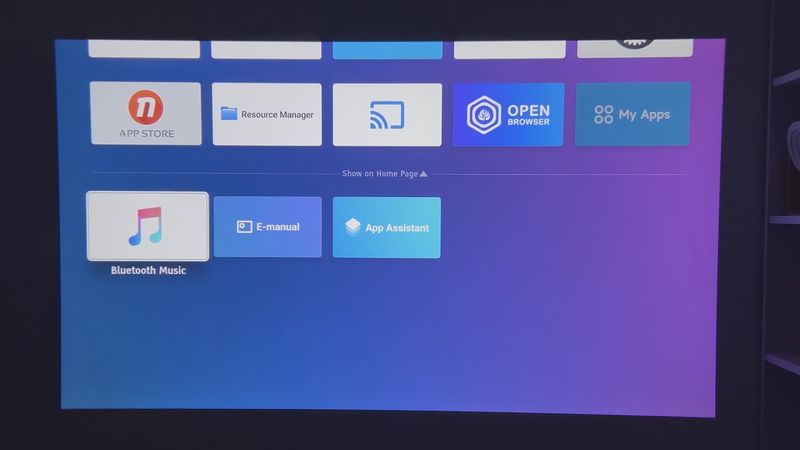 By the way, this is the first time I have seen an E-manual on a projector, and it is very helpful, because you can read the device description, connection instructions and system settings.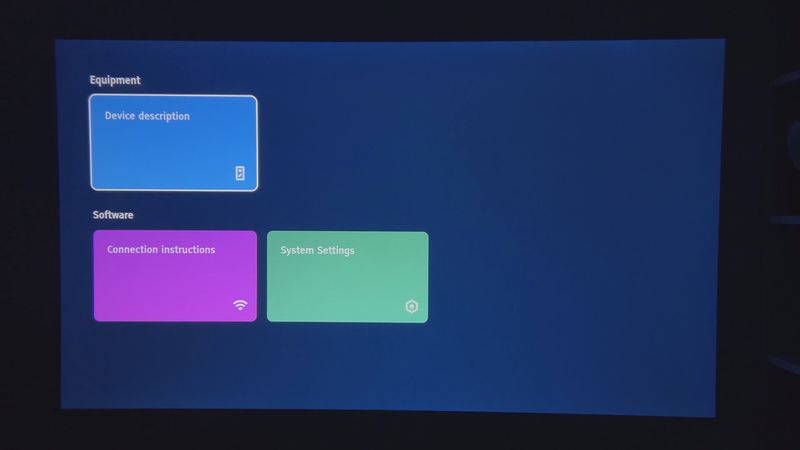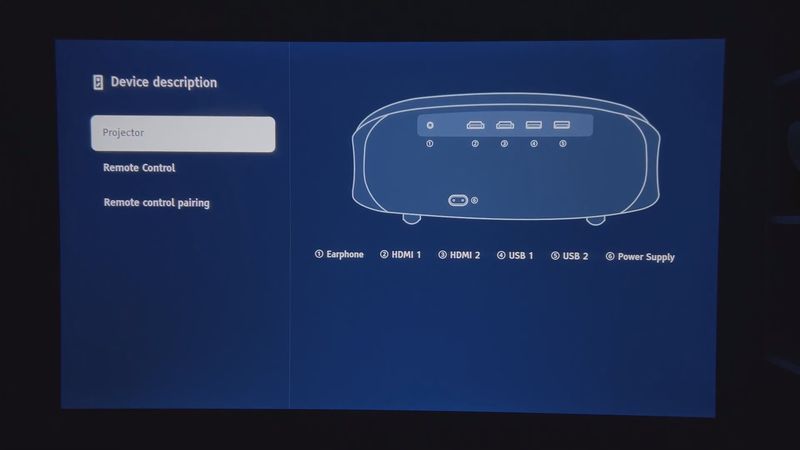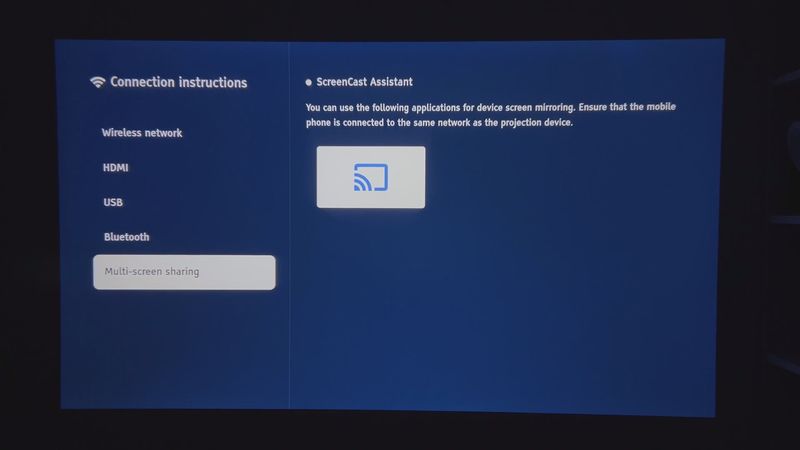 Back on the home screen, I found a menu with new Netflix shows at the top. It looks like the projector is really certified by Netflix.
Settings
Now, let's go to the settings.
First, we have Network and Internet, where we can connect to a Wi-Fi network.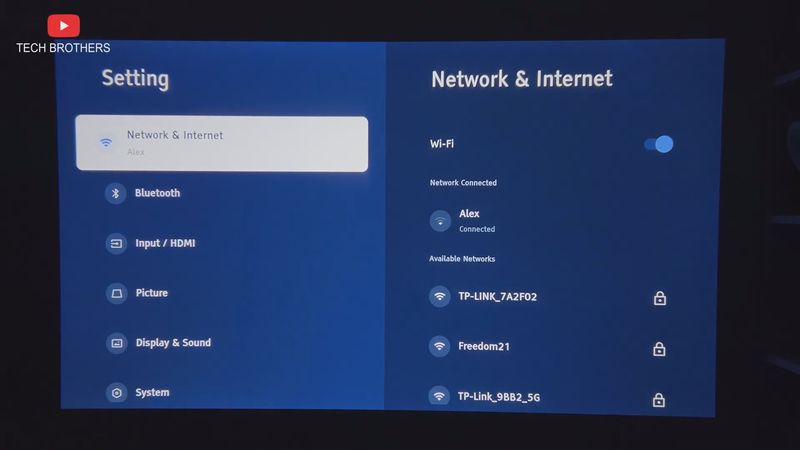 There is also a Bluetooth menu, so you can connect an external speaker to the projector.
If you connect a device to the HDMI port, for example, game console, you will see it in this menu.
In the Picture, we can only change projection mode.
There are also Display and Sound settings on this projector. It's very convenient to choose video picture mode, because you can see how the image changes.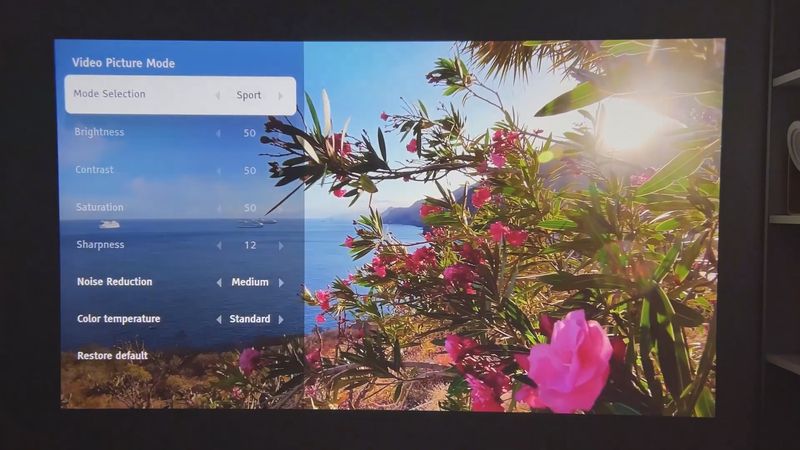 Sound modes include standard, vivid, movies, music, news and sport.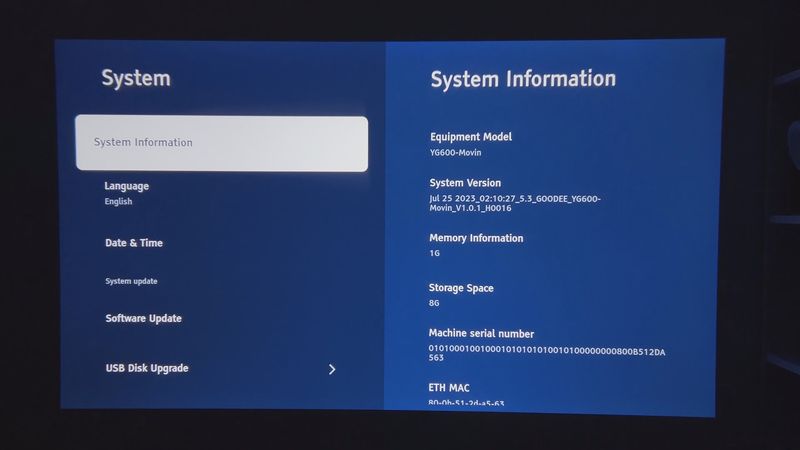 The System menu has system information, language, date and time, software update, USB Disk Upgrade, and Netflix certification.
Netrange
I also found an App Store or Netrange app on the home page. Let's see what it is. It seems to be an app with all kinds of content.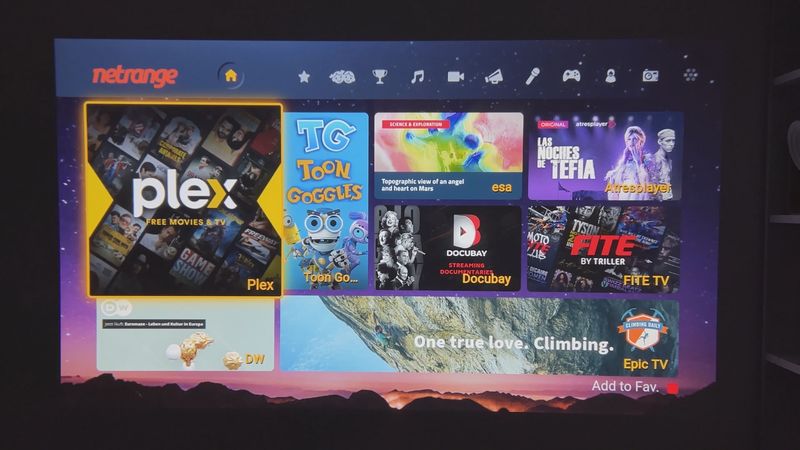 There is a Plex streaming service with certified content, such as Live TV, Movies and Shows, etc. All content here is free.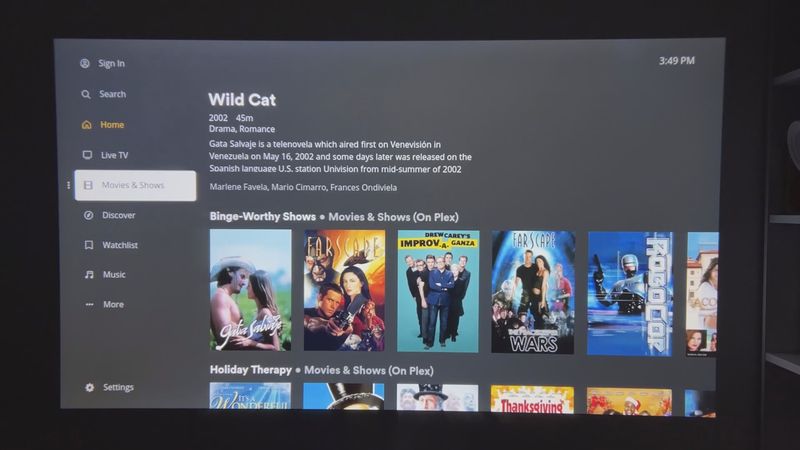 You can also go to TG Toon Goggles and play cartoons for your child.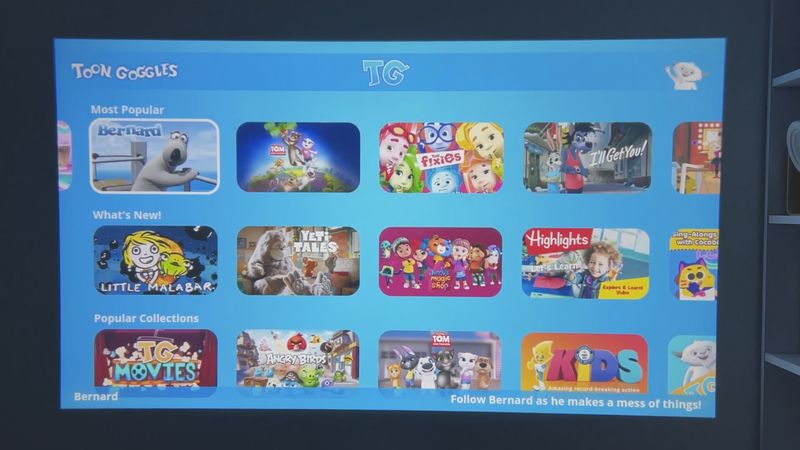 There are even some games available in this app. They are very simple, so if you want to play real games, it is better to connect your game console to a projector.
Screen Mirroring
GOODEE YG600-Movin projector also supports Screen Mirroring. Let's see how it works.
First, you need to go to the ScreenCast Assistant from the Home Page.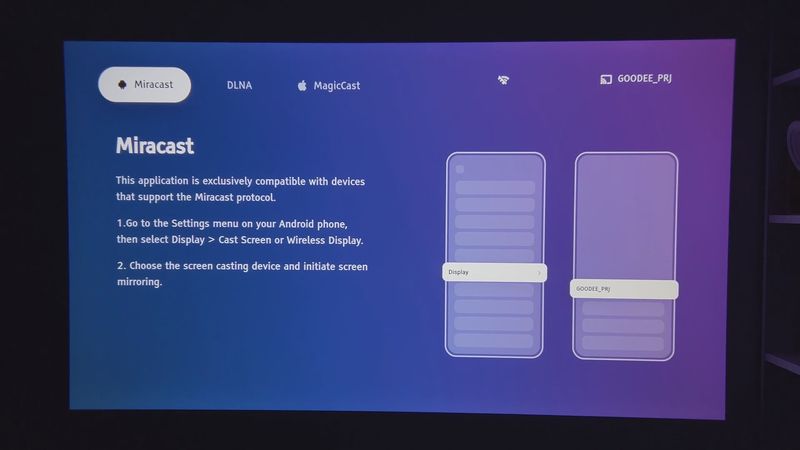 I have an iPhone, so I will go to the MagicCast.
Now, just take your smartphone, go to Screen Mirroring, and select the Projector. That's it!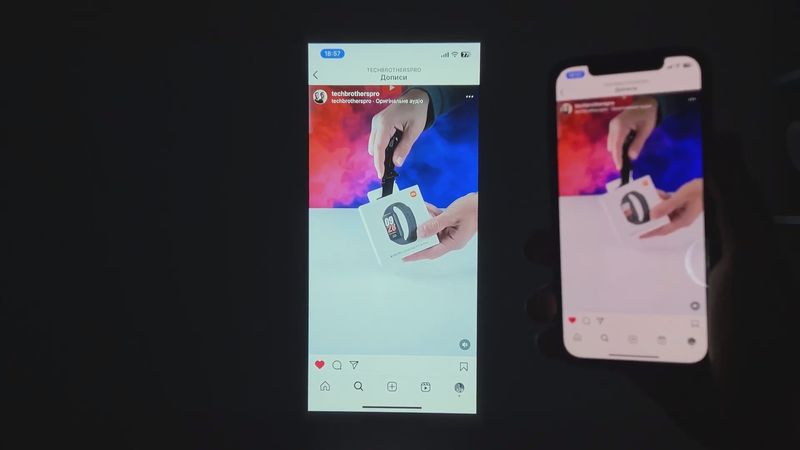 By the way, this projector seems to have the lowest latency of any I have tested. I think you can even play mobile games on the projection screen.
Bluetooth
I have already told you that GOODEE YG600-Movin supports Bluetooth, so you can connect an external speaker to the projector.
However, you can also connect a smartphone to the projector, and use it as a Bluetooth speaker.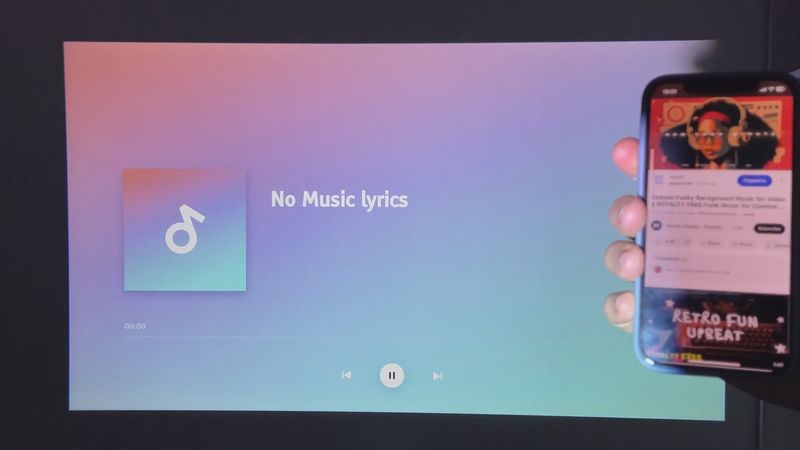 For that, go to My Apps on the Home Page, and then enter Bluetooth Music.
Now, you can take your smartphone, go to Bluetooth menu, and select the projector.
If you start any music on your cell phone, it will be played on the projector.
Sound Quality
You know, the GOODEE YG600-Movin has a built-in dual 5W speaker, so it makes sense to use the projector as a Bluetooth speaker for your smartphone.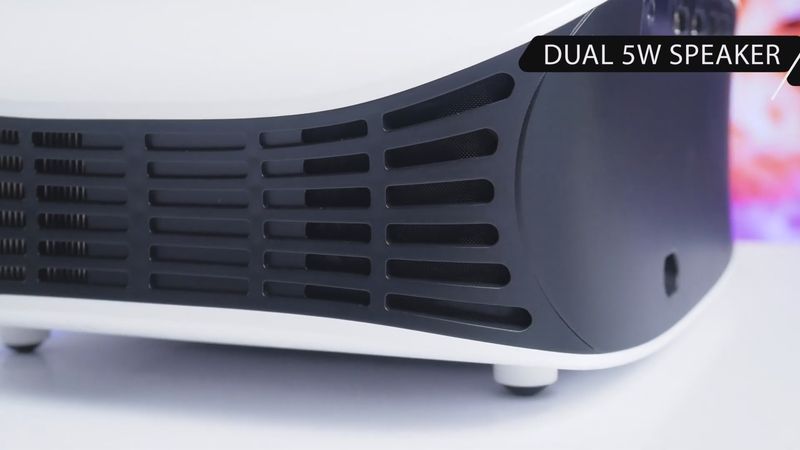 Fan Noise
Before we move on to the projection quality, I want to measure the fan noise.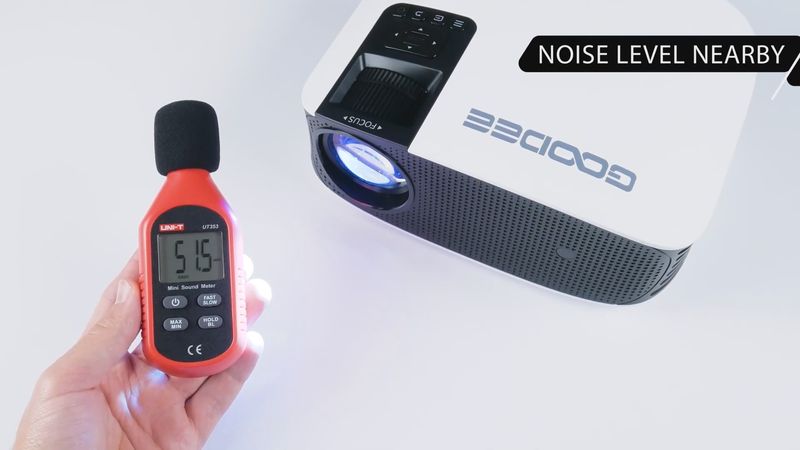 So, the noise level near the projector is about 51 dB.
If you step back one meter, the noise will be 43 dB.
I think it is very good for a projector with high brightness and a smart operating system.
Projection Quality
When I turned on the GOODEE YG600-Movin projector, I noticed that it had a very nice throw ratio. Of course, it is not an ultra-short throw projector, but it makes a big screen in a short distance.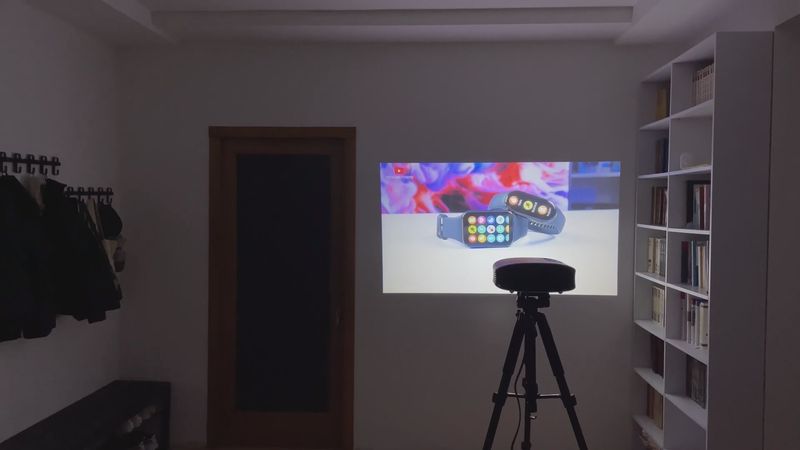 I placed it about 2 meters away from the wall, and the projection size is about 80 inches.
In general, the projector supports from 40 to 400 inches screen size.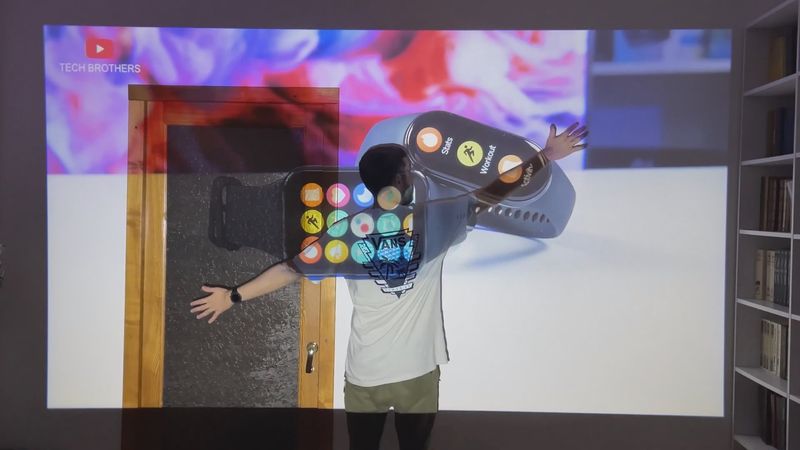 I don't have such a big white wall at home, but I can show you an example. I think this is about 300 inches. You can see that the image is as good as it is on 80 inches.
The image is very clear, and there are no blurred corners or edges, unlike other budget projectors.
By the way, the manufacturer claims that the GOODEE YG600-Movin projector uses a 4.5-inch 1080P Screen, while most other projectors come with 2.6-inch or 3.5-inch 1080P screens. It provides higher clarity and brightness.
Talking about the brightness, it is 800 ANSI Lumens. Unfortunately, I can't verify it now, but the projection is very bright. For example, the new Wonka movie is pretty dark, but we can even make out details in the corners.
In general, the projector allows you to watch any content on it, including movies, TV shows, sports games, nature, etc.
Light On
You know, it is not even a problem to play games or watch shows in a room with lights.
Yes, the colors are not as saturated as in total darkness, but you can still see the projection well.
Conclusion
So, the GOODEE YG600-Movin is one of the best projectors I have tested in 2023.
First, I like its design, which reminds me of the PlayStation 5. The rounded shape and the combination of black and white colors are very attractive.
Unlike other budget projectors, it has a very nice remote control with buttons to quickly go to Netflix, Prime Video and YouTube.
The projector doesn't run on Android TV, and that may be even better because there is a Netrange app with free content.
Netflix, Prime Video and YouTube are already installed, and all you have to do is log into your accounts.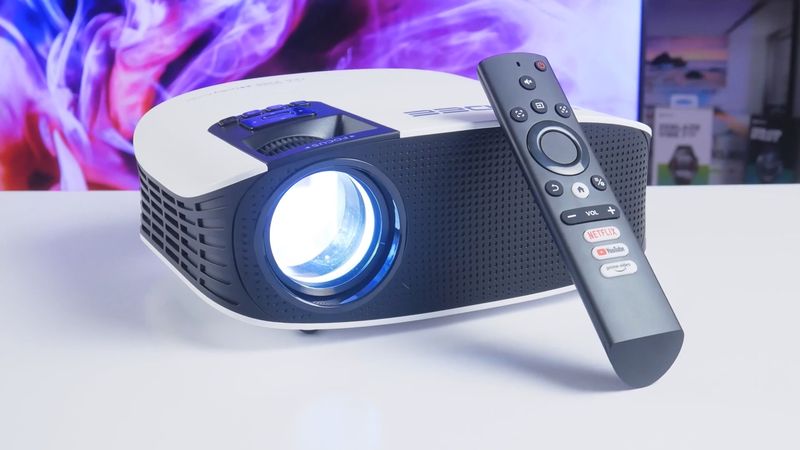 I would also like to mention the high-quality dual speakers with Dolby Audio support. The sound quality is very good, so you can even use the projector as a Bluetooth speaker for your smartphone.
The GOODEE YG600-Movin supports a very big screen size up to 400 inches. I tested the projector at 300 inches and the image quality is just as good as at 80 inches.
Overall, the picture quality of the new GOODEE projector is very decent.
To be honest, I'm a little confused about the price, because it is $899 on Amazon. But if you join Amazon Prime, then you can buy the GOODEE YG600-Movin for $269. For this price, the projector is very good.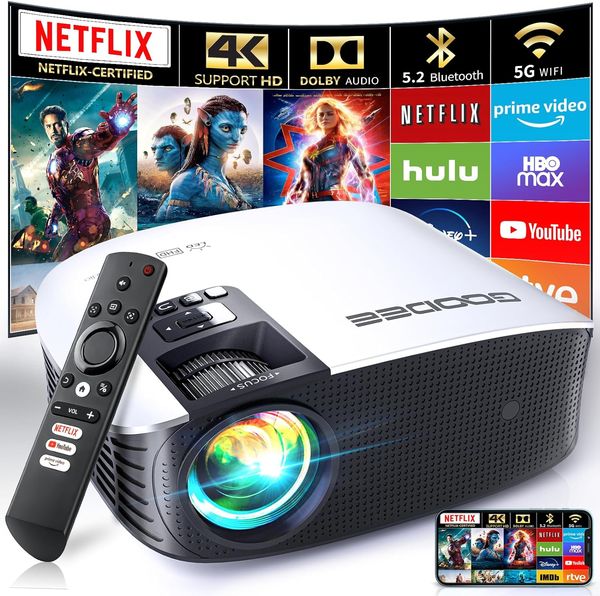 GooDee YG600-Movin Smart Projector - Amazon Prime
as of October 30, 2023 9:09 am