I am back with another budget projector, and this is already the third projector from the FUDONI brand that I am testing on our channel Tech Brothers.
The new FUDONI Spare P1 is the most affordable model of this company on Amazon. Right now, you can buy it for only $115.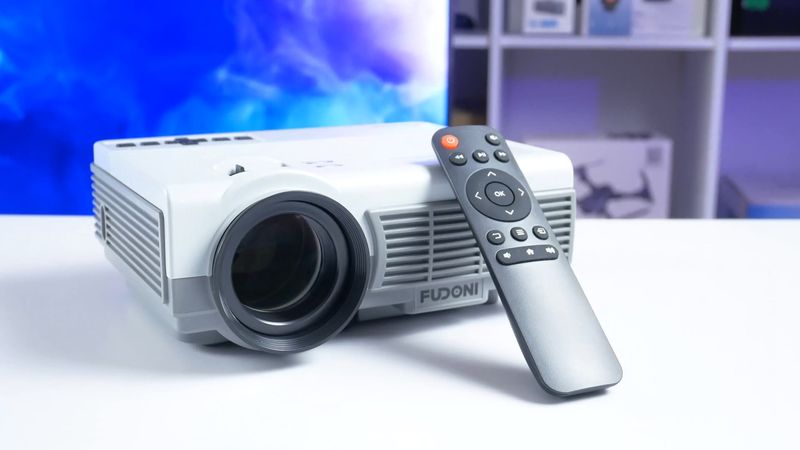 Despite the cheap price, the projector has 1080P native resolution, 4K support, 9500LUX brightness, 5G Wi-Fi and Bluetooth 5.1 support.
Okay, let's start the review with unboxing and design, and then we'll check the image quality.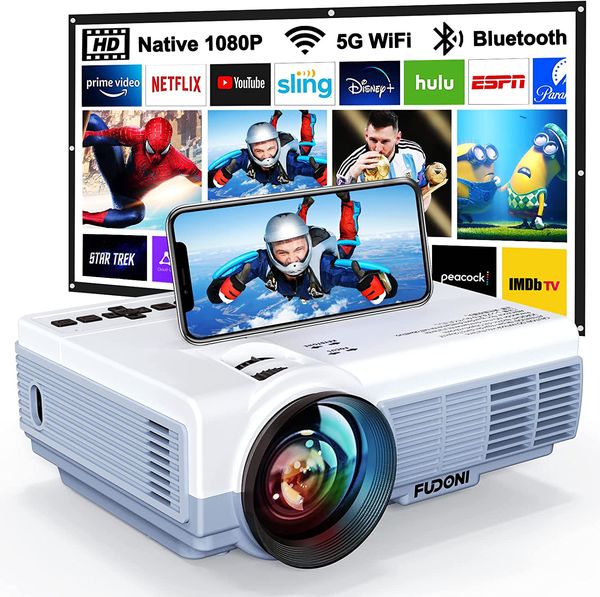 FUDONI Spare P1 Projector with WiFi and Bluetooth - Amazon - $45 OFF COUPON
as of May 31, 2023 10:23 am
Unboxing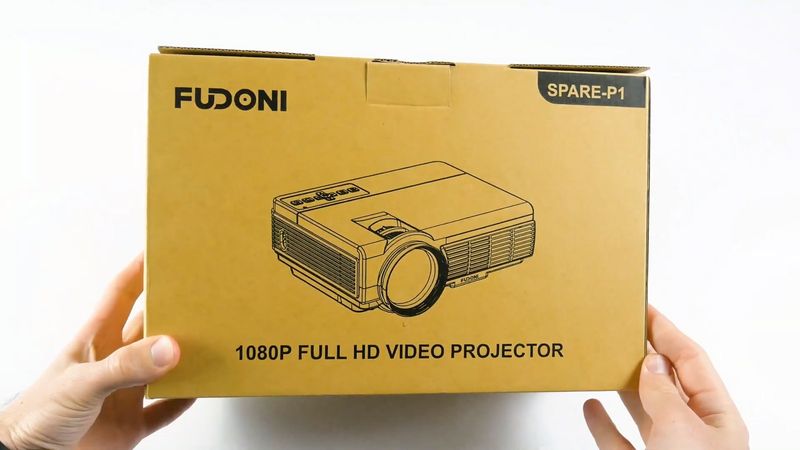 The projector comes in a simple cardboard box, but there are specifications and a package list on the sides.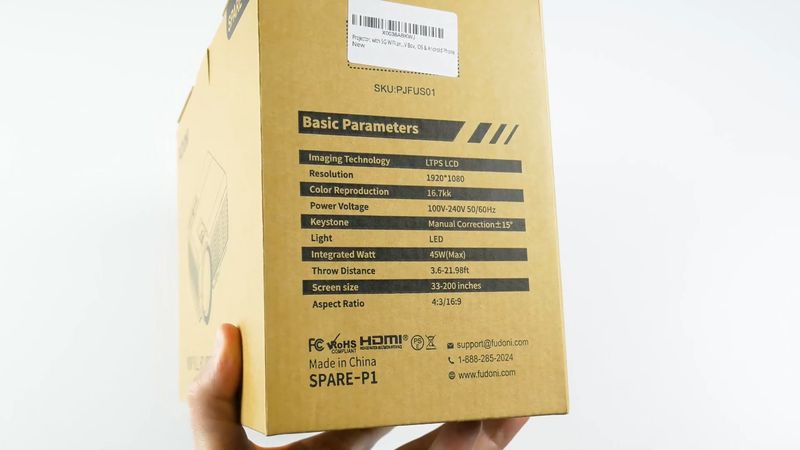 Inside the box, we have a 100-inch projection screen, user manual and cleaning tool, remote control, HDMI cable, AV cable, power cable and the projector itself.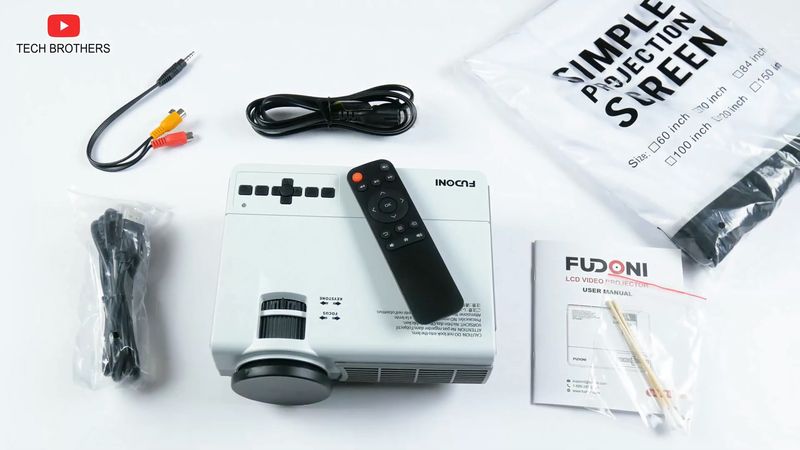 You know, I am glad this ultra-budget projector comes with a projection screen. It will ensure a better image quality if you don't have white walls at home.
Design
When it comes to design of FUDONI Spare P1, first, I have to say that this is a compact projector. Its dimensions are 200 x 165 x 80 mm.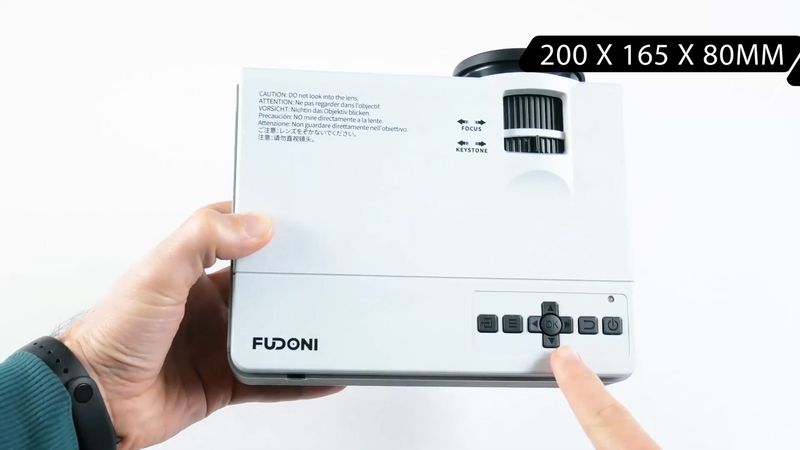 The weight is 950 grams.
So, you can carry the projector from one room to another, or even take it with you on a camping trip. However, it doesn't have a built-in battery, so you will need to plug it into an outlet.
The combination of white and gray colors makes the projector attractive, doesn't it?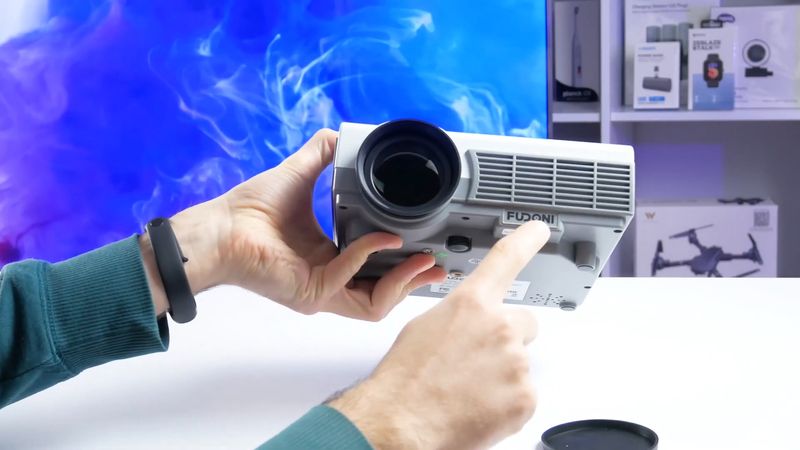 There is a protective rubber cup and a lens on the front. We can also see the FUDONI logo and infrared receiver for remote control here.
There is another IR receiver on the back.
The power input is on the right side.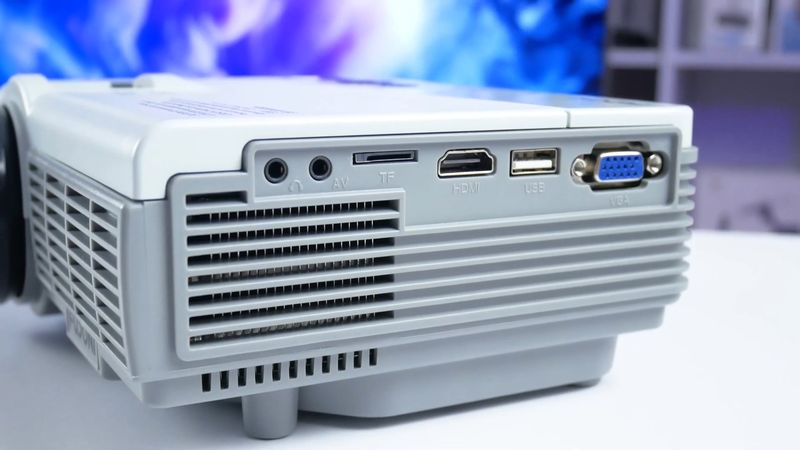 All the connection interfaces are on the left, such as headset port, AV port, TF card slot, HDMI port, USB port and VGA.
You know, when I see a VGA port, I think the projector is meant for the office, because you can connect a laptop or computer to it. Later we will check if the FUDONI Spare P1 is really good for the office.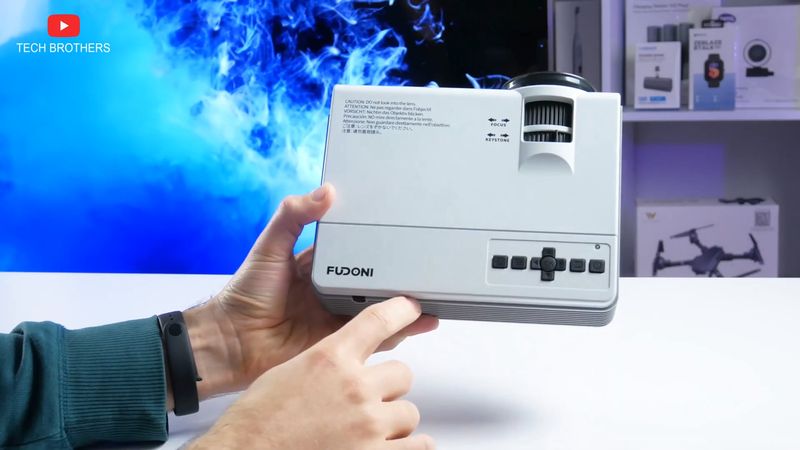 The focus and keystone correction wheels are on the top.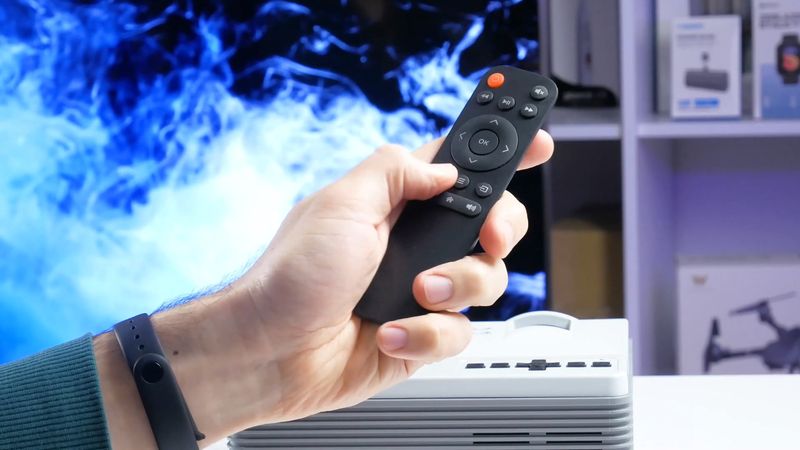 There is also a control panel on top of the projector, but I find it more convenient to use the remote control. It is made of cheap plastic, but you can use the remote to turn the projector on/off, mute, play/pause, navigate, return, go to the settings, select a signal source, and change volume.
Okay, now let's turn on the projector and look at the interface.
Settings
Before using the projector, you need to adjust the keystone and focus.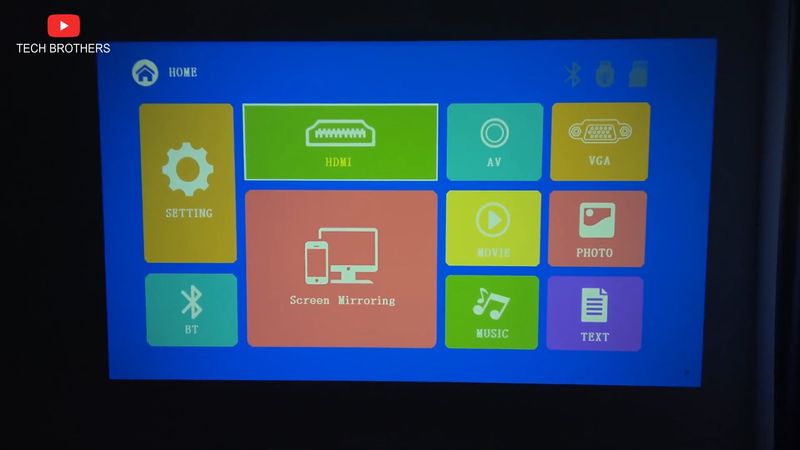 FUDONI Spare P1 has a simple multimedia system, so you can only go to the settings, select a signal source, such as HDMI, AV or VGA, go to movie, photo, music or text when an external drive is connected, as well as Screen mirroring and Bluetooth.
Let's look at the settings menu.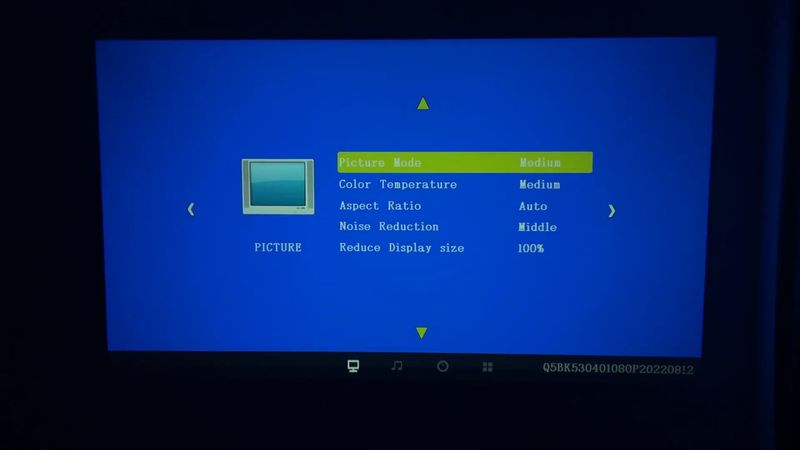 First, we have picture settings, where we can change picture mode, color temperature, aspect ratio, noise reduction, and display size.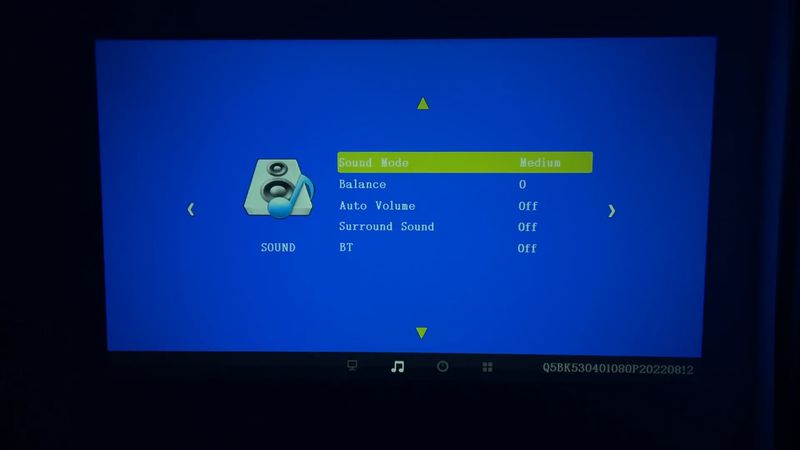 The sound settings include sound mode, balance, auto volume, surround sound and Bluetooth. We will talk about Bluetooth connection a little later.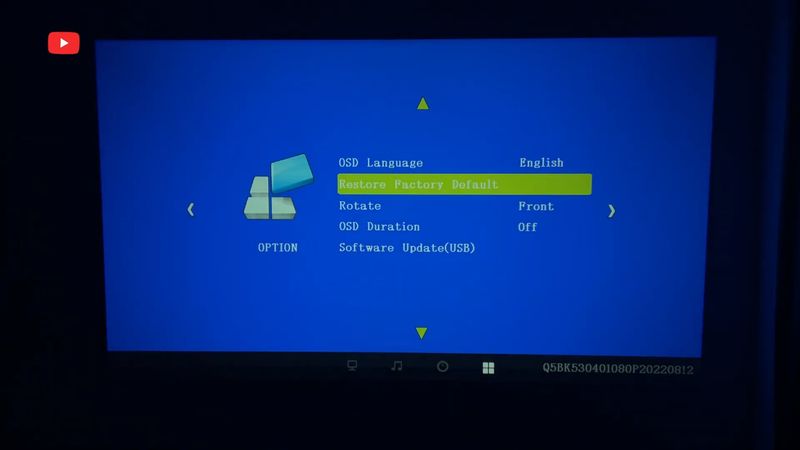 The projector also has a timer and system settings, such as language, restore factory default, rotate, and others.
Wi-Fi Screen Mirroring
I think one of the main features of this budget projector is Wi-Fi support.
You can mirror the screen of your smartphone on a big projection screen.
For that, go to the Screen Mirroring, and then select Settings.
Now, you need to connect to the same Wi-Fi network as your smartphone.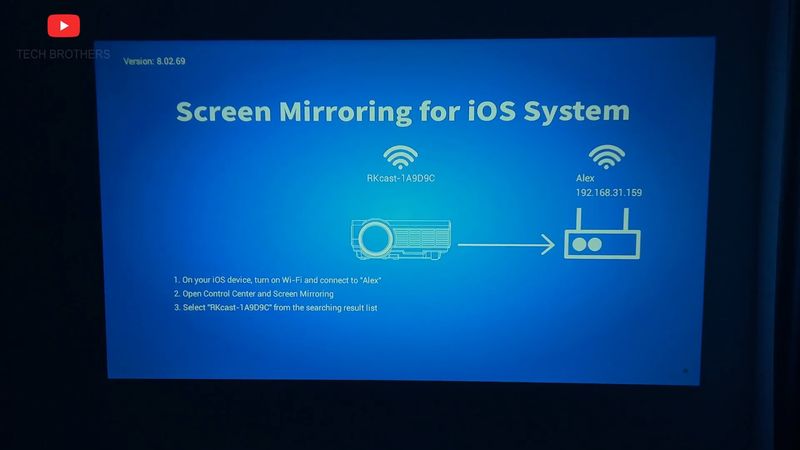 When it is done, return to the previous menu, and select the Android Screen if you have an Android smartphone, or the iOS screen if you have an iPhone.
Now, take your mobile device, go to Screen Mirroring, and select the projector.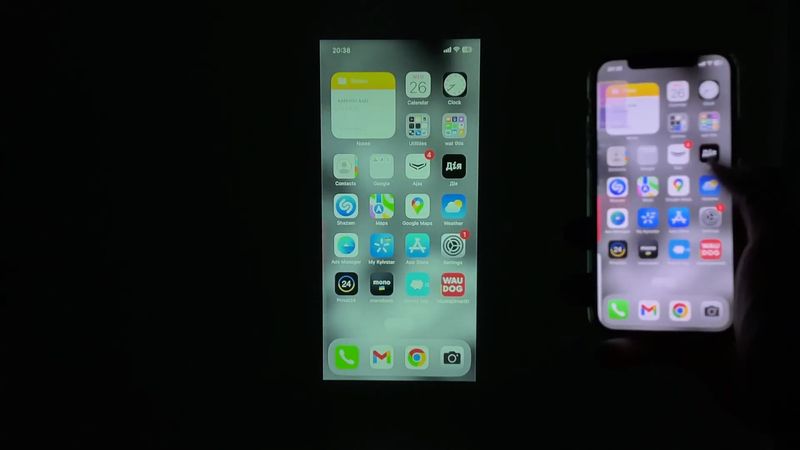 As I already said, FUDONI Spare P1 uses 5G Wi-Fi, so the latency is low.
Bluetooth
As for Bluetooth connection, you need to go to Bluetooth on the home screen, turn on Bluetooth and scan for new devices.
I have a small Bluetooth speaker, and it connected to the projector with no problems.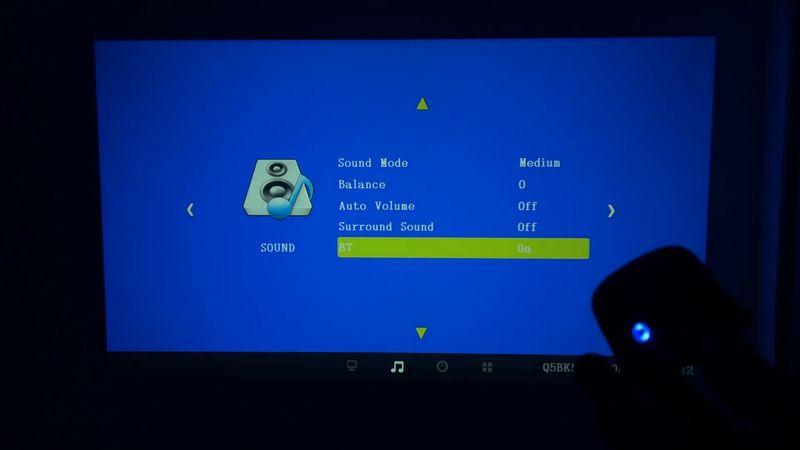 You can connect a sound bar or even headphones to FUDONI Spare P1.
It is a useful and important feature, because the built-in speaker of this projector is quite weak.
Speaker Quality
You know, the built-in speaker is loud, but its quality is below average.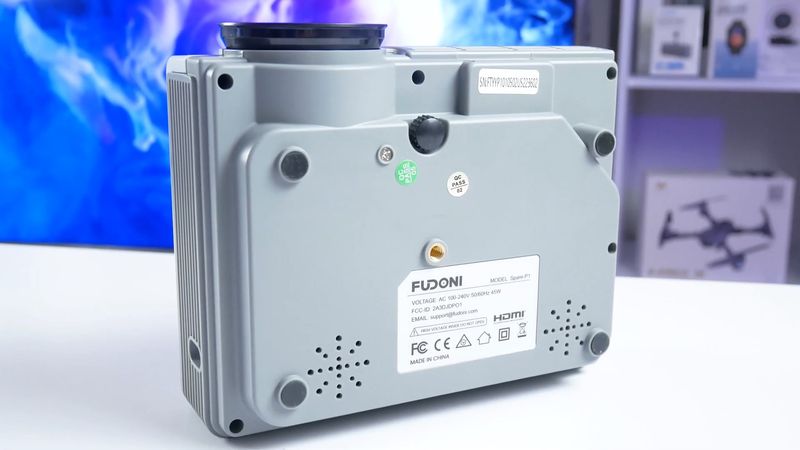 For the home theater, I would recommend you to buy external speakers, but for the office, the built-in speaker of this projector is enough.
Noise Level
When choosing a new projector, you should also pay attention to the noise level. FUDONI Spare P1 makes some noise, but it doesn't disturb you when watching movies.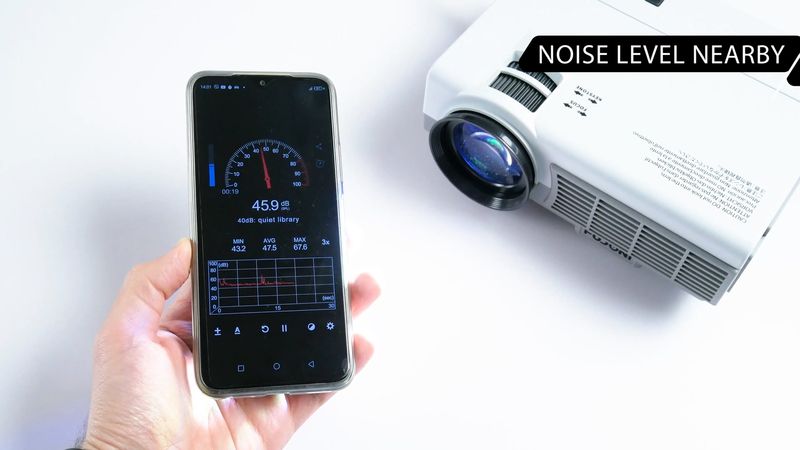 The noise level near the projector is 46 db, and it is 40 db at 1 meter.
Projection Quality
Finally, we can talk about image quality of FUDONI Spare P1 projector.
First, it has from 1.1 to 5 meters throw distance. The screen size is from 33 to 200 inches. I found the ratio of projection distance and screen size in the user manual.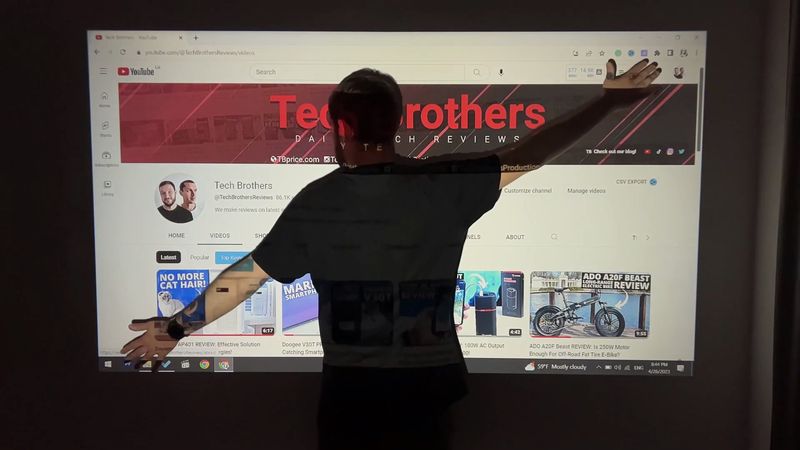 In my case, the projector is located 2.5 meters away from the wall, and the screen size is about 80 inches.
The first impression is that the FUDONI projector has warmer colors than it really is. You can see it on the white background of our YouTube channel. Maybe I had to change the picture mode in the settings.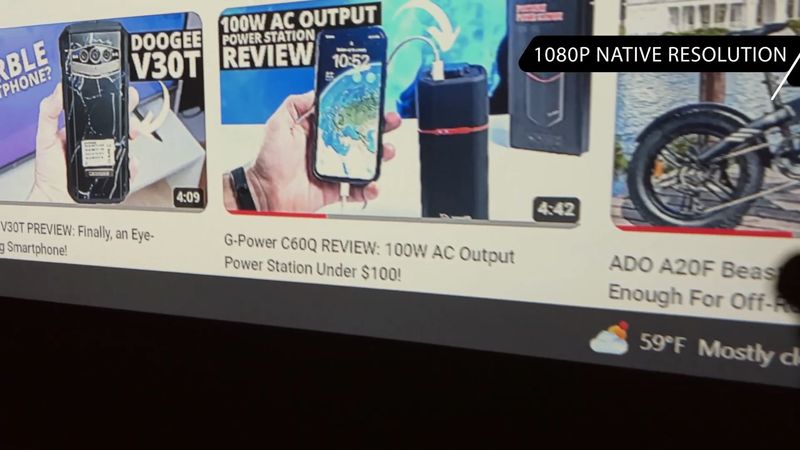 However, the image is very clear. It really has 1080P Full HD resolution.
I only noticed that a small piece of the right corner is a little blurry, but the rest of the screen is sharp.
If you want this projector for the office or school, it is good.
You can also use FUDONI Spare P1 for the home theater. In addition to a clear image, the projector has good brightness.
However, the colors are not as rich as on the more expensive models. But they are good for a projector under $100.
Light On
If you are looking for a projector for the office, you will want to know how it works in a room with light. It is actually good for an ultra-budget projector.
You can even watch videos on YouTube. Yes, the colors are very dull, and it is almost a black and white picture, but overall you can see the projection.
Conclusion
You know, if you are on a tight budget, FUDONI Spare P1 is a good projector. It has a clear image and good brightness, so you can watch videos in a dark room or even in the daytime.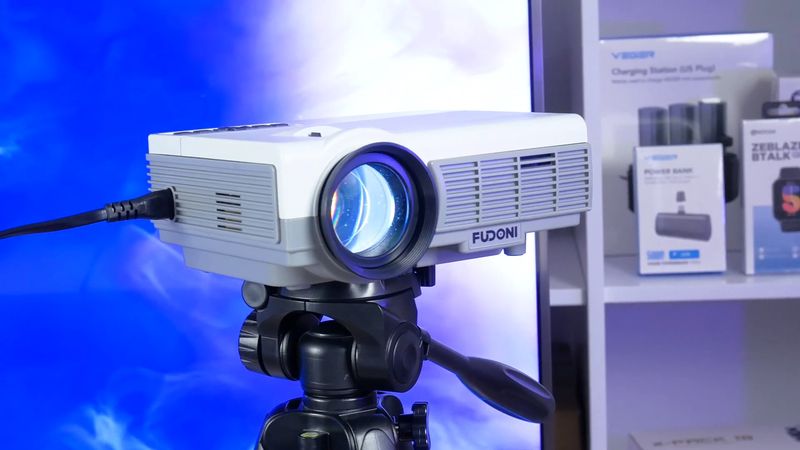 It also supports Wi-Fi for smartphone screen streaming, as well as Bluetooth for connecting external speakers or headphones.
However, it is one of the cheapest projectors, so you will have to put up with its drawbacks, such as weak speakers and dim colors.
In fact, for an office, children's room, or just your first projector, it is a very good option.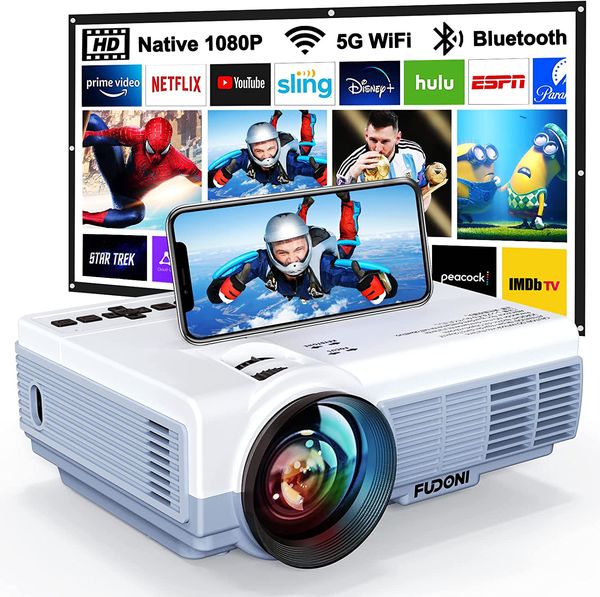 FUDONI Spare P1 Projector with WiFi and Bluetooth - Amazon - $45 OFF COUPON
as of May 31, 2023 10:23 am