FUDONI R7 is a compact LCD projector with Full HD native resolution, 10000 Lumens brightness, dual-band Wi-Fi and Bluetooth support, so you can connect a smartphone for wireless screen mirroring, and headphones or external speaker for better sound quality.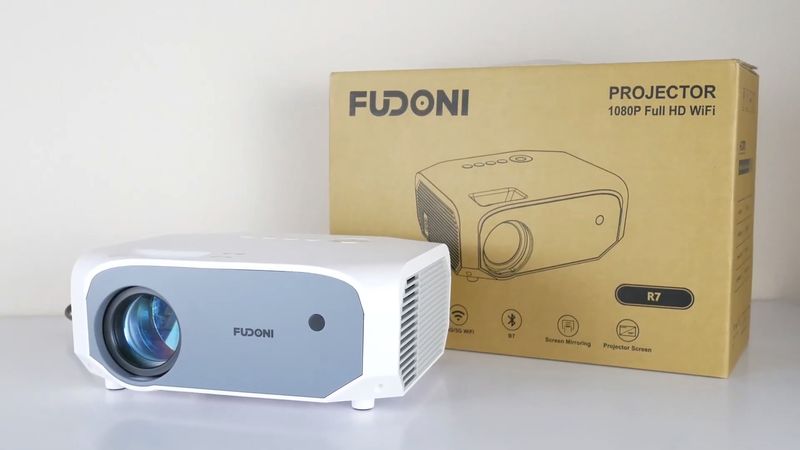 In this article, we will test a Wi-Fi and Bluetooth connection, as well as projection quality in a dark and light room.
But first, let's do unboxing and look at the package contents.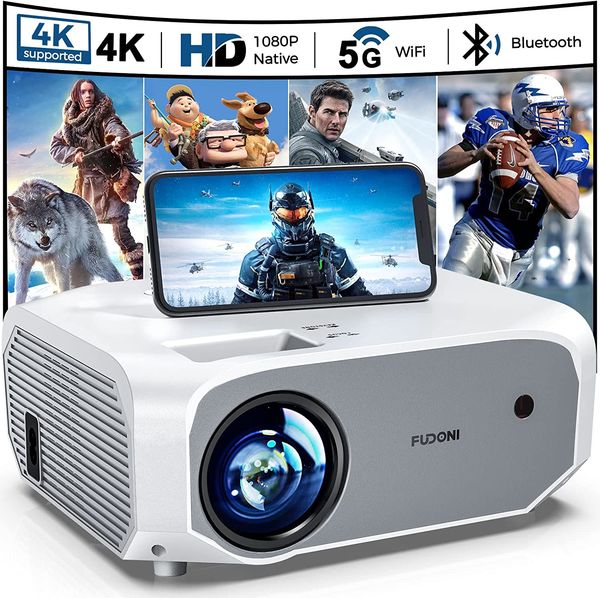 FUDONI 10000L Portable Outdoor Projector - Amazon
as of November 22, 2022 8:55 am
Unboxing
So, the projector comes in a simple cardboard box, but there is all information about the product, such as main features on the front, and basic parameters on the side.
Inside the box, we have a 100-inch projection screen, and different mounts for its installation. I will not be installing it because I have a white wall at home.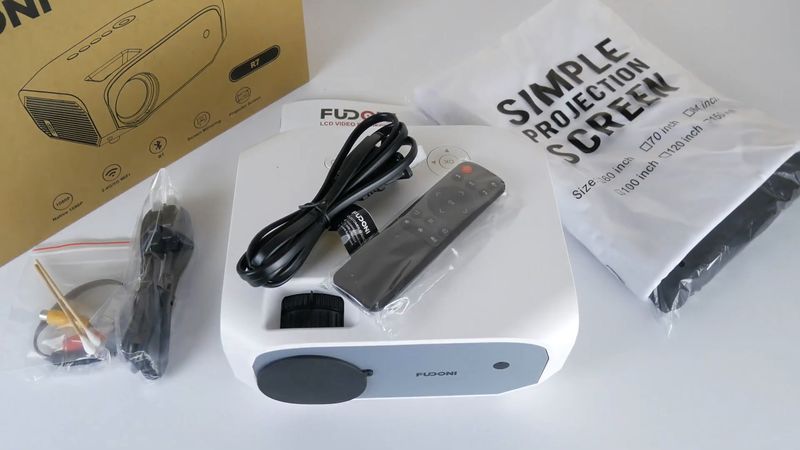 Then, there is a projector in a box, as well as accessories, such as remote control, power cable, HDMI cable, AV cable, user manual, and sticks to clean the lens.
Design
You know, the manufacturer says that FUDONI R7 is a portable outdoor projector, but it doesn't have a built-in battery, and you still need to connect it to the power supply.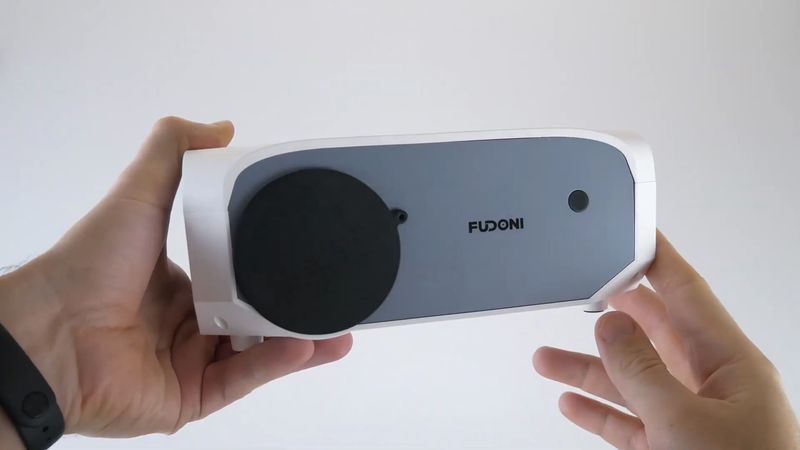 I think the manufacturer calls it a portable because of the compact size. The dimensions are 215 x 175 x 90 mm. The weight is 1185 grams.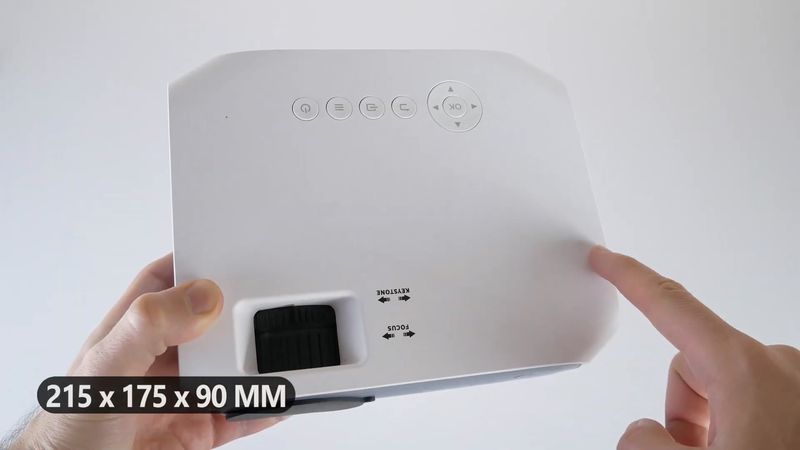 The body of the new projector is made of matte plastic, and I like a combination of white and grey colors. It looks very nice.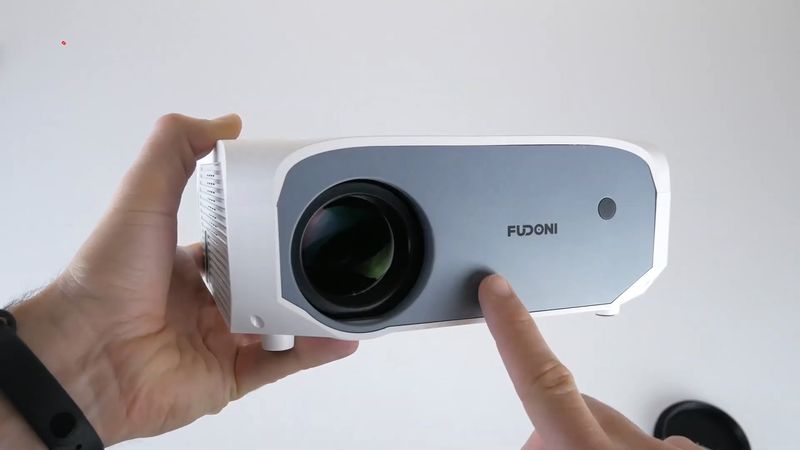 On the front of projector, there is a lens, FUDONI logo and IR receiver.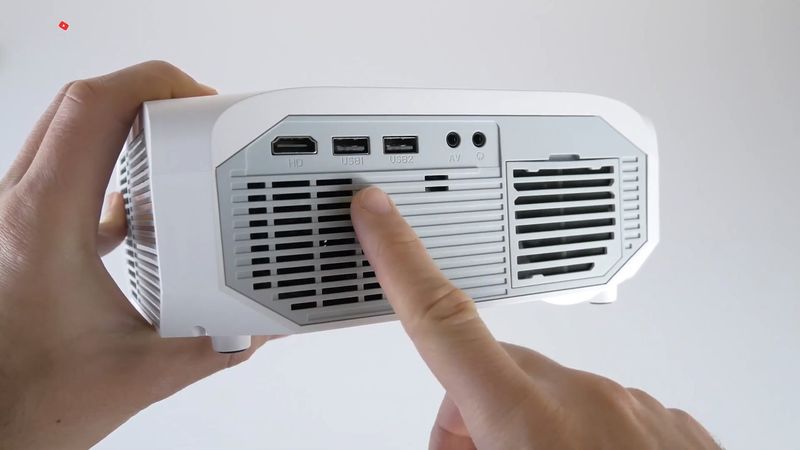 On the back, we can see HDMI port, two USB ports, AV and 3.5mm audio jack. There is also a speaker and air input on the rear panel.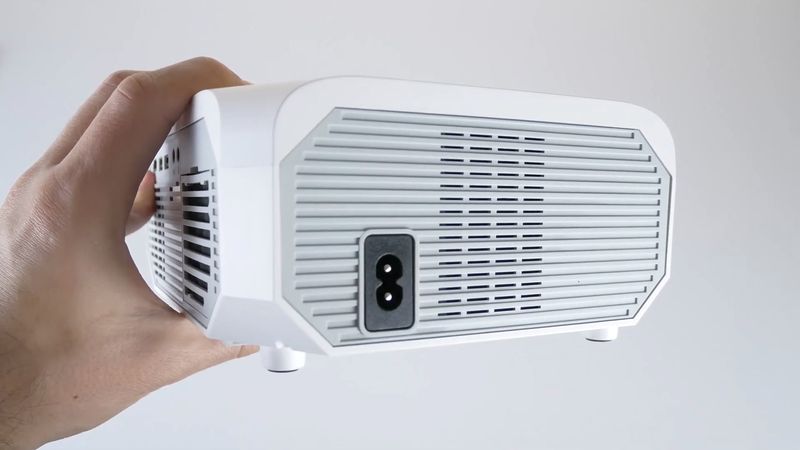 AC connector is located on the right side of projector.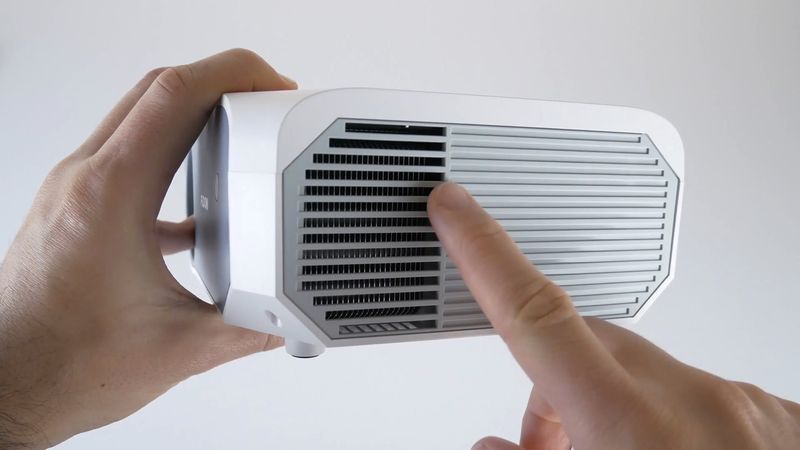 There is only an air output on the left side.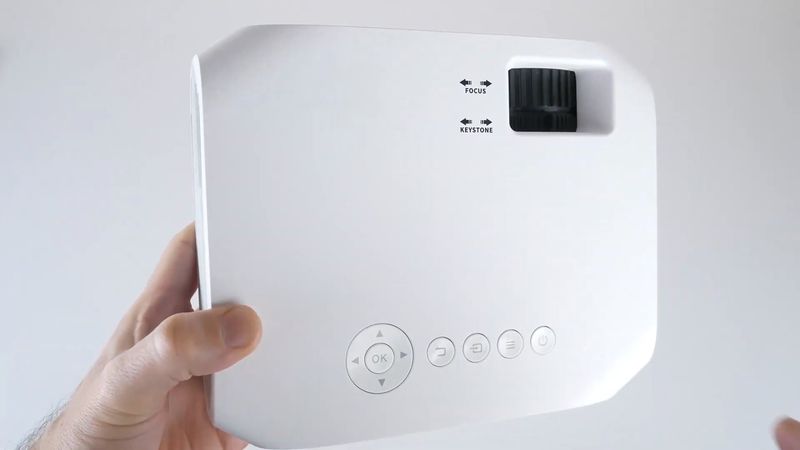 A control panel with navigation buttons, return, input source, menu and power is on the top.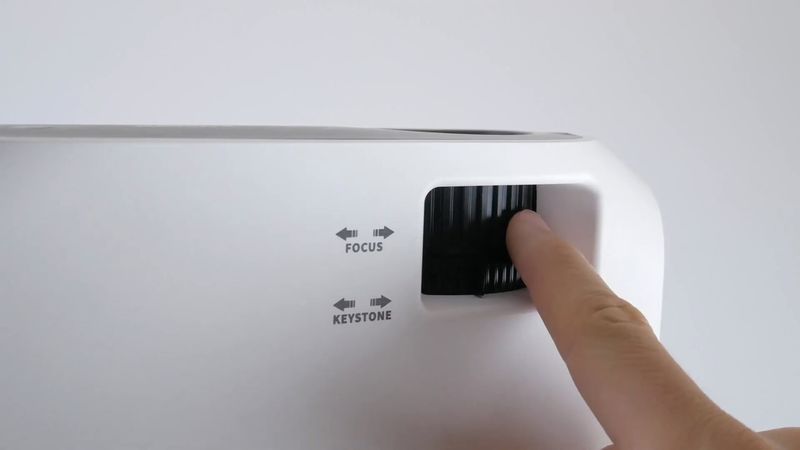 A projector also has manual focus and keystone correction adjustments.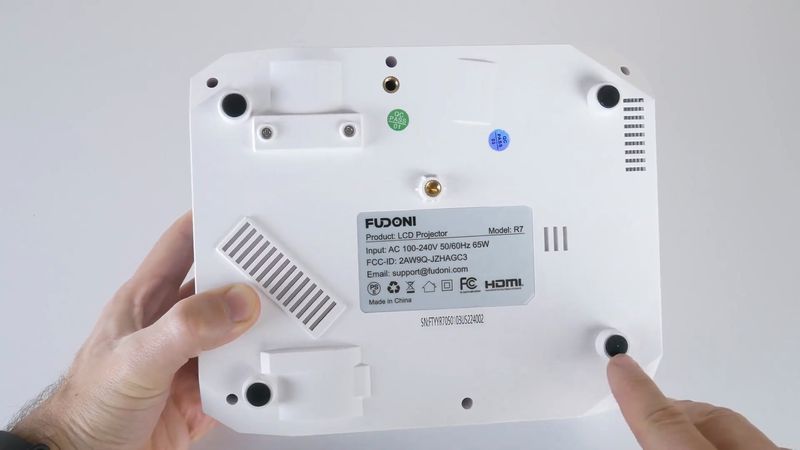 Finally, let's take a look at the bottom. Here we have four rubber feet, a kickstand, and mounting screw hole.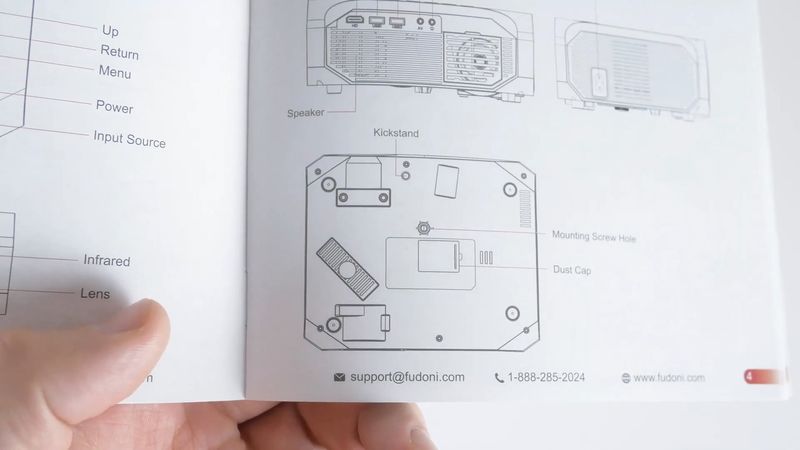 By the way, in a user manual I see that there is a dust cap under the sticker.
Remote control
If we talk about remote control, it is the most standard. It has a power button, mute button, play/pause, navigation buttons, volume control, and others.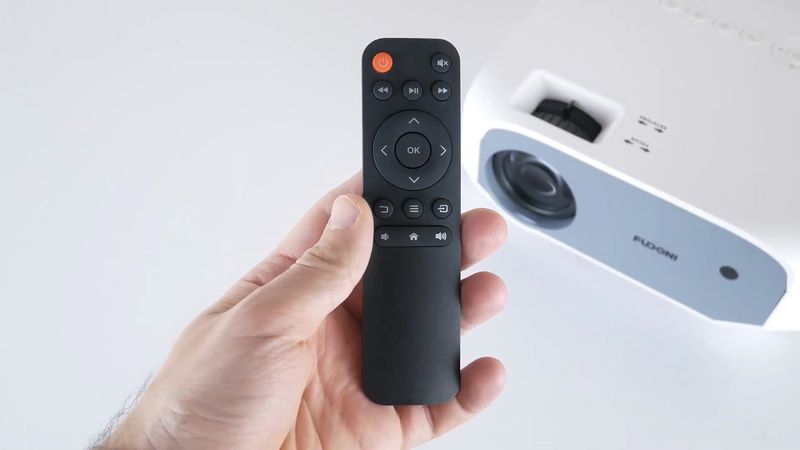 By the way, a remote control is powered by two three A batteries.
User Interface and Settings
Now let's turn on a projector, and look at the settings.
By the way, there is a quick start guide in a user manual. I have already done all these steps, so we can move on to the settings.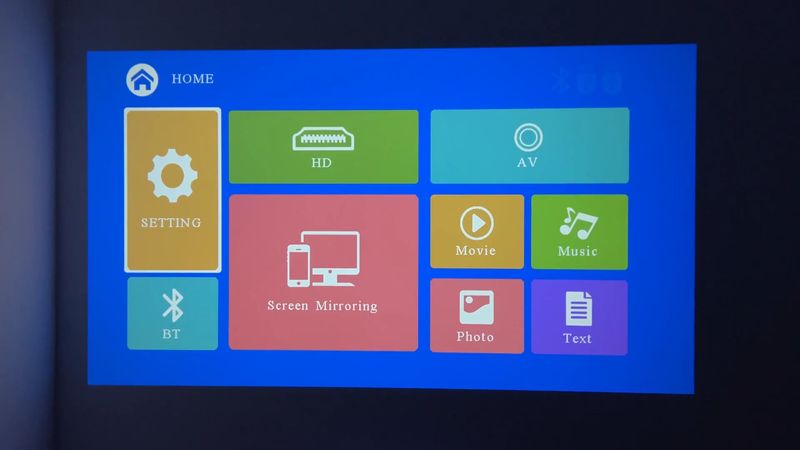 On the main screen of the user interface, we can go to the settings, HDMI, AV, Movie, Music, Photo and Test, Screen Mirroring and Bluetooth.
I will show you a Screen Mirroring and Bluetooth menu a little later, but now let's go to the Settings.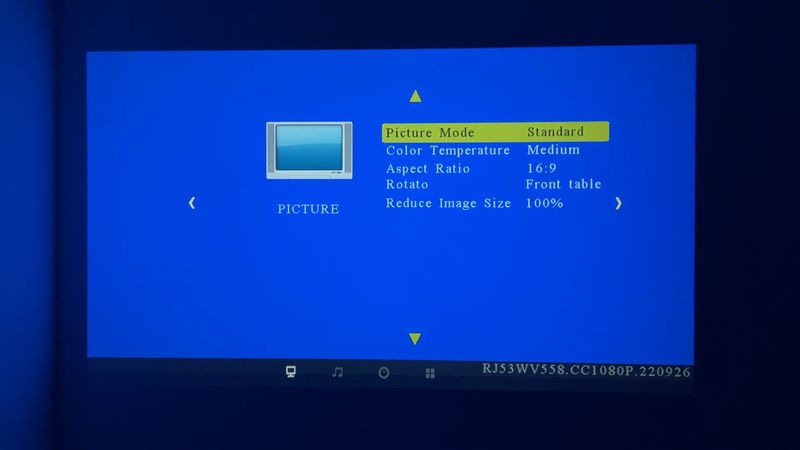 Here we have picture settings, and we can change picture mode from standard, soft, user and vivid, color temperature, aspect ratio, screen rotation, and reduce image size.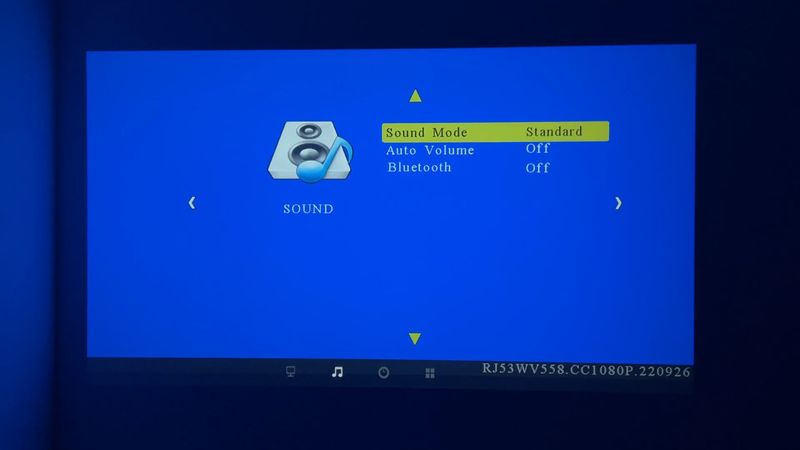 In the audio settings, you can also choose a sound mode, and turn on/off the auto volume and Bluetooth.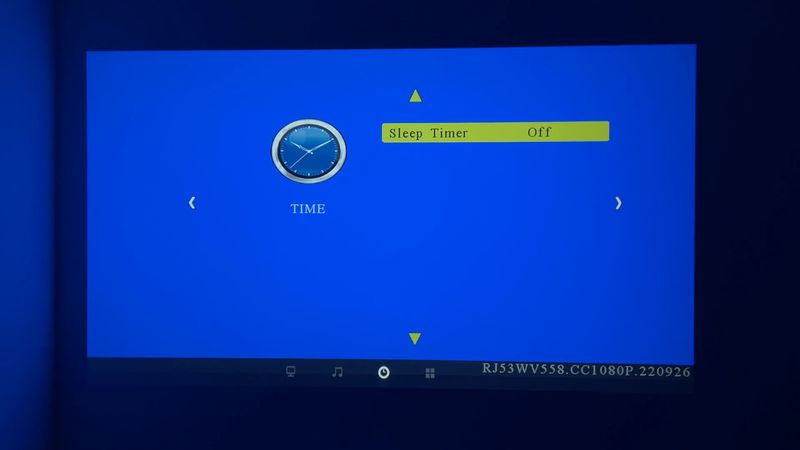 There is also a sleep timer in the settings.
The general options include language, restore factory default, blending, OSD duration, and software update.
Wi-Fi and Screen Mirror
FUDONI R7 supports 2.4 and 5G Wi-Fi, so you can connect Android or iOS device to the projector. I have the iPhone, so I will choose iOS screen.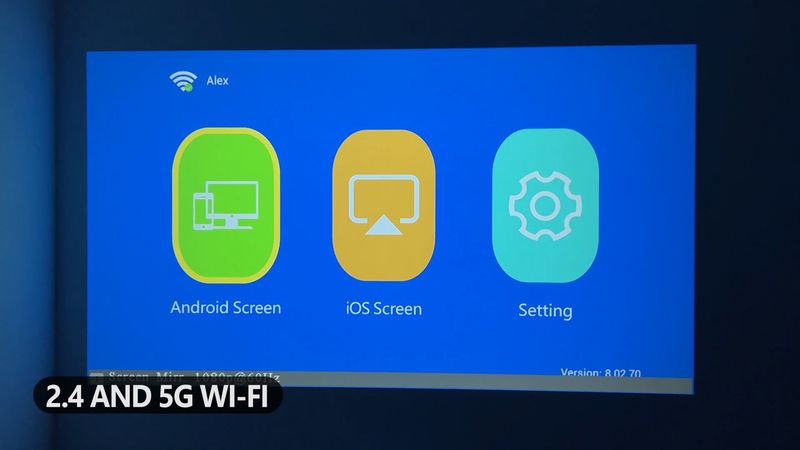 First, you need to go to the settings, and connect a projector to your home Wi-Fi network. Make sure, that your smartphone and projector are connected to the same Wi-Fi network.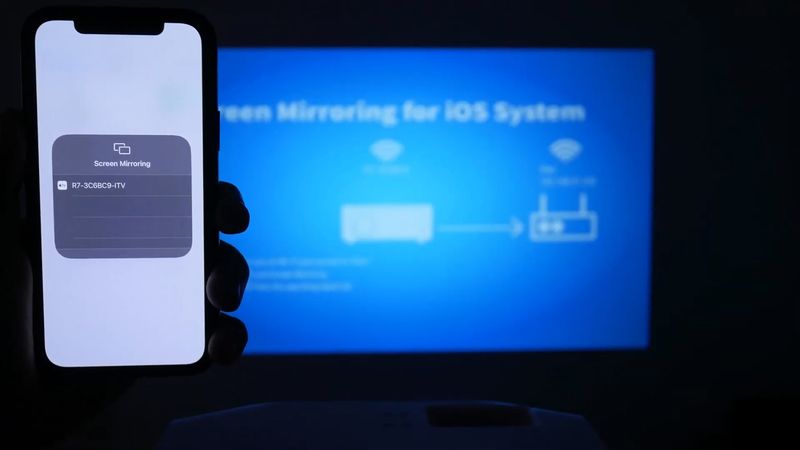 Then, take your phone, open a Screen Mirroring menu, and select R7 projector.
You know, the latency is very low, so you can even try to play games.
Bluetooth
FUDONI R7 projector also supports Bluetooth 5.0. You can connect an external speaker or headphones to projector.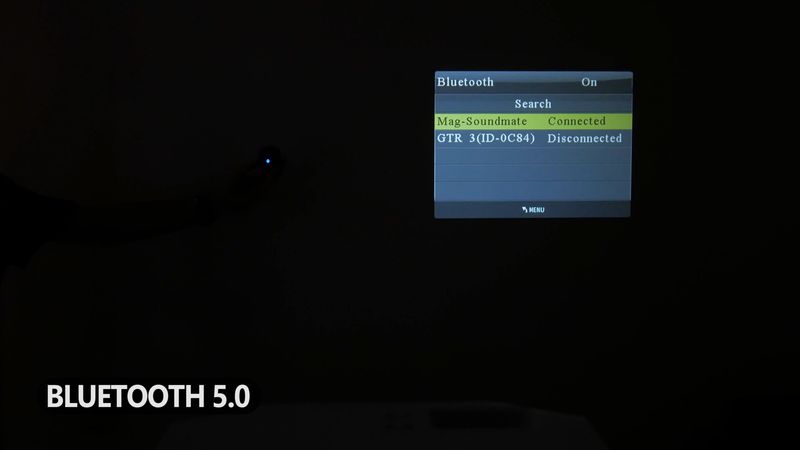 For that, just go to Bluetooth settings on projector, and select your device. This is a small external speaker in my case.
Noise Level
We also need to measure the noise level of the projector.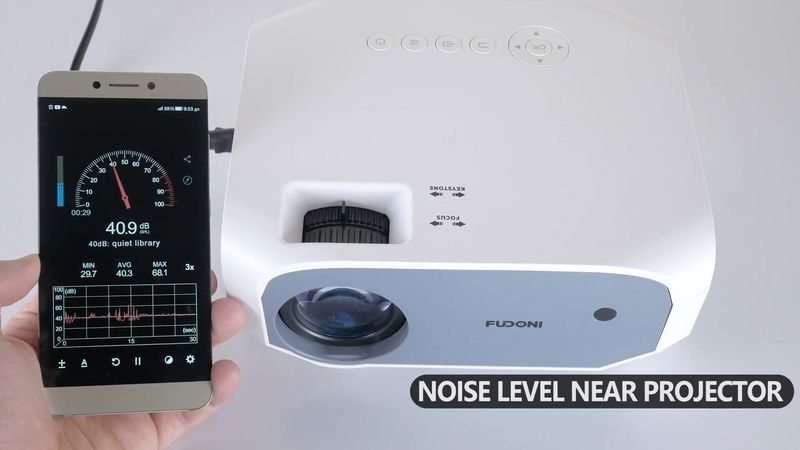 So, it is about 40 db near projector, and 31 db at about 1 meter.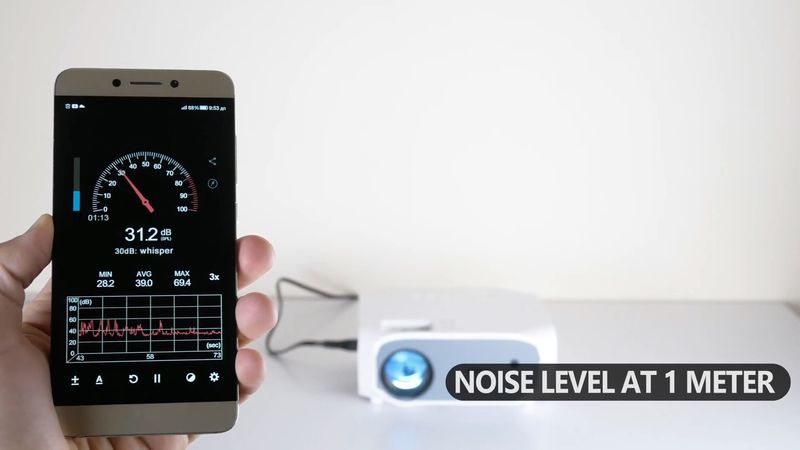 The projector is not very noisy, and it doesn't bother you when you are watching movies.
Speaker Quality
I have told you that you can connect an external speaker to projector, but what about built-in speaker? Is it good? Let's try it.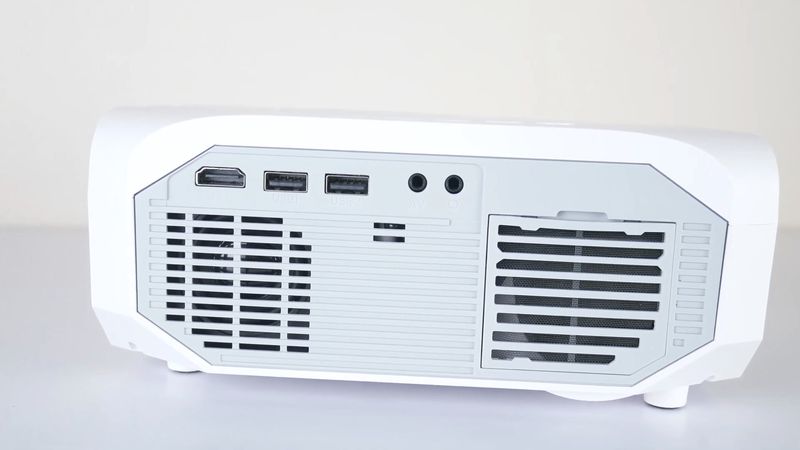 There is a HiFi stereo speaker inside with 5W power.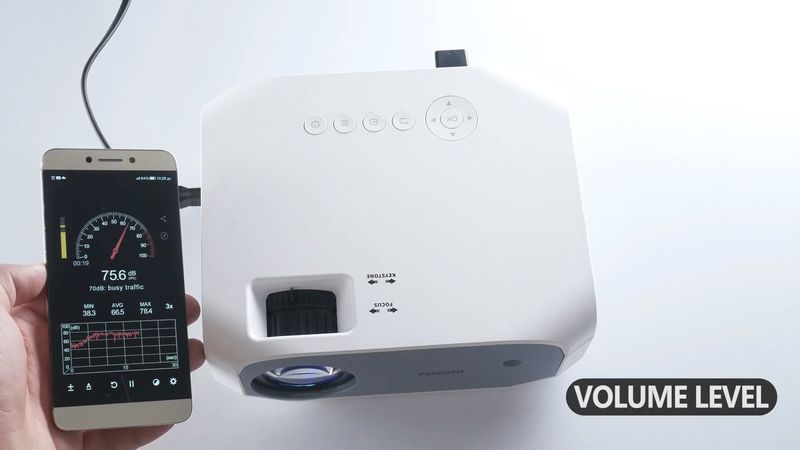 The speaker has a very good volume, and overall it is a good quality. For a simple home theater, it will be enough.
Projection Quality
Finally, let's talk about projection quality.
I have placed a projector at about 2 meters of the wall, and I have a screen size of 70 or 80 inches.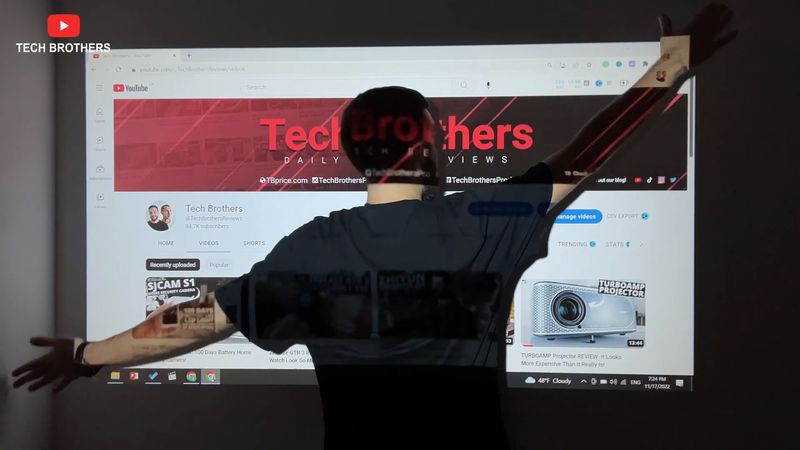 The maximum screen size can be 300 inches, but the manufacturer recommends not exceeding 100 inches for better image quality.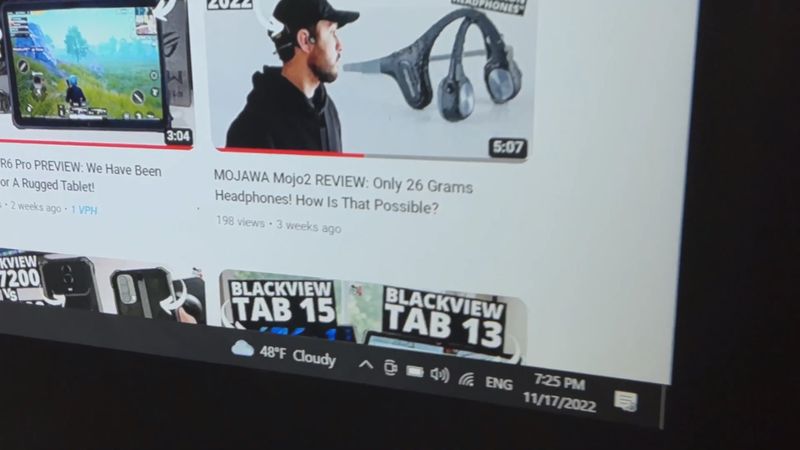 FUDONI R7 projector has Full HD 1080p native resolution, and the image is very crisp. There is a little blurring in the corners, but it is not a big problem.
In general, the text reads very well at any distance from the projection.
The manufacturer says that contrast ratio is 10000 to 1, and we can see that the color accuracy is good.
Talking about the brightness of FUDONI R7 projector, it has 10000 Lumens or 250ANSI lumens.
In a dark room, the image is very good, but if you turn on the light, you can still see the projection, but not as well as in a dark.
On the other hand, if you use the projector during the day with the curtains closed, the image won't be bad.
Conclusion
So, FUDONI R7 is another budget LCD projector. I have tested many similar projectors before, and I cannot say it is much better or worse than the others.
However, it is completely worth its price.
First, it comes with a 100-inch projection screen in the package. This is a very good bonus because some other budget projectors don't even have an HDMI cable.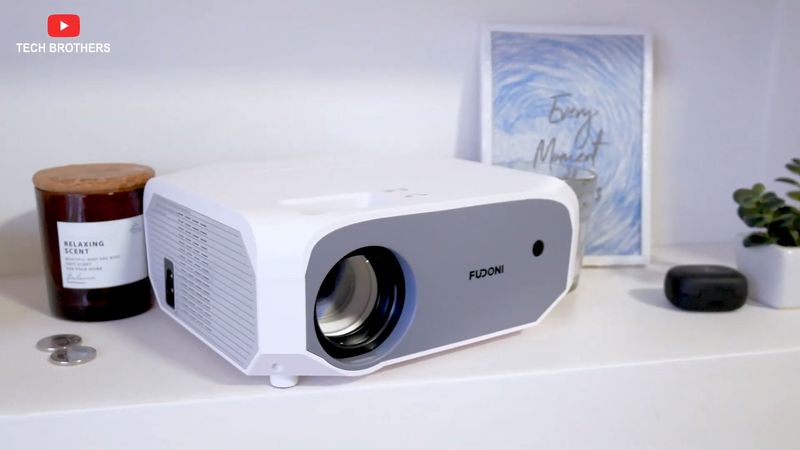 Also, the projector looks nice, and reliable.
The Wi-Fi and Bluetooth connections work well.
I think the specs correspond to the declared, such as Full HD native resolution, high contrast ratio, and 250ANSI Lumens brightness.
FUDONI R7 is available on Amazon for $240, but there is $80 off coupon code. This is a really good projector for $160.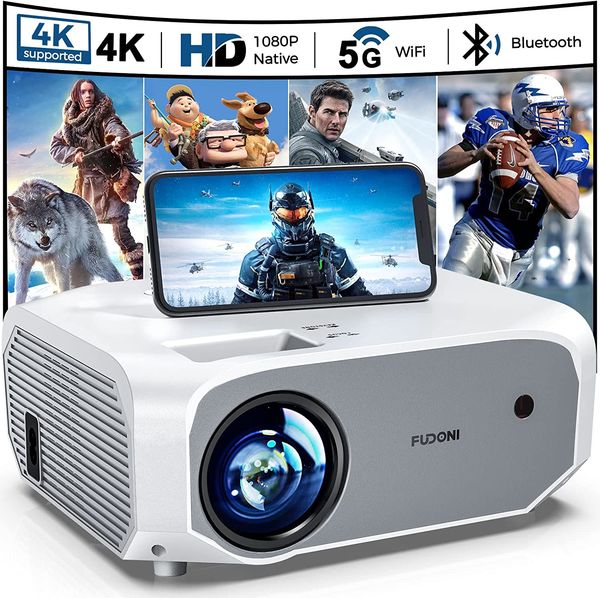 FUDONI 10000L Portable Outdoor Projector - Amazon
as of November 22, 2022 8:55 am