You know, I prefer a laptop for work because I can easily take it with me to another room, coffee shop or wherever. However, the laptops have a very compact screen size – from 14 to 17 inches.
If you also use a laptop for work or study, then you have most likely thought about a second external monitor. I am sure your productivity will go up. However, don't rush into buying a second monitor.
What if I told you that you could get a triple monitor, and then your productivity would increase dramatically.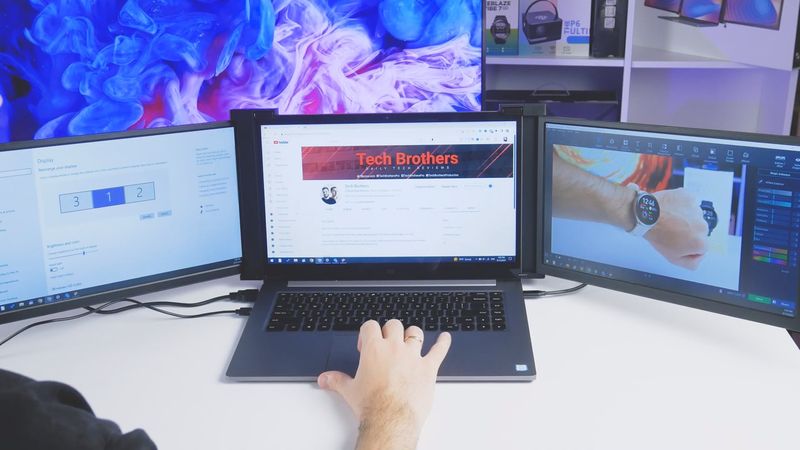 For example, the new FQQ S20 triple portable monitor has two 15.4-inch screens, USB Type-C and HDMI ports for connection to your laptop, and even a bag, so you can carry the monitor with you wherever you go.
Let's take a closer look at the FQQ S20 triple monitor and see if it is really convenient to use.
Unboxing
The monitor came to me in a cardboard box. It has a company logo, model name, product name and information about the manufacturer.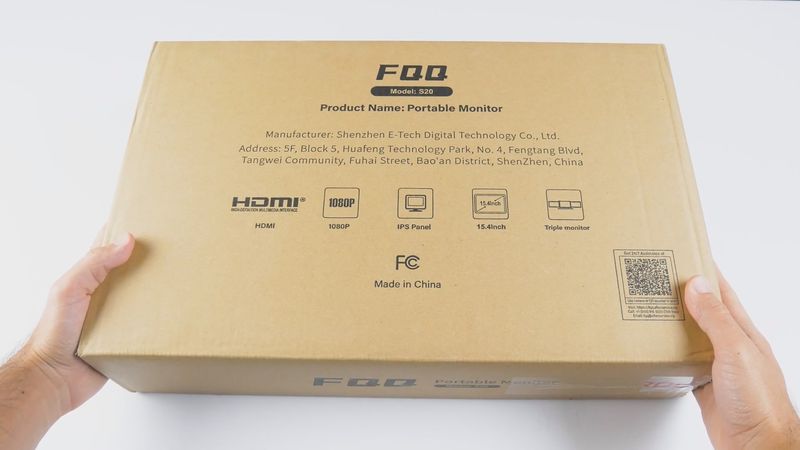 There are also some features of the monitor on the box, such as HDMI, 1080P, IPS Panel, 15.4-inch, and triple monitor.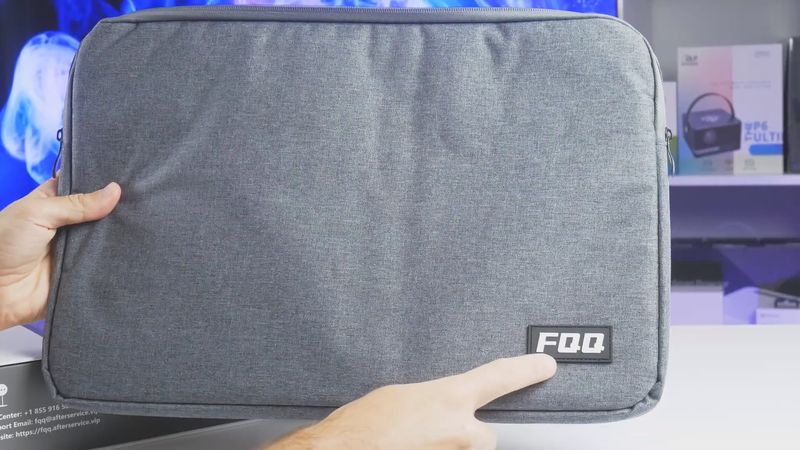 When you open the cardboard box, you will find another box with a color picture of the monitor, and a carry bag. There is a company logo on the bag. In addition, it is very soft inside. That's very good.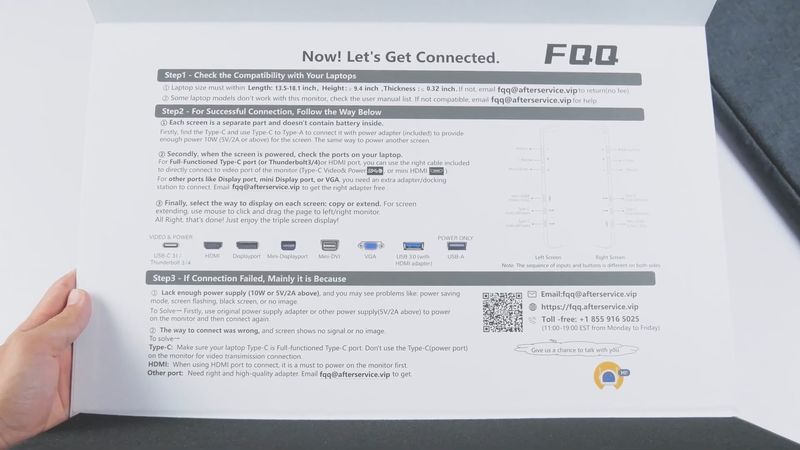 Now, let's open the monitor box. First, we see step-by-step instructions on how to connect the monitor. We will talk about connection later.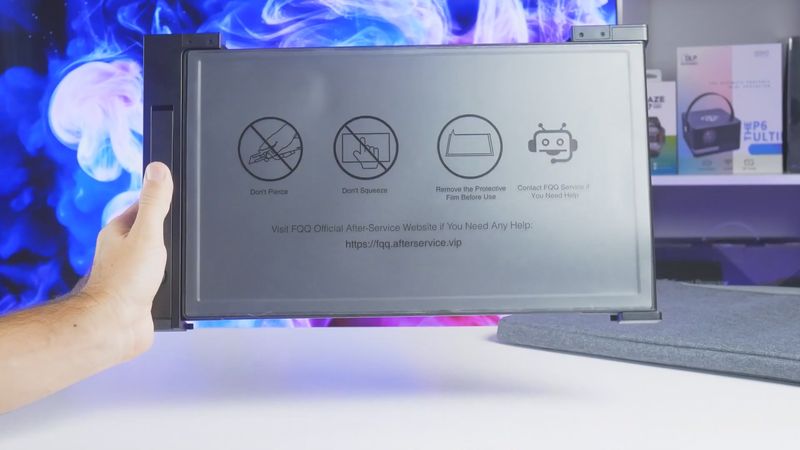 Next is the monitor itself. We will also take a closer look at it a little later.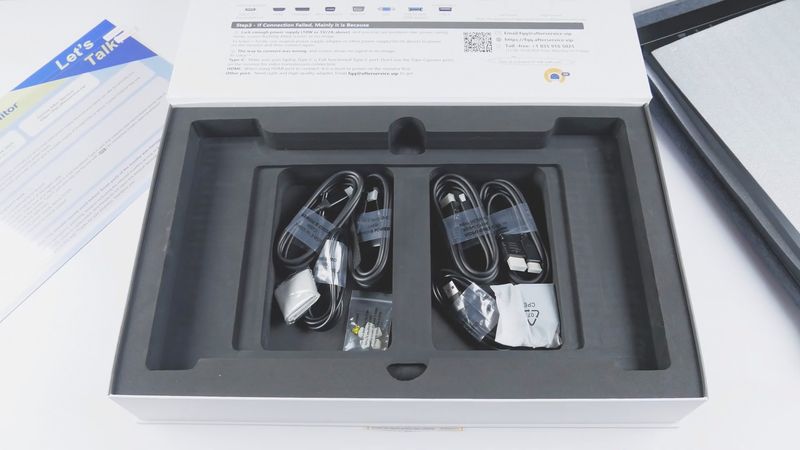 Many cables are included in the package, such as two USB-C to USB-C cables, two mini-HDMI to HDMI cables, two USB-C to USB-A cables. Of course, you don't need all the cables to connect a monitor. For example, you can use only two USB-C cables if you have two full-functioned USB-C ports in your laptop.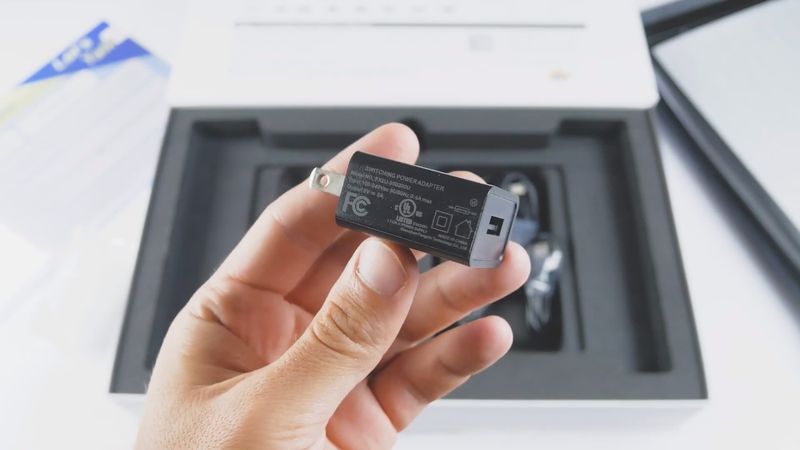 There is also a power adapter, screen protectors, cleaning cloth and hook-and-loop fastener in the box.
Design
You might have already noticed that the monitor is black color. It looks very stylish and premium. In addition, if you have a black laptop, it will match perfectly.
However, the problem with the black color is that it shows fingerprints heavily. Given the fact that this is a portable monitor, and you will often touch it to fold or unfold, there will always be fingerprints.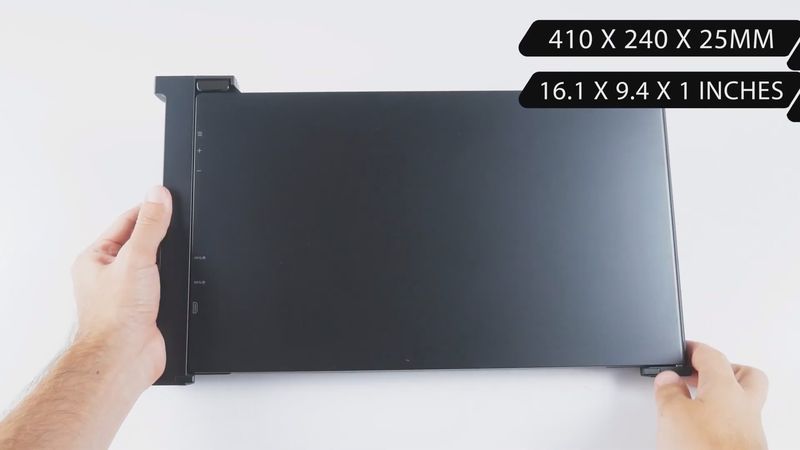 The FQQ S20 triple monitor is about the same size as my laptop, but it is much thicker. The dimensions are 410 x 240 x 25 mm. The weight is 1700 grams.
By the way, it is the company's biggest triple monitor because it has 15.4-inch screens.
Overall, the monitor is portable and lightweight, so it is easy to carry around.
Installation
Before connecting the monitor, you need to install it on the laptop.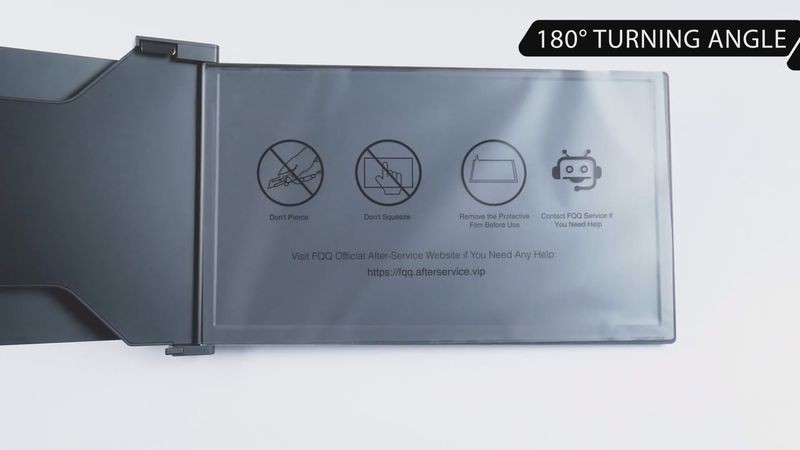 First, unfold the right and left screens. Note that the right screen has a turning angle of 180 degrees, and the left screen has a turning angle of 235 degrees.
Now, you can place a bracket of the triple monitor on the laptop screen.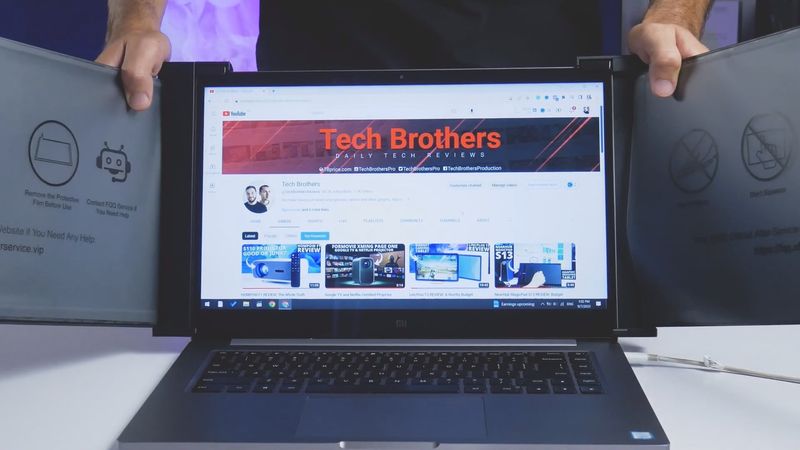 Make sure that the clamps hold the laptop screen securely.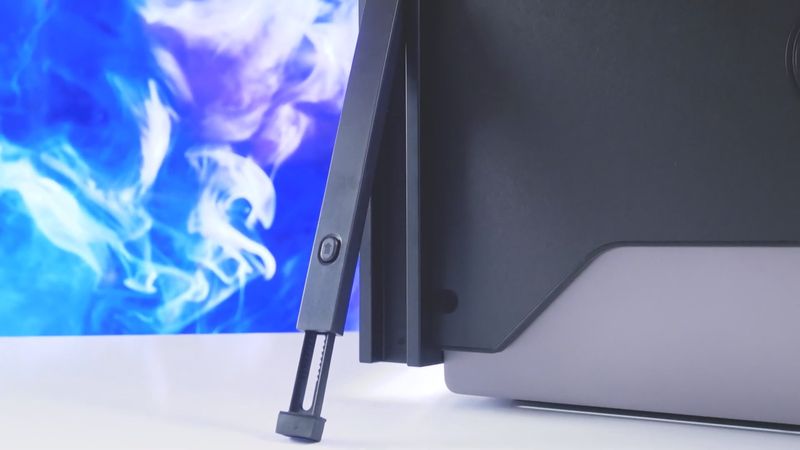 You also need to lift the stand on the back of the monitor and extend it to the table. The stand provides additional support for the triple monitor.
Supported Laptops
Of course, before installing or even buying this triple monitor, you need to make sure that it is suitable for your laptop. As I said before, this is the largest triple monitor from the FQQ company.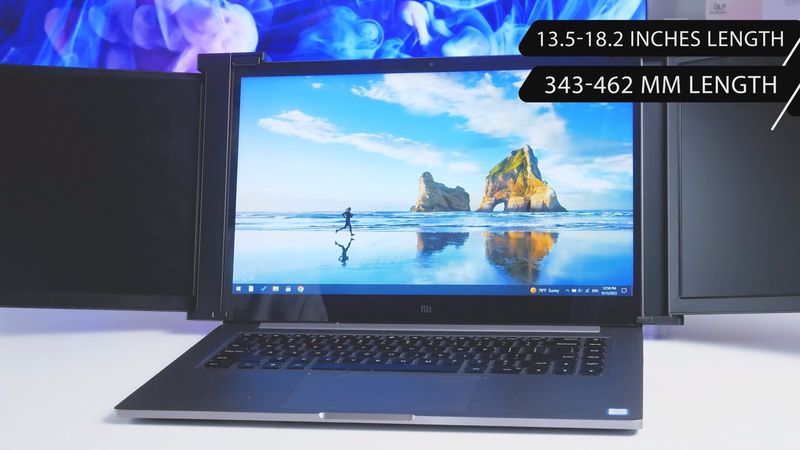 So, your laptop screen diagonal should be between 15.6 and 17.3 inches. In terms of dimensions, the length should be from 13.5 to 18.2 inches, the height is more than 9.4 inches, and the thickness of the laptop screen must not exceed 0.33 inches.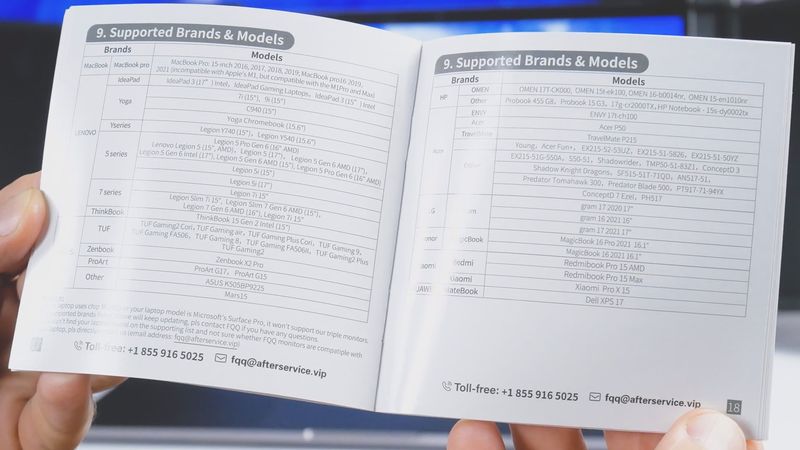 By the way, you can find all supported laptops in the user manual. If your laptop is on this list, you can safely buy the FQQ S20 triple monitor.
Connection
However, another important point is connection. Each screen of the triple monitor is connected to the laptop separately.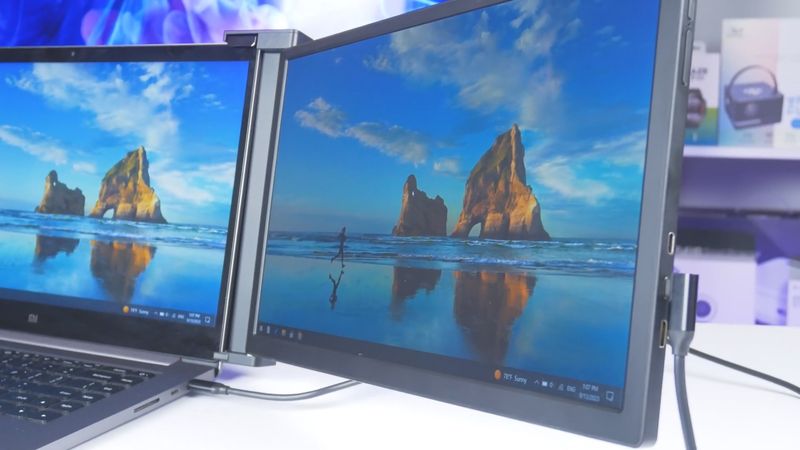 You can use a single USB Type-C port for video and power transfer, but your laptop should have a full-functioned USB Type-C port.
It is best that your laptop has two full-functioned USB-C ports, so you can connect the screens with two USB Type-C cables.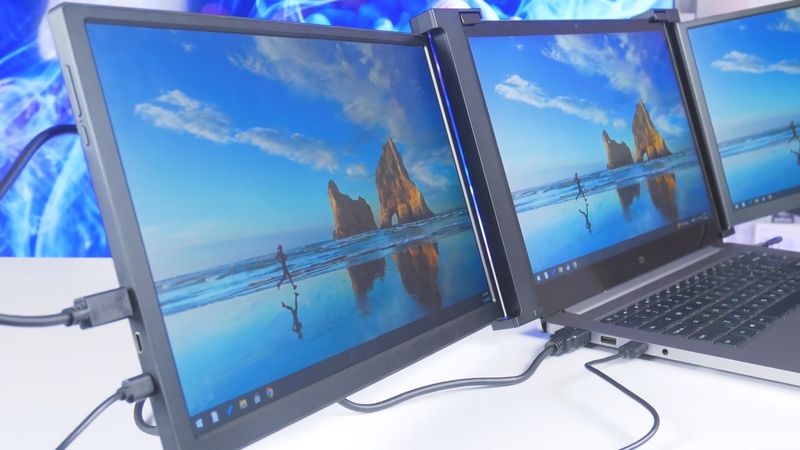 I have only one full-functioned USB-C port on my laptop, so I will connect the second monitor using an HDMI cable and USB A cable.
On the inside of the box, we can see which ports and methods can be used to connect the triple monitor.
Settings
Before we talk about image quality of the screens, let's take a look at the settings menu. Both screens have the same settings menu, so I will show one of them.
You need to press a single button on the side of the screen to open the settings menu.
First, we can change the brightness, contrast, black level and sharpness.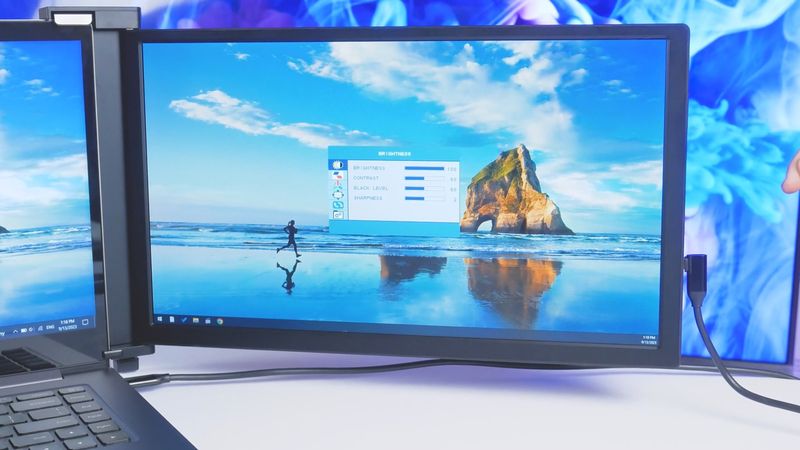 Next, we have image settings, such as ECO mode, Dynamic Contrast Ratio and aspect.
You can also select a color temperature mode, and even manually change the red, green, and blue in User mode.
The On-Screen Display settings include language, OSD timer and transparency.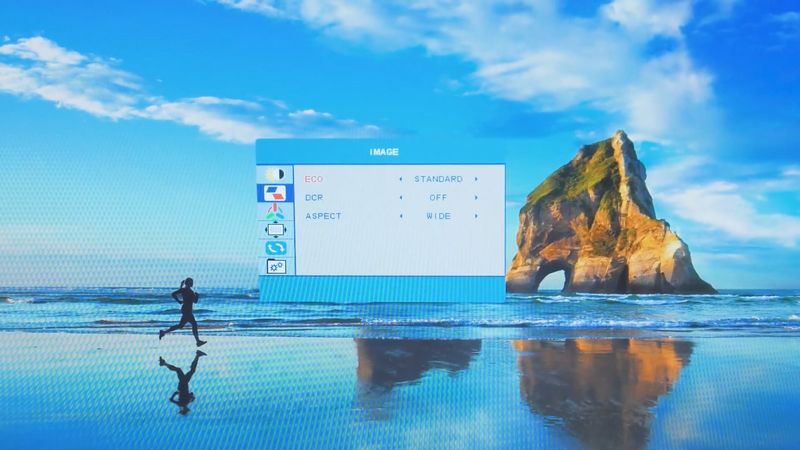 Finally, you can reset the settings. I will do that, so I can use the default settings.
In the last menu, there is a signal source, low blue light and HDR Mode.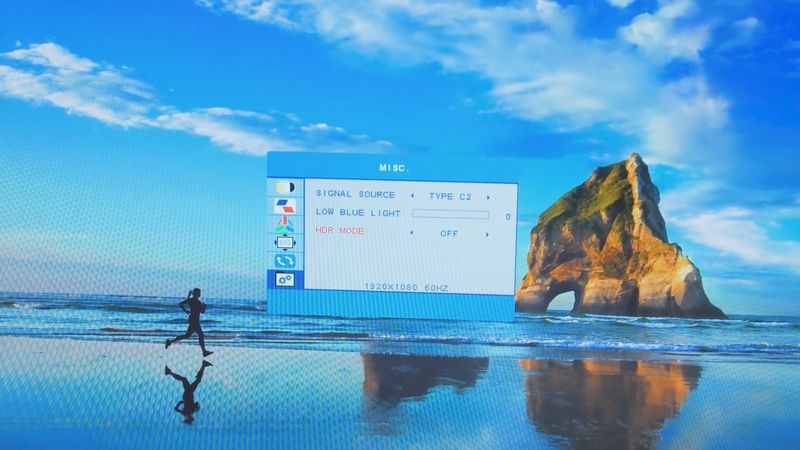 By the way, here we see that the monitor has 1080P resolution and 60Hz.
Image Quality
Now let's talk about image quality.
My laptop screen has a diagonal of 15.6 inches and Full HD resolution.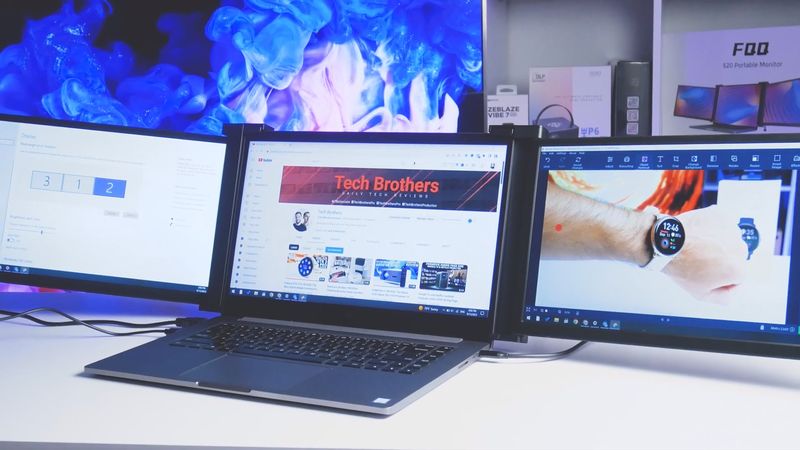 The screens of the triple monitor have a diagonal of 15.4 inches and the same Full HD resolution.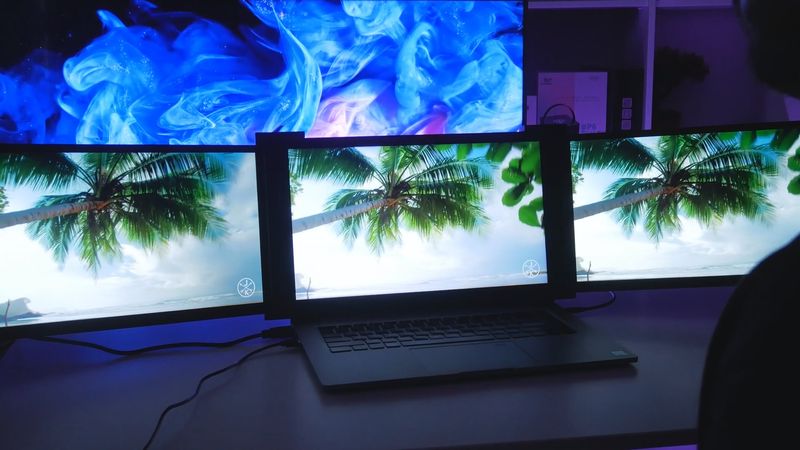 However, you can see that the image is slightly different on the laptop screen and triple monitor. I think it's because the laptop screen has a glossy coating, and the triple monitor screens come with anti-glare eye care technology. It makes the extra screens look warmer than my laptop screen.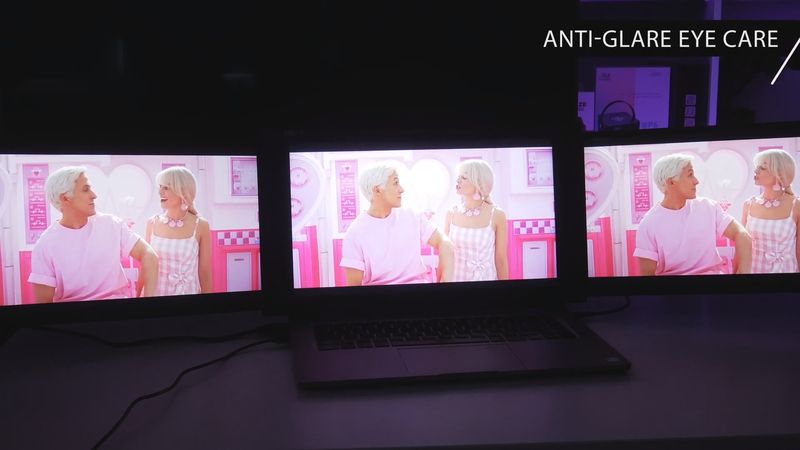 The brightness of the laptop and triple monitor screens is the same – 300 candela per square meter.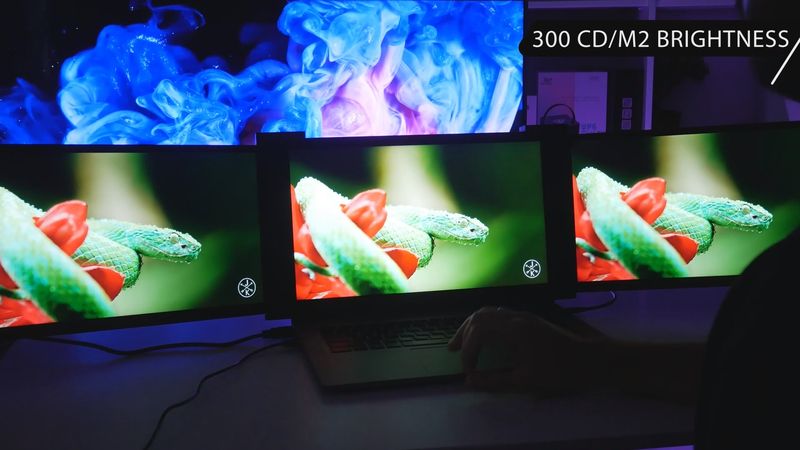 By the way, all the screens in my build are IPS.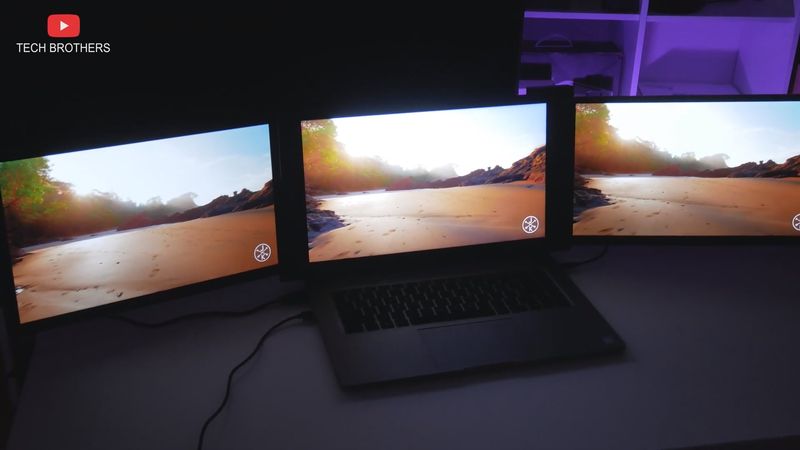 Overall, I am very pleased with the image quality of the triple monitor. The extra screens are very close to my laptop screen, so I feel comfortable using them.
Conclusion
So, FQQ S20 triple monitor is a very useful gadget for those who work at home or even in the office. This is a portable triple monitor, so you can quickly and easily assemble it, put it in a carry bag and take it with you.
The triple monitor can be used with most 15.6-inch or 17.3-inch laptops.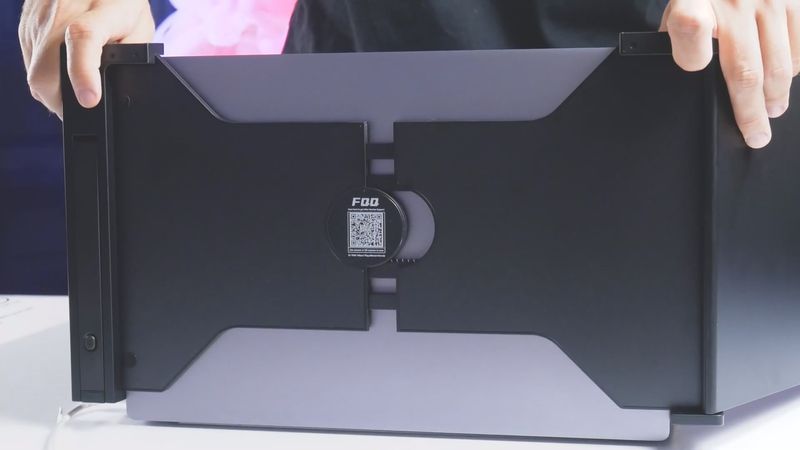 The installation is very easy, but you should pay attention to the connection. It is better to have two full-functioned USB Type-C ports on your laptop, or you can use one full-featured USB-C port to connect one screen, and HDMI + USB A port to connect the second screen.
As for the image quality, it is very decent. I like that it's close to my laptop screen, so I feel comfortable using this setup.