Today we will be testing another projector, but it is special for me, because this is my first laser projector. I have tried many different LCD projectors before, but I didn't have a laser one.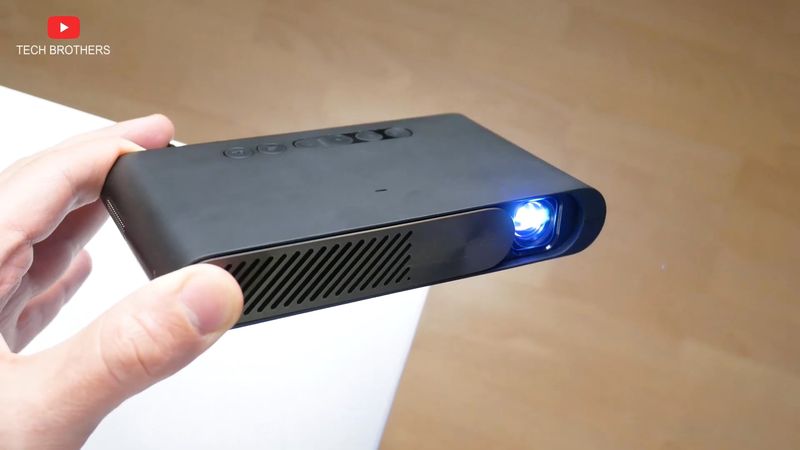 The new Formovie P1 uses ALPD light source and DLP technology.
We will talk about the advantages of a laser light source in this article, but first let's do an unboxing.
Unboxing
So, I received the projector in this box. There is a Formovie logo on one side and a sticker with some information about the projector on the other.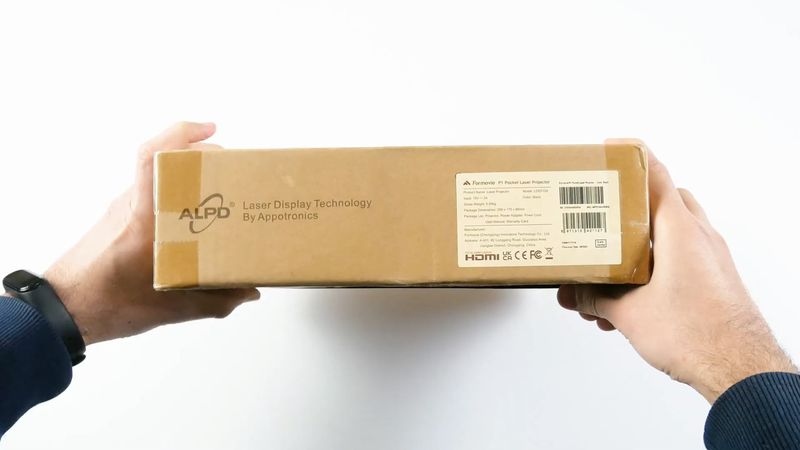 At first, I thought there was another box inside the cardboard one, but it was just a paper cover.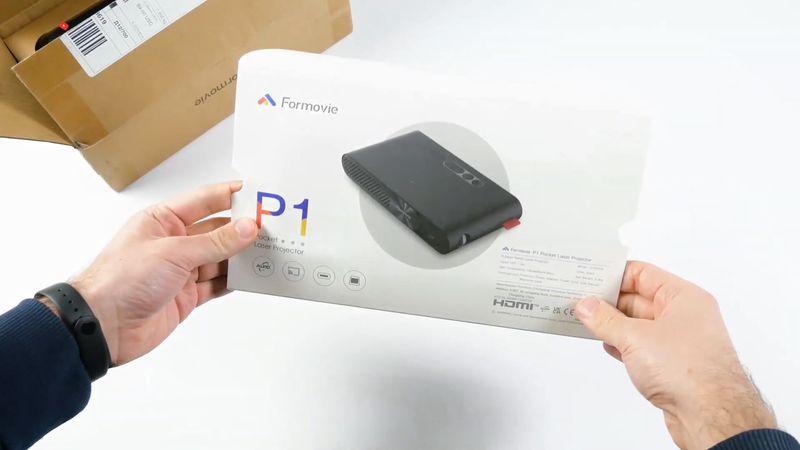 When you take it out, you will find a carrying case.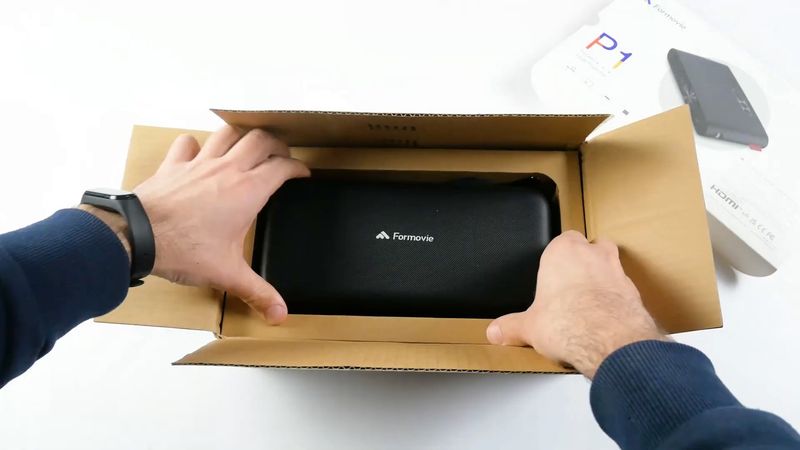 You know, this is one of the most durable projector cases I've ever seen. It looks like an armored case.
Inside there is a projector itself, power adapter, USB-C charging cable, user manual and warranty card.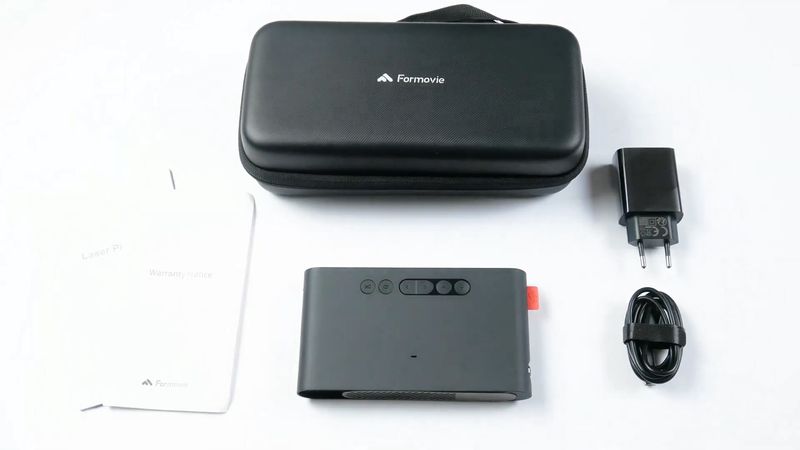 I am surprised there is no remote control included.
On the other hand, the projector doesn't have a smart operating system, so you have to connect a TV box, game console or laptop anyway. If so, you really don't need a remote control.
Design
I didn't tell you this, but I think you have already noticed the second feature of Formovie P1 projector – the compact pocket-size. Its dimensions are 150 x 83 x 25 mm. The weight is only 300 grams.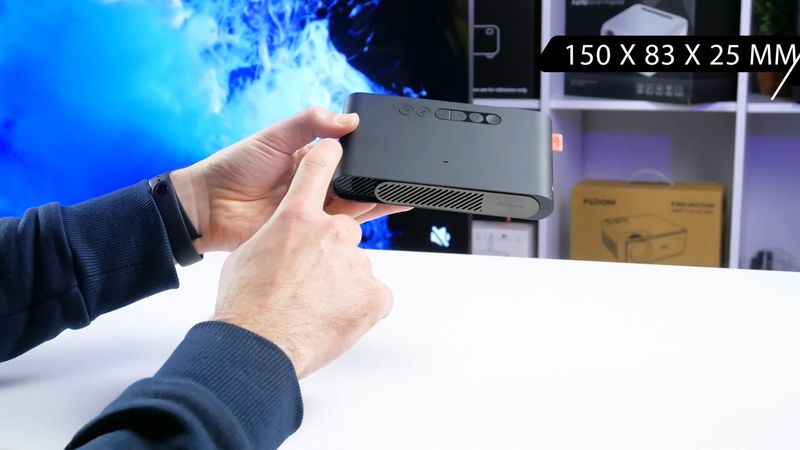 So, it is a very compact and lightweight projector. You can take it with you everywhere.
Formovie P1 has no built-in battery, but I think it is still portable, because you can use a USB Type-C charging port to use a projector from a power bank. That's very cool.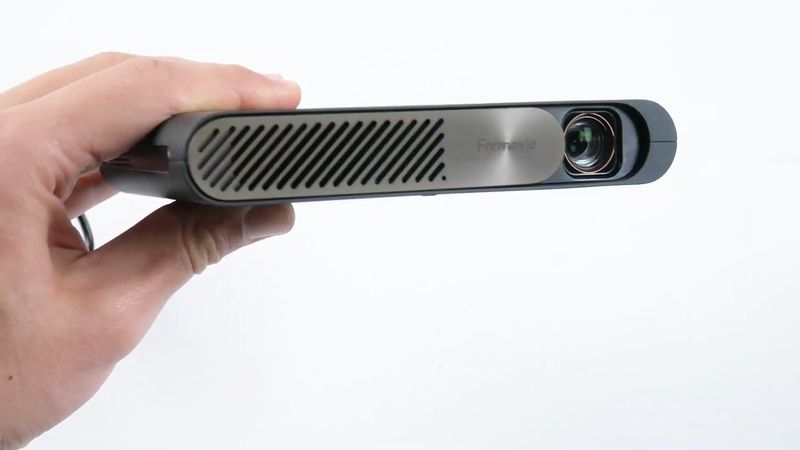 There is a cover on the front of the projector and if you slide it, the projector will turn on. I like this solution because the lens is protected from dust.
We can also see a speaker on the front.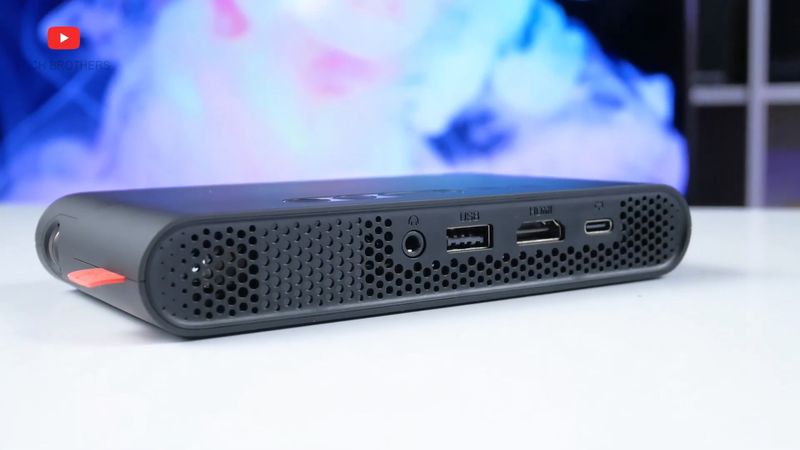 If we look at the back, there is a headphone jack, USB 2.0 port, HDMI port and USB-C PD port.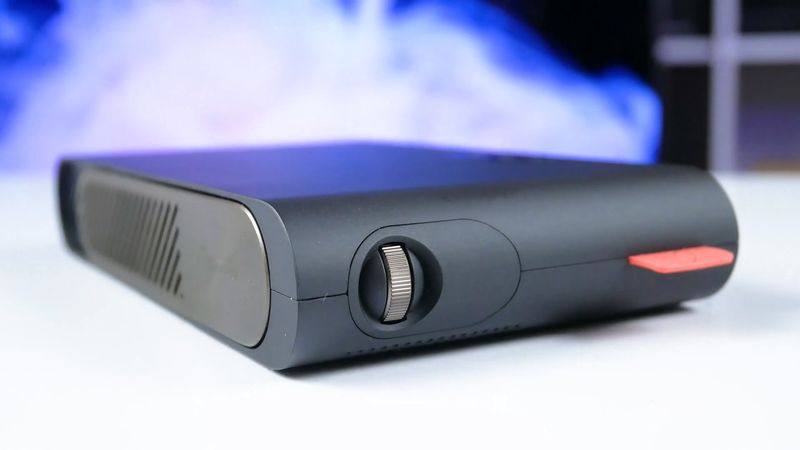 A focus adjustment wheel is on the left side. There is no keystone correction wheel because a projector uses vertical auto-keystone correction.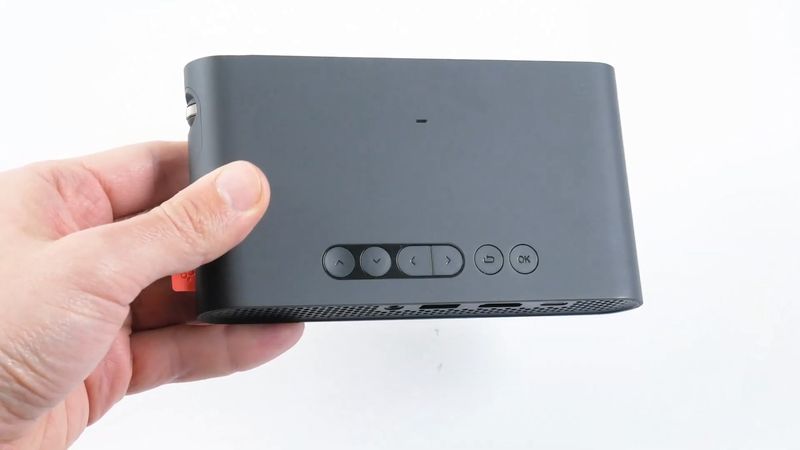 As I already said, Formovie P1 doesn't have a remote control, so you can only use the buttons on the projector. There are up and down, left and right, return and OK buttons at the top.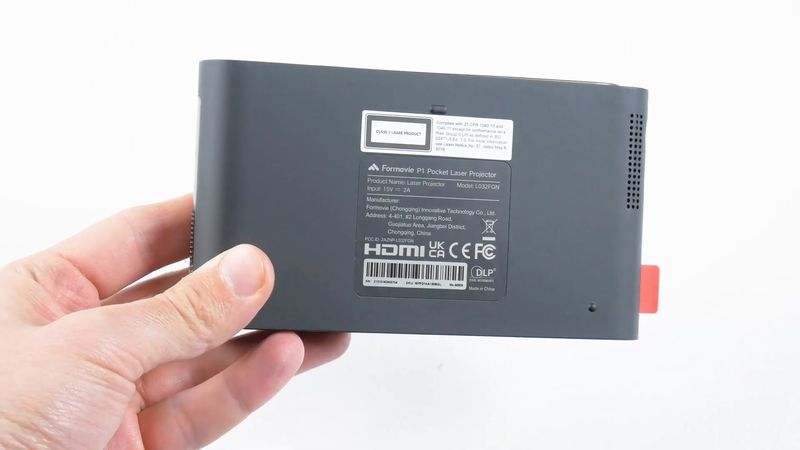 You know, I usually mount projectors on a tripod, but Formovie P1 doesn't have a tripod hole at the bottom. You can only put it on a table.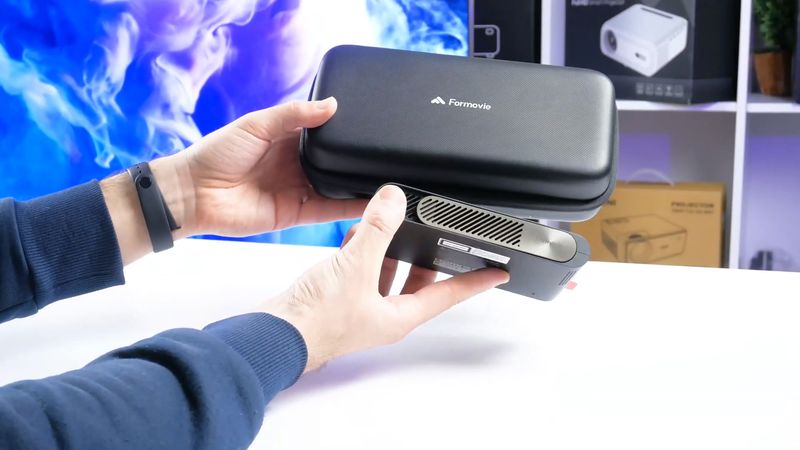 So, compact size is one of the main features of the new Formovie projector. Together with a high quality case, it is very comfortable and safe to carry the projector with you.
User Interface
OK, now, we can turn on the projector, and look at the user interface.
Formovie P1 has a simple multimedia system. You cannot install apps, such as YouTube, Netflix, etc., but you can insert a USB flash drive, and play a movie, photo, music and text.
By the way, don't be frightened by the running line on the projection. You cannot really see it in person.
At the top of the screen are settings, Wi-Fi, HDMI and Screen Mirroring.
Settings
In the settings, we can enable or disable Eco mode, change picture mode, brightness, contrast, sharpness, saturation, color temperature and aspect ratio.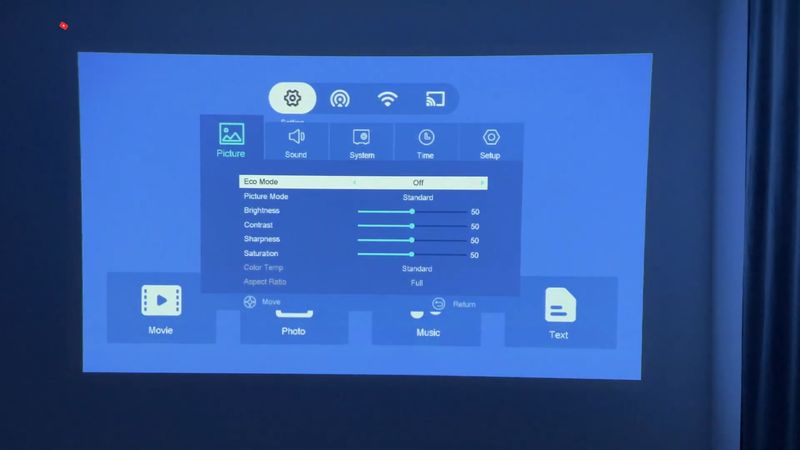 The sound settings include sound mode, treble, bass, balance, surround sound and AVL.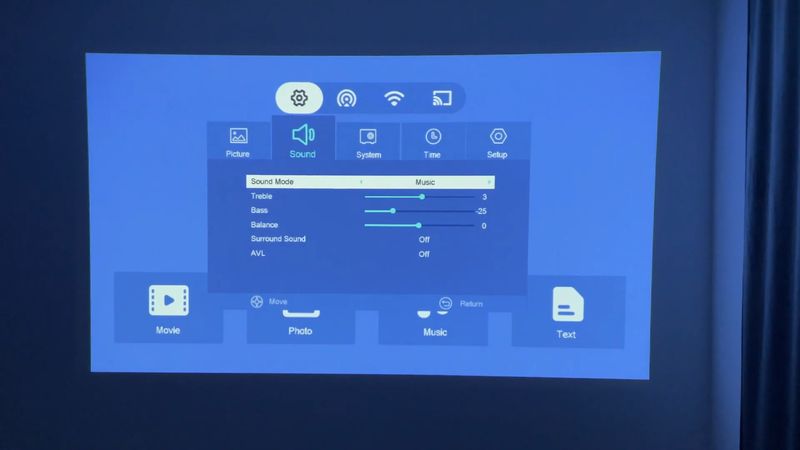 In the system, you can read about the device, such as name, serial number, software version and network information.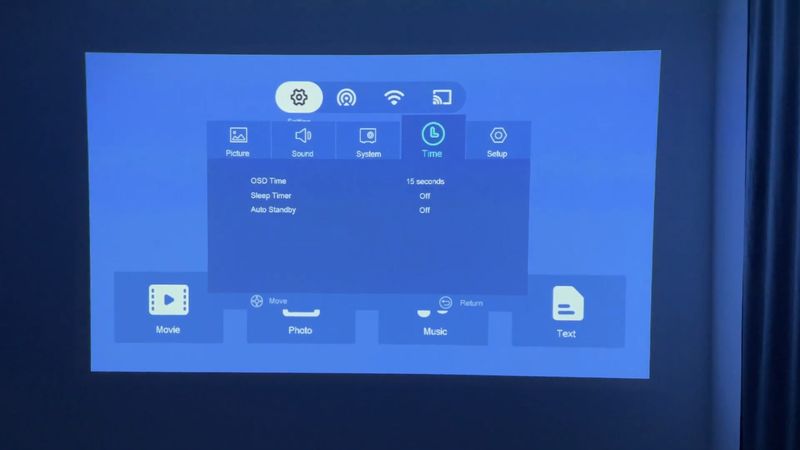 The time settings have OSD time, sleep timer and auto standby.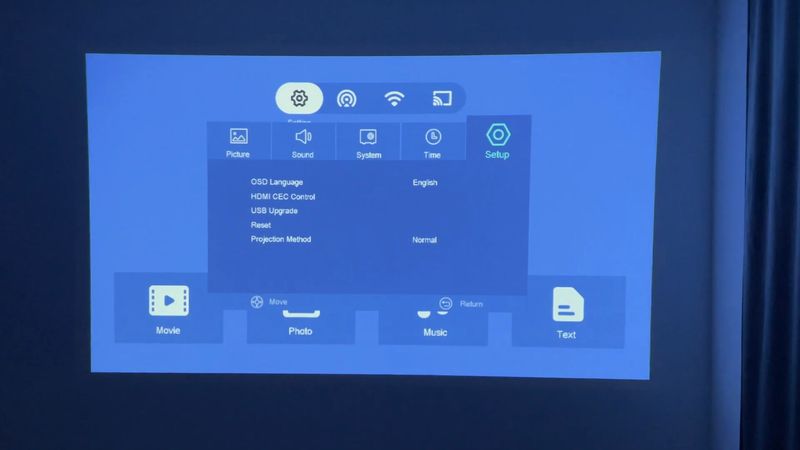 Finally, you can change the language, USB upgrade, reset and change the projection method in the setup menu.
Wi-Fi and Screen Mirroring
Now, I want to show you how to connect a smartphone to a projector.
First, you need to go to Wi-Fi and connect to your home Wi-Fi network.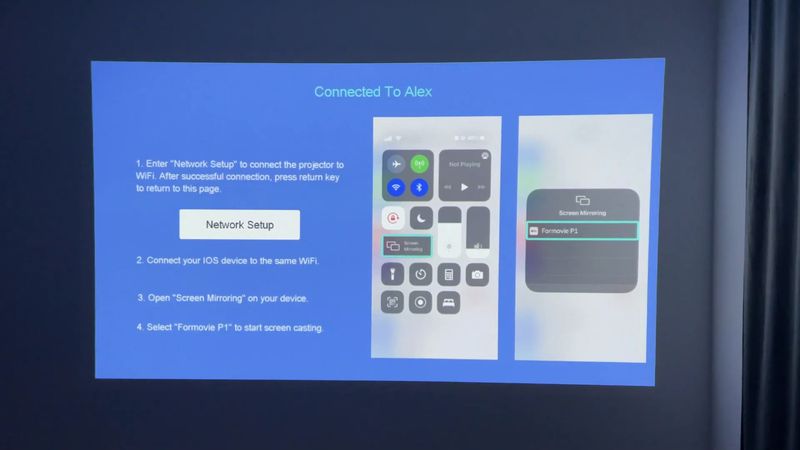 Then, open the Mirror menu, and select the operating system of your smartphone. In my case, it is an iOS device.
Now all you have to do is open Screen Mirroring on your smartphone and select a projector.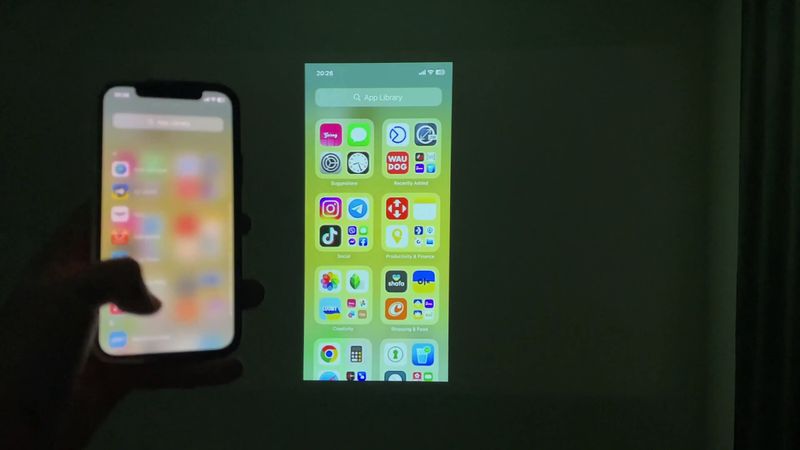 You know, I am not sure if Formovie P1 uses Dual Band Wi-Fi, but the latency is quite low.
Noise Level
One of the main advantages of laser projectors is the low noise level. Formovie P1 is the quietest projector I have ever tested. It is almost silent, but it does have a fan inside.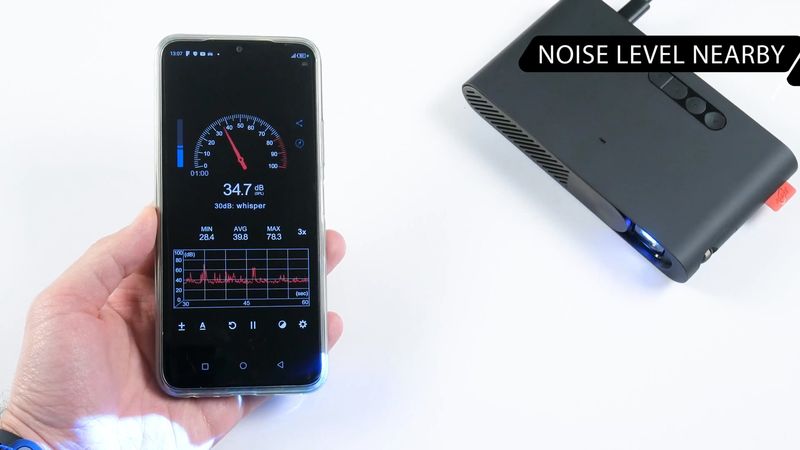 The noise level near the projector is only 35 db.
Speaker Quality
You know, the disadvantage of the compact size is that the manufacturer cannot install a quality speaker in the projector. Unfortunately, the built-in speaker of Formovie P1 is quite weak. It is only 0.8W, so the volume level is low.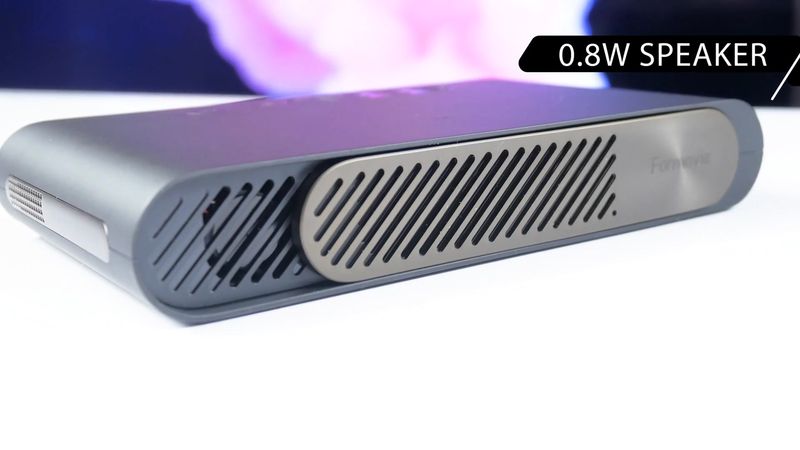 However, you can connect an external speaker or headphones to the projector via a 3.5mm audio jack.
Projection Quality
Finally, let's talk about the projection quality of Formovie P1.
First, I am surprised by the throw ratio and picture size. I placed a projector at about 2.5 meters of the wall, and I have a screen size of about 90 inches.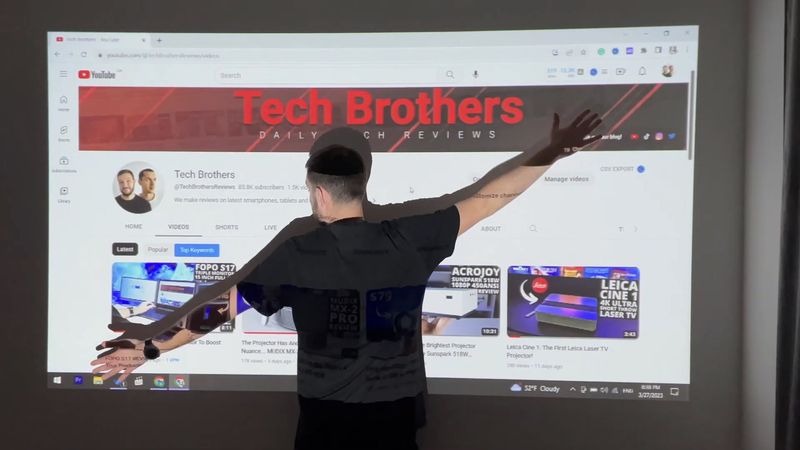 The manual says the screen size can be from 40 to 100 inches, depending on the distance between the projector and the wall. It is not an ultra-short throw projector, but the throw ratio is very good.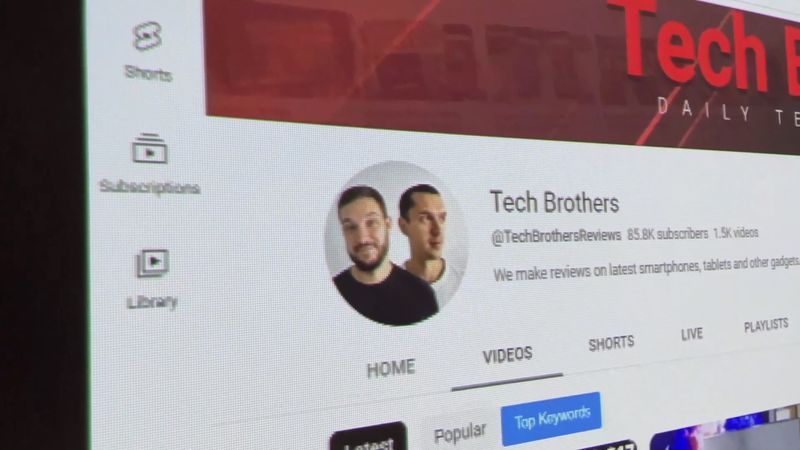 The native resolution of Formovie P1 is qHD, 960 by 540 pixels. Overall, the image is clear, but you can see the pixels at close range. However, the text reads well.
The contrast ratio of this projector is 600 to 1. I think color reproduction and brightness are the main advantages of a laser projector.
By the way, DLP technology provides very rich colors.
When it comes to brightness, Formovie P1 has 800 Lumens. The manufacturer promises 25000 hours lifetime of the light source.
I always knew that laser projectors were brighter than LCDs, but now I see it with my own eyes.
Laser projectors are more energy efficient, and they produce much less heat than LCD projectors, so they have a very high brightness.
800 lumens is enough to use the projector in a room with the light on.
Conclusion
So, I was very excited about Formovie P1 because it is my first laser projector. However, given its affordable price, it has some disadvantages.
First, I didn't like that there is no remote control included, so it is not very convenient to navigate through the settings menu.
In addition, the built-in speaker has poor quality. You should think about an external speaker before buying this projector.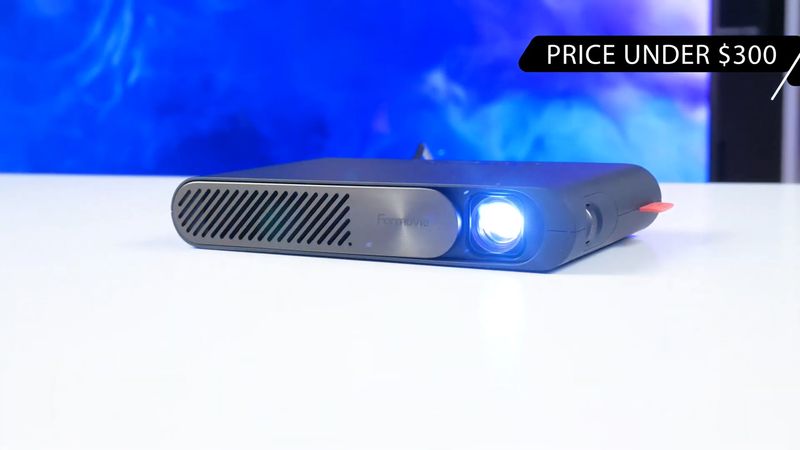 You know, qHD native resolution doesn't sound very impressive, but it is enough for reading even small text. For watching movies, it is not a problem at all.
Moreover, thanks to the laser light source, as well as DLP technology, the picture is very bright and colorful. I don't think you will find this kind of image among LCD projectors.