You know, we have tested many dash cams on our channel Tech Brothers. In 2022, you can choose a dash cam with single, dual or even triple cameras, 1080P, 2K or 4K resolution, GPS, app control, and many other useful features.
However, there is also a dash cam, which is attached to the mirror in the car cabin. It is called a mirror dash cam.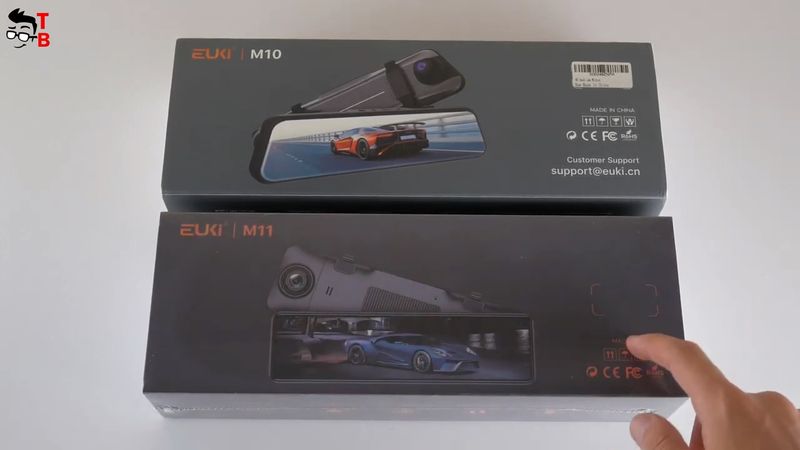 I have two new models of these dash cams from EUKI Company. One of them has a 10-inch display, while another one has 11-inch screen. So, the first dash cam is called M10, while the second one is M11.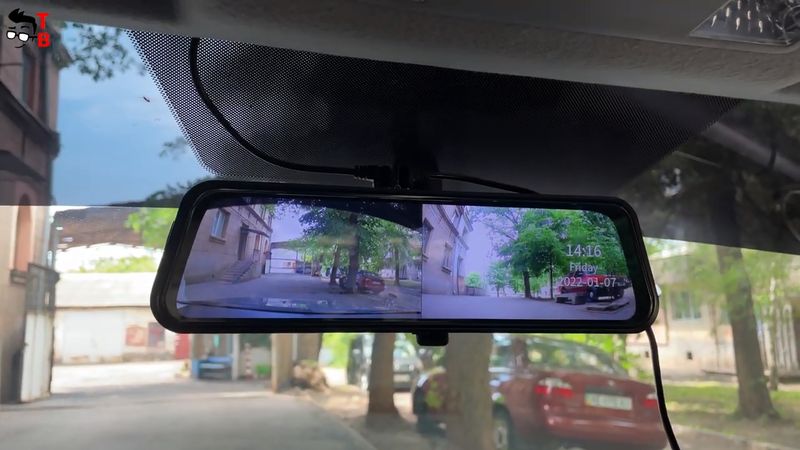 You know, they have about the same features, such as GPS, G-Sensor, parking monitor, dual camera, etc. However, they have different camera sensors, so the video quality should be different.
OK, let's do unboxing and full review of EUKI M10 mirror dash cam in this article, and the next week, we will post an article about EUKI M11.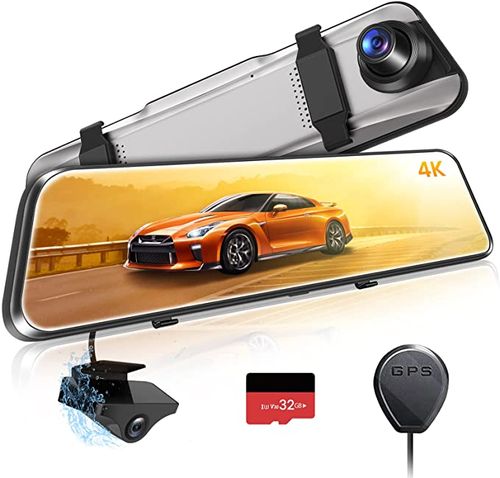 4K Mirror Dash Cam, Rear View Mirror Camera, EUKI M10 - Amazon
as of September 16, 2023 11:12 pm
Unboxing
On the box, we can see a mirror dash cam in the full size.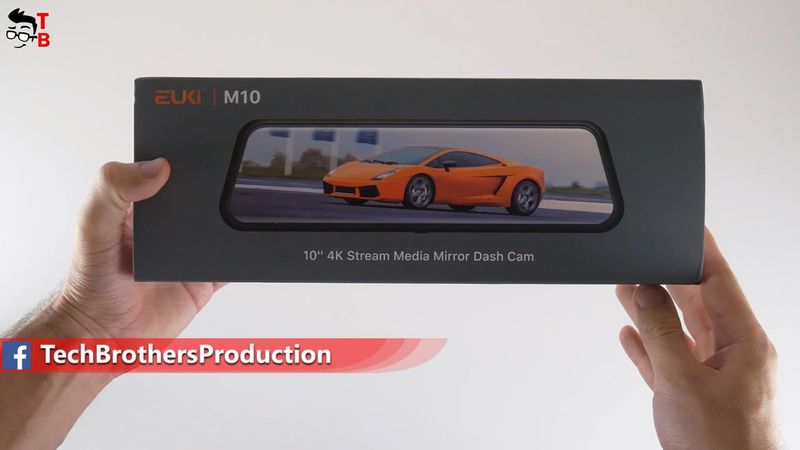 The main features are on the side faces, such as reversing assistant, loop recording, HDR, waterproof, 4K resolution, microSD, IPS touch screen, Sony sensor, and others.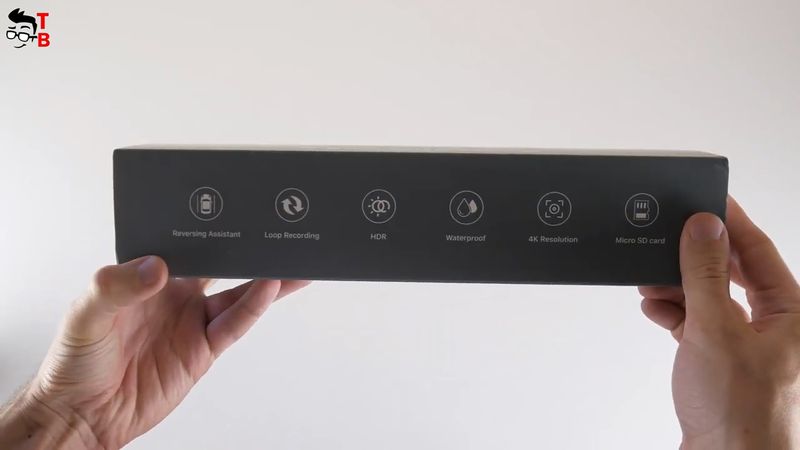 Inside the box, there is a mirror dash cam, straps, GPS module, car charger adapter, rear camera and extension cable for it, two screws, adhesive tape and a user manual.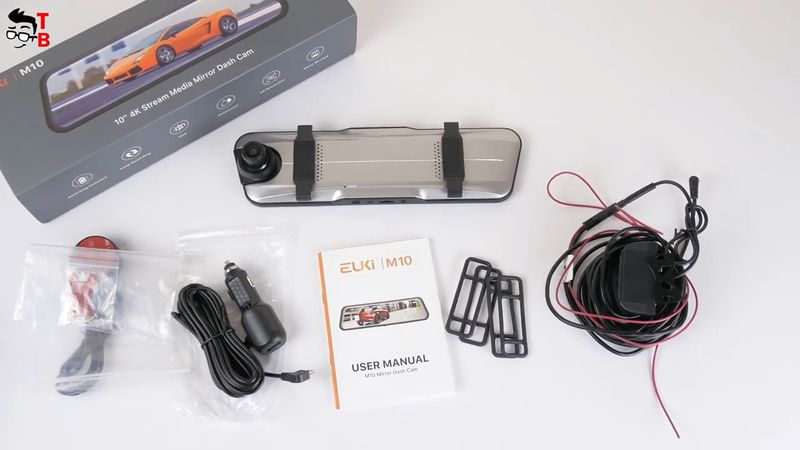 So, there is everything to install the dash cam and the rear camera.
Design
EUKI M10 is much bigger than other dash cams, because it has 10-inch touch display. For comparison, I have a dash cam with 3-inch screen, and it looks very tiny next to the mirror dash cam.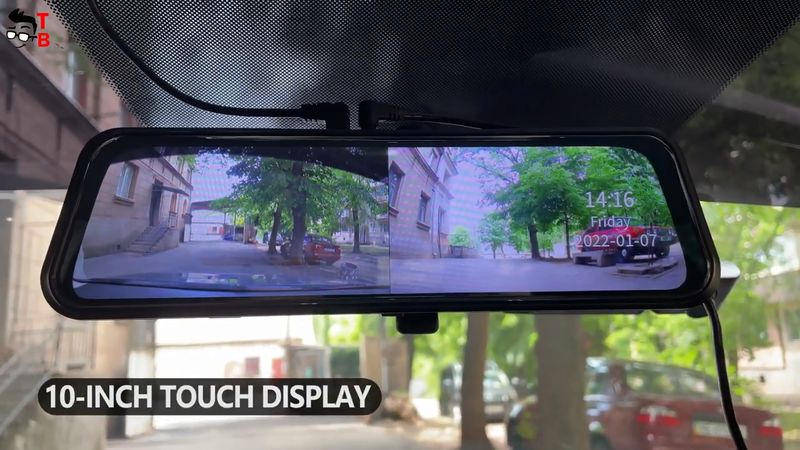 You know, I didn't find information about screen resolution, but it looks very clear. It is also very responsive.
The camera lens is located on the back of dash cam. By the way, it can be rotated up and down, left and right.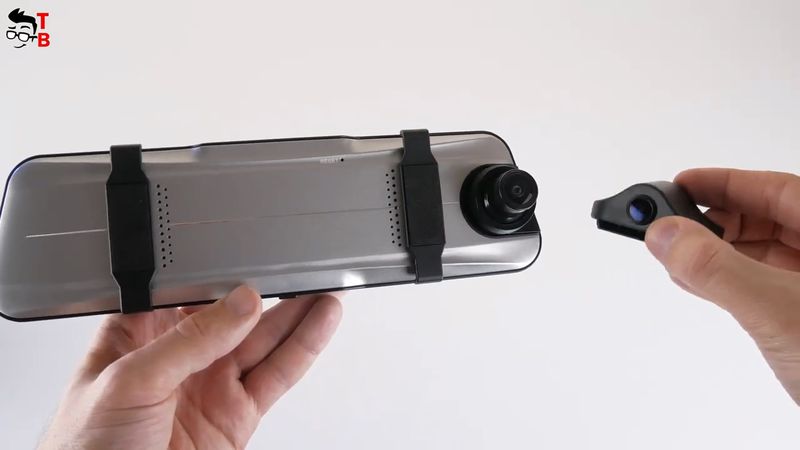 There are also two strap mounts to install the dash cam to the rear view mirror. It looks like this in my car.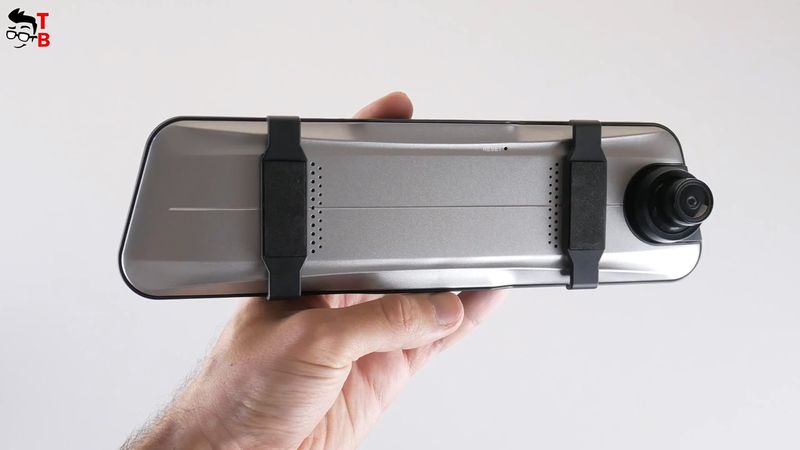 Then, we can see speaker grilles and reset hole on the back of dash cam.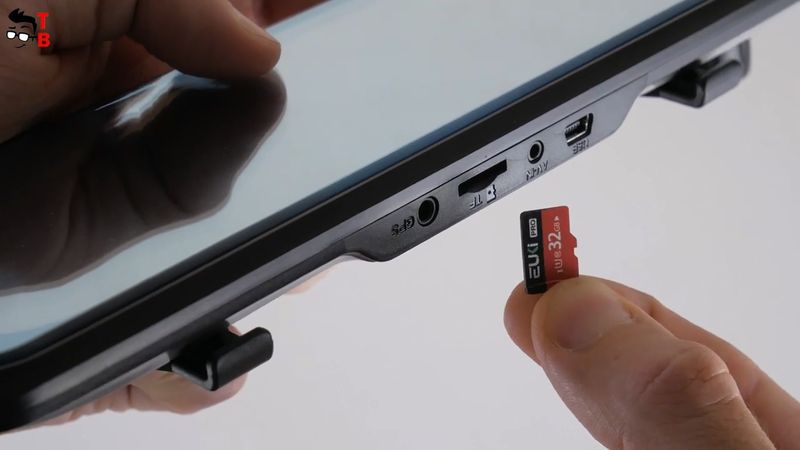 At the top, there is GPS slot, TF card slot, rear camera slot and USB power input.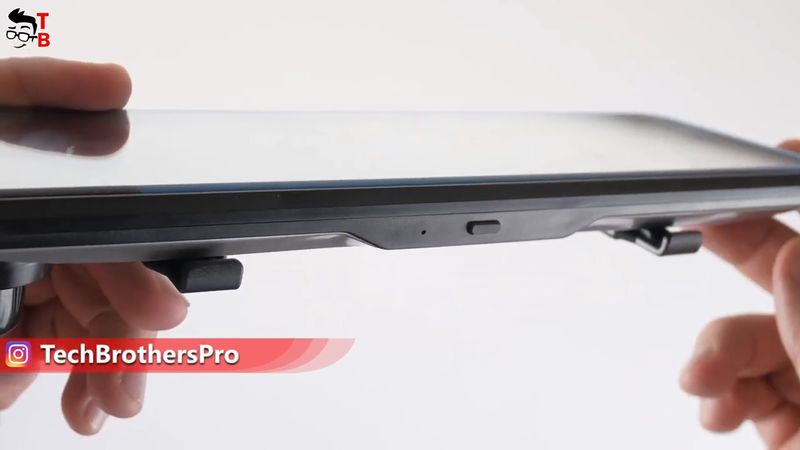 At the bottom, we have a power button and microphone hole.
By the way, I didn't notice right away that the dash cam comes with MicroSD memory card. That's very good.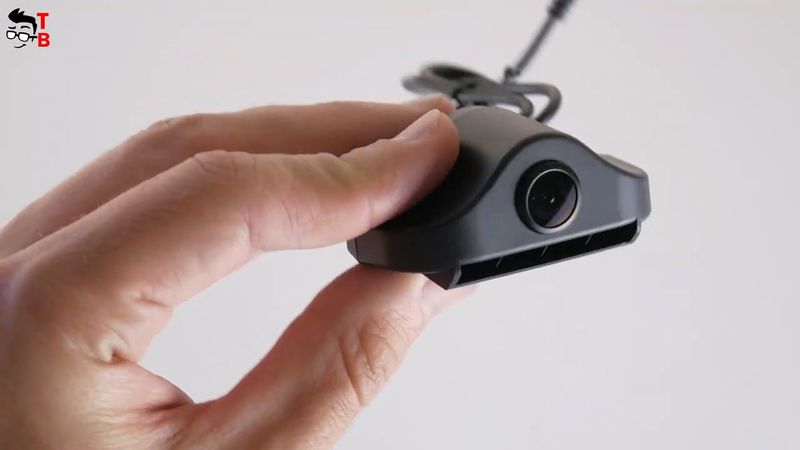 Talking about rear camera, it doesn't have any connectors or buttons. You just need to install it to the rear windshield or license plate, and then connect to the dash cam.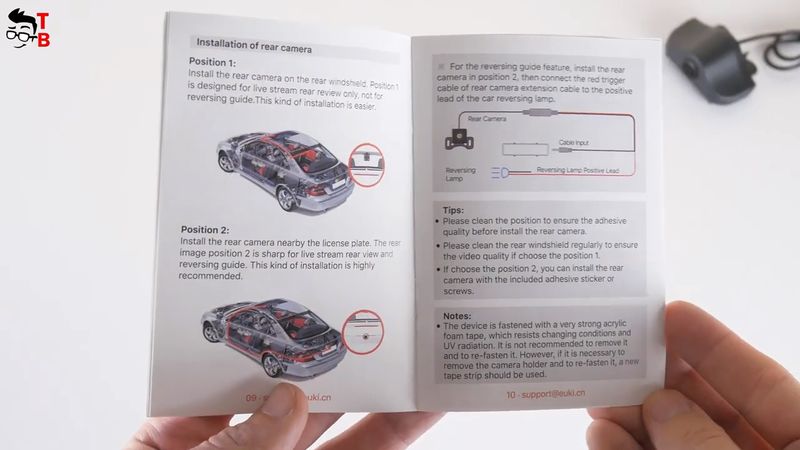 In the user manual, we can read how to properly install the rear camera. As I already said, you can install it to the rear windshield, or nearby the license plate. The first method is easier, but the second one is recommended.
You can also connect a rear camera to the reversing lamp of your car. That way, when you put in the reverse gear, the rear camera on the dash cam will automatically turn on.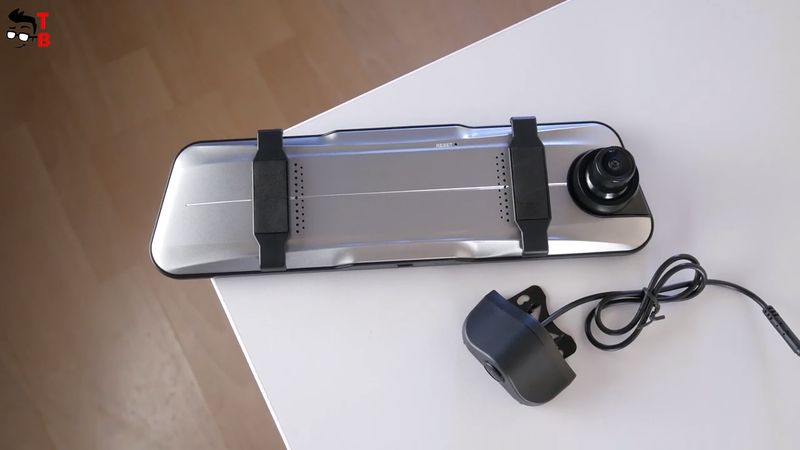 By the way, the rear camera is waterproof, so you don't have to worry about it when it rains or even snows.
Now let's take a look at the functions of the dash cam.
Functions
First, you should know that the camera starts recording immediately after powering on.
The icon in the left top corner reports about record.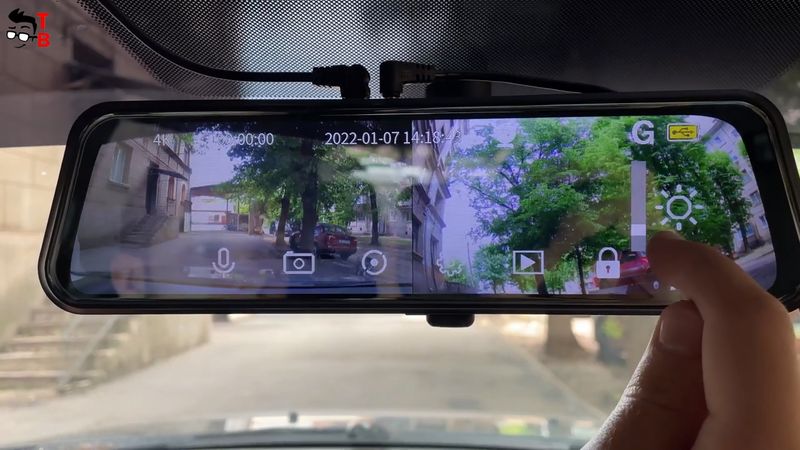 Then, we can see a display recording time, date, parking mode, g-sensor, and battery.
The slider on the right side allows you to change the screen brightness.
At the bottom of the screen, we can turn the microphone on and off, take a snapshot, start video recording, go to the settings menu and gallery, lock the current video.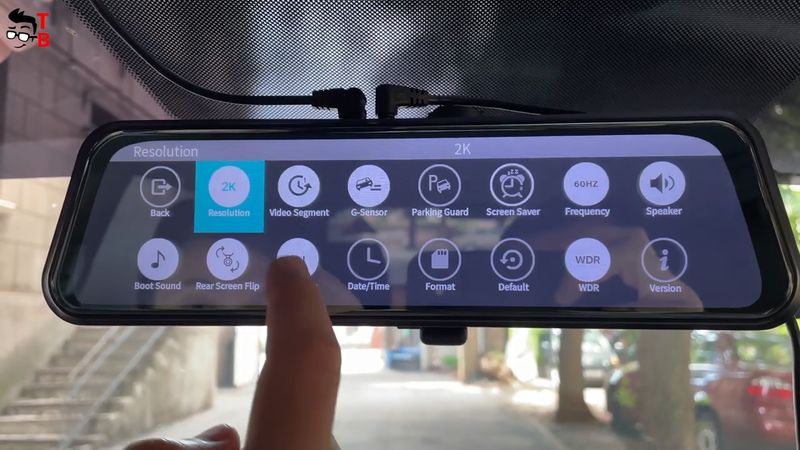 In the settings menu, we can change a video resolution. As you can see, the front camera resolution is 4K, while the rear camera resolution is 1080P.
We can also choose a video segment from 1 minute to 5 minutes.
G-Sensor settings are low, medium and high.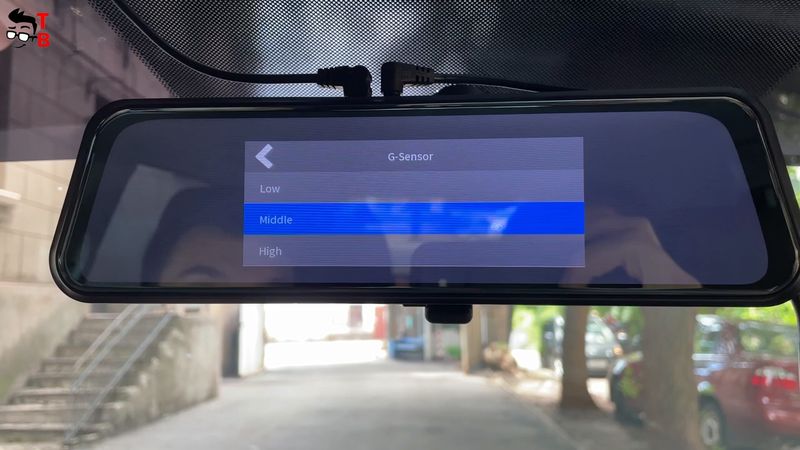 For the parking guard, we need to use a hardwire kit. Unfortunately, it doesn't come in the package.
The other settings are screen saver time, frequency, speaker, boot sound, rear screen flip, language, date and time, format memory card, return to default settings, WDR and version.
You know, EUKI M10 mirror dash cam doesn't have Wi-Fi support and app control. However, I don't think that you really need it, because there is a big 10-inch touch screen.
Video Quality
As I said before, a video recording on the front and rear cameras starts immediately after powering on. Let's talk more about the camera and video quality.
The front camera has Sony IMX335 STARVIS Sensor. Its maximum video resolution is 4K, while the rear camera is 1080p.
In addition, the front camera is 170 degrees wide angle, while the rear camera is 140 degrees wide angle.
By the way, I noticed that mirror dash cam is installed farther from the windshield than the other dash cams, so it has an even wider viewing angle.
Overall, the video quality is very good. The image is clear, and I like that camera records at 30fps. Thanks to this, the video is very smooth.
Conclusion
So, for the price of $99, EUKI M10 is a very good dash cam.
You know, the mirror dash cam has some advantages over the other dash cams, for example, a big 10-inch touch screen and a wide viewing angle.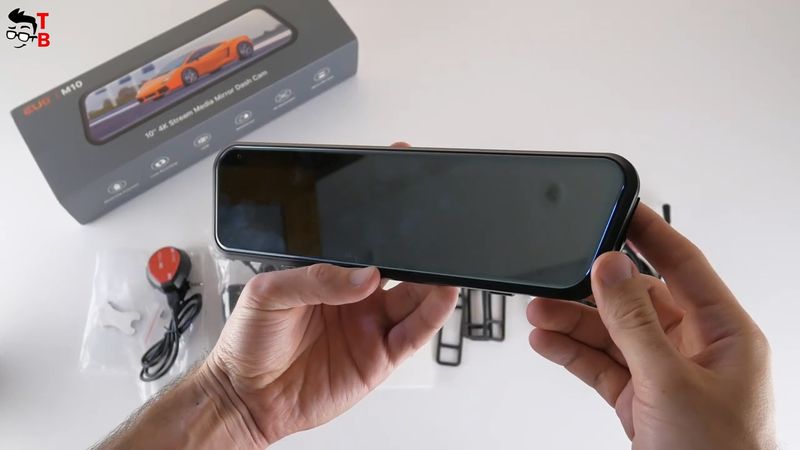 Also, EUKI M10 has a rear camera, GPS tracking, G-sensor, loop recording, parking mode, and other useful functions.
The video quality of the front and rear cameras is very good.
I am very surprised by this mirror dash cam, especially for this price.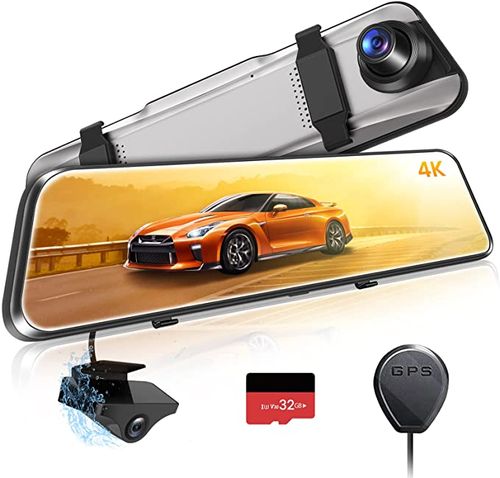 4K Mirror Dash Cam, Rear View Mirror Camera, EUKI M10 - Amazon
as of September 16, 2023 11:12 pm