Today, we will be testing an electric bike for the first time. The new electric bike is called ENGWE EP-2 Pro. You know, it is not really the latest model because it was released about one year ago, but I have an upgraded version.
The main upgrade is a larger battery of 13Ah. The range in a pure electric mode is up to 60km, and it can be up to 120km in a pedal assist mode.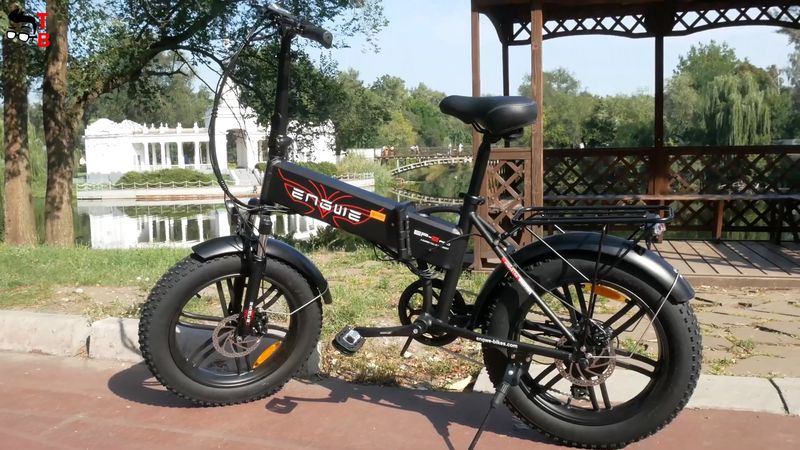 The electric bike also has a powerful 750W motor, 20-inch all train fat tires, foldable frame, mechanical disk brakes, LCD display, seven speed system and cruise control.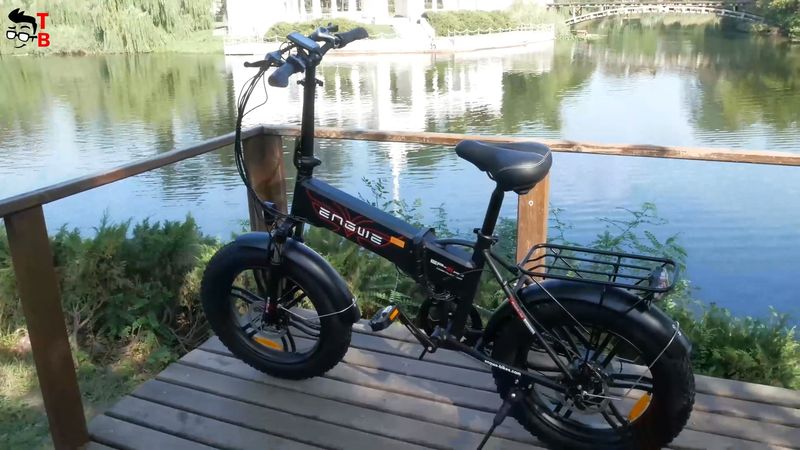 OK, in this article, we will make unboxing, and assemble the bike, then look at design, LCD display, and take a little ride on it.
If you're ready, let's get started!
Unboxing
The electric bike comes in a huge box. You will most likely need to help to get the box home.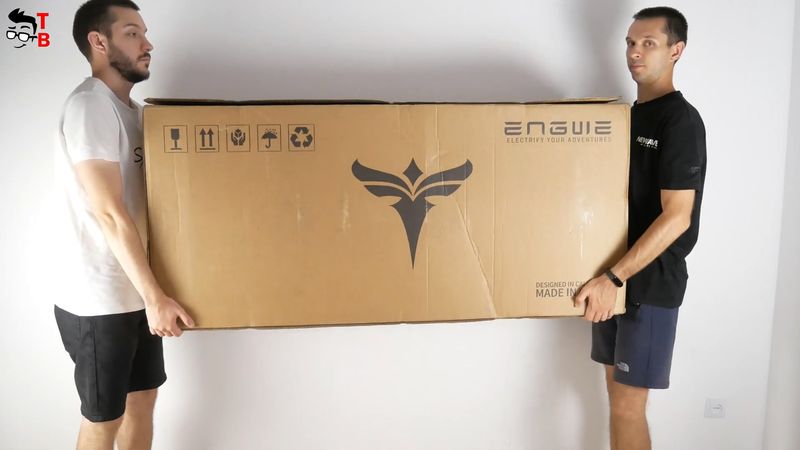 There is a big ENGWE logo on the front. The model name and the color are on the side.
You will also probably need some help to get the bike out of the box.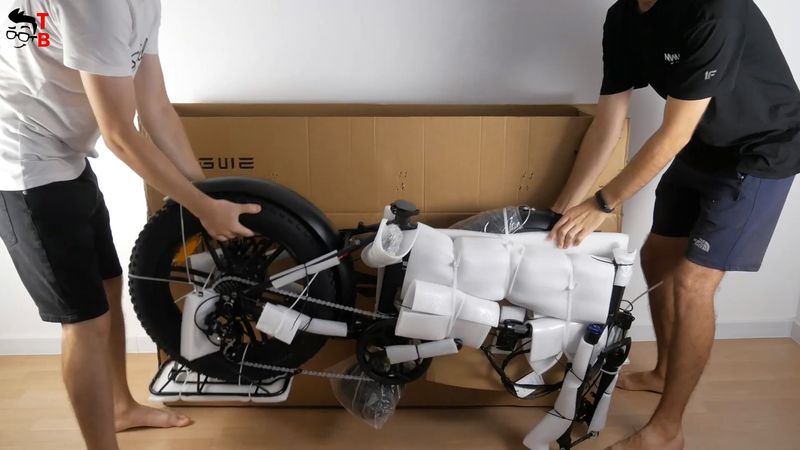 You know, ENGWE EP-2 Pro is 75% pre-assembled, so the rear wheel is already installed. Let's take all the fasteners off and see what else you need to install.
Assembling
So, first, you need to install the steering wheel. For that, insert a stem of the handlebar subassembly into the main body frame. Make sure that the fork is pointing forward, and then tighten from the top using a quick lock.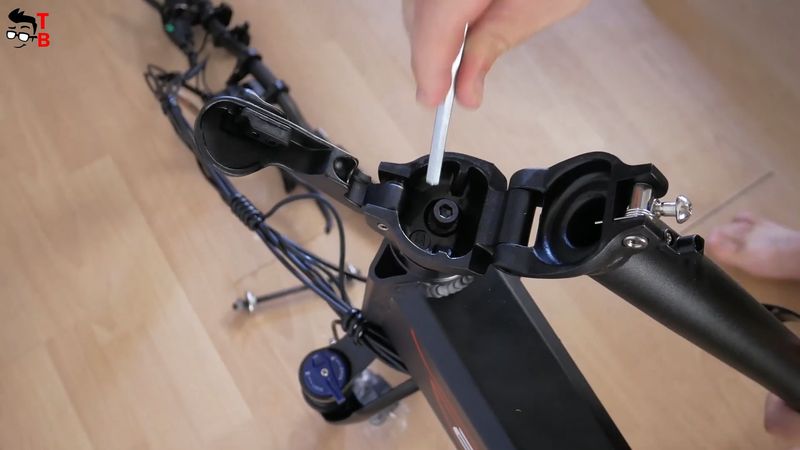 Next, you need to attach the front wheel and adjust a front brake.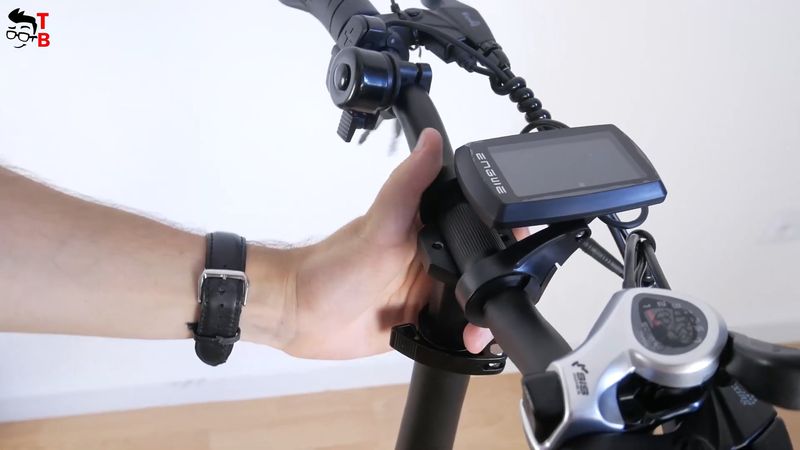 The third step is to install the front wheel fender and front light.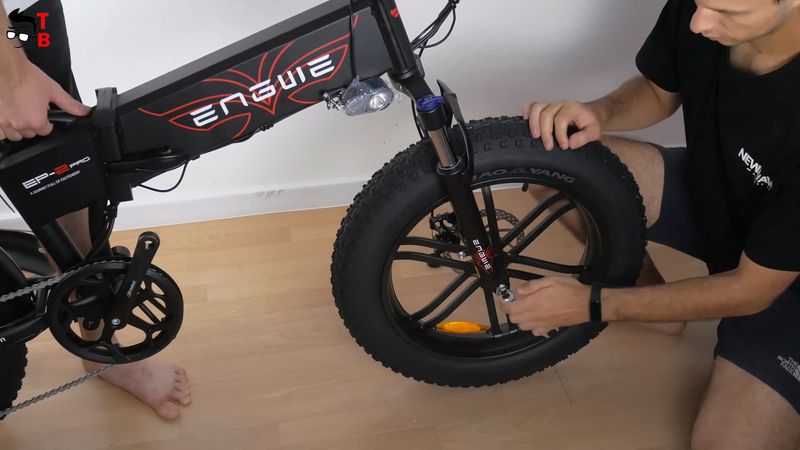 By the way, all the required tools for assembly are included, so you don't need to buy anything extra.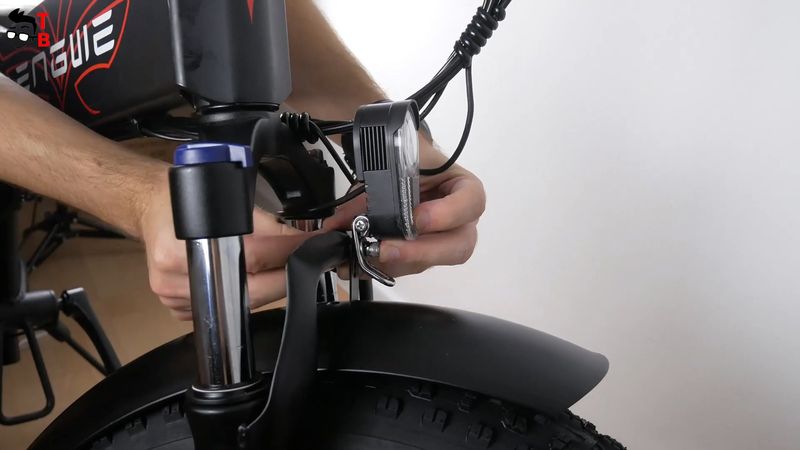 Now, we have to install a seat and pedals.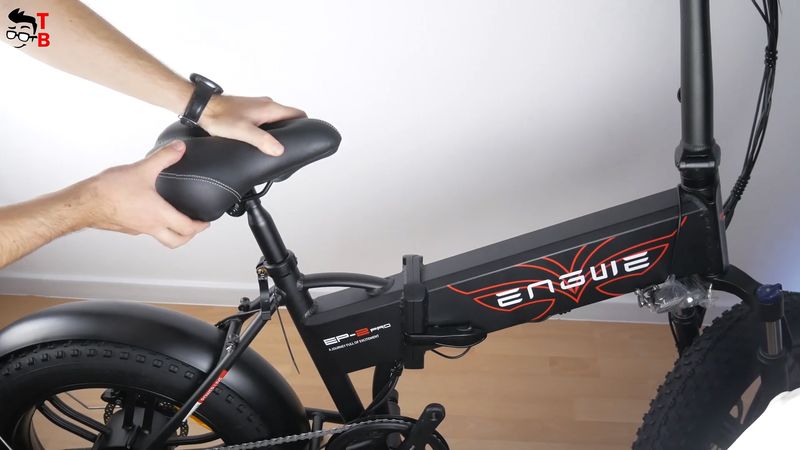 Finally, we are left to install the trunk and taillight.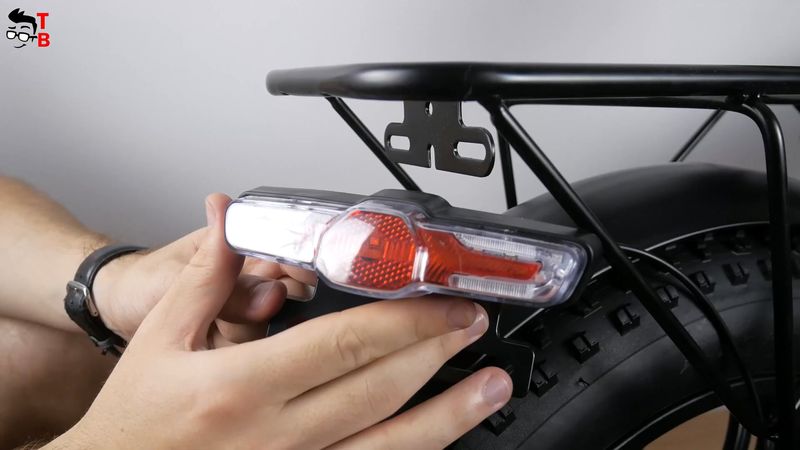 That's all! It took me no more than 30 minutes, and this is my first time assembling a bike. It can be done even faster if you have experience.
Before we go for a ride, we need to inflate the wheels and charge the battery.
Design
Talking about design of ENGWE EP-2 Pro, it is not really compact and lightweight bike.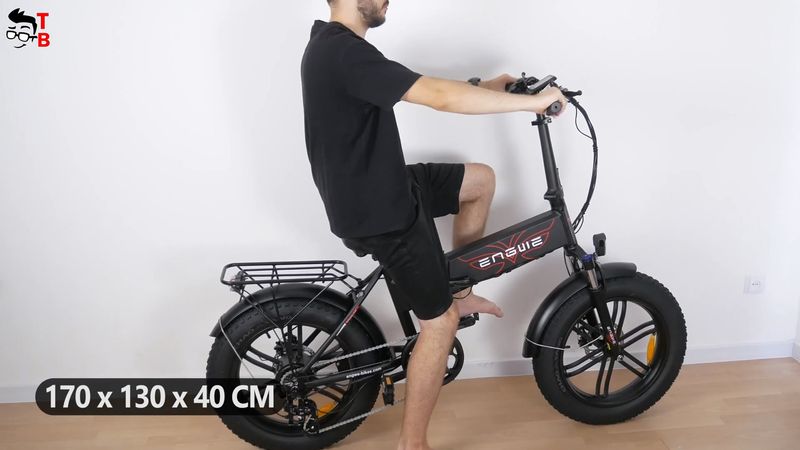 The dimensions are 170 by 130 by 40 cm. The weight is 32 kg.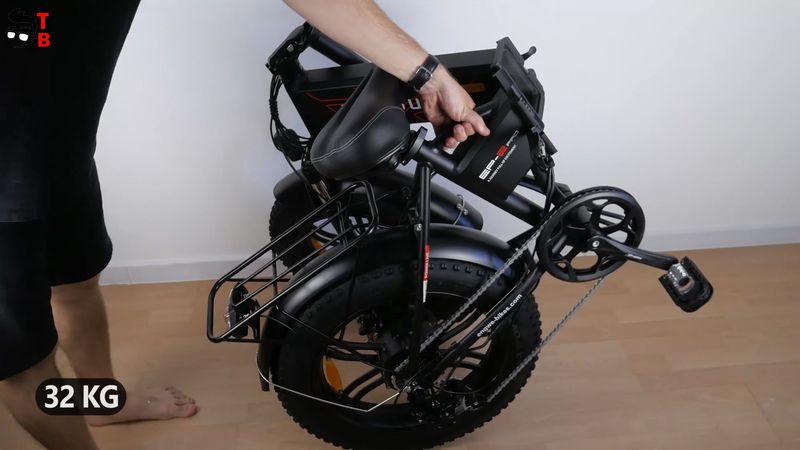 However, it has a foldable frame, so it can be transported in the trunk of a passenger car.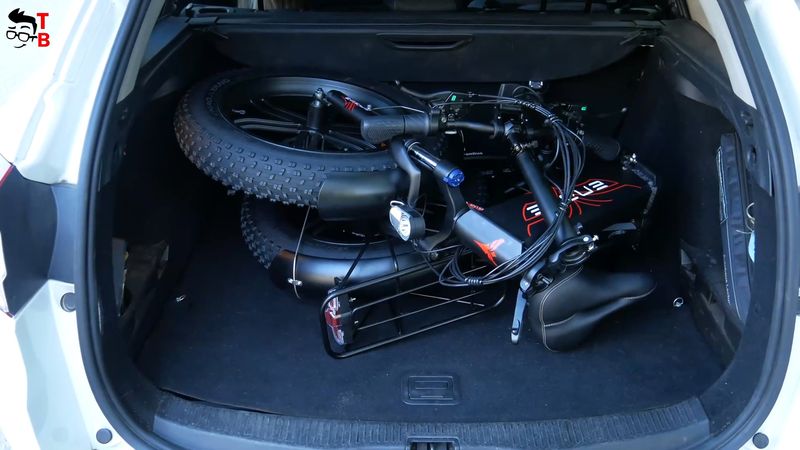 The frame of this electric bike is made of aluminum alloy, while the front fork is carbon steel. We can also see a shock absorption on the front wheel.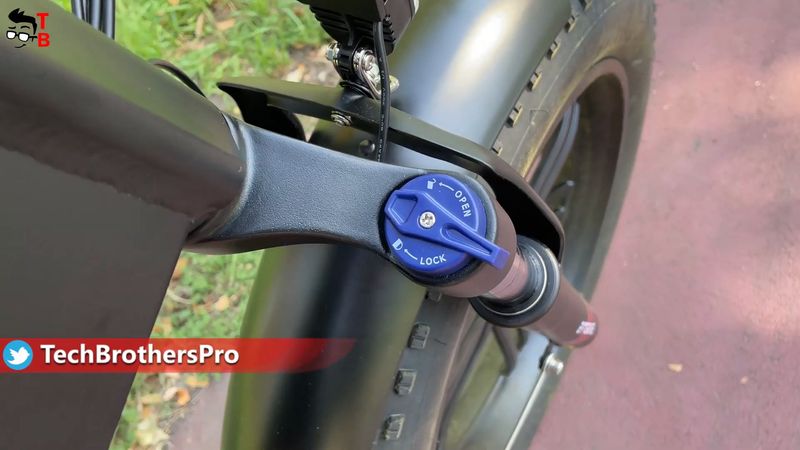 There is a switch on the front to lock or loosen up the suspension. If you ride on a flat road, you can lock a suspension. On off-road terrain, the suspension is better loosen up for a softer ride.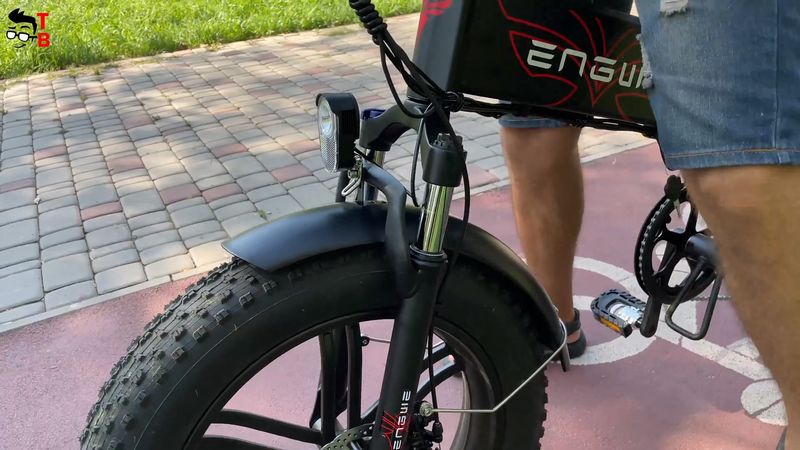 ENGWE EP-2 Pro Upgraded Version comes with mechanical disk brakes on the front and rear wheels. They are 180 mm in diameter.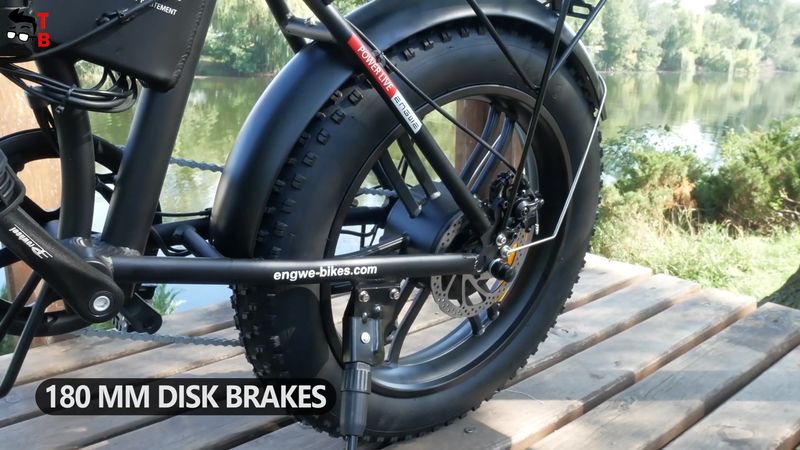 You know, the wheels deserve special attention. They are 20-inches, while the thickness is 4 inches.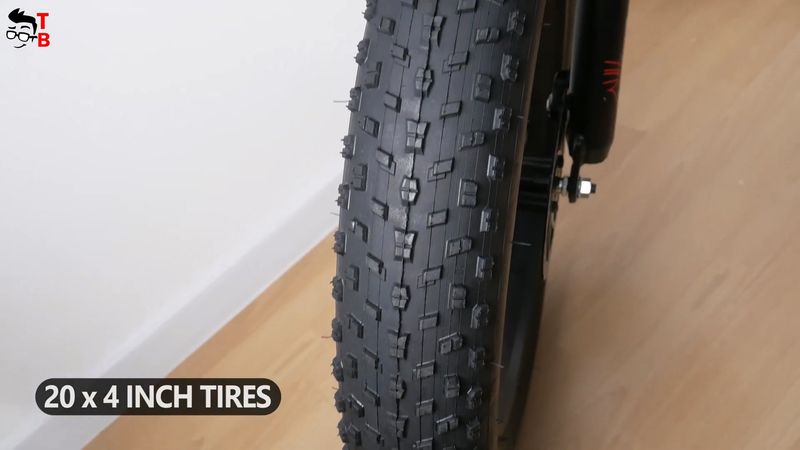 They are much thicker than most other bikes, making it more comfortable to ride. In addition, thanks to the thick wheels, the bike is able to ride off-road.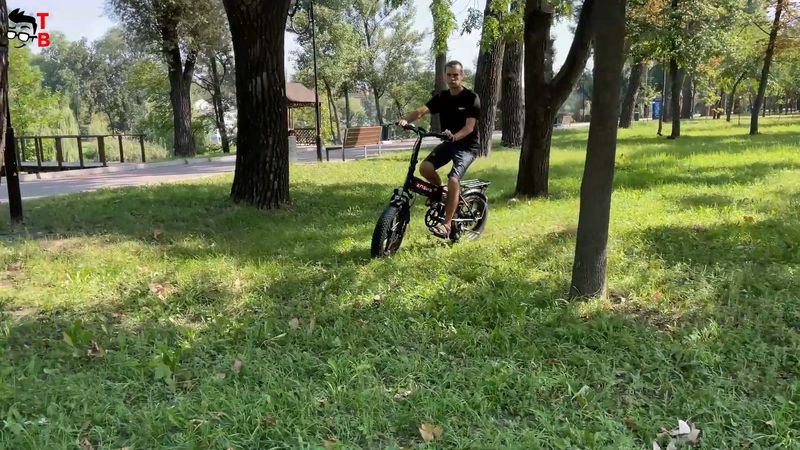 The seat is very comfortable. There is even a rear trunk, but I'm not sure if it is meant for people. By the way, the bike has a maximum load of 150 kg.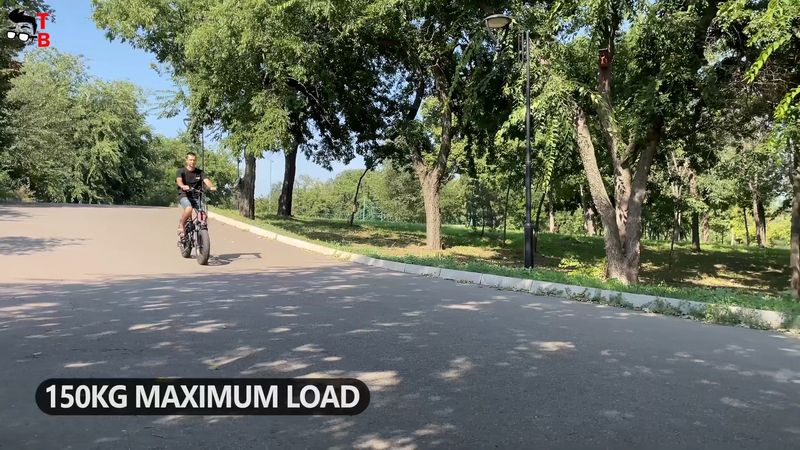 ENGWE EP-2 Pro has a bright 48V front LED light, and a reflector on the back. In fact, it is not just a reflector, but also a light.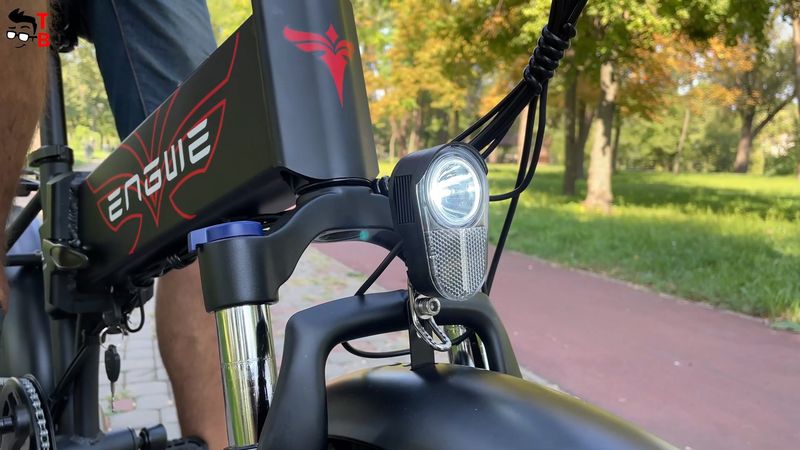 The rear light turns on along with the front one. There is a button on the steering wheel. By the way, it also lights up red when you apply the brakes.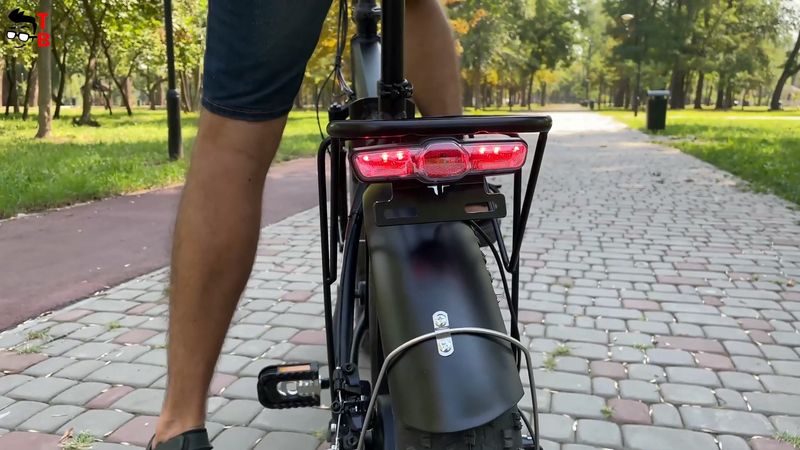 The battery is located in the frame. It is removable, which is very convenient, because you can leave your bike in a parking lot and take the battery with you to your home or office to charge it.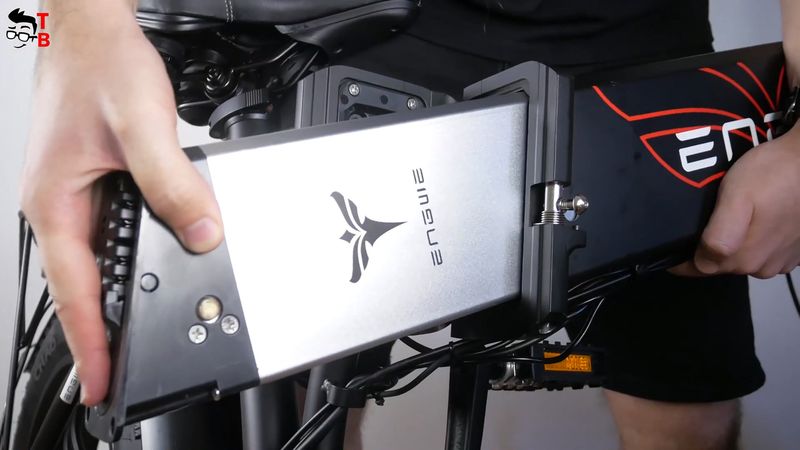 However, you can also charge the battery without taking it off the frame. There is a charging port in the frame.
Battery
If we started talking about battery, as I already said, I have an upgraded version of ENGWE EP-2 Pro electric bike, and it comes with 13Ah battery. You can also buy an extra battery of 13 or 16Ah. They are compatible with each other.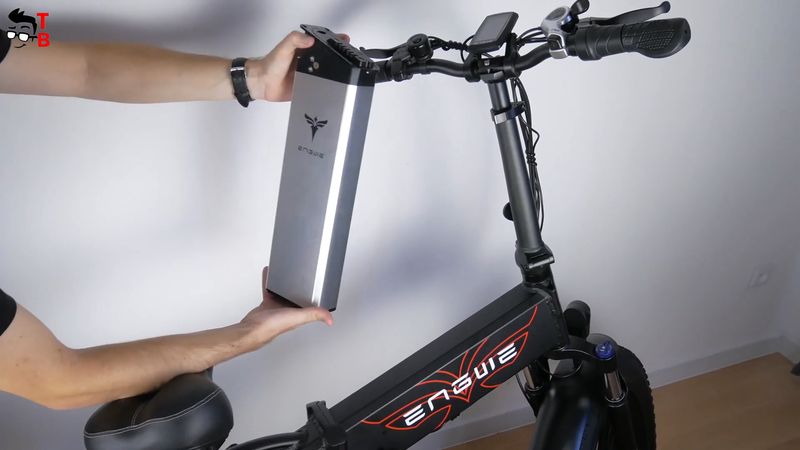 However, you should note that 12.8Ah battery is not compatible with this bike.
The full battery charge takes from 5 to 7 hours. By the way, the charger for the battery has a cooler, so it will not overheat. However, it works quite noisy.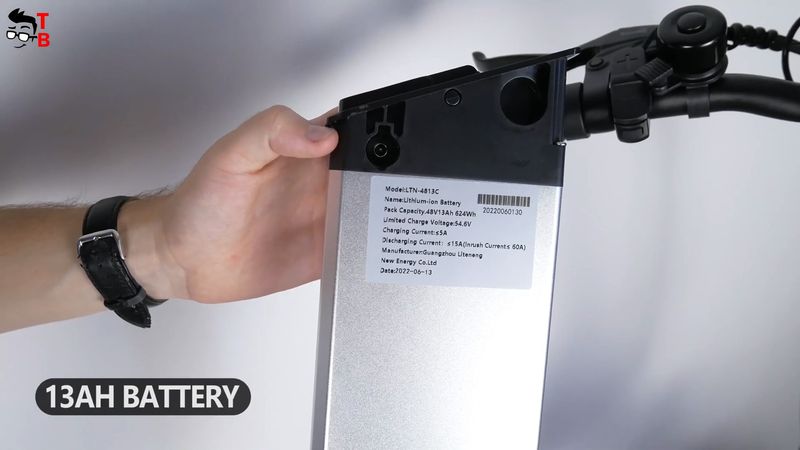 If you want to remove a battery, first, you need to insert a key into the lock at the bottom of the frame.
There are two keys in the package. You can use one of them to open the lock and remove the battery, while the other key to turn on/off the battery.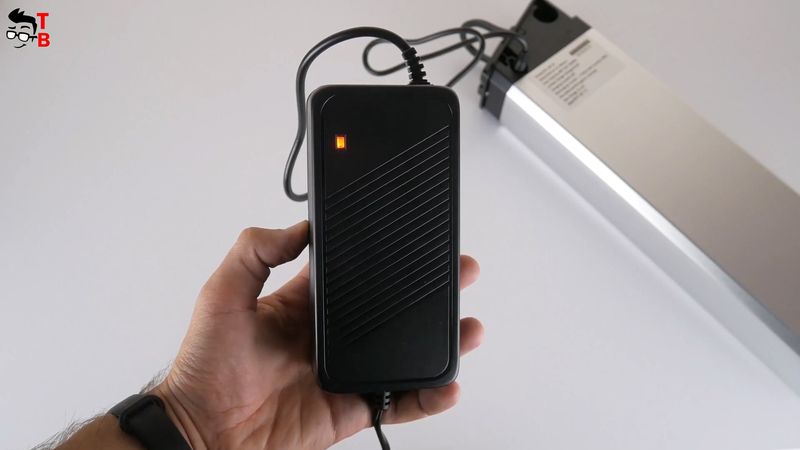 The range in a pure electric mode is about 50-60 km, but in a pedal assist mode, it is up to 120km. You should know that the range is highly dependent on weather conditions, speed, road surface, and other factors.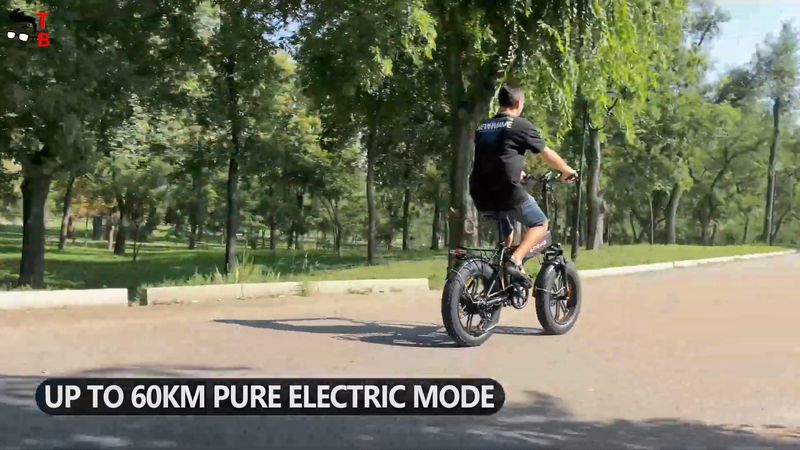 You can see a battery level of electric bike on the display. Let's talk about it.
LCD Display
ENGWE EP-2 Pro has LCD display on a steering wheel. I couldn't find information about its diagonal, but according to my calculations, it is about 3 inches.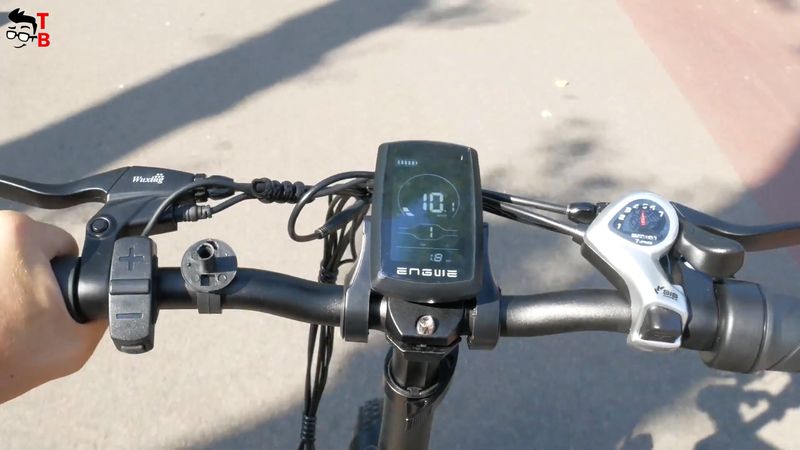 The screen is good visible outdoors in direct sunlight.
As I already said, there is a battery level at the top, speed in the center, assist level and the range.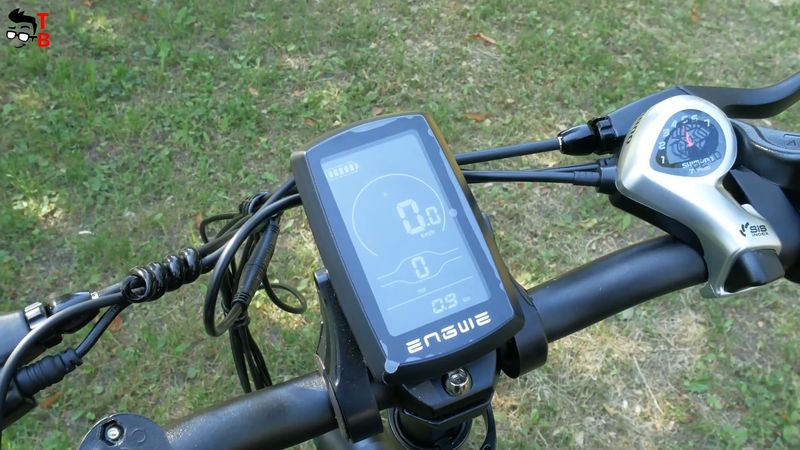 You can also press the physical button to see the trip distance, total range, maximum speed and average speed.
Actually, there are many different settings in the display, such as push assistant indicator, change front and back light luminance, speed limit, etc. If you are interested.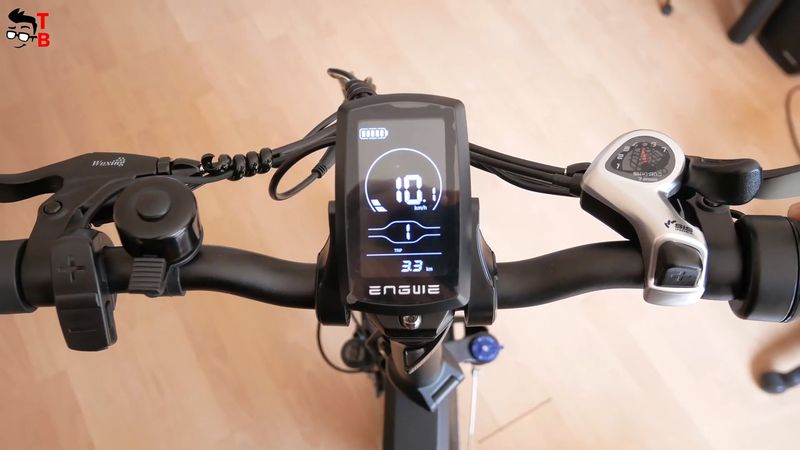 You can change the assist levels with plus and minus buttons. The level zero is a pedal mode, when a motor is completely off.
ENGWE EP-2 Pro also has seven gears, and you can change them for more comfortable pedaling.
Ride Impressions
Now you will see my first try at riding this electric bike. I will use a hand throttle.
You know, I cannot say the bike is going forward very fast, but that's even a good thing. It gradually speeds up.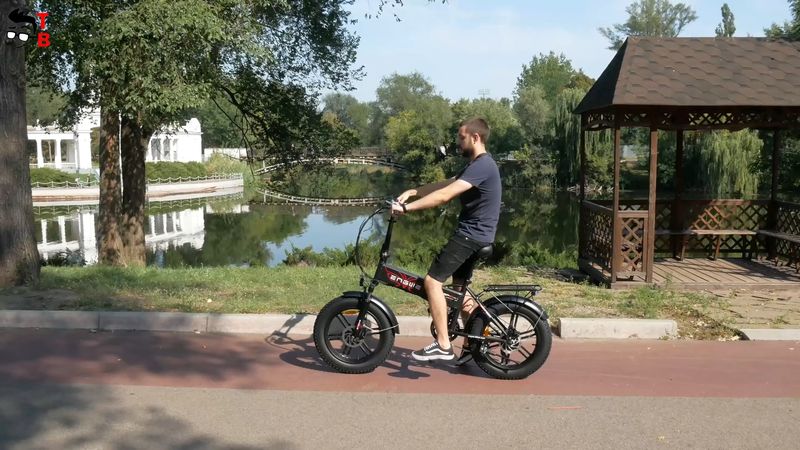 I was riding at a top speed of 42 kilometers per hour. It was really fast and even a little scary.
ENGWE EP-2 Pro has three riding modes, such as pedal mode, pedal assist mode and throttle mode.
In the pedal mode, you need to pedal like a regular mountain bike.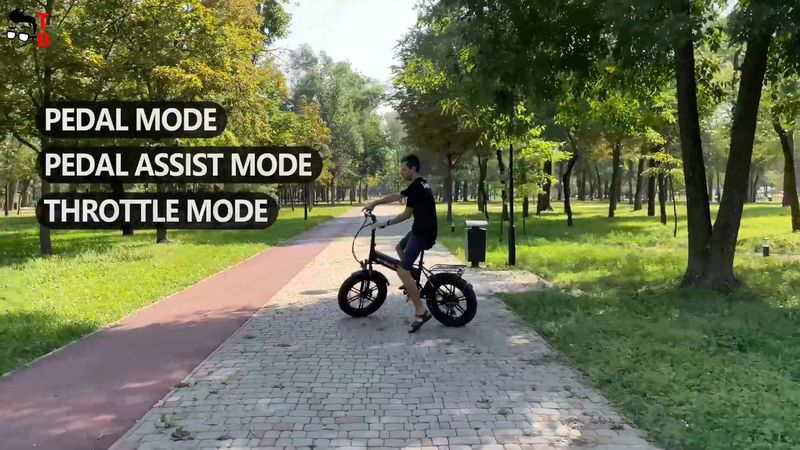 In the pedal assist mode, you can choose an assist level on the display, and pedaling, while the bike will help you.
Finally, in the throttle mode, you can twist the handle to speed up. You don't need to pedal the bike if you use a hand throttle.
The new electric bike from ENGWE has an Intelligent Energy Recovery System. This system allows the battery to be recharged when it is on a high speed or downhill.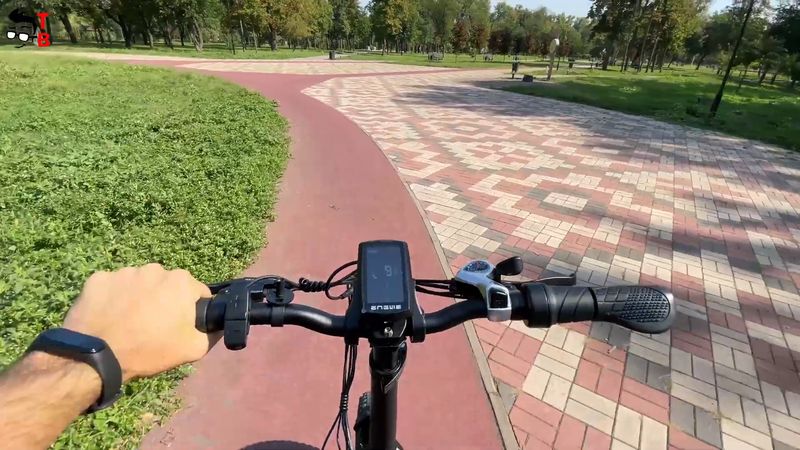 The next feature of this bike is a cruise control. It is triggered when you hold thumb throttle for 8 seconds, and it is released by braking, pedaling or throttling.
You should also know about pedal assistant system. You don't need to pedal hard, because a power assist helps you in any case. The power assist turns off when you apply one of the brakes or the bike reaches the maximum speed at the assist level you choose.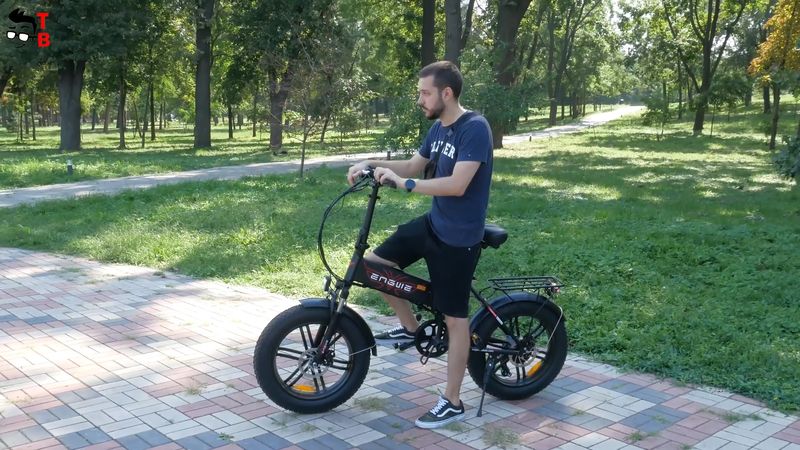 By the way, the maximum speed of ENGWE EP-2 Pro is 45km/h. To be honest, I think it is a limited speed, because 750W motor can accelerate the bike even more. However, it is not really safe. Be careful with that.
Conclusion
So, the upgraded 2022 version of ENGWE EP-2 Pro looks similar to the last year's model, but it has a bigger and better battery. Now, it has a capacity of 13Ah.
The manufacturer says that the range of the new electric bike is increased by 20% compared to the 12.8Ah version. It is up to 60 km in full electric mode. This is a really big and important upgrade.
Another feature of this bike is 750W motor. I was riding almost at a top speed of 45 km/h. It is very fast, and a little scary. Most likely, you will need help to fold and put the bike into the car, or climb the stairs.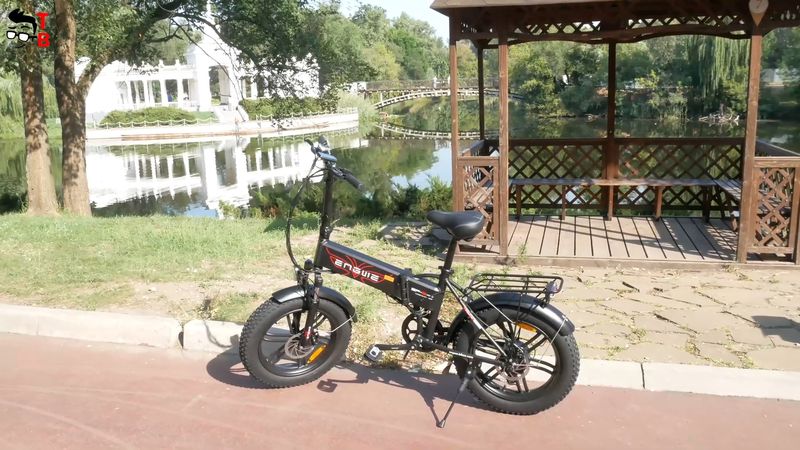 Thanks to the front suspension and fat tires, you can ride on this bike off-road.
The other features are removable battery, folding design, three riding modes, five pedal assist levels, front and backlights.
I think the main problem of this bike is a weight. It is heavy, and it was difficult for me to lift it alone. Most likely, you will need help to fold and put the bike into the car, or climb the stairs.
Overall, it is a powerful long-range electric bike with many features.