Finally, we are starting the review of the Elephone E10. We have made the announcement of this smartphone in Community on our YouTube channel Tech Brothers, and some of you were interested in this device.
By the way, we often share news about our channel in the Community. You can ask questions, discuss new products, and much more in the Community section.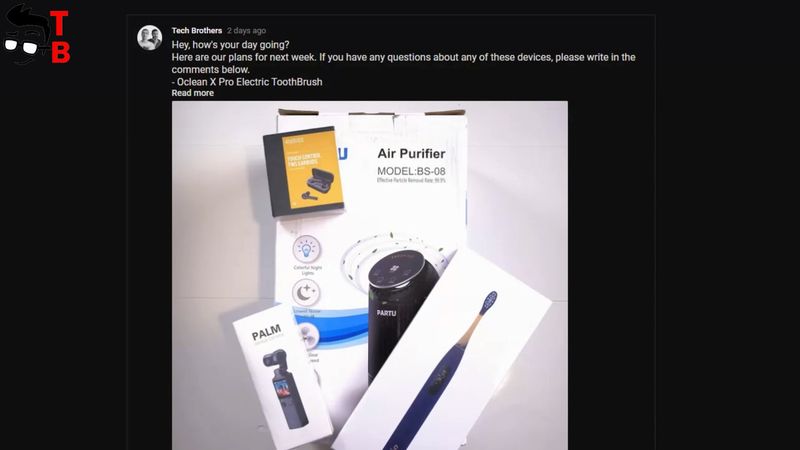 As you can see, we also have some new devices, such as FIMI Palm pocket gimbal camera, Oclean X Pro electric toothbrush, and others. The videos about them will be in the coming days.
So, let's go back to Elephone E10. This is the first video with unboxing and first look. In total, we will have five videos about this phone, such as unboxing, performance test, camera test, battery test, and the final video with pros and cons.
Subscribe to our channel – Tech Brothers, not to miss new videos.
OK, let's start with unboxing.
Unboxing
So, the smartphone comes in this box. You can read the main features if you don't know anything about this phone, for example, 48MP quad-camera, 6.5-inch HD+ display, NFC.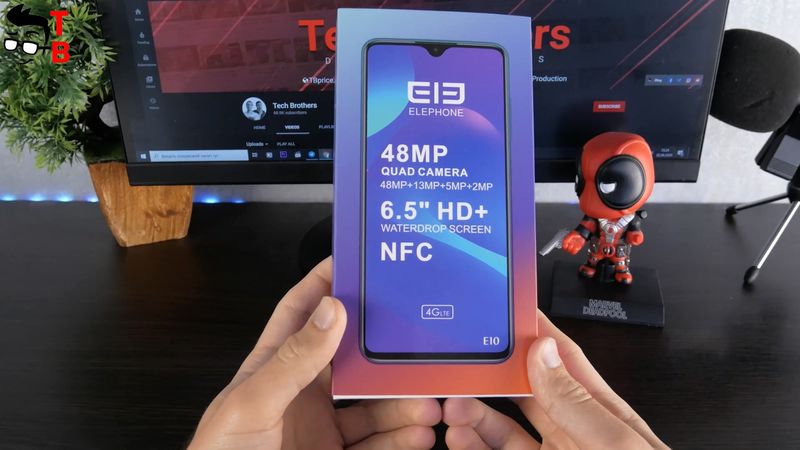 On the back, there is a full specifications list.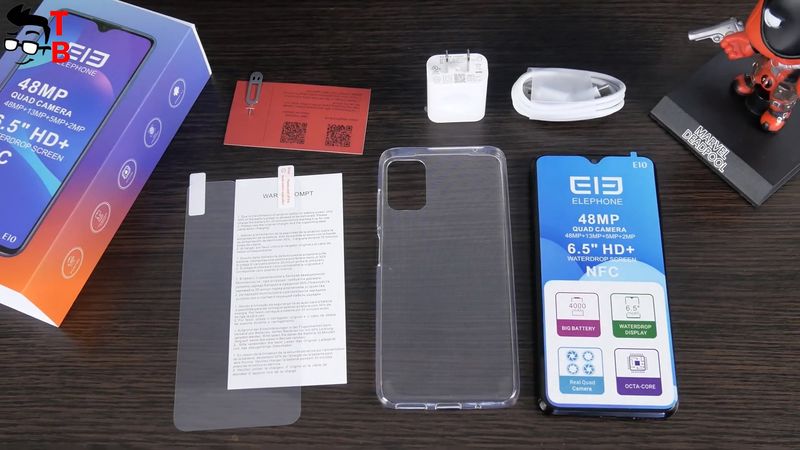 Inside the box, you will find the smartphone, silicone protective case, user manual, screen protector, USB Type-C cable, and 10W power adapter.
Now, let's talk about the design of the Elephone E10.
Design
As you can see, I have a black smartphone. This color is called Aurora black. Elephone E10 is also available in aurora blue with a combination of blue and green colors. It looks very interesting.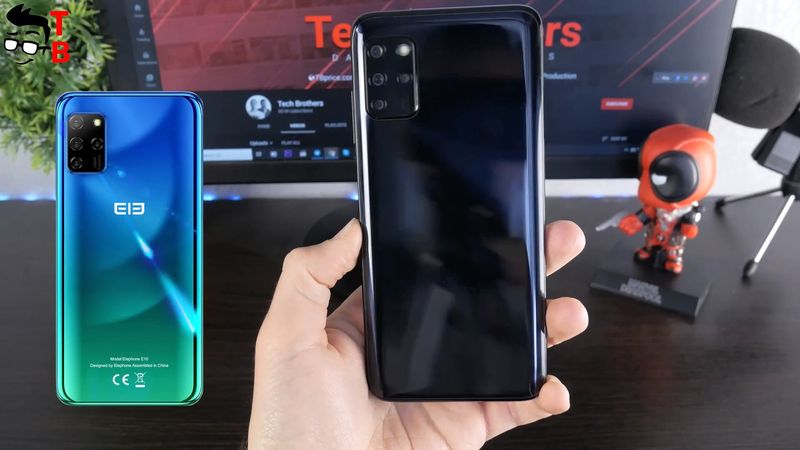 The rear panel is made of plastic. We can see a quad camera and flashlight in the top left corner. There is no fingerprint reader because it is located on the right side.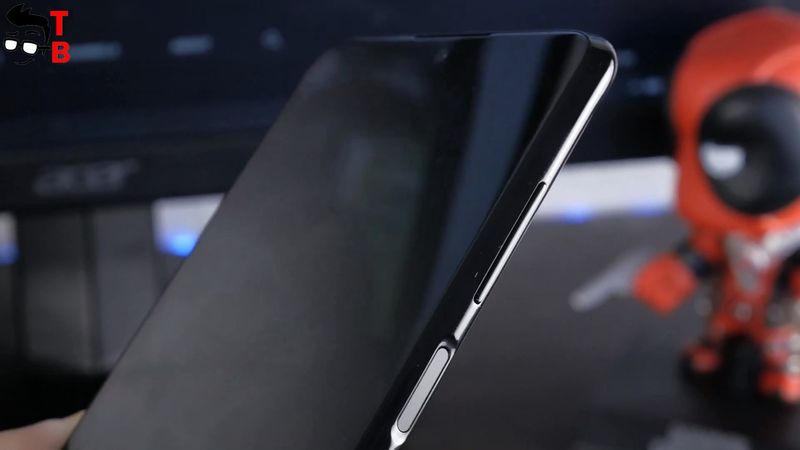 The fingerprint reader is also a power button. This is a volume rocker.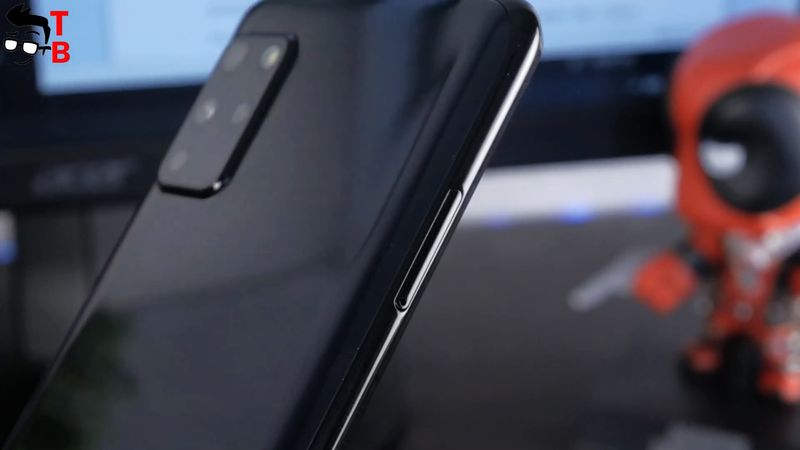 The slot for dual SIM and microSD is located on the left side.
At the top, there is only a microphone hole.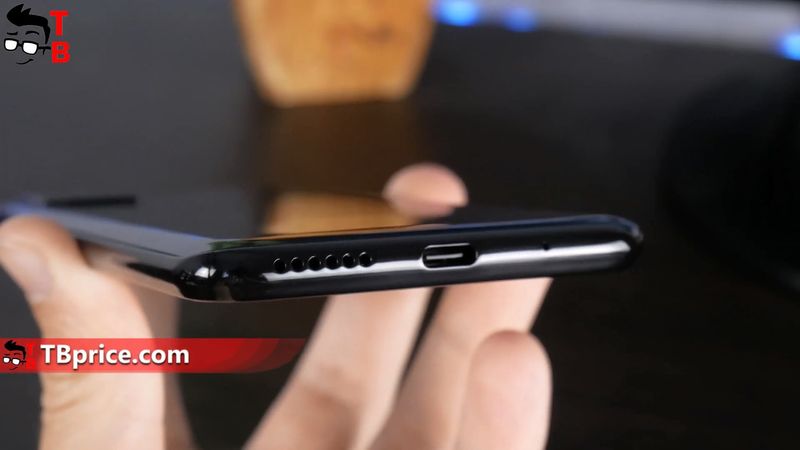 The second microphone hole is at the bottom. Also, there is a USB Type-C port and speaker.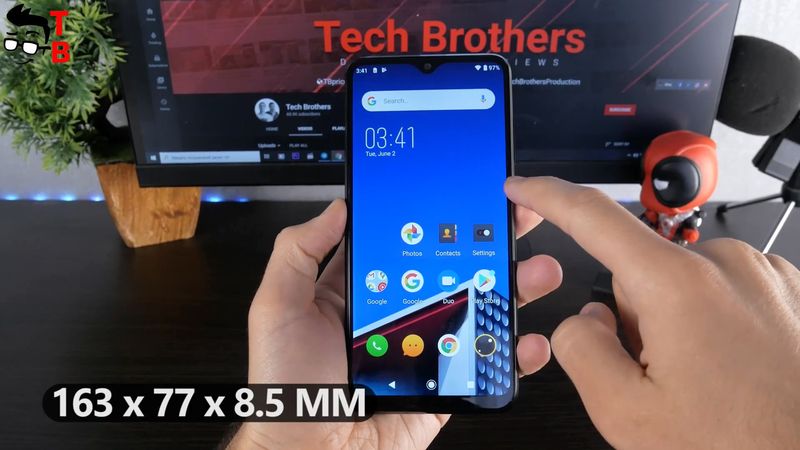 The smartphone is really convenient to hold in one hand. The dimensions are 163 by 77 by 8.5 cm. The weight is 195 grams.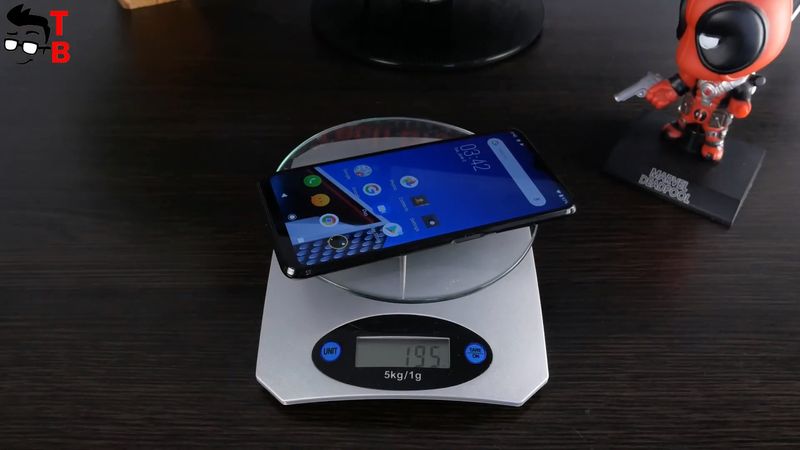 I forgot to tell you the price of this phone – only $120. I think Elephone E10 looks very nice for this price.
Display
Talking about the display, it has a diagonal of 6.5 inches. The resolution is HD+, 720 by 1560 pixels. As you can see, there is a waterdrop notch above the screen and a small chin at the bottom.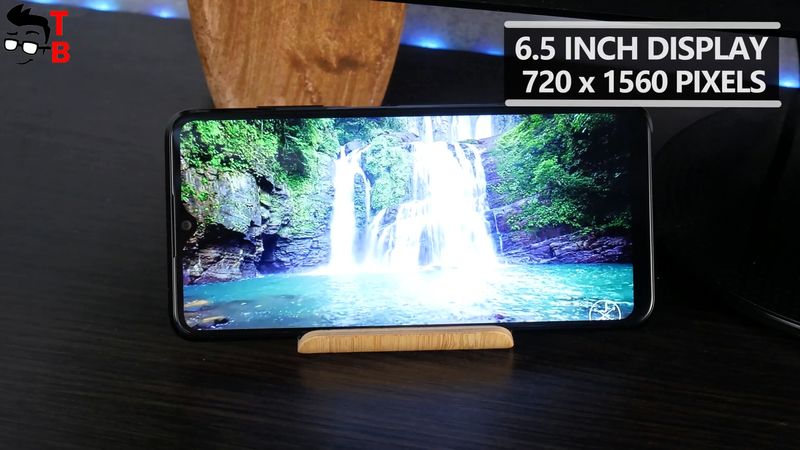 You know, the viewing angles are really nice, while the colors are saturated. The brightness is also OK, so you can use the phone outdoors.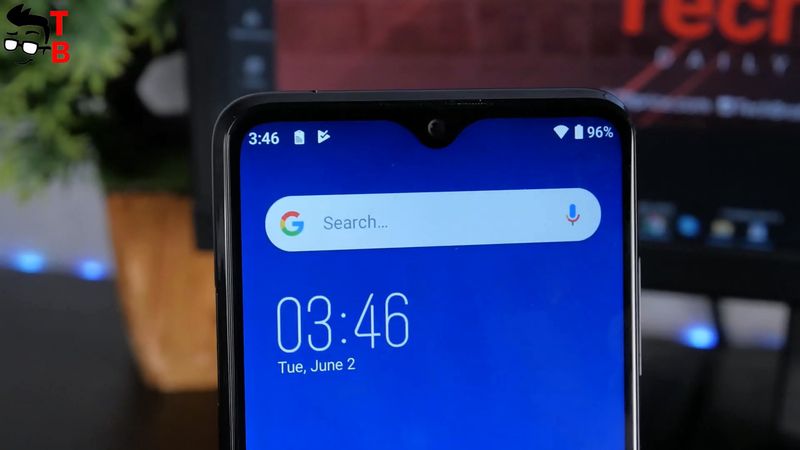 Despite only HD+ resolution, the screen is quite good.
Performance
As I already said, Elephone E10 is a budget smartphone, so it is powered by entry-level chipset – MediaTek MT6762D. It has another name of Helio P22.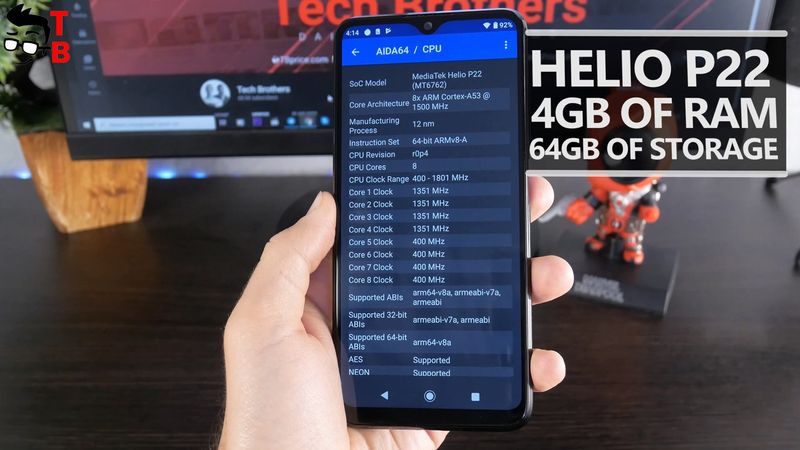 In the coming days, we will publish a video with a detailed performance test of this phone, but right now, I want to show you the AnTuTu benchmark. As you can see, Elephone E10 has 98142 points in AnTuTu.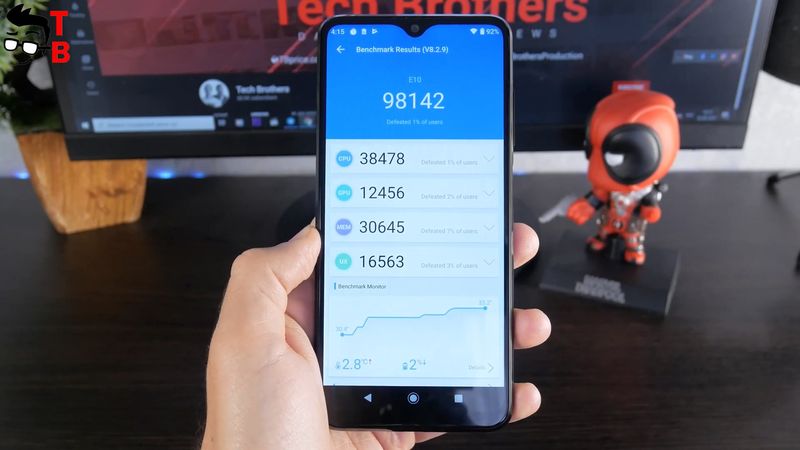 The smartphone also has 4GB of RAM and 64GB of internal memory. You can use a microSD memory card to expand the storage.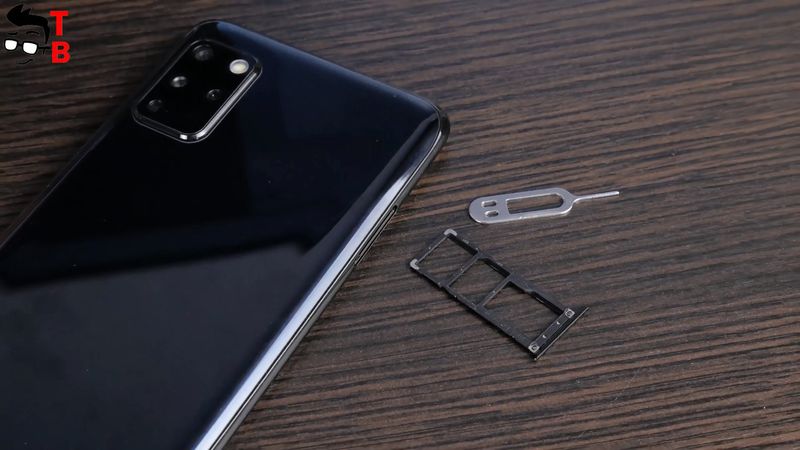 Please, check the description under this video. Perhaps, we have already made a performance test, and you can watch all benchmarks and games on this phone.
Camera
The camera is one of the main features of this budget phone. Elephone E10 has a quad camera on the back: 48MP main sensor, 13MP ultra-wide-angle lens, 2MP depth sensor, and 5MP macro lens.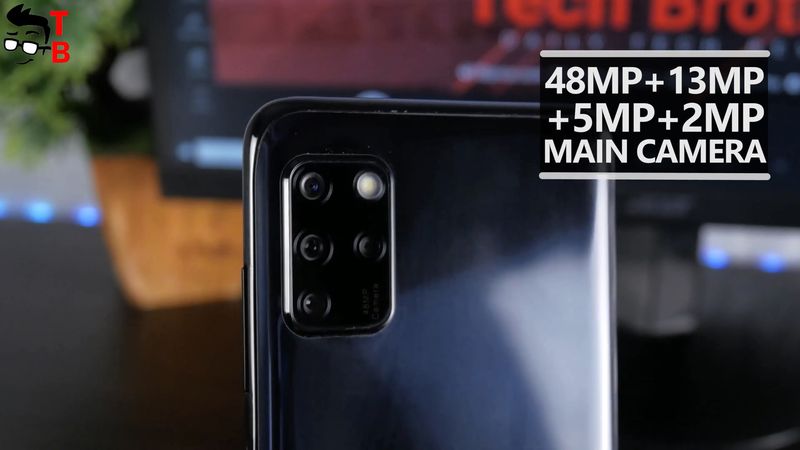 The selfie camera is 13MP.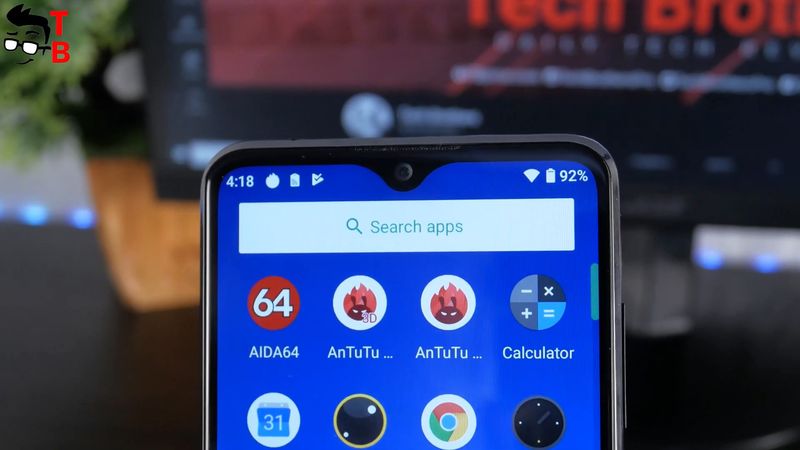 However, if we look at the AnTuTu benchmark, we can see that smartphone has five sensors. To be honest, I don't quite understand why there are five sensors and no 48MP camera. Most likely, Elephone E10 uses two sensors to take images with 48MP resolution.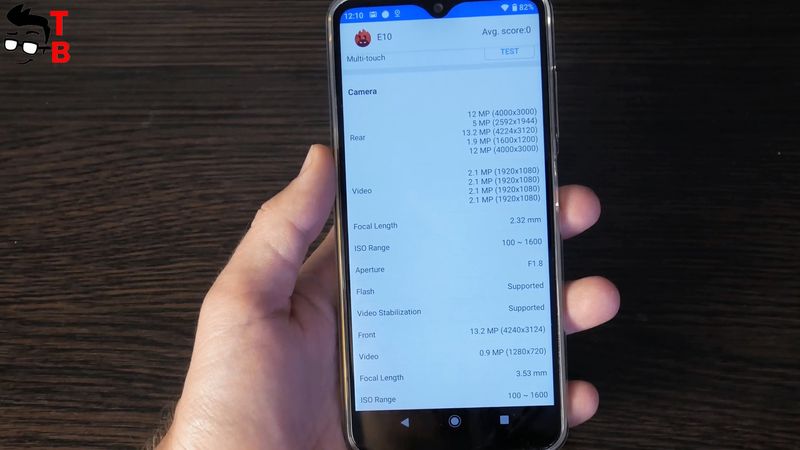 OK, now let's look at the camera app.
Camera App
The camera app of Elephone E10 has many shooting modes, such as Video, Beauty, Picture, Portrait, and Extra. In extra, there are filters, 48MP mode, bokeh, Pro, night, and stickers.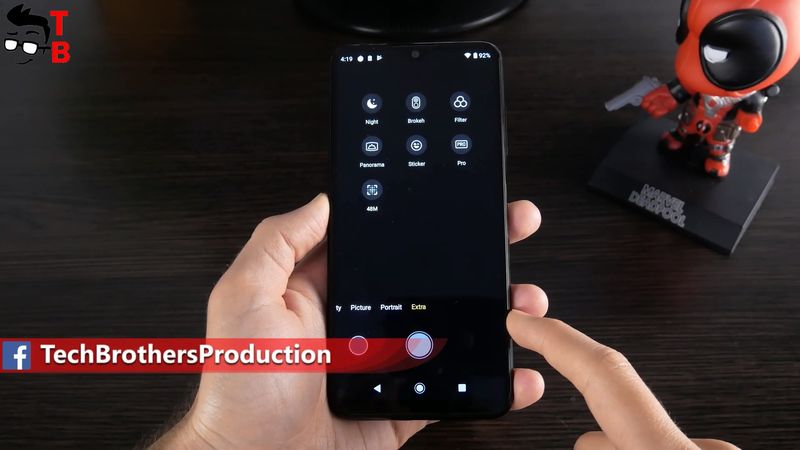 In the settings menu, we can see that the resolution of the maximum photos is 12MP.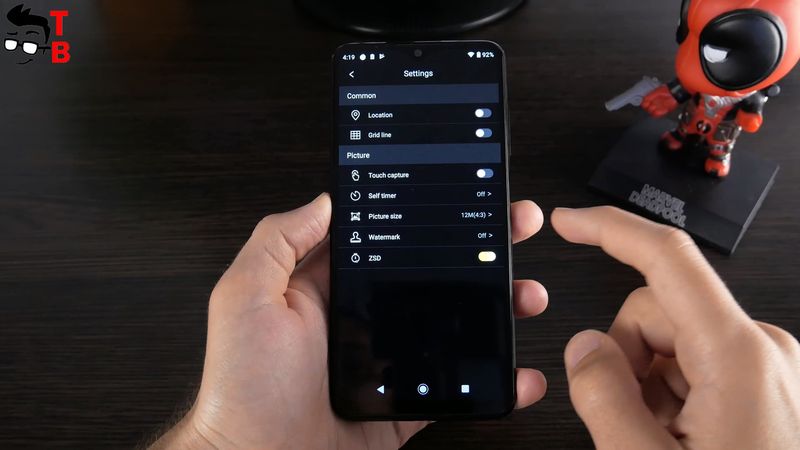 The maximum video resolution is Full HD. The smartphone doesn't have image stabilization.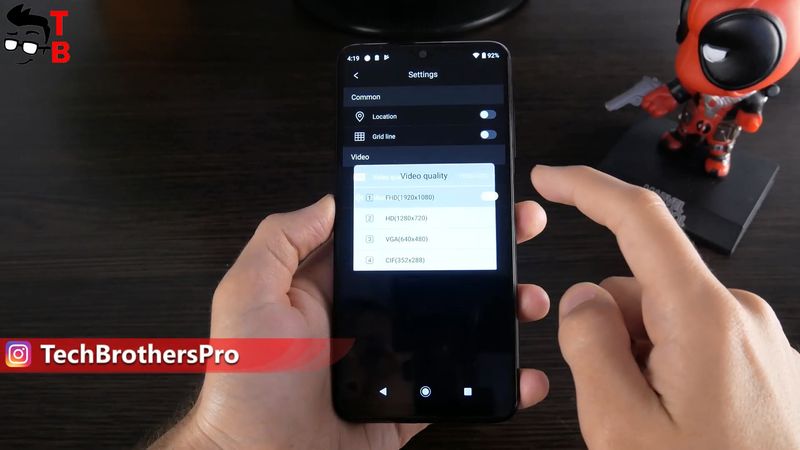 I took some photos and videos. Let's take a look at them.
Sample Photos
As you can see, the smartphone really takes images with 48MP resolution. However, I don't see much difference between them. Both 12MP and 48MP photos are good quality.
You know, wide-angle photos are also good. Yeah, they are a little blurry on the edges but still very good for $100 smartphone.
These are macro shots. Pretty impressive, isn't it?
The bokeh camera is also real. You can take some portrait photos on Elephone E10.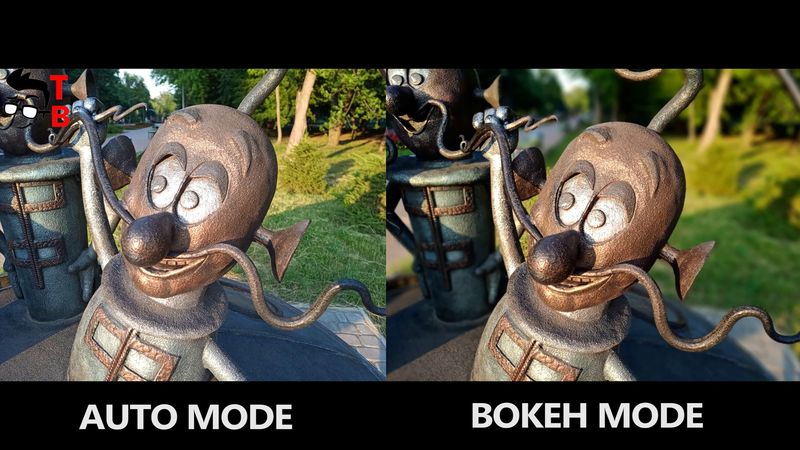 Here are a few pictures on the front camera. There is even a portrait mode on the selfie camera.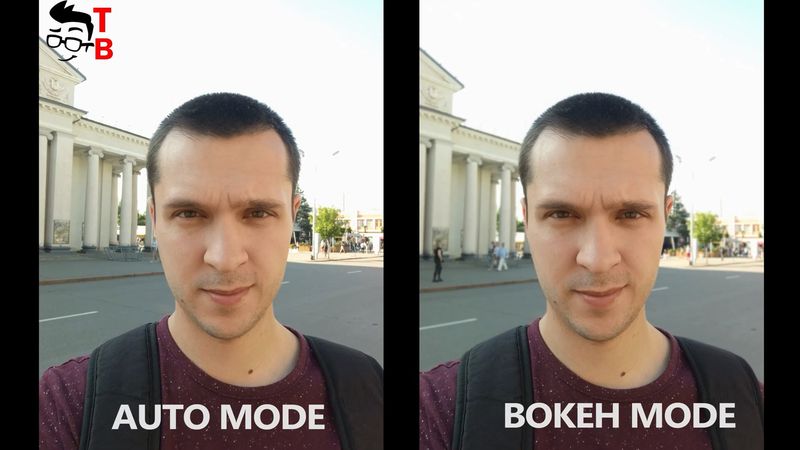 Finally, night photos. As I already said, Elephone E10 has a night mode. The photos in the night mode are really better than in auto mode.
So, I recommend you to use night mode when you take photos in low light conditions.
Sample Videos
The maximum video resolution is Full HD. The main problem of this camera is the lack of image stabilization. As you can see, the video is shaky.
It is better not to move when you are shooting a video, or buy the phone gimbal.
Battery
The battery has a capacity of 4000mAh. It is not too big, but due to the HD screen and energy-efficient processor, the battery life should be OK.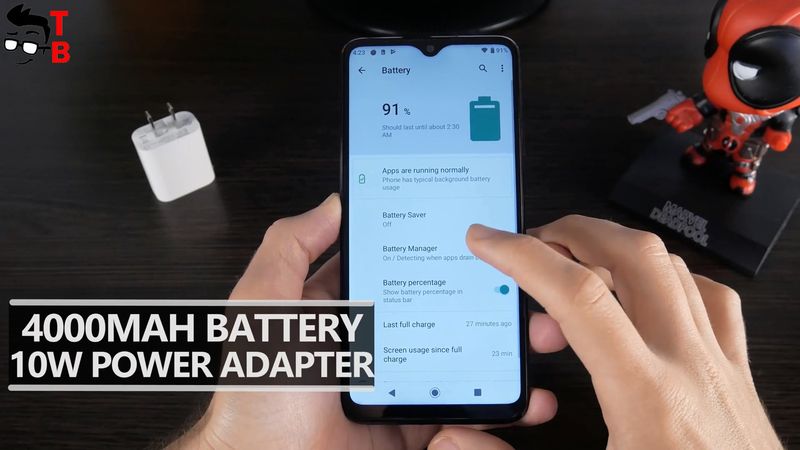 However, I'm a little confused about the 10W power adapter. The full battery charge will take a long time.
We will check the battery life and charging speed in the next video.
Connectivity
Elephone E10 has dual SIM, and the phone supports global LTE bands. I am very glad that the smartphone has NFC. You can use the mobile device for contactless payments.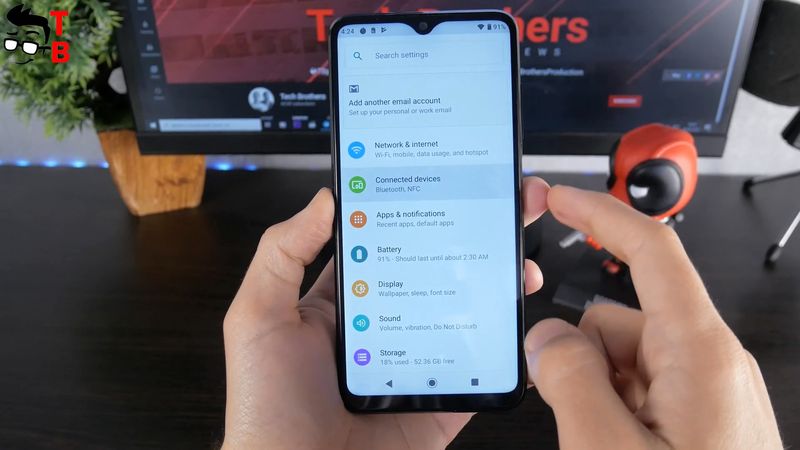 Do you use your phone for contactless payment? Write in the comments below.
Speaker
Elephone E10 has a single speaker at the bottom. The sound is nothing special, but it is quite loud.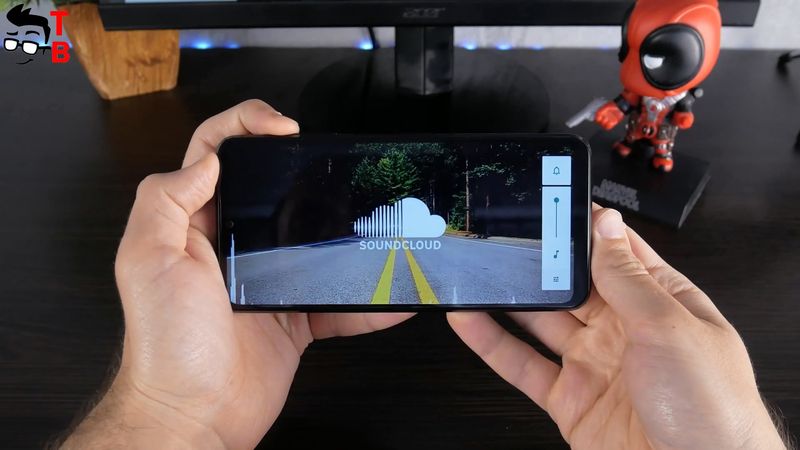 The smartphone doesn't have a 3.5 mm audio jack, but I don't think it is a big problem. Today most people are using wireless Bluetooth earbuds.
Pros & Cons
Like any smartphone, Elephone E10 has its pros and cons. Let's talk about them.
Pros
Price
The first advantage of this smartphone is an affordable price. Right now, you can buy Elephone E10 for only $94 on Aliexpress. This is a very good deal.
Design
So, Elephone E10 is a budget smartphone, but it has a very nice design. As you can see, I have a black version, but also the phone is available in a very beautiful blue color.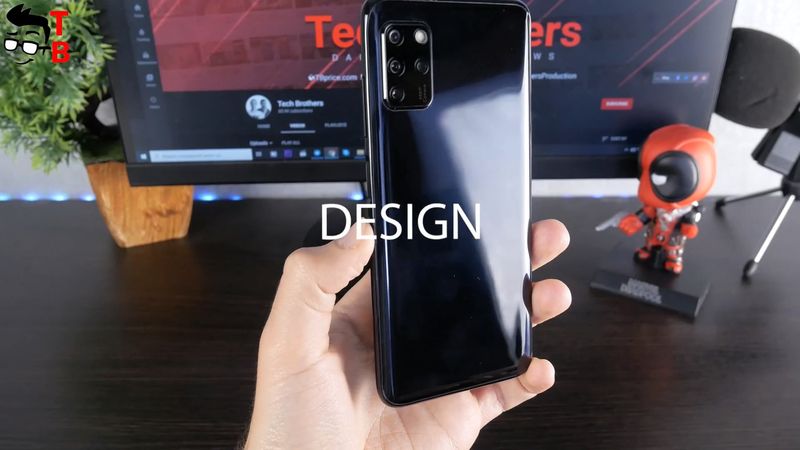 On the rear panel, there is only a quad camera. The fingerprint reader is located on the right side. I think that's a good place for a fingerprint scanner.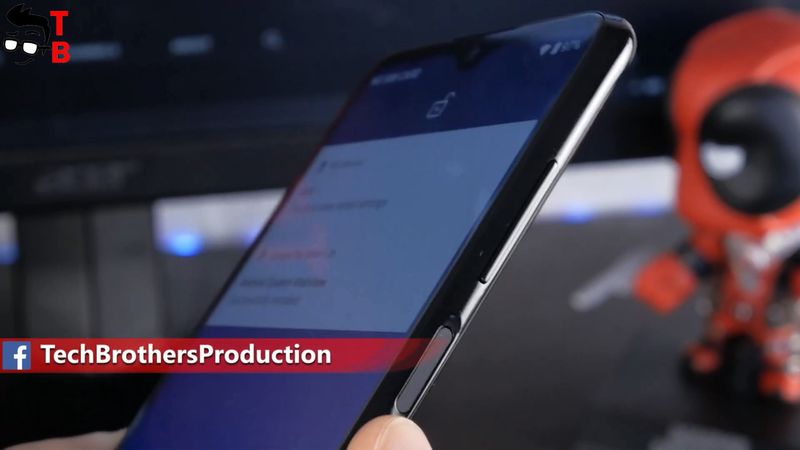 Above the display, we can see waterdrop notch. Of course, it would be better if the screen was completely bezel-less, but do not forget that this is not a flagship.
In general, Elephone E10 looks more expensive than $93.
Performance
Elephone E10 has quite good performance for a budget phone. It is powered by Helio P22 chipset, and it has 4GB of RAM and 64GB of internal memory.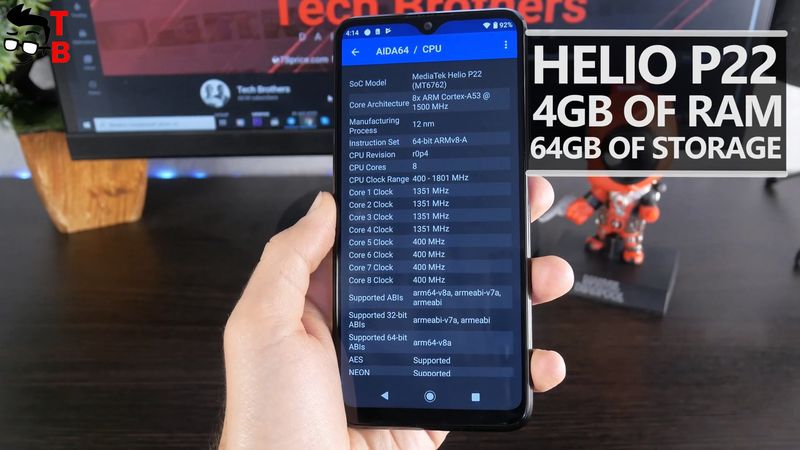 The smartphone has almost 100 thousand points in AnTuTu. You can also play heavy games on this phone, such as PUBG Mobile and Call Of Duty Mobile.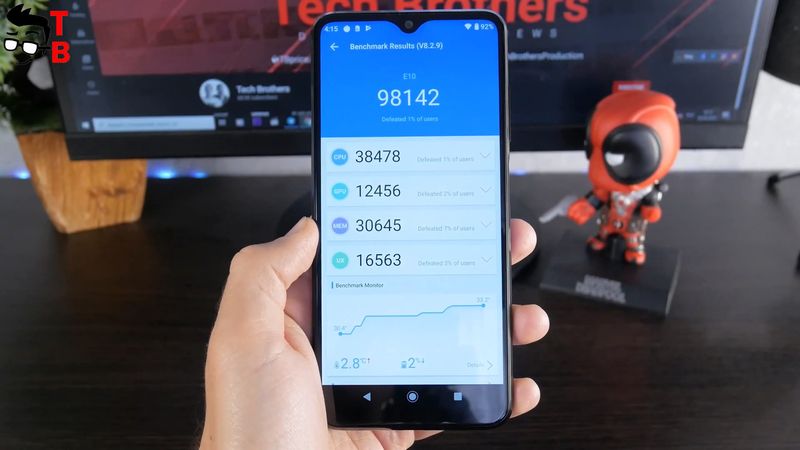 However, we couldn't start Asphalt 9, so we played Asphalt 8. All the games are run very well.
Camera
The next feature of the Elephone E10 is the quad-camera. We have already tested the camera, and all the sensors are real. This is very good, because many budget smartphones have some fake sensors, but not Elephone E10.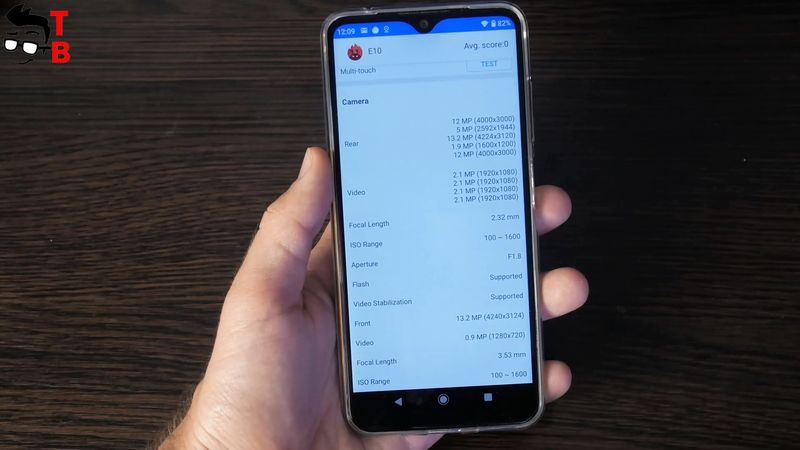 You can take photos with 48MP resolution, as well as portrait, bokeh, and even ultra-wide angle.
The photos are really good, both day and night.
NFC, dual SIM, and microSD
I like that Elephone E10 has NFC. I know many people in Russia and European countries use mobile devices with NFC for contactless payments. This is very a useful feature.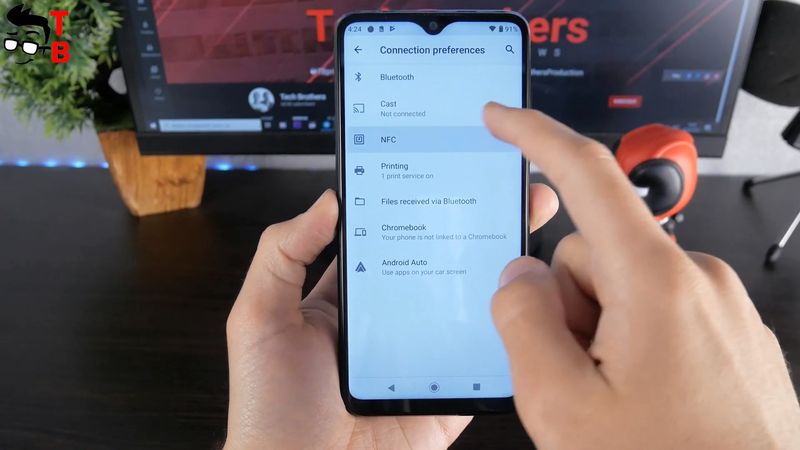 The new smartphone also supports dual SIM, and it has a dedicated slot for a microSD memory card. So, you can use two SIM cards and microSD memory card at the same time.
Cons
However, all smartphones have disadvantages, especially budget ones, such as Elephone E10. Actually, the smartphone has only two drawbacks for me.
No Image Stabilization
The first drawback is the lack of image stabilization. It is pretty hard to shoot the video on Elephone E10. If you plan to shoot many videos, then it is better to buy a special phone gimbal, otherwise, all videos will be shaky.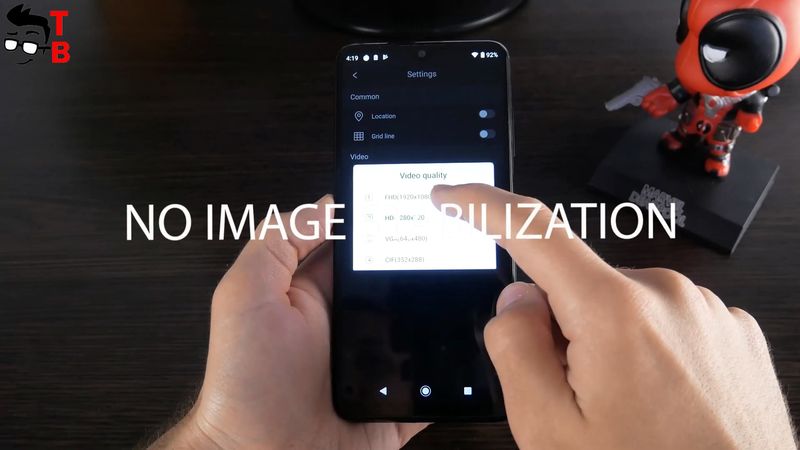 Slow Charging
Another disadvantage is slow charging. Although Elephone E10 has a USB Type-C port, there is only a 10W charger in the package. It takes about 2 hours and 40 minutes to fully charge the battery. This is quite long for a smartphone in 2020.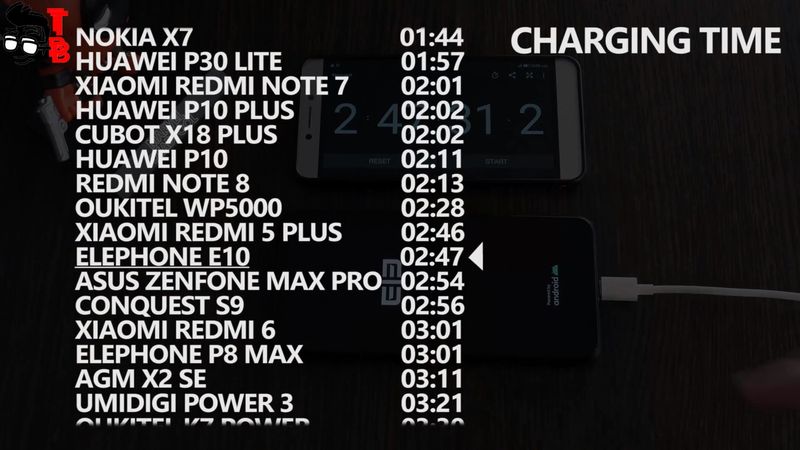 Conclusion
As you can see, Elephone E10 is a really good smartphone, especially for $93.
By the way, while we were doing the review of Elephone E10, the Chinese company released a Pro version of this smartphone. Elephone E10 Pro has a hole-punch display instead of waterdrop notch, a little bigger display, 128GB of storage. The processor, camera, and battery are the same.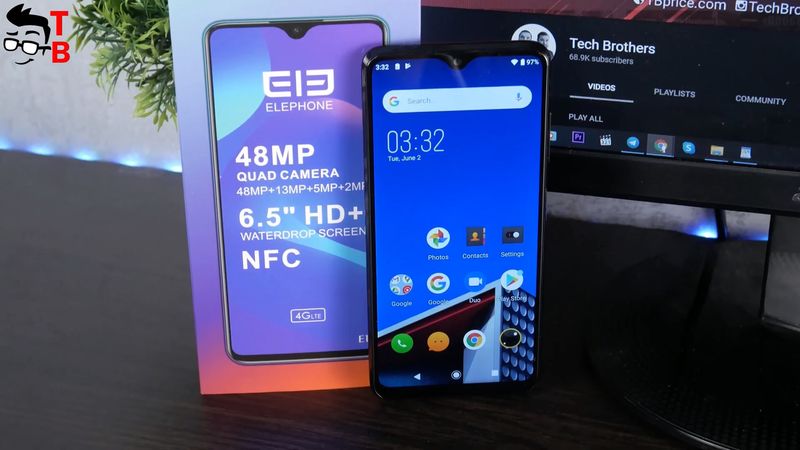 I will leave the links to buy Elephone E10 and E10 Pro in the description under the video.
Thank you for watching.
Hit the like button and subscribe to our channel – Tech Brothers.