You know, I have already tested some portable projectors on our channel Tech Brothers, but this one looks like the smallest. The projector is almost the same size as the iPhone 12.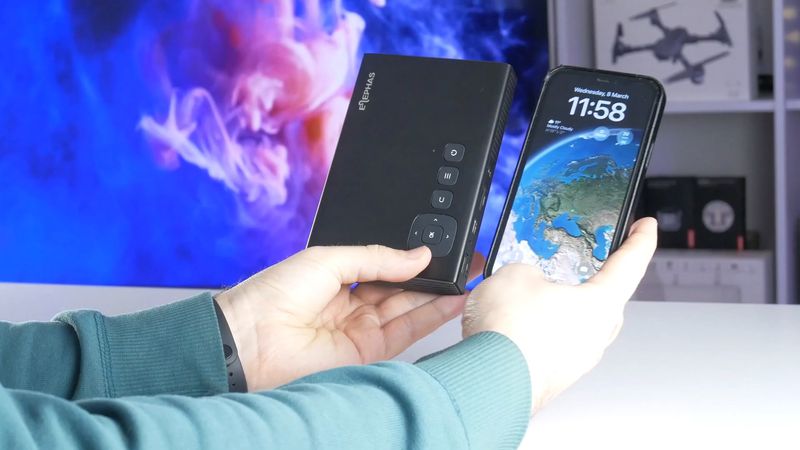 However, it has 7000mAh built-in battery and 2 hours of battery life for watching videos, Wi-Fi and Bluetooth connection, as well as Full HD resolution support.
It can be a good projector for business trip and camping.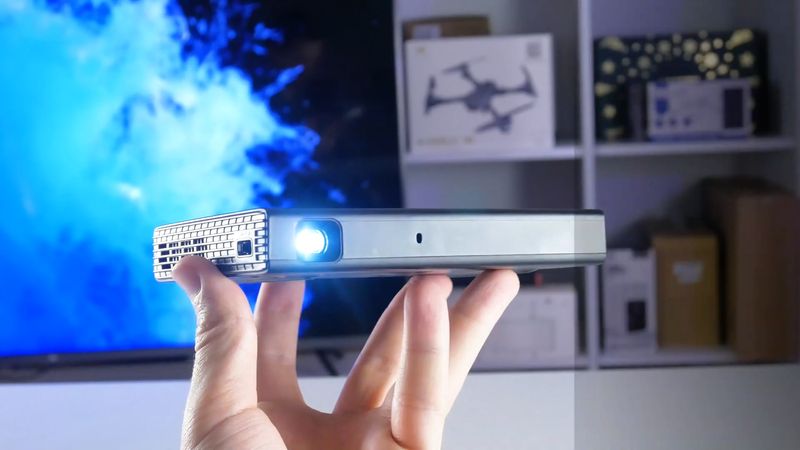 In this article, I want to check Wi-Fi and Bluetooth connection, the noise level, speaker quality and projection quality.
Let's start with the unboxing, because the projector comes with some useful accessories.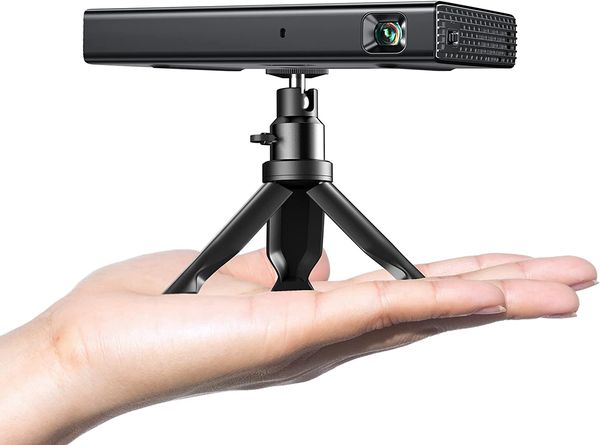 ELEPHAS 1080P Portable Projector Built in Rechargeable Battery - Amazon
as of March 13, 2023 9:10 am
Unboxing
Elephas portable projector comes in a black box with a texture that makes it feel premium and expensive. There is only Elephas logo and Mini Projector inscription on the front.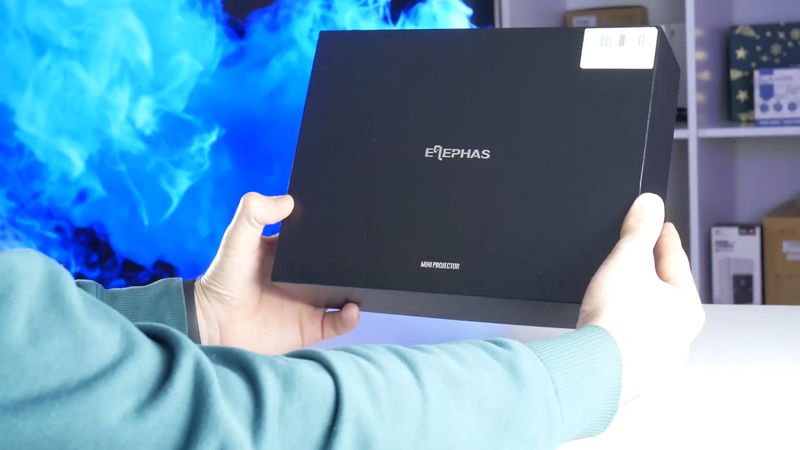 On the back of the box, you can read the model name of the projector and some information about the manufacturer.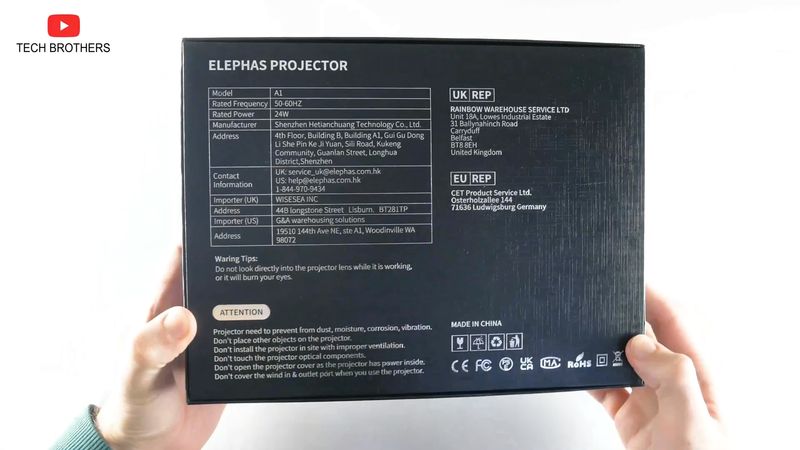 Inside the box, there is a carrying bag with the same Elephas logo. Let's open it.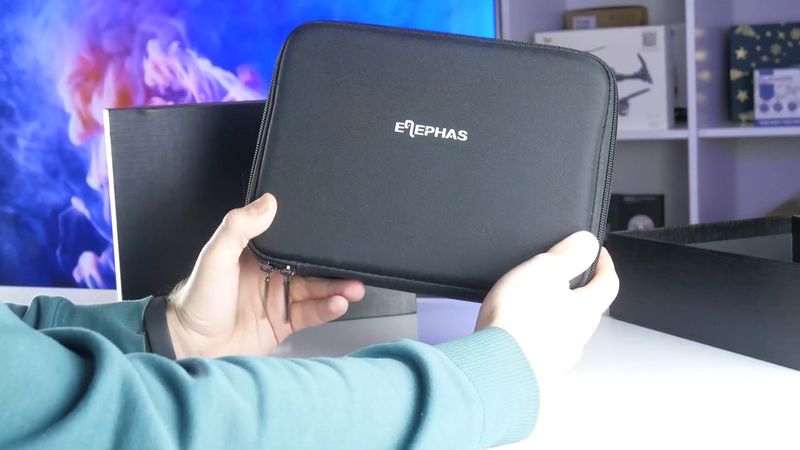 Here we have a user manual and quick start guide, HDMI cable, power adapter and tripod, a projector itself, as well as remote control and USB Type-C to USB Type-C cable.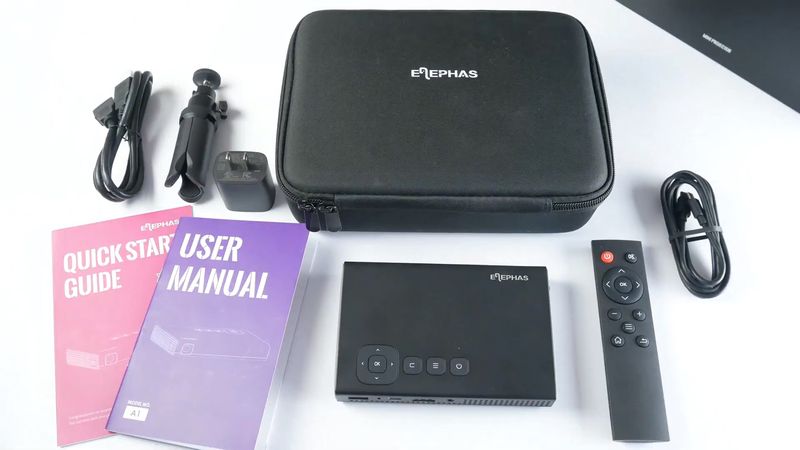 So, it is very good that a portable projector has a carrying bag and tripod include
Design
The main feature of Elephas A1 projector is a compact size. The dimensions are 150 x 100 x 25 mm. The weight is 320 grams.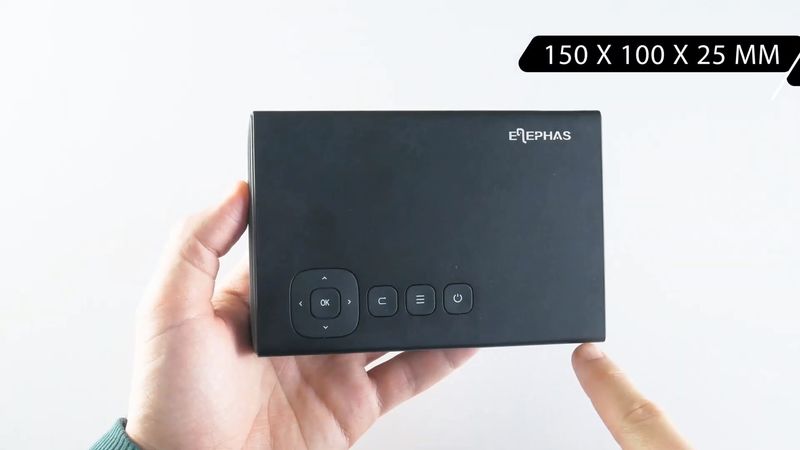 It is almost the same size as my iPhone 12, but twice as thick.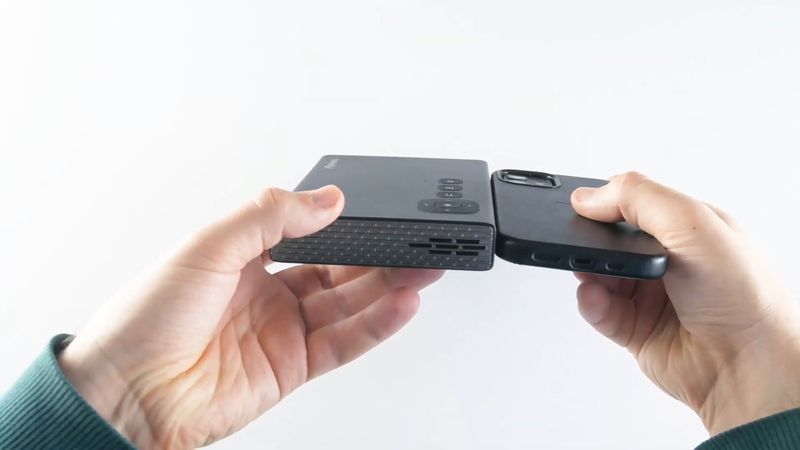 You know, this projector is very close to the pocket-size.
The body of the projector is made of black matte plastic.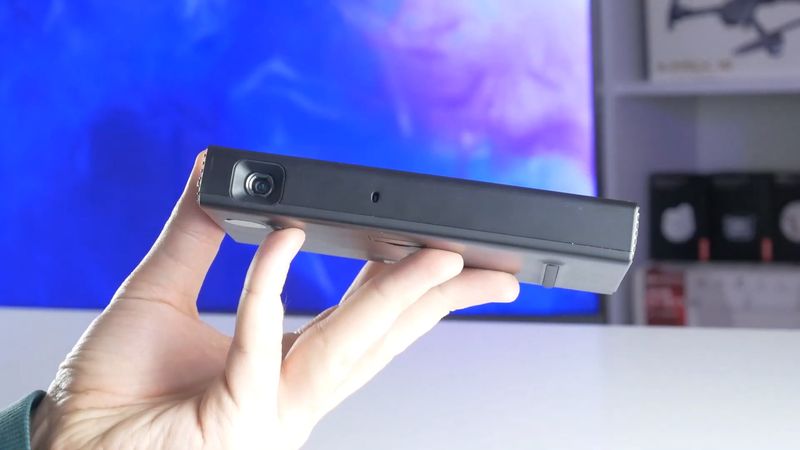 There is a small lens and IR receiver on the front.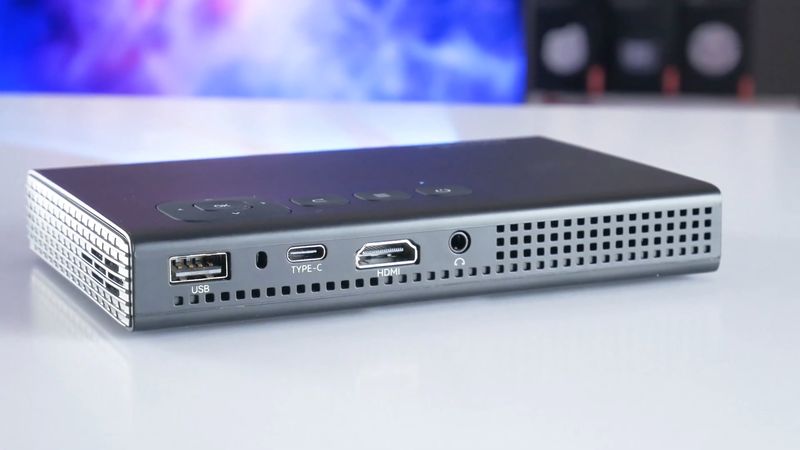 On the back, we can see USB port, the second IR receiver, USB Type-C port, HDMI port and 3.5mm audio jack. There is also a speaker on the rear panel.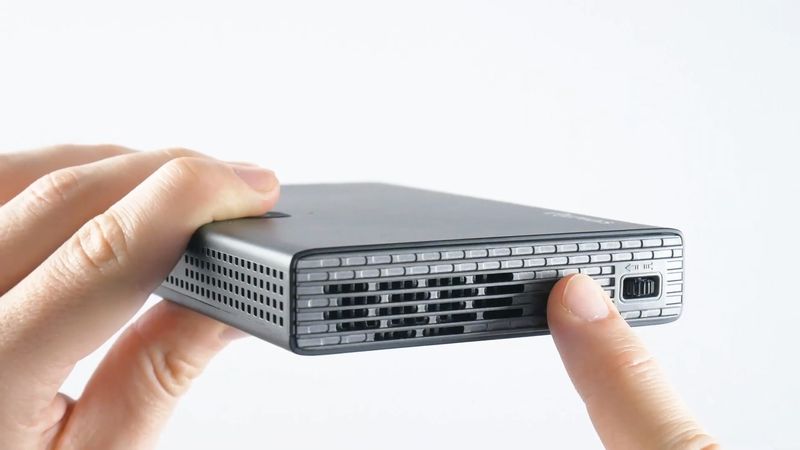 The focus wheel is on the right side.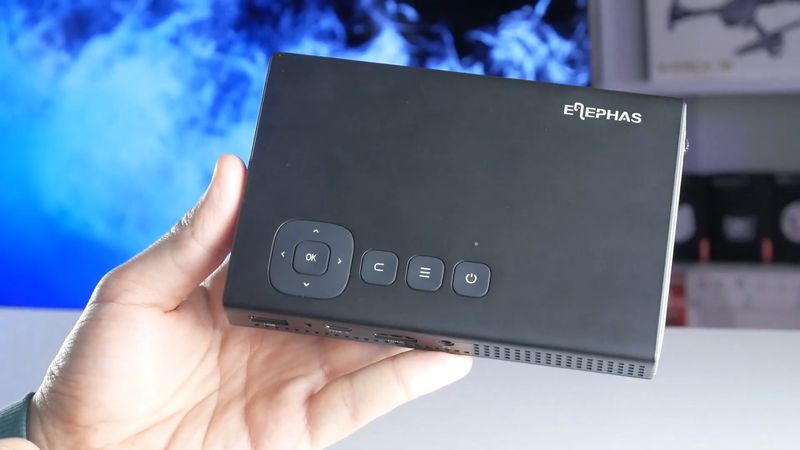 The control panel at the top has navigation buttons, OK, return, menu and power. You can also use a remote control to control the projector.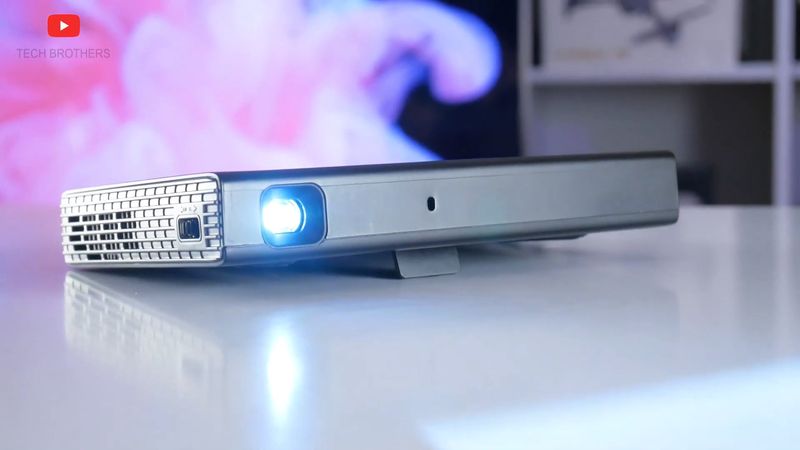 Finally, there is a kickstand at the bottom to raise the front of the projector, but I think it is better to use a tripod. It can be used to position the projector at any angle.
Battery
Before we turn the projector on and go into the settings, I want to tell you about the battery.
Elephas A1 has 7000mAh built-in battery. The manufacturer promises 2 hours of battery life on a single charge.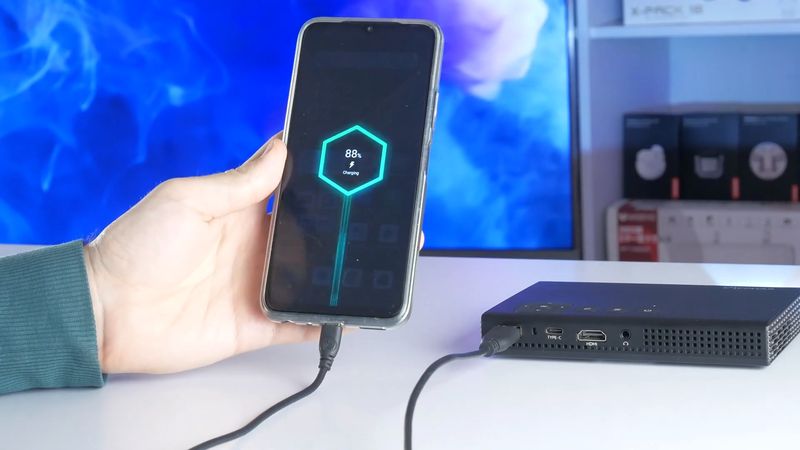 You can also use a projector as a power bank to charge your mobile device. The USB Type-C port supports 100W PD charging.
User Interface
You know, Elephas A1 has a multimedia system, so you can watch movies, listen to music, or run documents via a connected USB flash drive.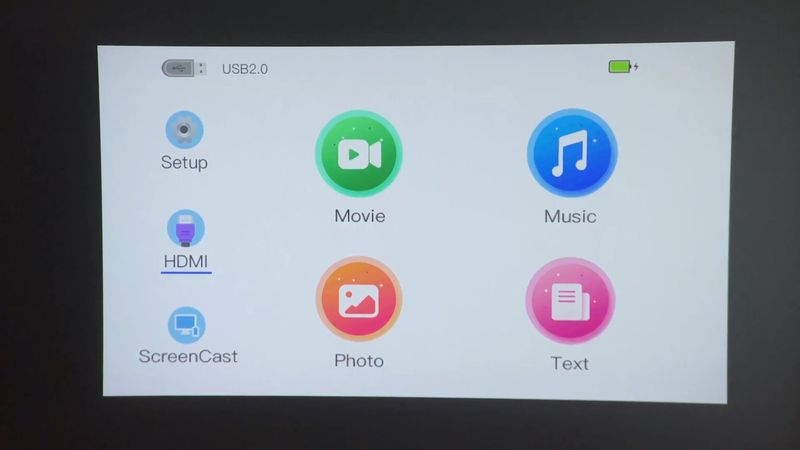 You can also connect a laptop, game console or other device via the HDMI port. Later, I will show you that.
Now, let's go to the settings menu.
Here we have picture settings, and we can choose a picture mode, brightness, aspect ratio, keystone, projection mode, and image scale.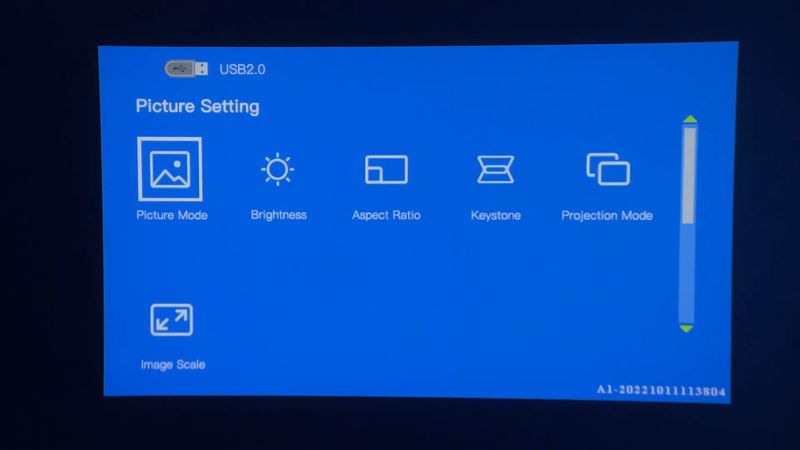 By the way, Elephas A1 has an automatic keystone correction, and it works really well. However, you can turn it off and use a manual keystone correction if you want.
The system settings include language, restore factory and upgrade.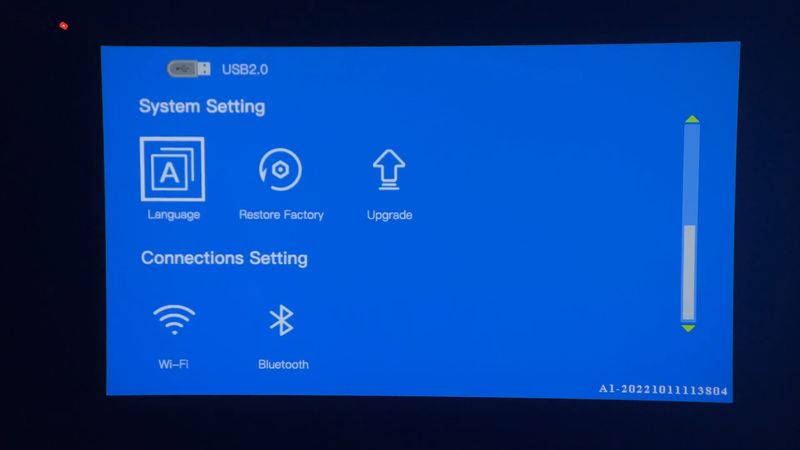 As I already said, the new Elephas projector has Wi-Fi and Bluetooth connections. Let's check them out.
Wi-Fi Connection
First, you can mirror the display of your smartphone of a big projection screen. For that, go to the screencast. There are five connection methods available, such as iOS cable cast, iOS cast, Miracast, Windows Cast and DLNA.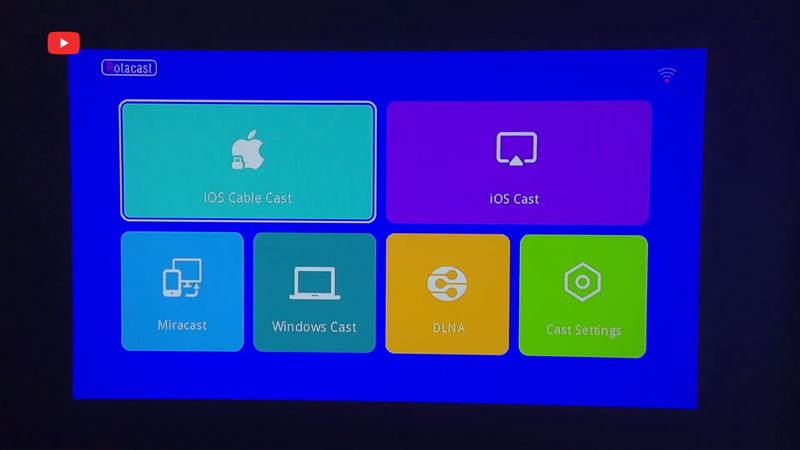 However, first, you need to go to the cast settings, and connect a projector to your home Wi-Fi network.
I will use iOS cast for wireless connection of smartphone to the projector.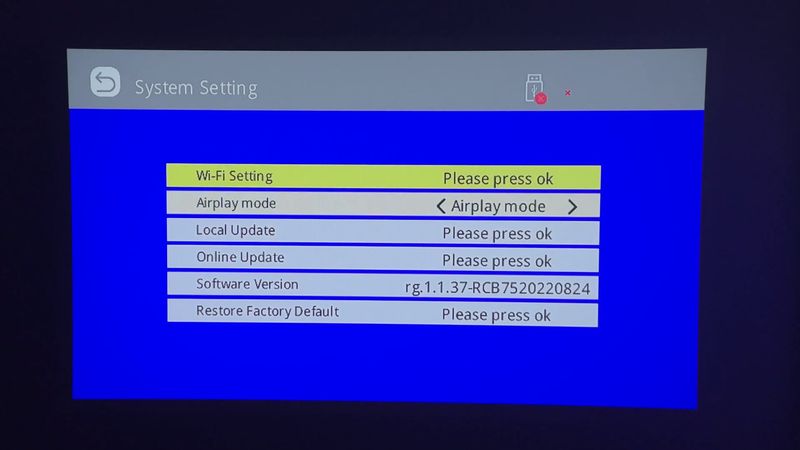 Now, you just need to open Control Center on your iPhone and go to the Screen Mirroring.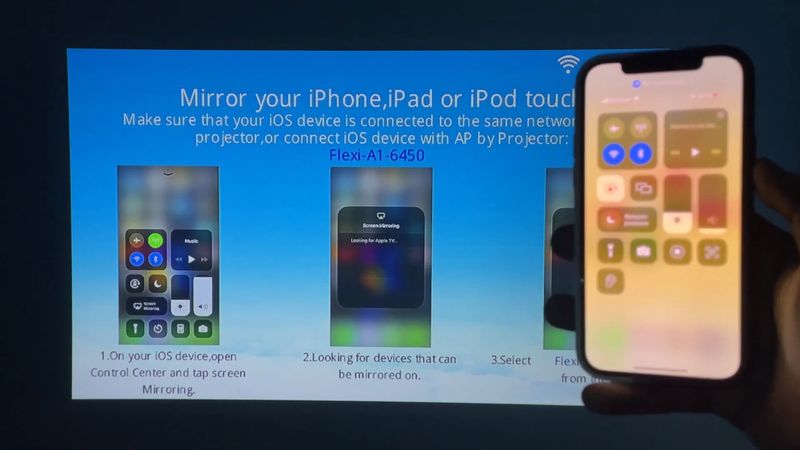 Finally, select Flexi A1 device. That's all!
By the way, the projector supports 5G Wi-Fi, so the latency is quite low.
Bluetooth Connection
Elephas A1 also has a Bluetooth. You know, a built-in speaker of this projector is low quality, so it is good that you can connect an external speaker via Bluetooth.
For that, go to the Setup, and open a Bluetooth menu.
Now, tap on the Search button, and select your Bluetooth device. In my case, this is a compact Bluetooth speaker.
Speaker Quality
If we started talking about built-in speaker, let me play you some songs.
Unfortunately, the sound from the built-in speaker is quiet and low quality.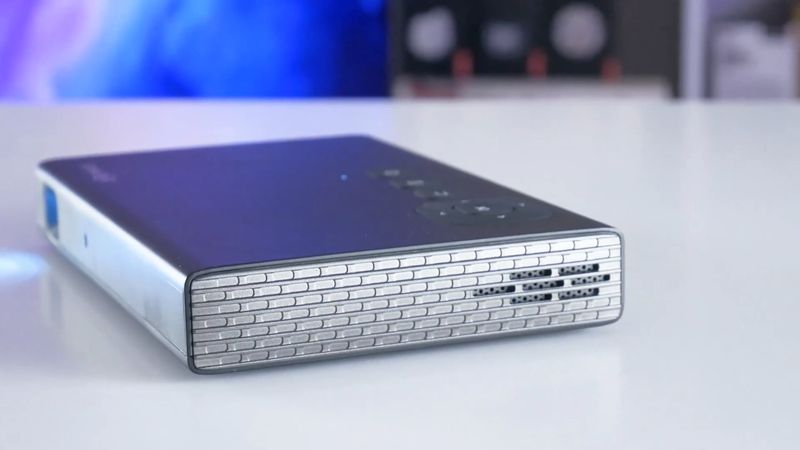 The good thing is that you can connect an external speaker via Bluetooth or even headphones via 3.5mm audio jack.
Noise Level
Finally, let's measure the noise level of Elephas A1 projector.
You know, this is a compact portable projector, but it still needs cooling. The fan works very well, so the projector doesn't overheat.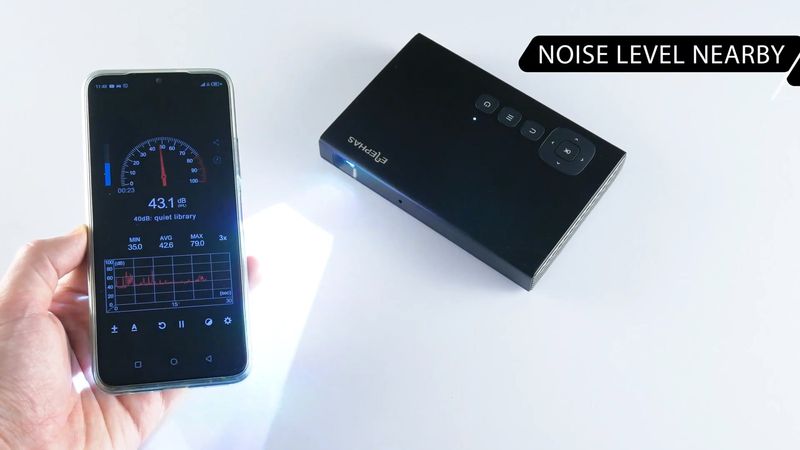 The noise level near the projector is 43 db, and it is about 34 db at one meter.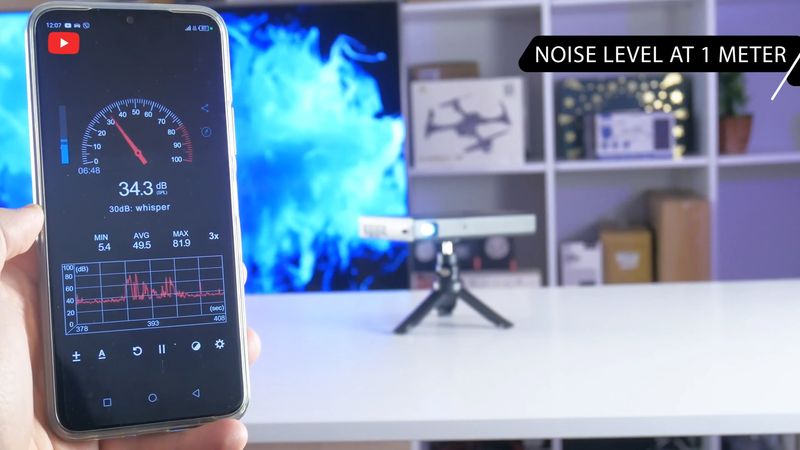 Projection Quality
Now let's talk about projection quality.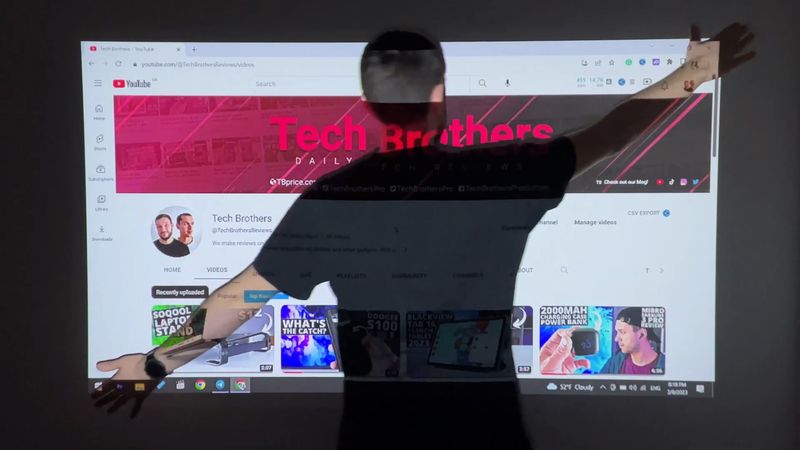 I told you that Elephas A1 has Full HD resolution support, but I didn't find any information about native resolution. From my experience, I think it is 480p, because you can see individual squares or pixels at close range.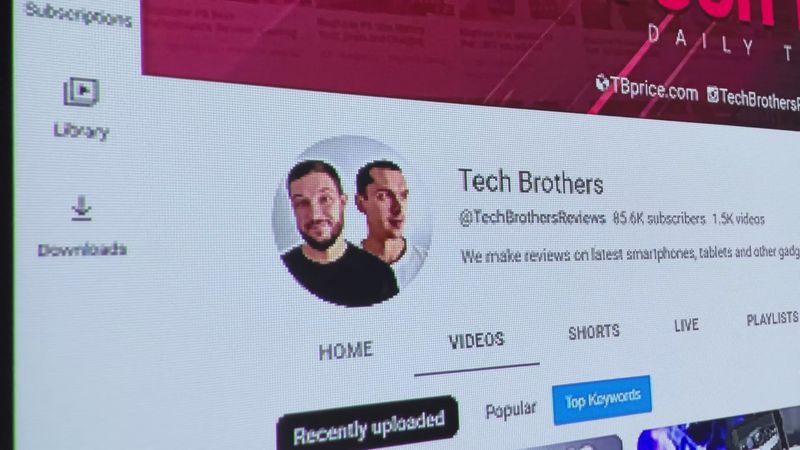 The profile picture of our YouTube channel looks like the one from Minecraft, doesn't it?
The small text is quite difficult to read.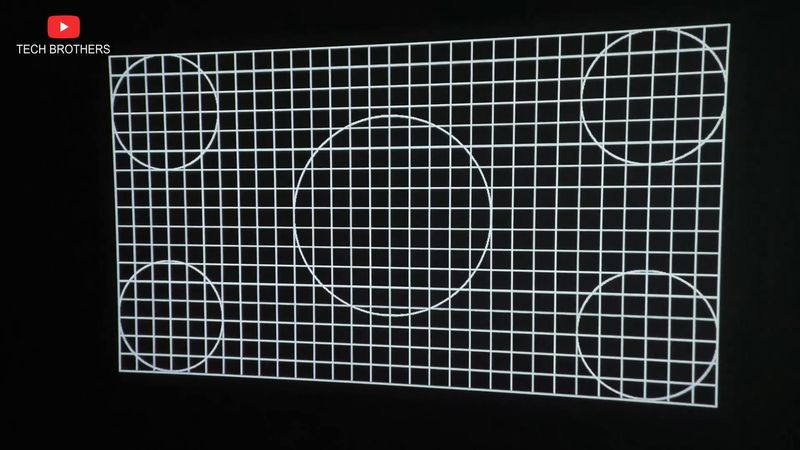 However, the image is clear all over the screen, including the corners.
If you look at the projection from a distance, the picture is very decent. The colors are very saturated.
You know, if you are choosing between LCD and DLP projectors, DLP will always be better, even if it has a lower native resolution.
Elephas A1 has only 180ANSI, but the brightness of this projector is much higher than many other LCD projectors of the same price range.
Pros and Cons
So, Elephas A1 projector has its advantages and disadvantages. Let's start with what I don't like about it.
I think the main problem of this projector is a built-in speaker. It is very weak. Fortunately, it is possible to connect external speakers or headphones via Bluetooth or 3.5mm jack.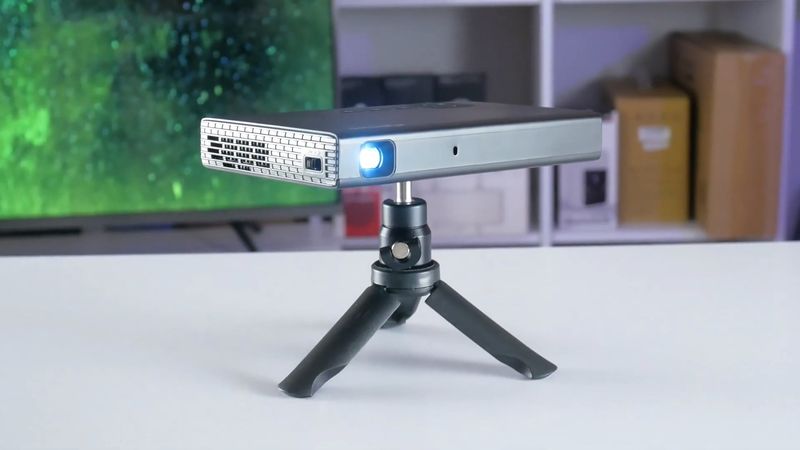 In addition, Elephas A1 has a low native resolution, and it is probably not suitable for presentations. The small text is very difficult to read.
However, overall, I like the projection quality because the image is very bright, and the colors are rich. This is because Elephas A1 uses DLP technology, but not LCD.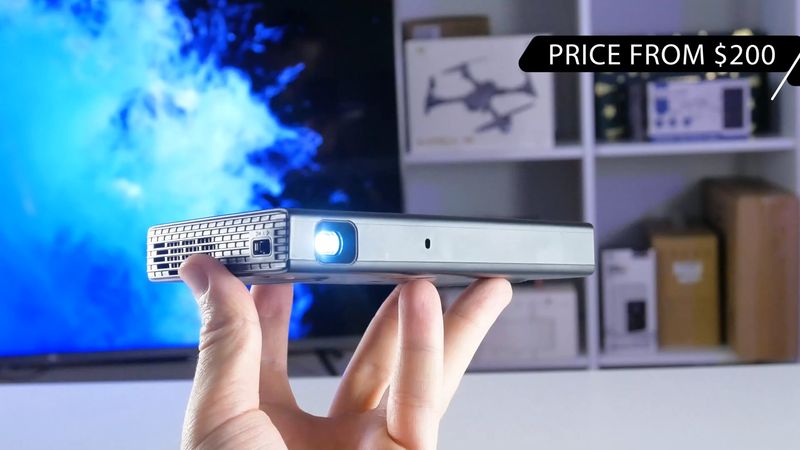 Of course, the compact size and built-in battery are the advantages of this projector.
So, for the price of $200, Elephas A1 is a really good portable projector.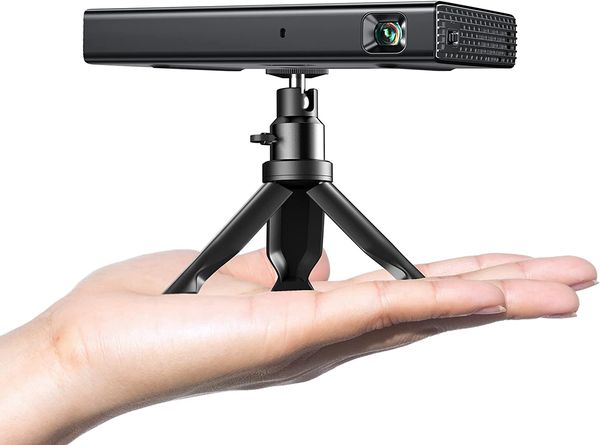 ELEPHAS 1080P Portable Projector Built in Rechargeable Battery - Amazon
as of March 13, 2023 9:10 am