Today, we will talk about the projector, which costs $260. Actually, this is not a very high price for a quality projector.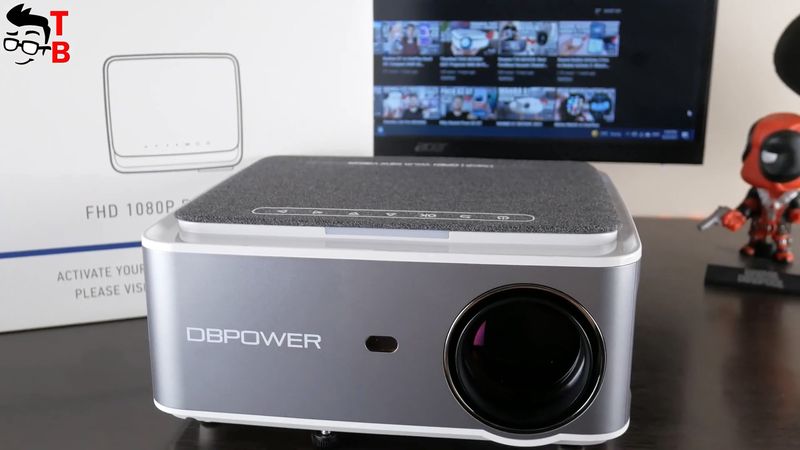 The hero of today's article is DBPOWER RD828. It has Full HD native resolution, 8500 Lumen brightness, 10000 to 1 contrast, up to 300 inches screen size, wireless screen mirroring, and digital keystone correction.
As I already said, $260 is not a high price for a quality projector, but is DBPOWER RD828 really a quality projector? Let's find out.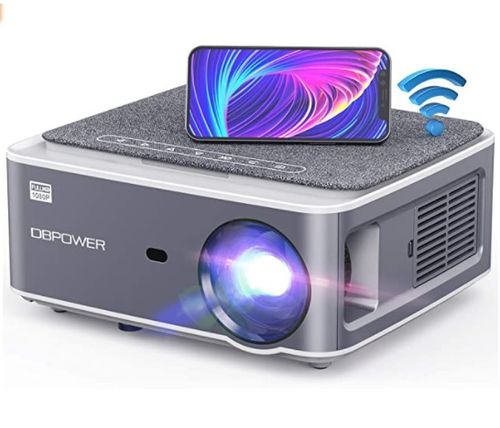 DBPOWER Native 1080P WiFi Projector - $90 OFF COUPON - Amazon
as of November 11, 2022 7:01 am
Official website: dbpowershop
Unboxing
On the box of the new projector, we can see that it has a 12-month warranty, but you need to activate it. There is also a logo of Full HD 1080P in the right top corner.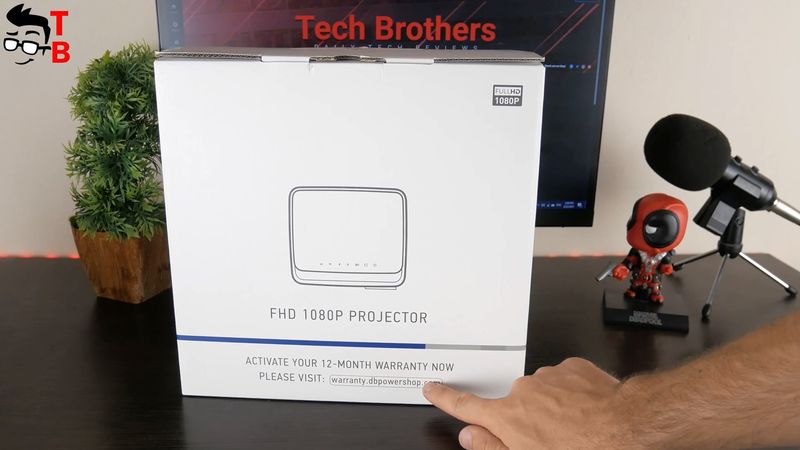 Inside the box, we have another card to activate the warranty, and two cards to get a gift, such as a tripod stand, google Chromecast, projector screen, or Fire TV Stick.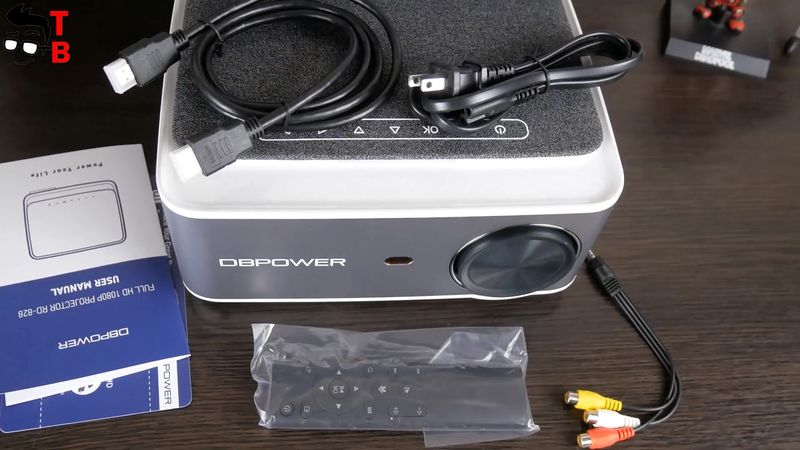 Then, there is a user manual, power cable, AV cable, HDMI cable, remote control, and the projector itself.
Design
DBPOWER RD828 has a very interesting design.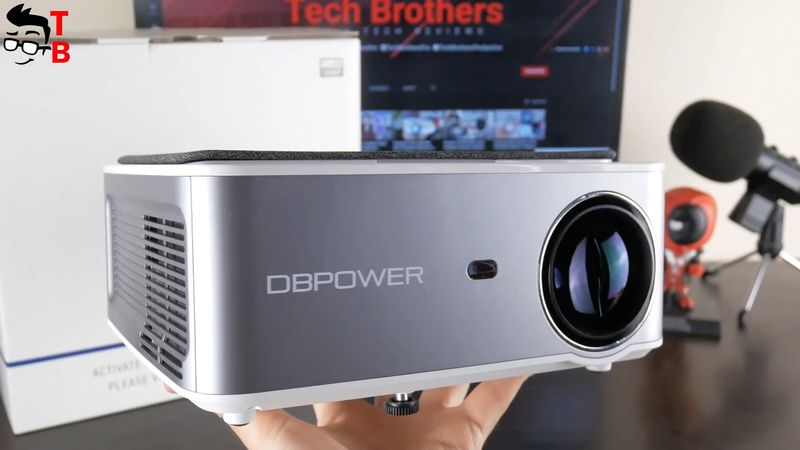 It has a similar shape and size to many other projectors from this price range, but I like the combination of colors: black, grey, and white.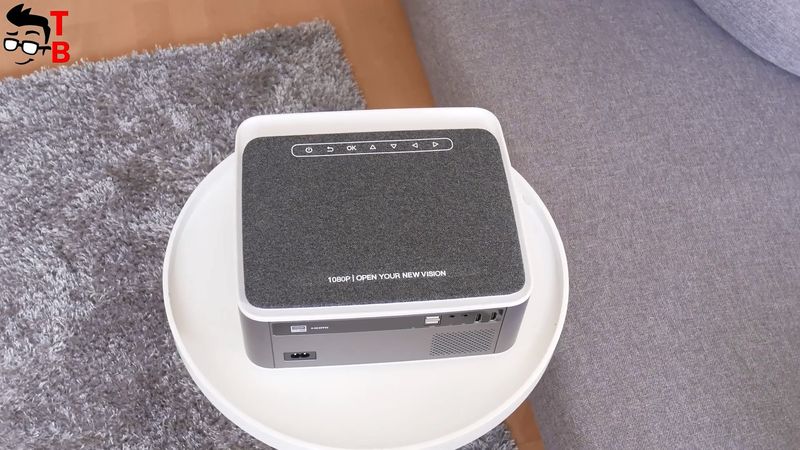 As you may have already noticed, the projector has a fabric top. It is very nice to touch. There are also control buttons on the top, such as power, return, OK, up, down, left, and right.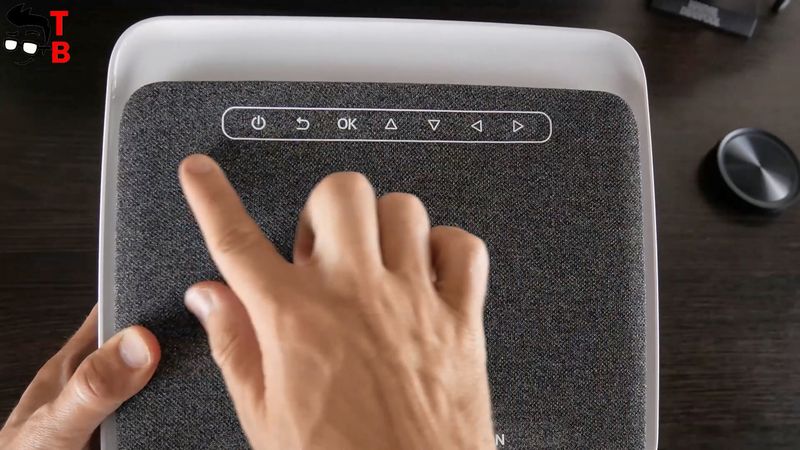 On the front, we can see a protective plastic cover and projection lens under it, as well as an IR receiver for remote control.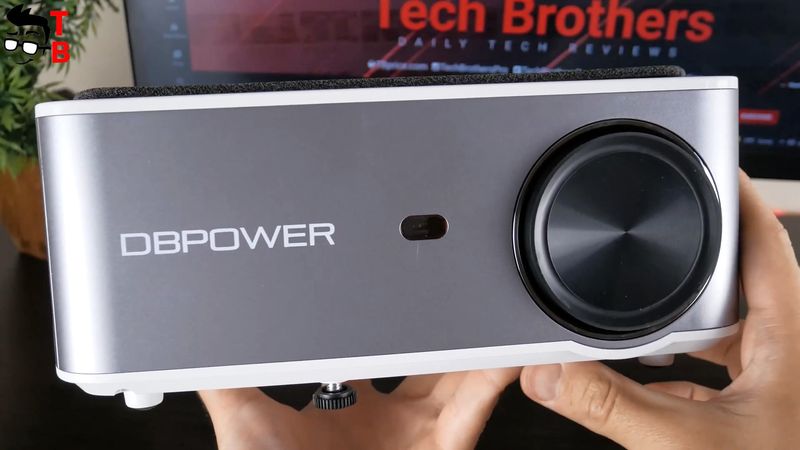 Now, let's take a look at the back of the projector. Here we have AC input, speaker, as well as the second IR sensor, two USB ports, 3.5mm audio jack, AV port, and two HDMI ports.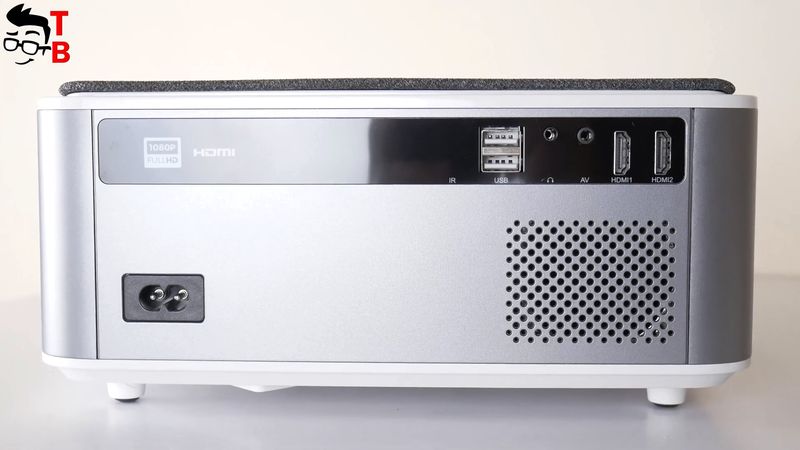 You know, DBPOWER RD828 has many different ports, so you will not have any problems with connecting external devices such as game consoles, laptops, TV boxes, etc.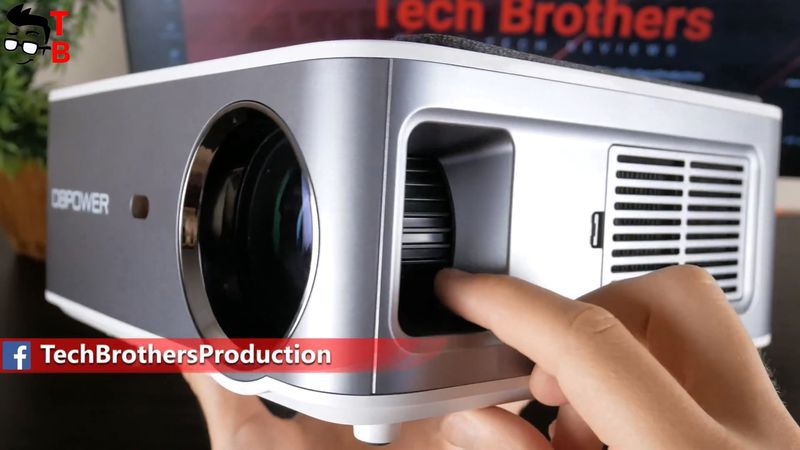 If you are looking for a focus wheel, it is located on the left side. As I already said, the new DBPOWER projector uses digital keystone correction, so it doesn't have a physical keystone correction wheel.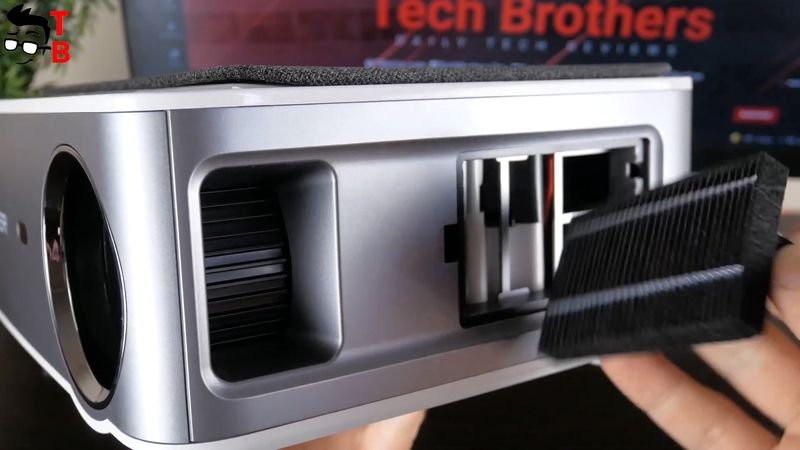 There is also an air filter on the left of the projector. We can remove this cover and clean a filter. By the way, we can also see what's inside a projector.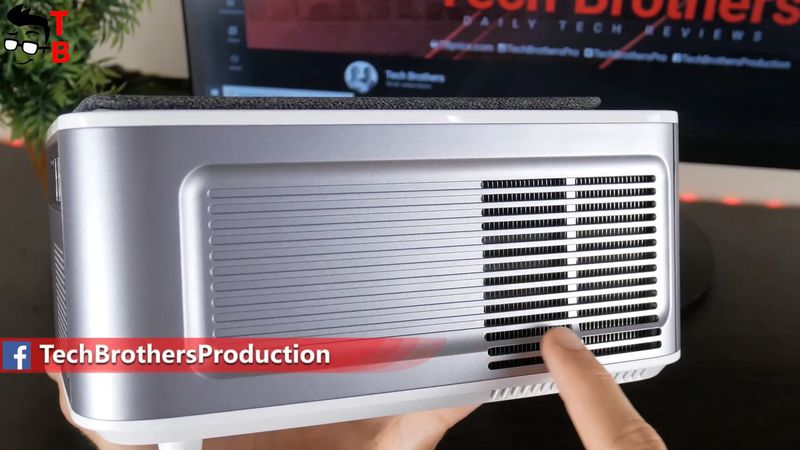 On the right side, there is only a ventilation outlet.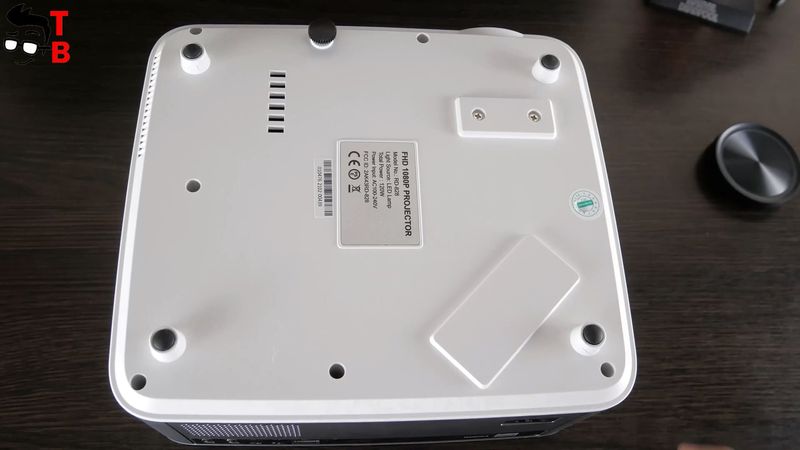 The projector has an adjustable tilt foot on the bottom. There are also four holes to mount a projector on the ceiling.
The remote control is made of plastic, and it is powered by two three A batteries.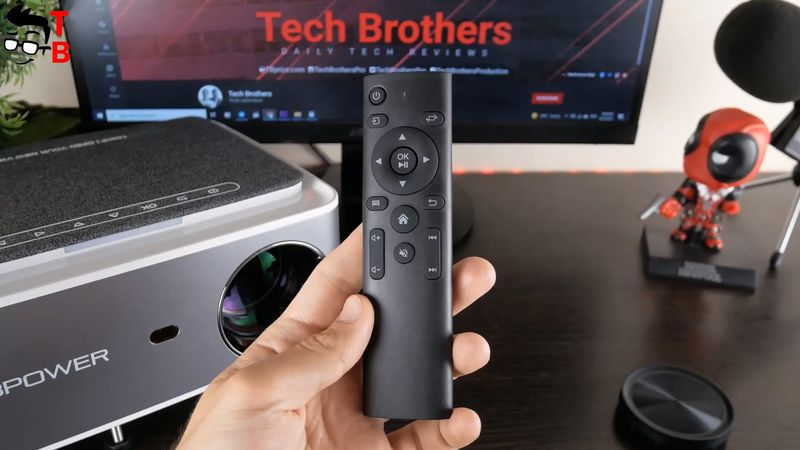 There are all control buttons that you need, such as power, source, flip, direction buttons, volume up/down, etc. By the way, I noticed a microphone hole on the back of the remote control. Probably, the projector supports voice control.
I think that's enough about design because we still have a lot to talk about.
Menu
So, I turned on the projector. The projection is quite good visible on the wall, do you agree? Later, we will compare the projection in a bright room and total darkness.
On the home page, we can select the source channel on the left: HDMI1, HDMI2, and Audio/video.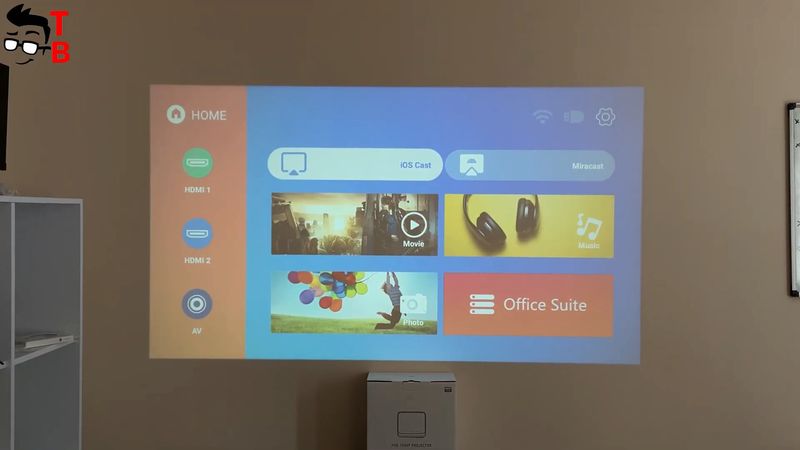 Then, we have iOS cast, miracast, movie, music, photo, and office suite. The projector doesn't have built-in memory, so you need to connect an external device, for example, a laptop, or USB flash drive.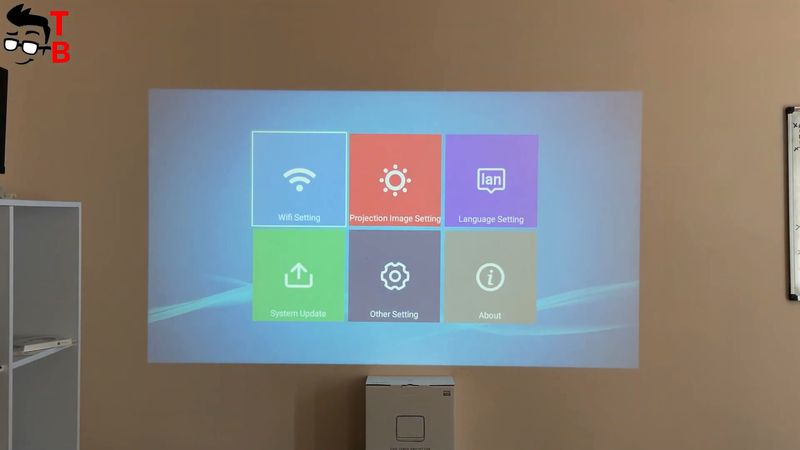 The settings menu has Wi-Fi settings, projection image settings, language settings, settings update, other settings, and about.
As you understand, in Wi-Fi settings, you can connect to a Wi-Fi network.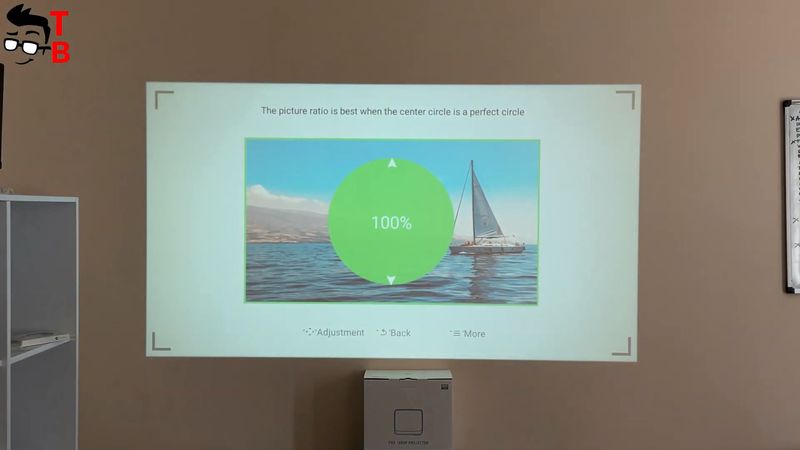 Projection image settings have a 4-point keystone, projection mode, and digital zoom.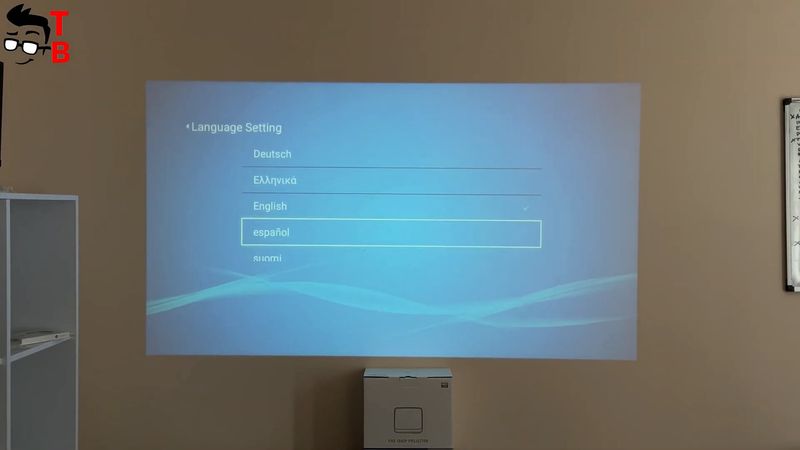 We can also change the language of the projector. There are many languages available.
In the other settings, we can only choose power on option: standby or direct.
Screen mirroring
DBPOWER RD828 supports Wi-Fi, so you can connect your Android or iOS device to the projector without cables.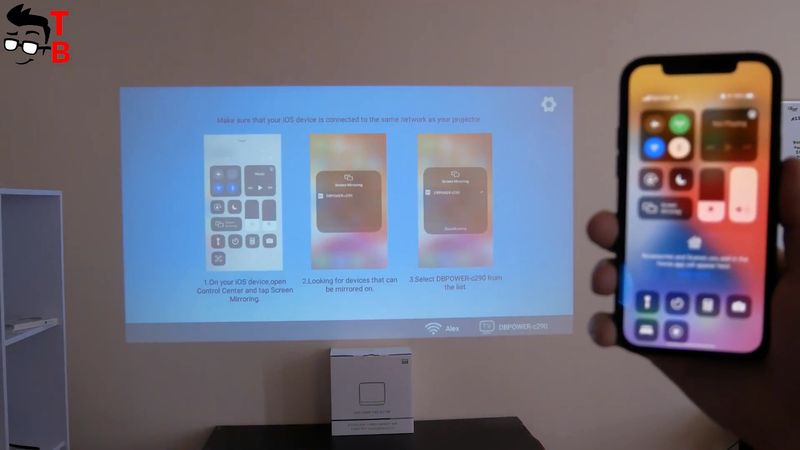 For that, you need to connect to the same Wi-Fi network as your phone connected, and then go to iOS cast or Miracast.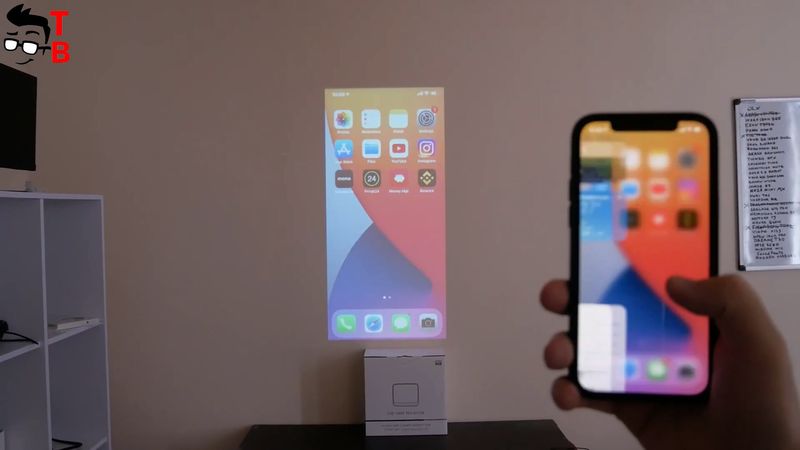 The next step is to take your phone – iPhone 12 in my case, and open screen mirroring. Now, just select DBPower, and the screen from a smartphone will be on the wall.
Volume and Noise Level
DBPOWER RD828 projector has a powerful 5W Dual HiFi Speaker. It is really good quality, but also it is very loud.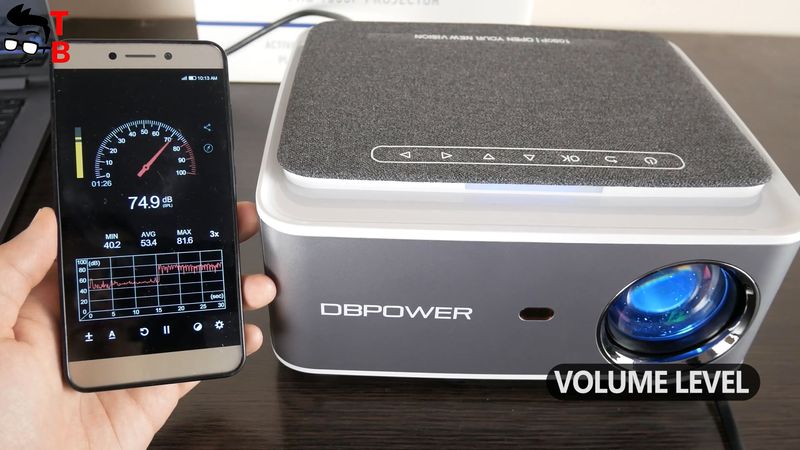 The maximum volume is about 75 dB.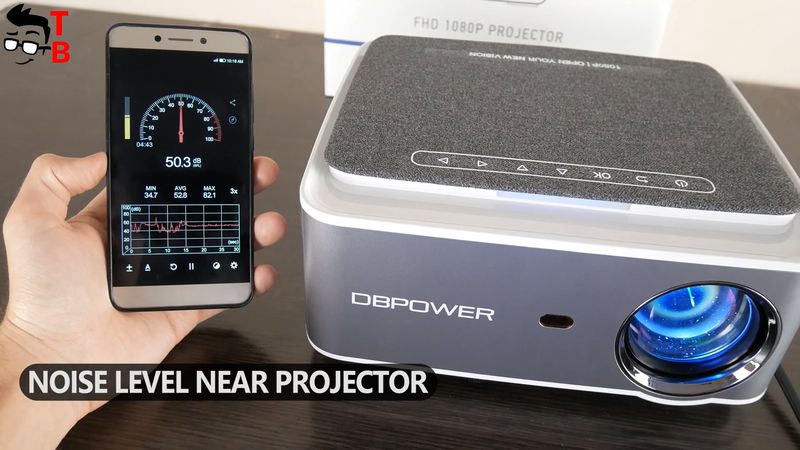 As for the noise level, it is about 50 dB near the projector and 33 dB at a distance of one meter.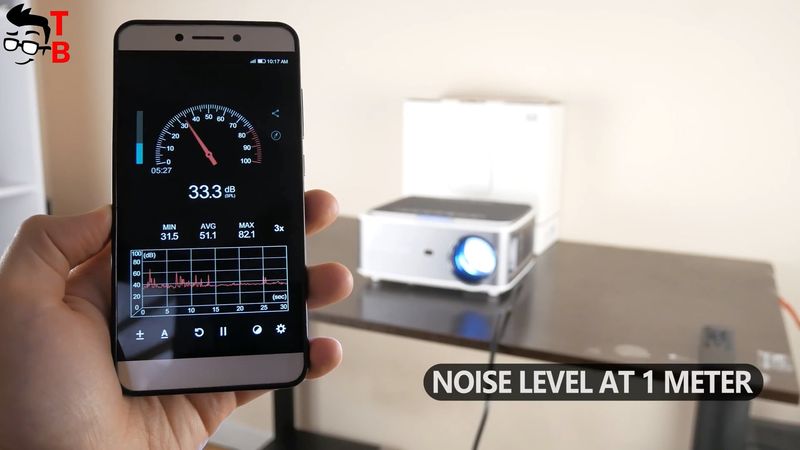 Now let's watch some videos on the projector.
Video quality
By the way, I was very impressed by the clear image. On this picture, we can see that all corners are clear. There is no blurring.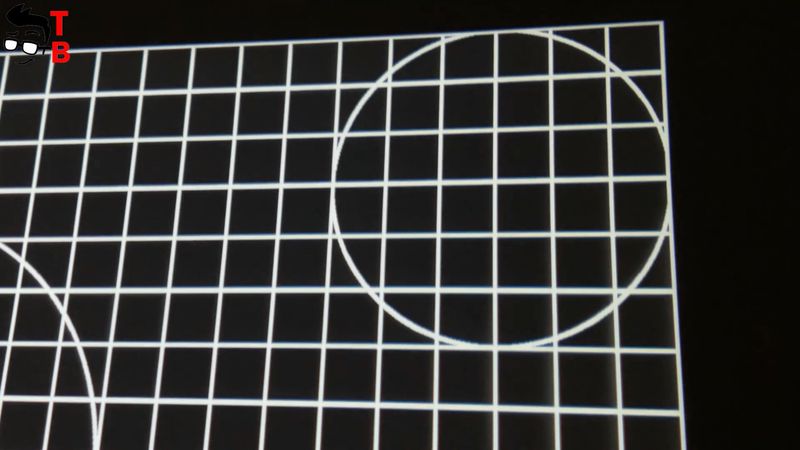 You can also see the high detail of projection. The individual pixels are not visible even at a very close distance.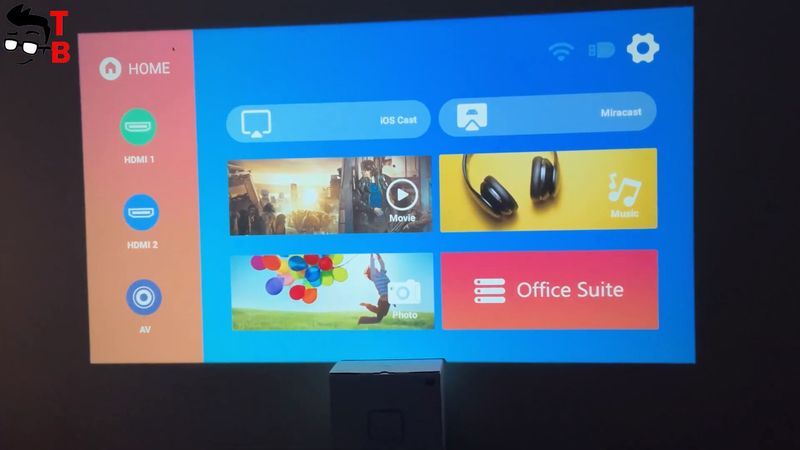 This is because the DBPOWER RD828 projector has native Full HD resolution.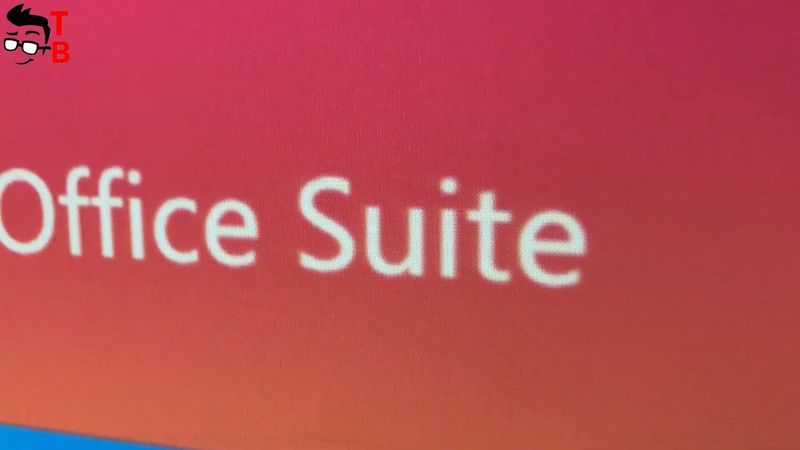 Now let's watch some videos in the dark room.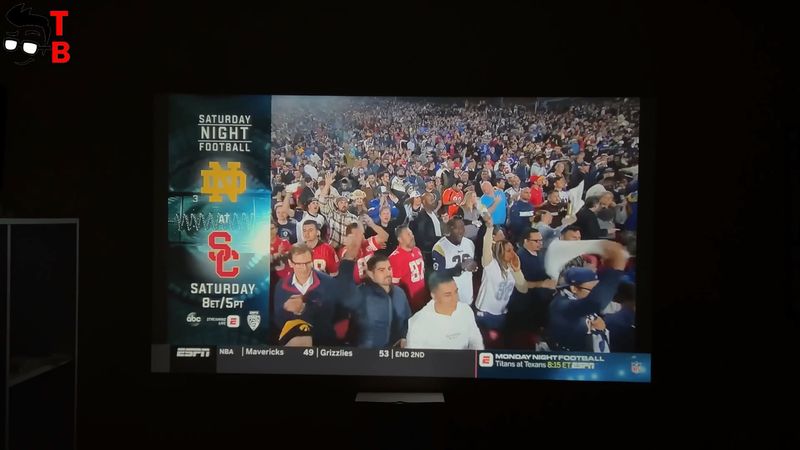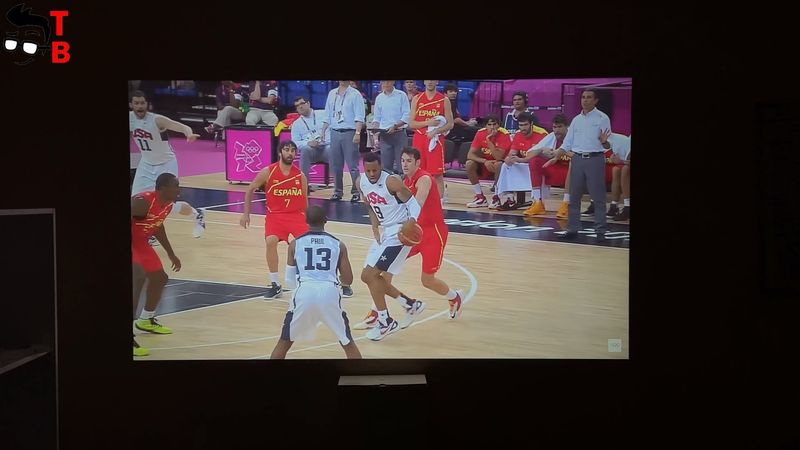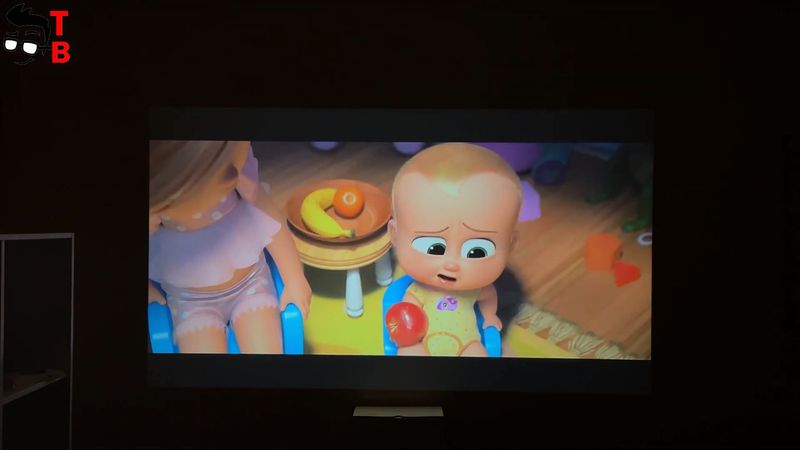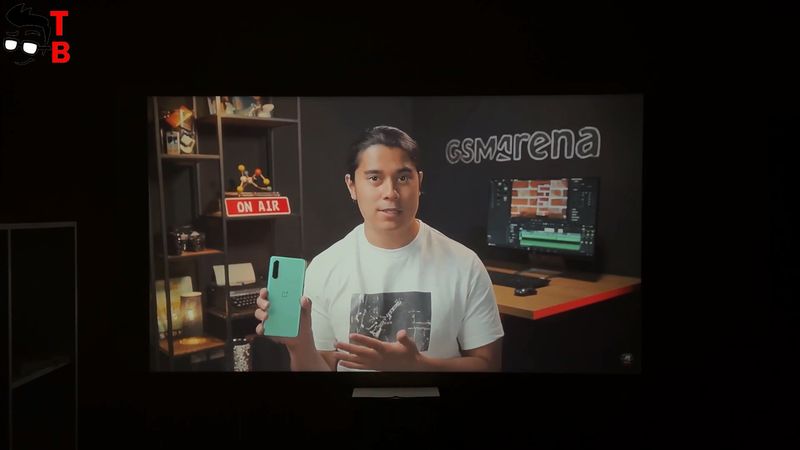 I also shot some videos in the bright room.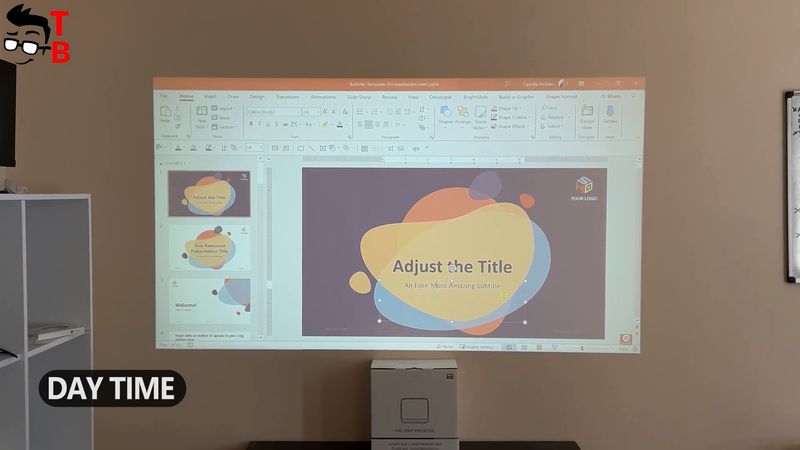 As you can see, the projection is still well visible, but the colors are not as vivid as in the darkroom. I think the projector can be used for office or college presentations.
Conclusion
DBPower RD828 looks like a perfect projector for home, because the image is sharp, thanks to Full HD native resolution, and the colors are vibrant. The brightness of 8500 Lumen is even enough to use a projector in a bright room.
I also like that there are many ports to connect external devices, such as two USB ports, AV, and two HDMI ports.
The new projector also supports Wi-Fi, so it has an iOS cast and Miracast wireless connection of smartphones.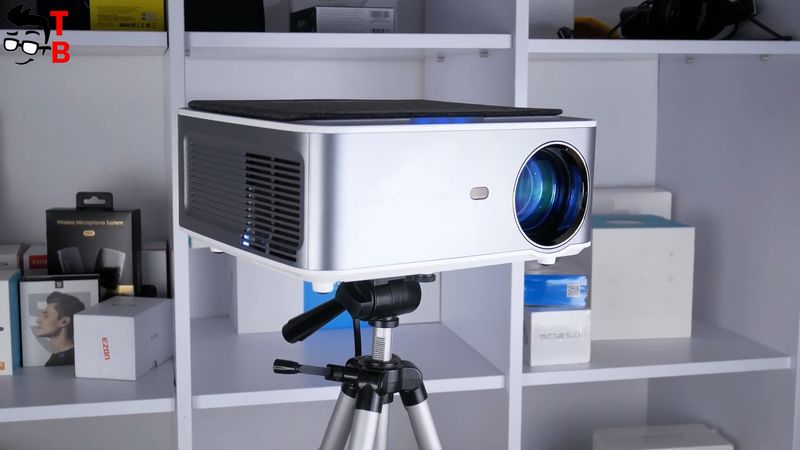 You know, I am surprised that the DBPower RD828 projector has digital keystone correction. Most other projectors in this price range have a physical keystone correction wheel.
Finally, the design of this projector is very nice, especially the fabric top. I think it makes the projector look more expensive than it really is.
However, I also found one drawback. The projector blows out very hot air. I don't think it is a problem if you place a projector at least 1 meter away, but it is very hot to be next to it, especially in the summer when the outdoor temperature is 30 degrees or even more.
DBPower RD828 Pros
Clear Full HD image
Vibrant colors
High 8500 Lumen brightness
Many ports: 2 x USB, AV, 2 x HDMI
Wireless connection
4D Keystone Correction
Premium design
DBPower RD828 Cons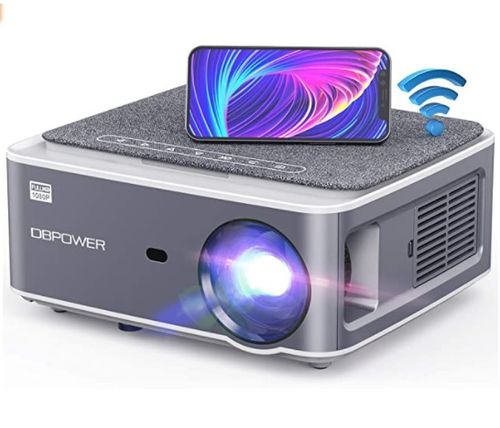 DBPOWER Native 1080P WiFi Projector - $90 OFF COUPON - Amazon
as of November 11, 2022 7:01 am