Some days ago, I got another projector for a review from the Bonsaii company. The new device has a model name of PJ8003.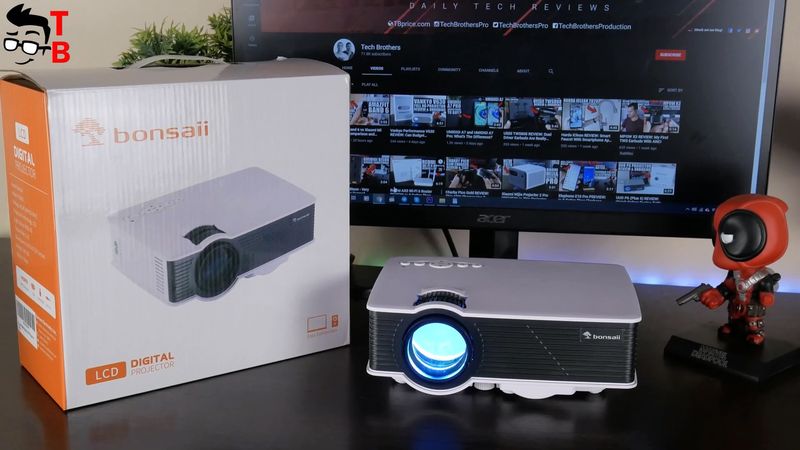 Perhaps, its main feature is the low price – only $89. Projector has 1280 by 720 pixels native resolution, but it supports Full HD resolution. The projection size is from 32 to 170 inches. It also has eye protection, a built-in stereo speaker, and many connectors.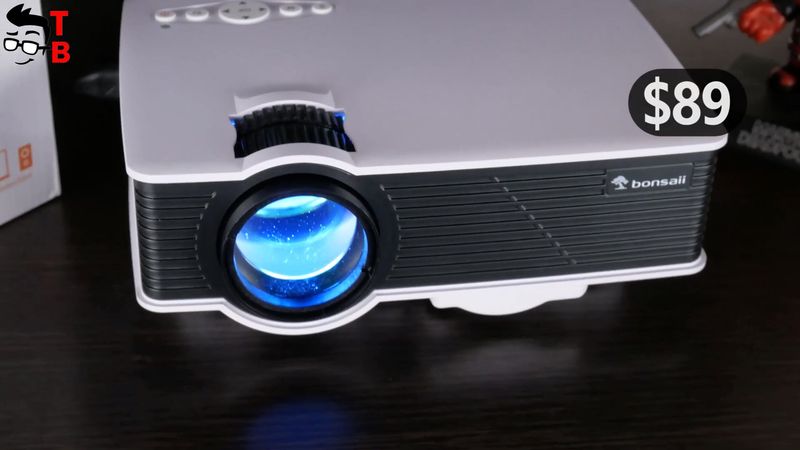 So far, Bonsaii PJ8003 looks like the best projector under $100. Is it really so? Let's find out.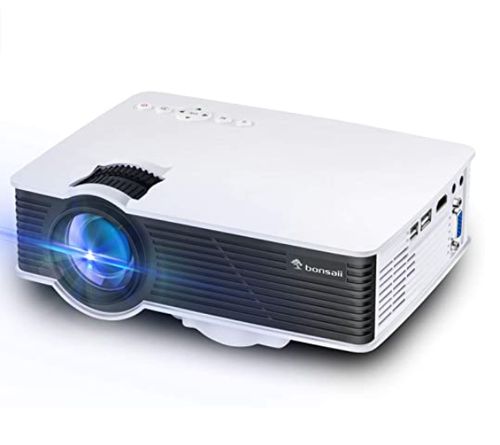 Bonsaii Video Projector 720p - Amazon
as of September 10, 2023 6:42 pm
Unboxing
Bonsaii PJ8003 is a very compact projector. It is probably the smallest projector that I have ever tested. However, this is a full-size projection, not portable, because it doesn't have a built-in battery.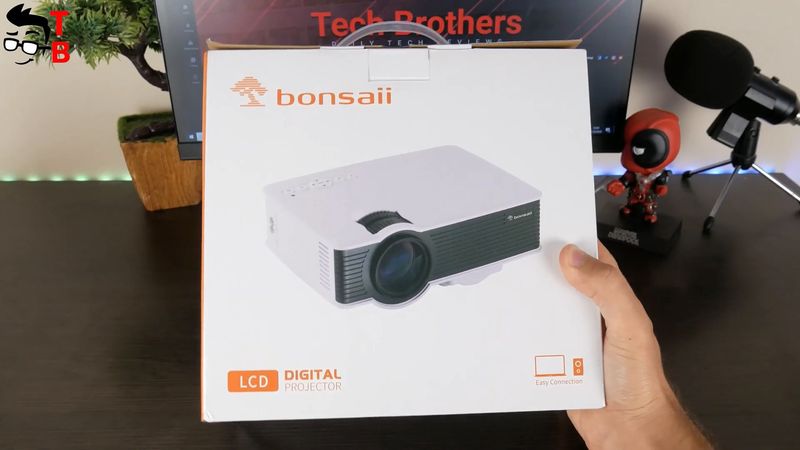 So, the box of Bonsaii projector is quite small, compared to other projectors. Here we can see the image of the device, company logo, LCD digital projector, and main features on the side face, such as brand, model, voltage, projection technology, light source, and others.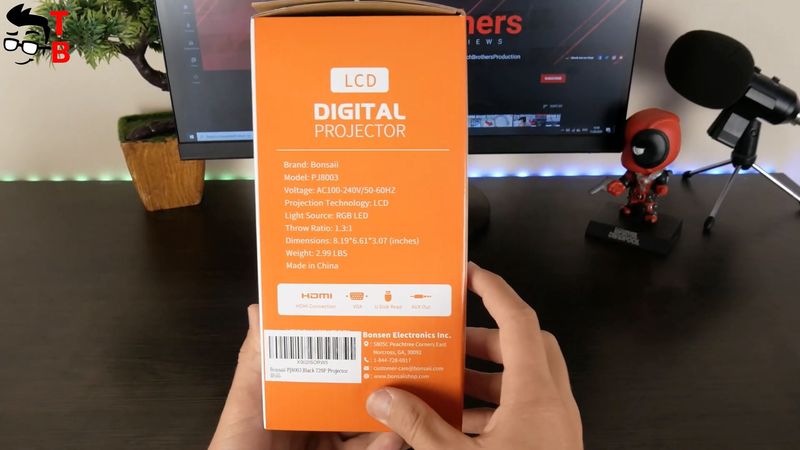 Inside the box, there is a projector itself, remote control, HDMI cable, power cable, AV cable, and user manual.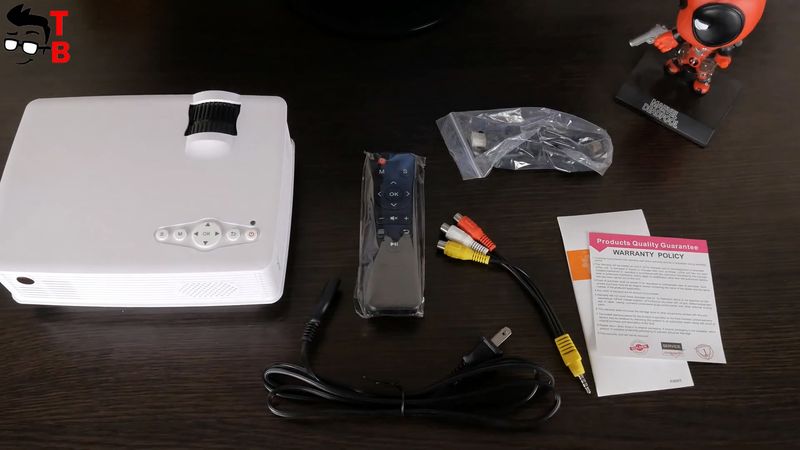 Design
As I already said, Bonsaii PJ8003 is a very compact projector. It is only 210 by 155 by 70 mm.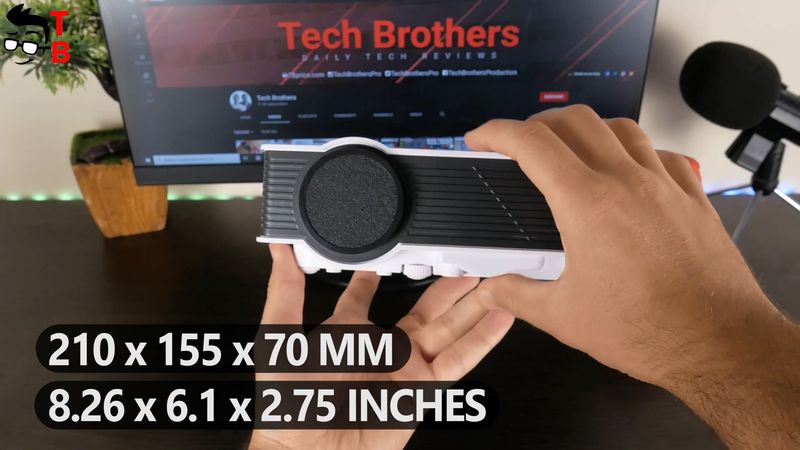 The weight is about 950 grams.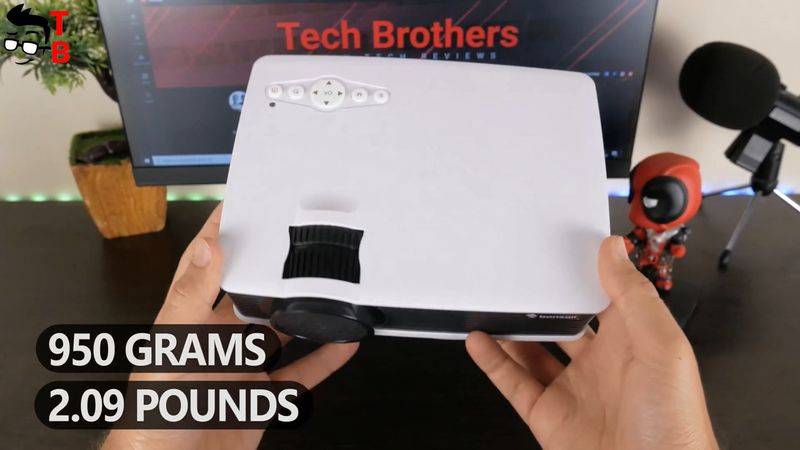 Most of the body is made of white plastic, and only the front is black.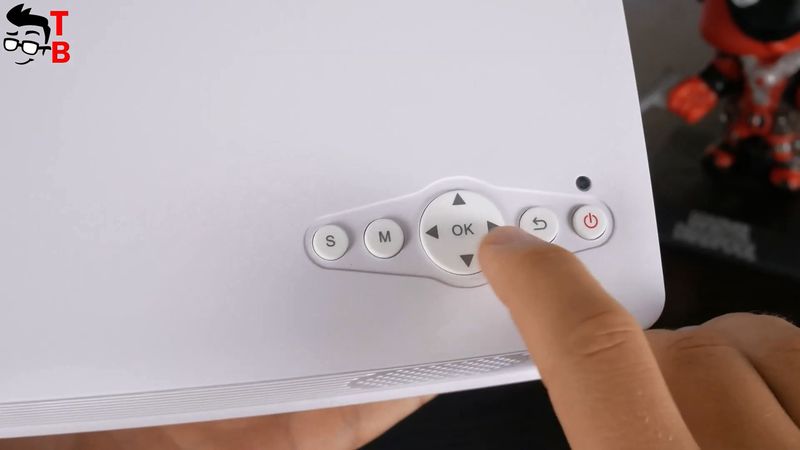 On the top, we can see control buttons: Source, menu, OK, back, and power. There is also an LED indicator above the power button.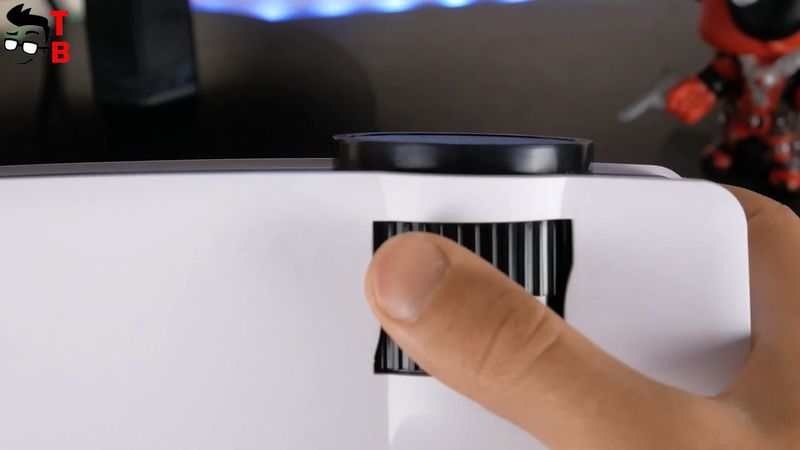 You can spin the wheels to adjust a focus and keystone correction.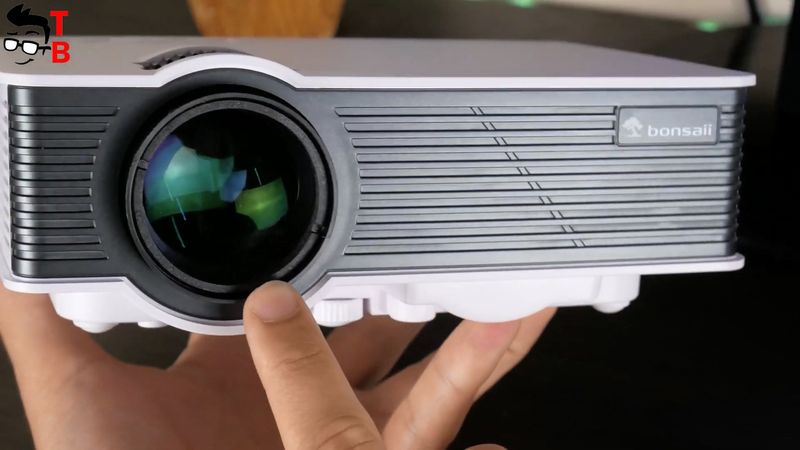 On the front, there is a lens and Bonsaii company logo.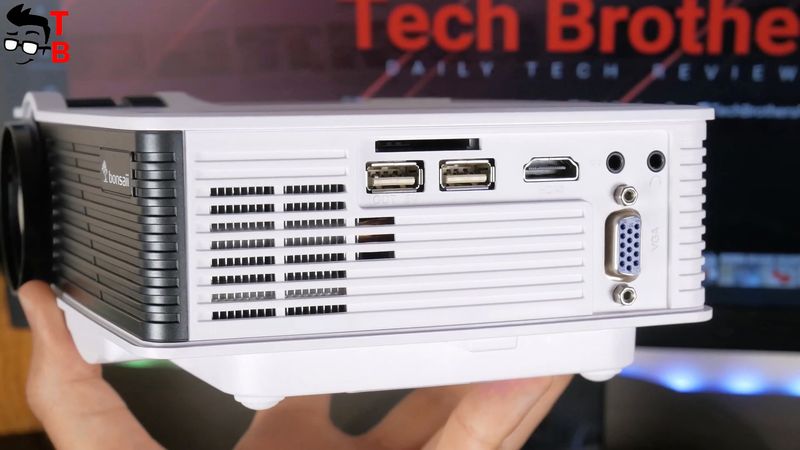 All the ports and connectors are located on the left side, such as AV, 3.5 mm audio jack, memory card slot, two USB ports, HDMI, and VGA.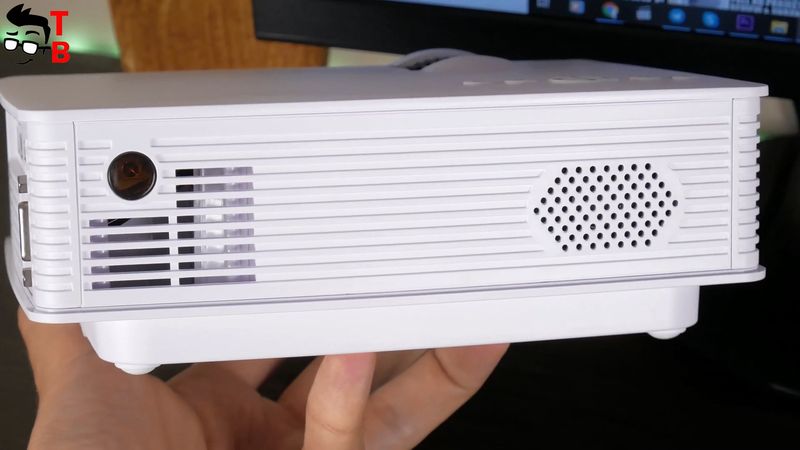 So, you can connect any device to this projector, for example, game console, TV box, laptop, and others.
The infrared sensor and speaker are on the back.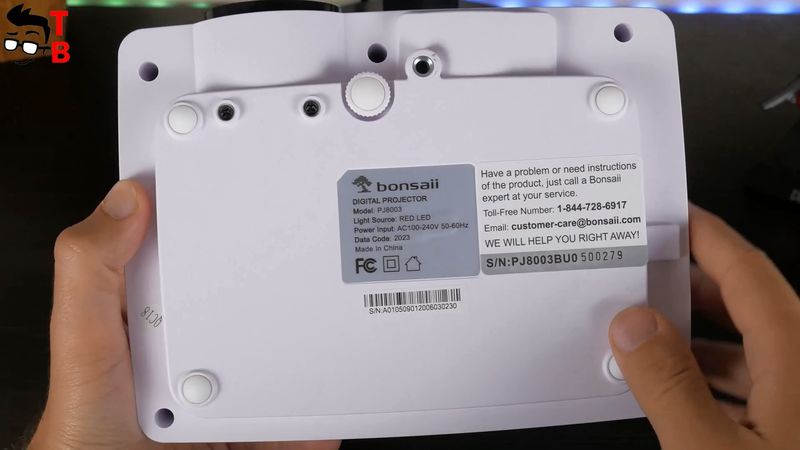 However, if you want, you can connect an external speaker. Later we will test the volume and quality of the built-in speaker.
Now let's take a look at the bottom. There are four rubber feet and a tripod mount. You can also hang the projector on the ceiling.
OK, now let's turn on the projector.
User Interface
Before using a projector, you have to connect the device to it, such as a laptop, game console, TV stick, or just a USB flash drive. It seems that Bonsaii PJ8003 doesn't support smartphone connection.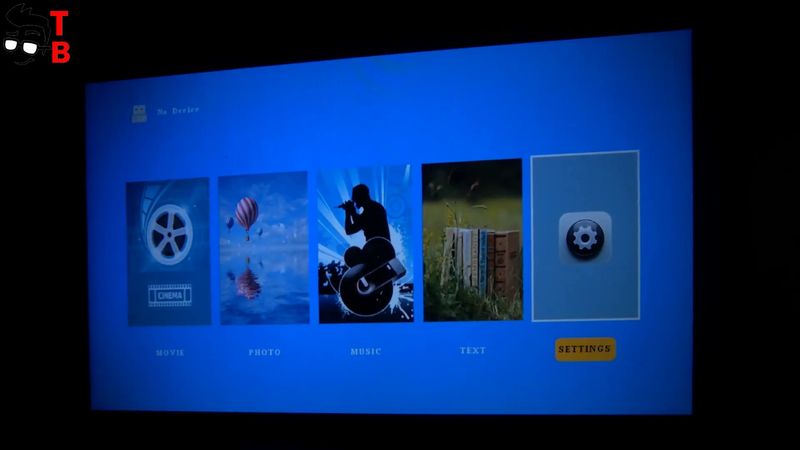 I have already seen this user interface and settings on other projectors. This is a standard interface for all budget projectors.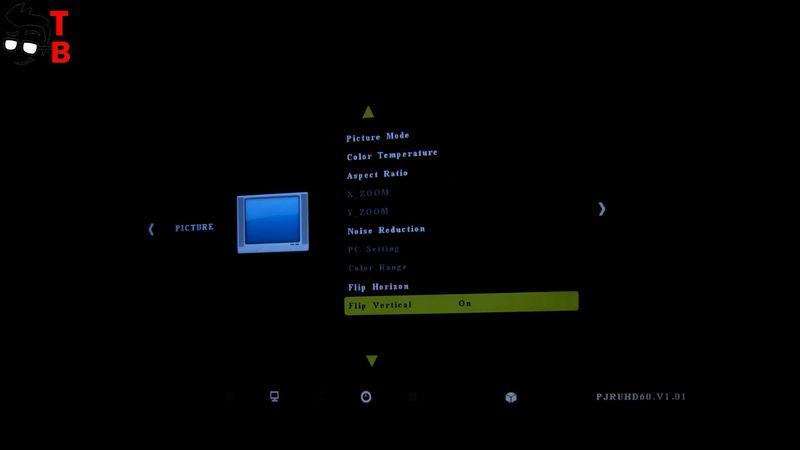 In the settings, you can change the picture mode, color temperature, aspect ratio, noise reduction, flip horizon, flip vertical, sound settings, and general settings.
Noise and Volume Levels
Bonsaii PJ8003 is a very budget projector, but it has a built-in stereo speaker. The sound quality is quite good, but not very loud. The volume at 100% is 65 DB.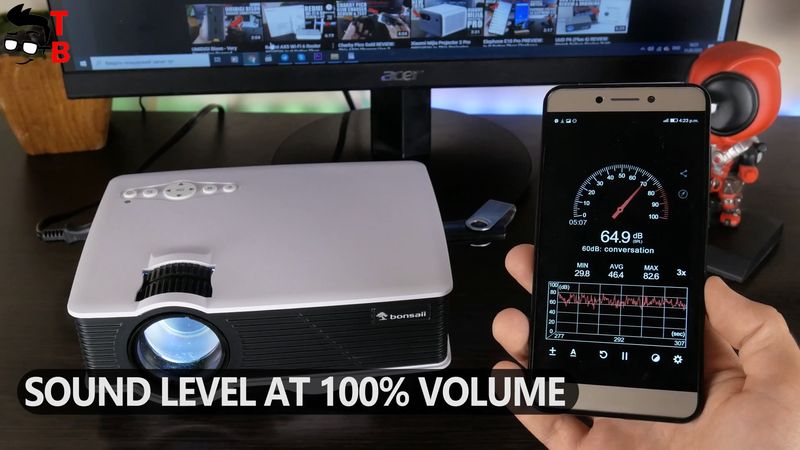 Later I will play some videos and you can check the sound quality.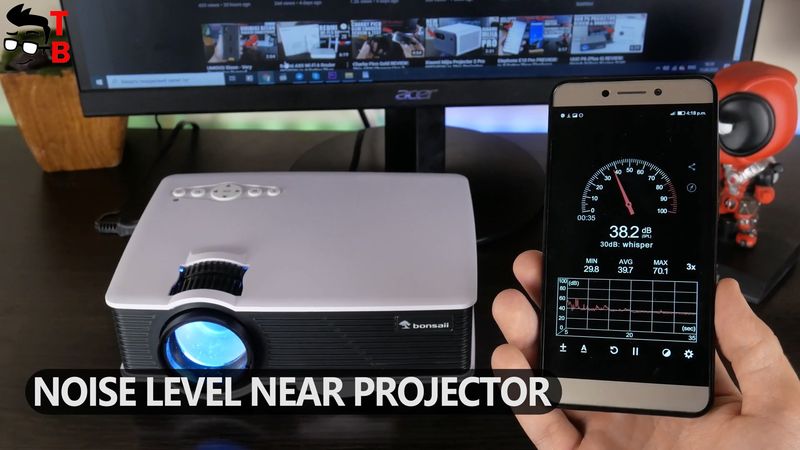 The noise level of this projector is 38 DB.
Projection Quality
Finally, let's check the projection quality. I connected Bonsaii PJ8003 to my laptop via HDMI cable.
The distance from the wall to the projector is about 4 meters. The projection size is 100 inches. The maximum screen size of this projector is 170 inches.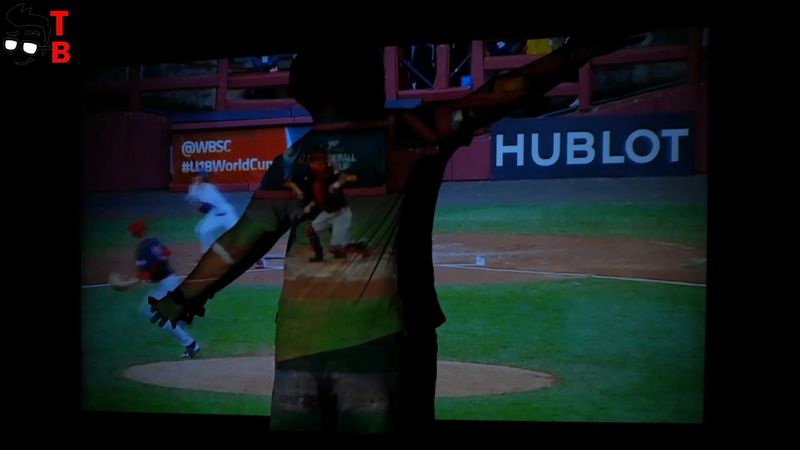 As I already said, the native resolution is 1280 by 720 pixels. However, the projector supports Full HD.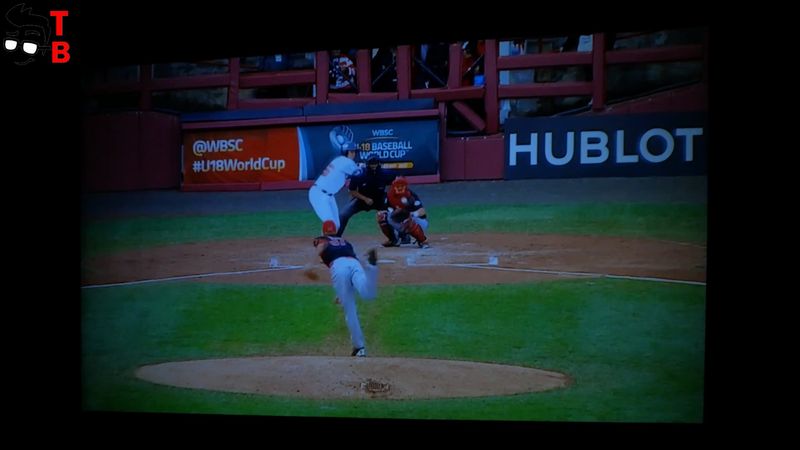 The contrast ratio is 2000:1.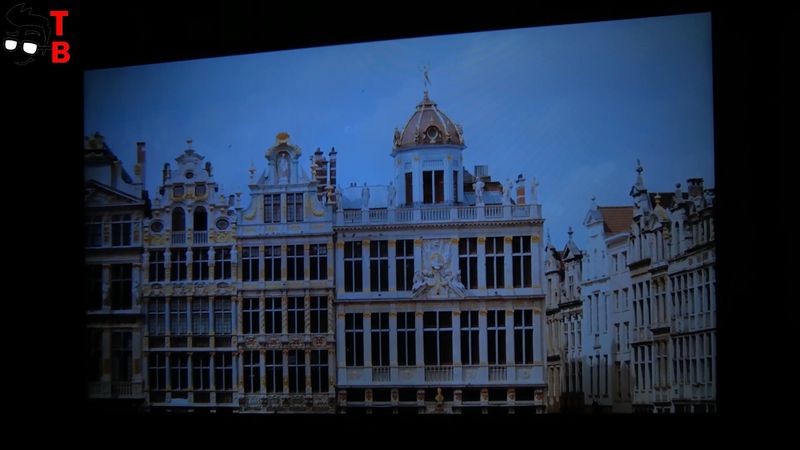 The manufacturer says that Bonsaii PJ8003 can reach +80% brightness of similar projectors. However, I didn't find any information about lumens.
Actually, the projection looks pretty dark to me. This projector doesn't have enough brightness. If you watch a movie or play a game with dark scenes, you may not see some important details.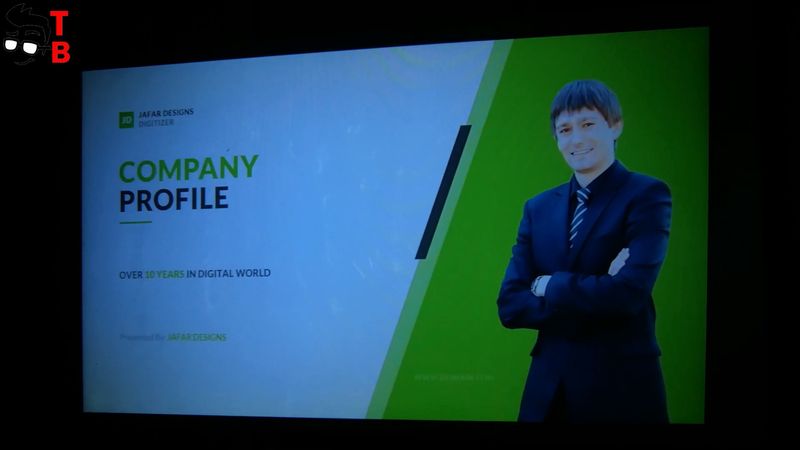 Also, I found a tip on Amazon page that Bonsaii LCD projector is not recommended for PowerPoint and other business presentations. However, I checked, and you can use this projector for presentations, but in a dark room with the light off and closed blinds and curtains.
Conclusion
Bonsaii PJ8003 is a budget projector of about $90, but you can use it for home theater. The resolution and colors are good, but the brightness is not enough. It may not be convenient to watch movies or play games with dark scenes.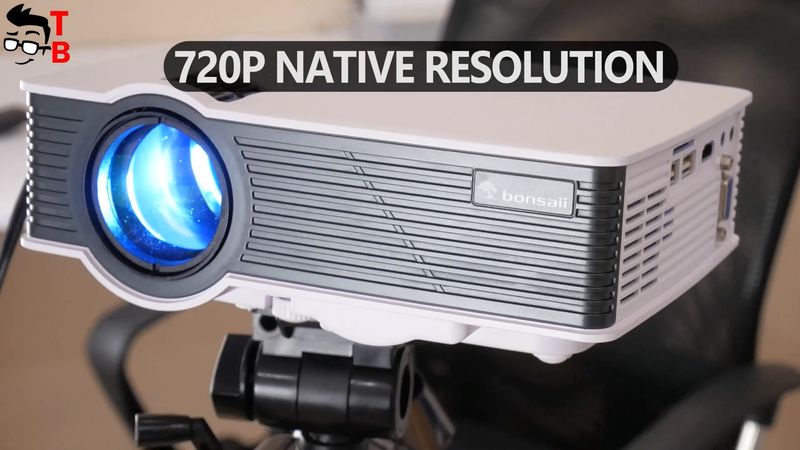 On the other side, the projector has many ports to connect the game console, laptop, TV stick, and other devices.
The built-in speaker is not very loud, but the sound is of good quality.
In general, I think this is a good projector for $90.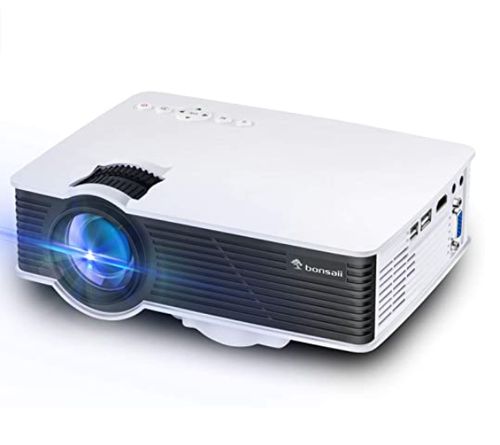 Bonsaii Video Projector 720p - Amazon
as of September 10, 2023 6:42 pm