You know, I have already tested many massage guns, so in my opinion, I have a good understanding of these devices.
The main task of any massage gun is to relieve muscle spasms and stiffness, release lactic acid and activate the nervous system and muscles.
Each massage gun, that I have tested, has a good performance, and different massage heads. However, when choosing a massage gun you should also pay attention to the build quality, weight, size, speed modes, battery, and other features.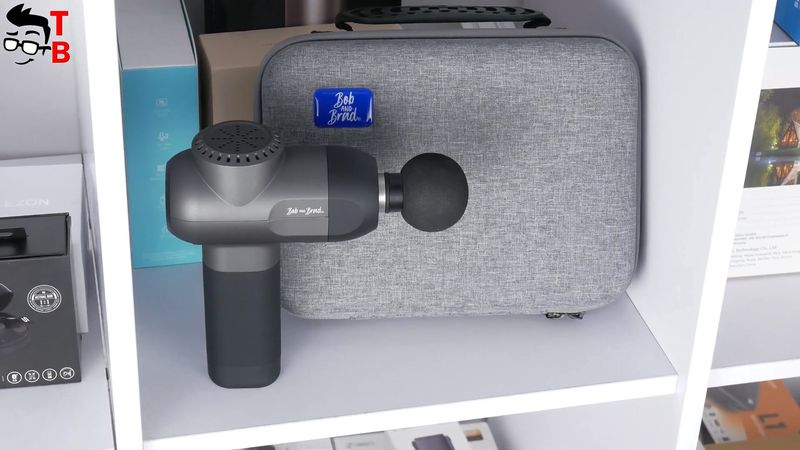 In this article, I want to tell you about Bob and Brad C2 Mini Massage gun. It has Amazon's choice and five starts with more than 3000 ratings. Most buyers are happy with this product, but let's find out what makes it so good.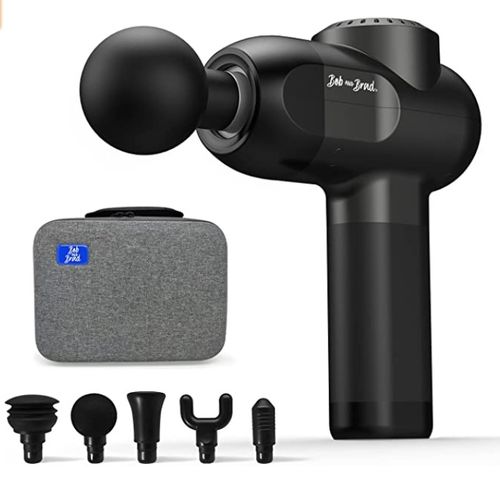 Bob and Brad C2 - 35% OFF DISCOUNT - Amazon
as of September 5, 2023 9:20 am
Unboxing
The box of Bob and Brad C2 Mini massage gun looks like this.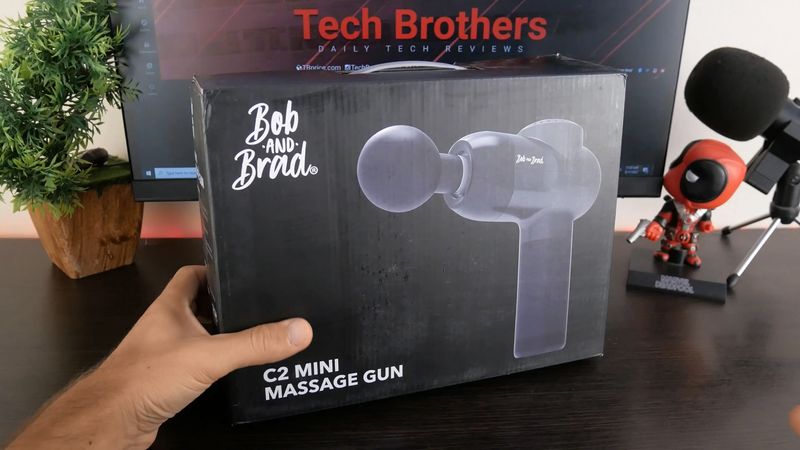 There are main features on the back, such as five massage heads and five speeds, quite in 3200RPM, and convenient USB Type-C charging.
We can also see the massage gun design.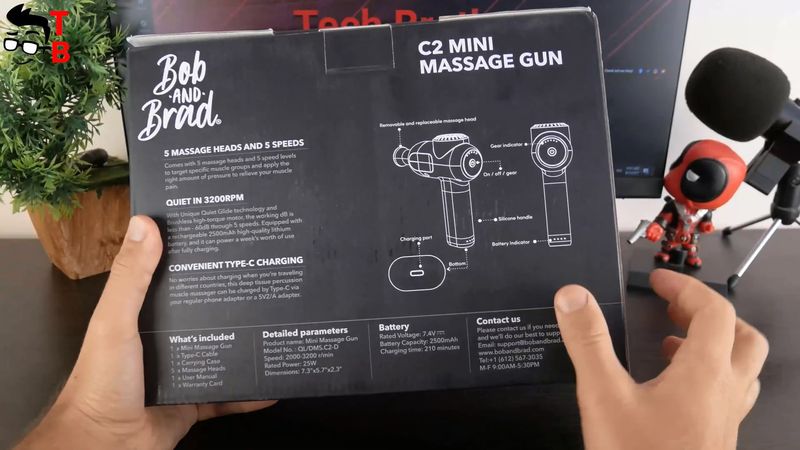 When you open the box, you will find a carrying case. The case is very sturdy. I also like its color, material, and even the rubberized handle.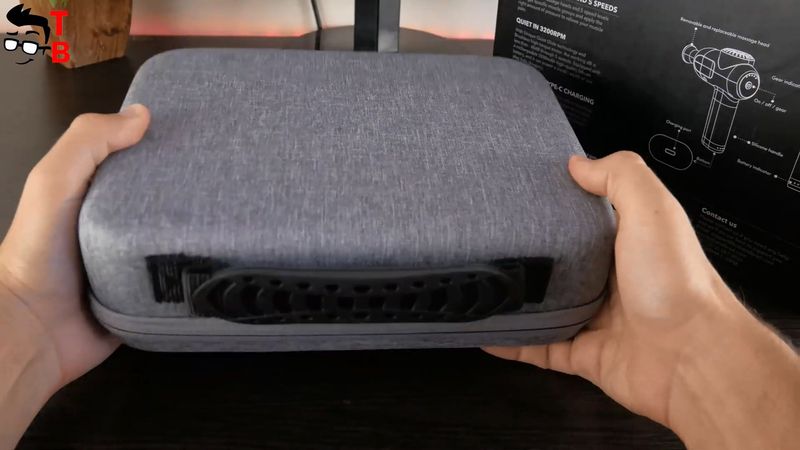 Inside the case, we have a massage gun itself, and five massage heads. We will talk about massage heads a little later.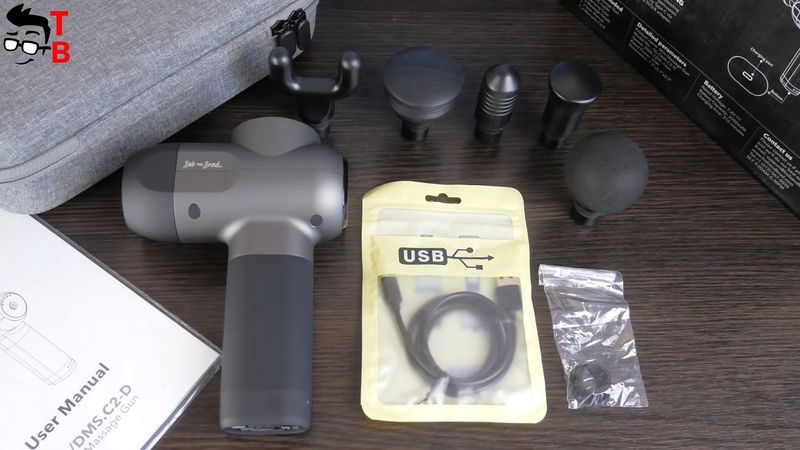 There is also USB Type-C charging cable and a user manual.
It looks like the company doesn't make their own USB cables, but orders them from China. However, I like that Bob and Brad puts a charging cable in the package. All massage guns, that I tested before, didn't have a charging cable included.
Design
You know, I saw that Bob and Brad C2 massage gun is called Mini, but I didn't think it is so compact.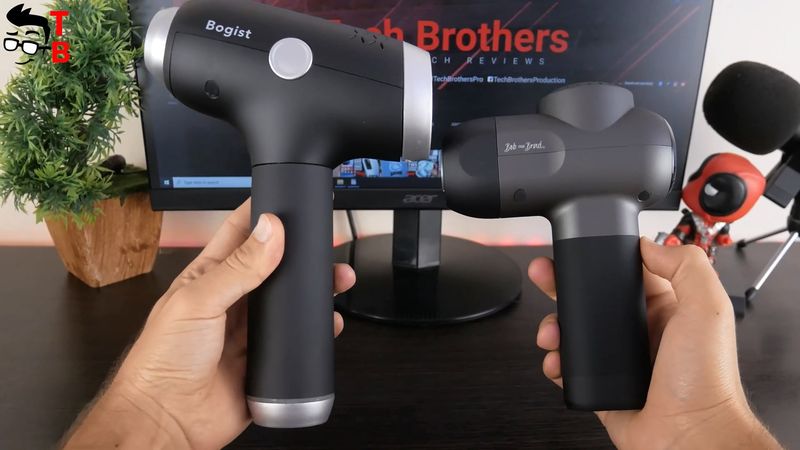 For comparison, I have tested another massage gun last week, and you can see the difference in size between them.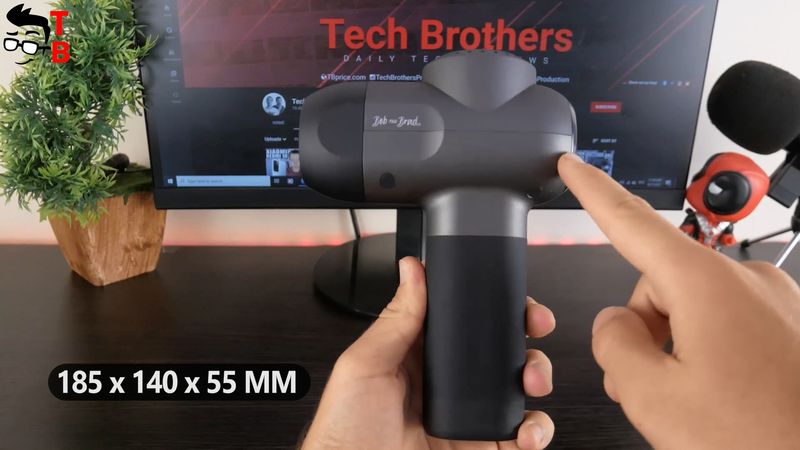 The dimensions of Bob and Brad C2 massage gun are 185 by 140 by 55 cm. The weight is 660 grams.
The next thing I noticed is a silicone handle. It has a very comfortable size and easy grip.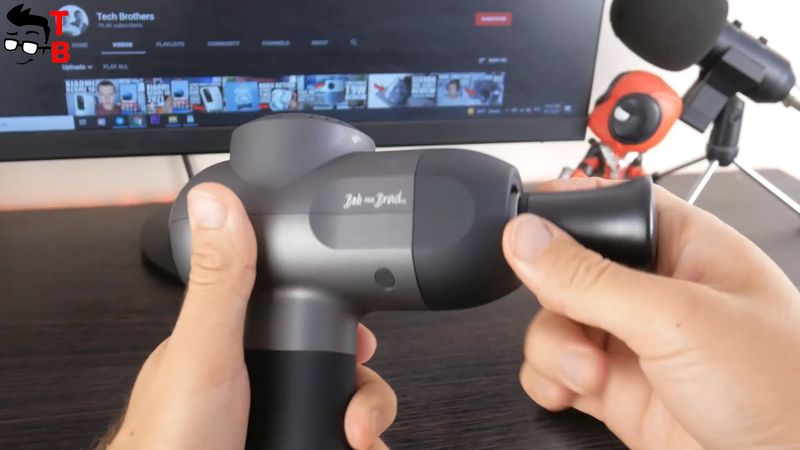 The new massage gun has a removable and replaceable massage head on the front.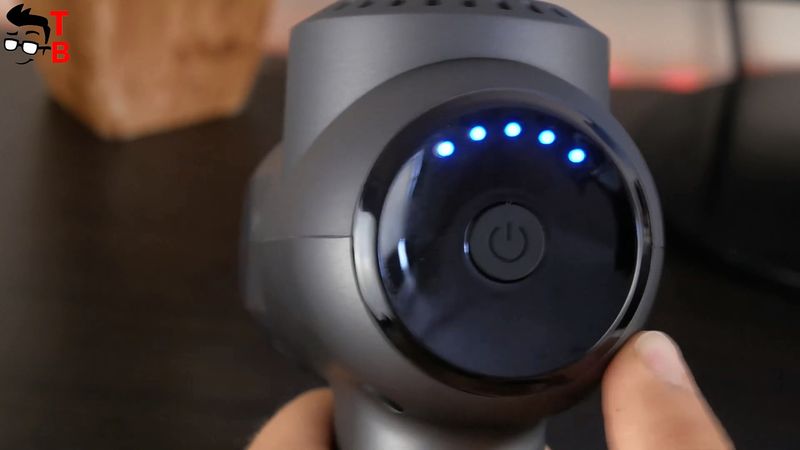 On the back, there is a power on/off button. You can also use this button to change the speed.
Five LED lights above the power button say about speed level. As you understand, there are five-speed levels available on this massage gun.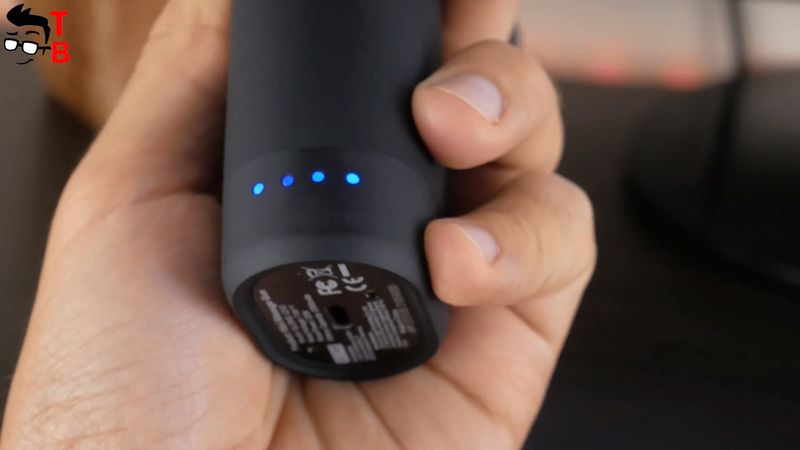 There are also four LEDs on the handle. These are battery indicators.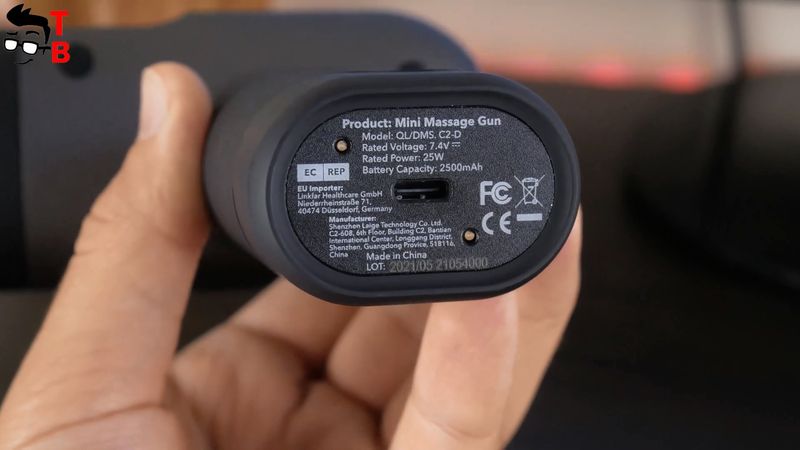 You know, most massage guns have a power switch at the bottom, but Bob and Brad C2 doesn't have it. There is only a USB Type-C charging port and information about the battery at the bottom of the handle.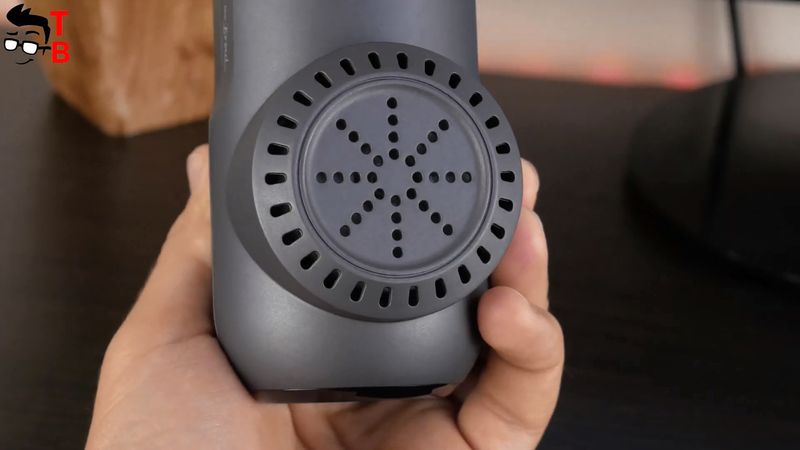 In addition, the new massage gun has a ventilation slot heat sink at the top. It is quite big, and it reduces the heat of a massage gun during use.
So, I like the size and build quality of Bob and Brad C2 massage gun. It is much more compact and convenient than most other massage guns. I think this is one of the main advantages of this model. However, what about performance? Let's talk about it.
Massage Heads
As I already said, Bob and Brad C2 massage gun come with five massage heads. Before using this product, I have read a user manual. You know, this is probably the most useful manual I have ever read.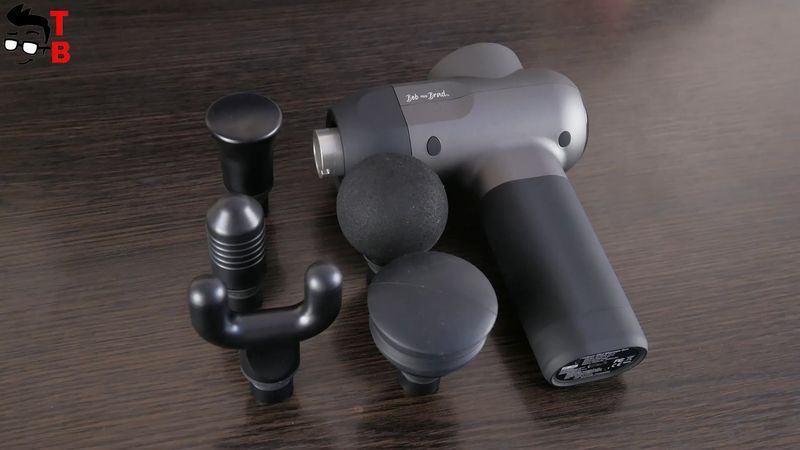 In particular, I like this table. There is an indication, such as warm up, mid-workout, recovery, etc, action, speed, pressure, duration, muscle position, and movement.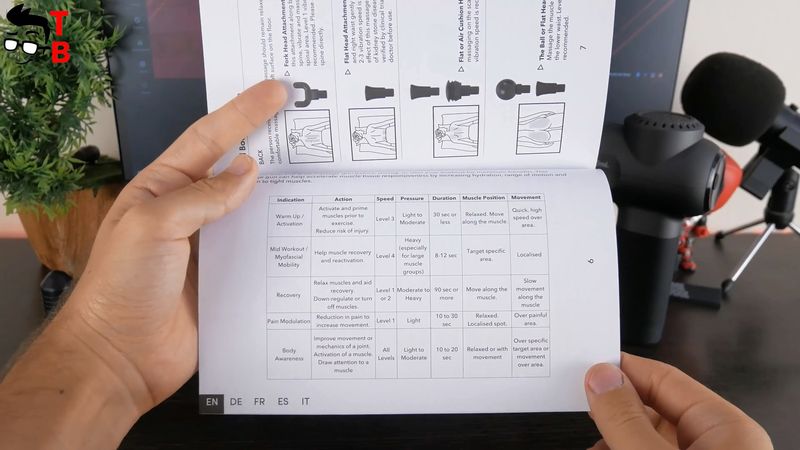 I also like the instructions on how to massage. As you can see, you can massage the back, neck, arm and palm, leg, and feet.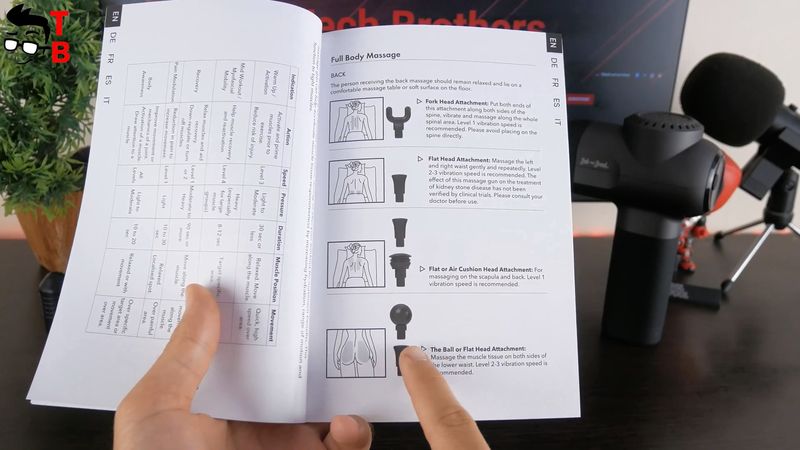 It was a small surprise for me that a massage gun can be used for massaging the abdomen. You have to use an air cushion head for that.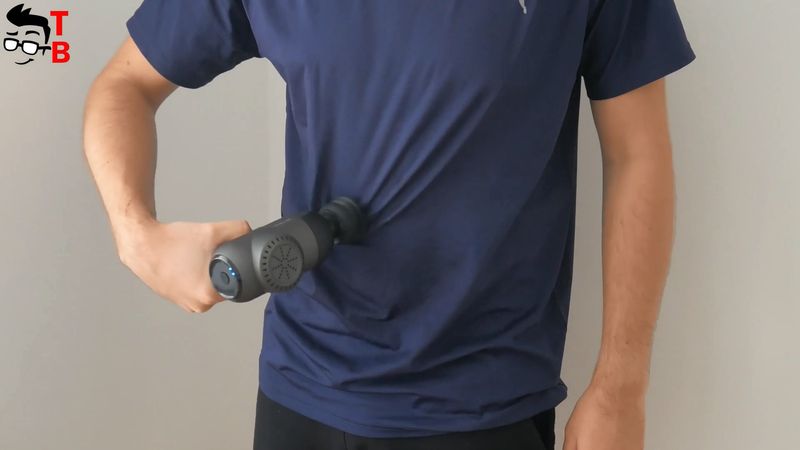 So, please, read the user manual to find out more information about massage heads.
Speed Level
I forgot to tell you about the speed of Bob and Brad C2 massage gun. So, the speed on the first level is 2000 RPM.
The maximum speed on the fifth level is 3200 RPM.
Noise Level
Of course, the noise increases as the speed increases. The noise level on the first speed level is 45 dB.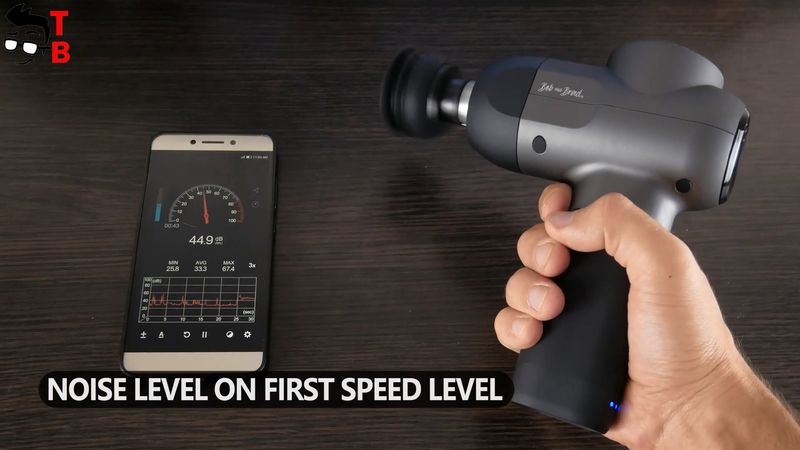 The manufacturer says that the maximum noise level is 60 dB at the maximum speed.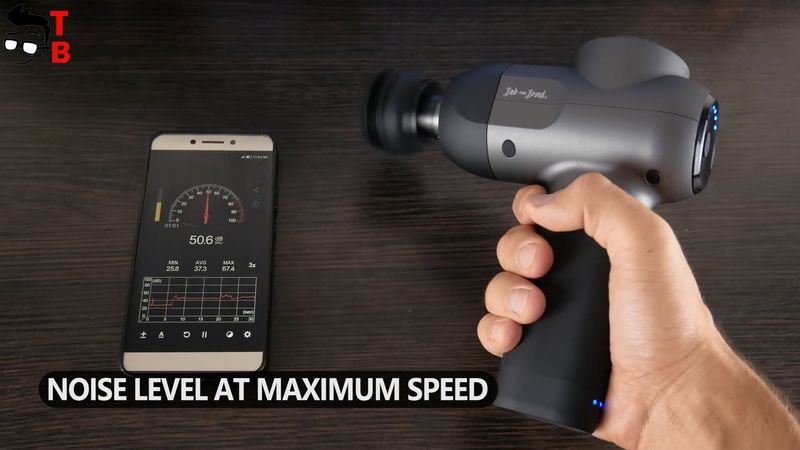 As you can see, it is really about 50 dB.
Battery
OK, it's time to talk about the battery. Bob and Brad C2 mini-massage gun is equipped with a 2500mAh battery. The full battery charge takes about three and a half hours, and it can last up to 8 hours on a single charge.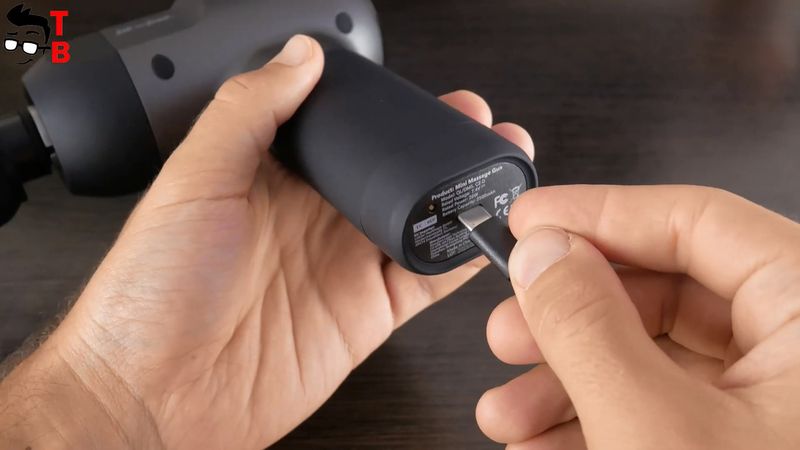 I think it is a very good battery life for a compact massage gun.
Conclusion
You know, I was surprised that this massage gun had so many positive reviews on Amazon, but now I understand. Bob and Brad C2 is really one of the best massage guns on the market in 2021.
First, I like its build quality and compact size.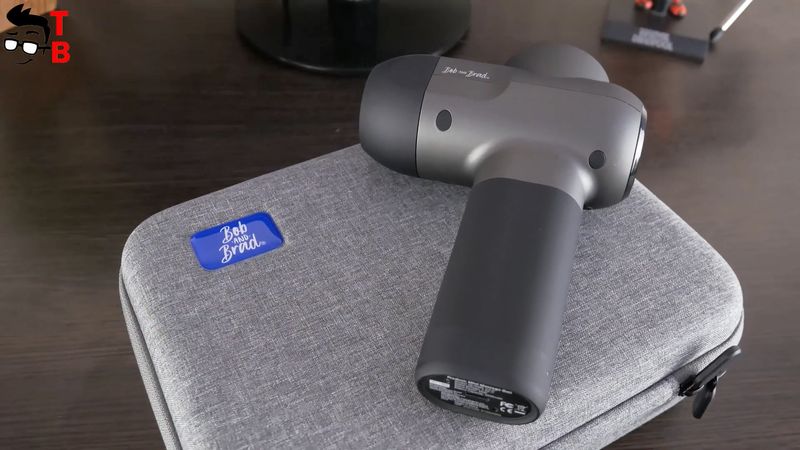 The user manual is great, so you can read about full body massage, as well as massage heads.
The performance and battery life of Bob and Brad C2 is about the same as many other larger massage guns.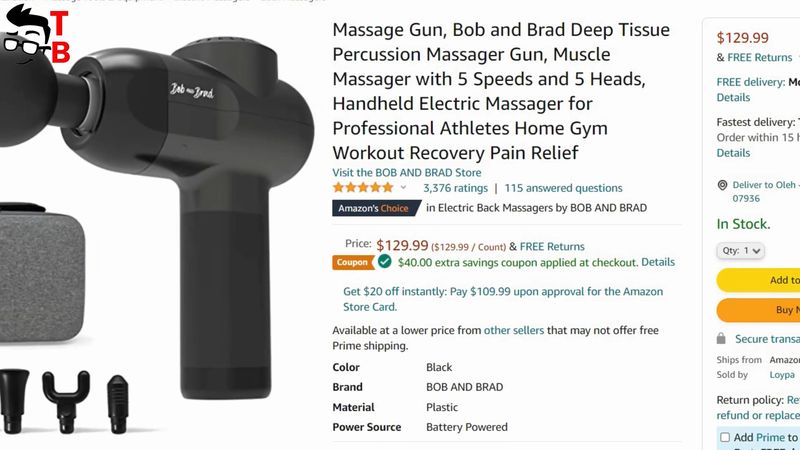 The price is affordable. It is $129, but you can use $40 OFF coupon code.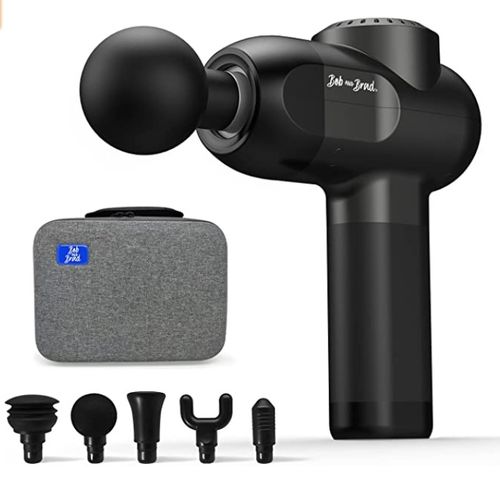 Bob and Brad C2 - 35% OFF DISCOUNT - Amazon
as of September 5, 2023 9:20 am