Recently, Arenti Company contacted us and offered to test their products. We agreed, but on a condition that we give a completely honest opinion about their device.
So, this is Arenti GO1 wireless outdoor security camera with built-in battery, Full HD resolution, night vision, 2-way audio, motion detection and other features.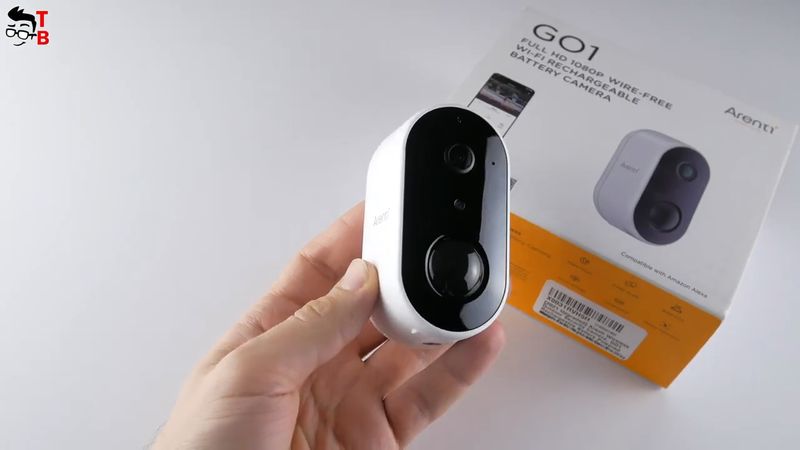 I was attracted in this camera and other products of Arenti Company by design. We can see different security cameras on official website, and all of them look very nice.
However, we will also talk about the functions and the video quality of Arenti GO1 camera in this article.
Official website: arenticam
Unboxing
I like the box of this security camera, because we can see how it looks like, main features and even mobile app.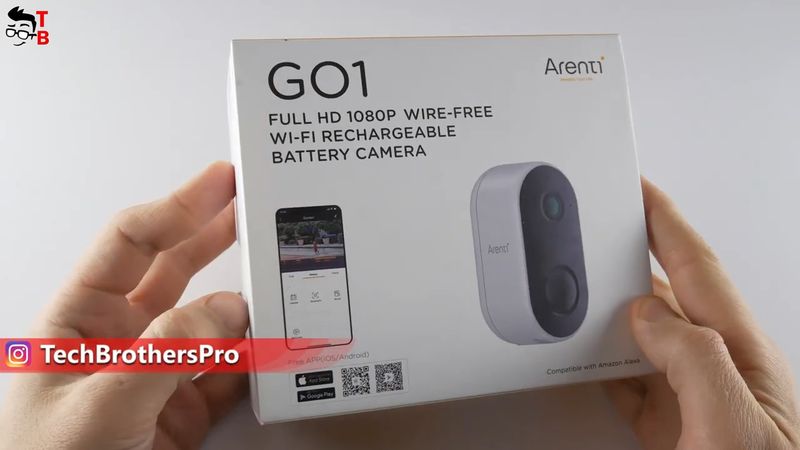 By the way, on the back of the box, there is a complete smart home security camera solution from Arenti.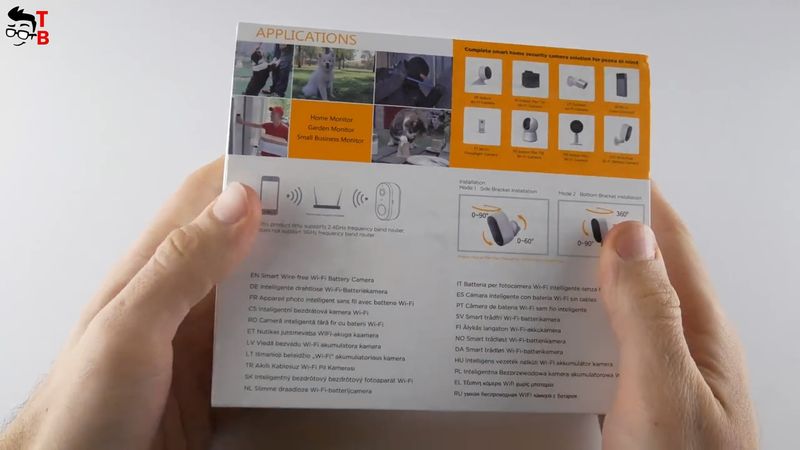 Inside the box, we have a camera itself, power adapter, USB cable, the first bracket and the second bracket, screws, and user guide.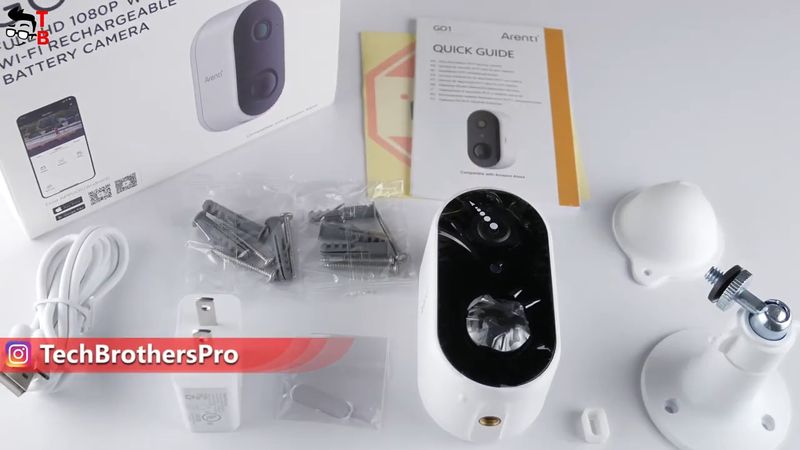 Design
As I already said, the design of this camera caught my eye. It looks very minimalistic, but stylish at the same time.
The main body is white, while the front side is black.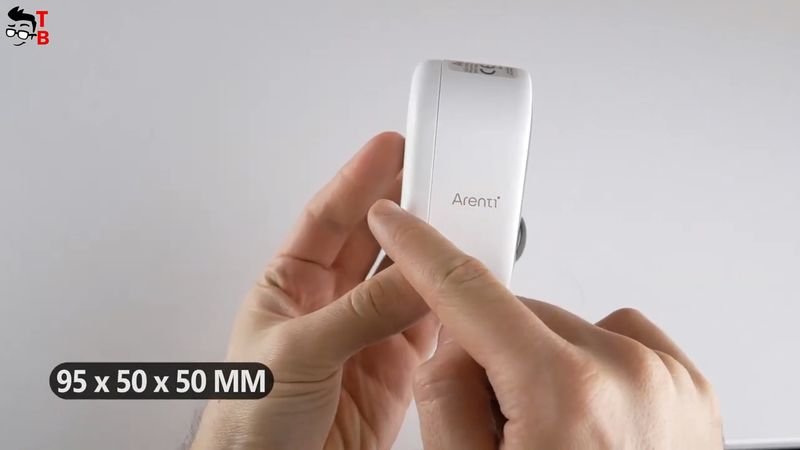 The dimensions of this security camera are 95 by 50 by 50 mm. The weight is 215 grams. You know, it is quite heavy, but this is because of the built-in battery. We will talk about it a little later.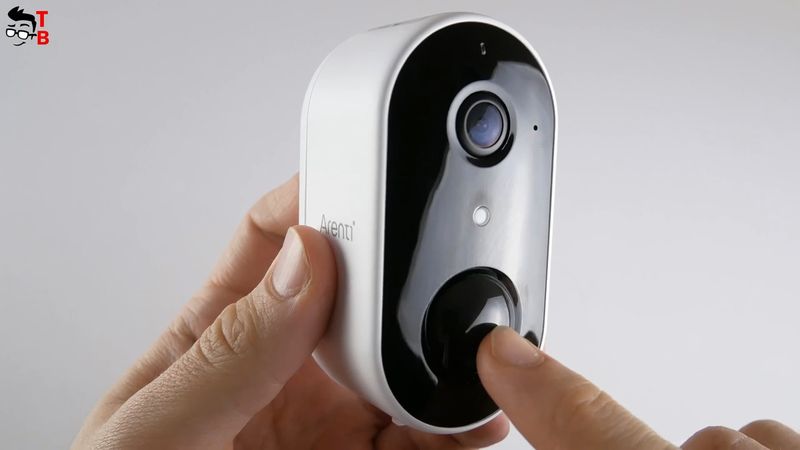 A new security camera has LED indicator, microphone hole, lens and PIR motion detection sensor on the front.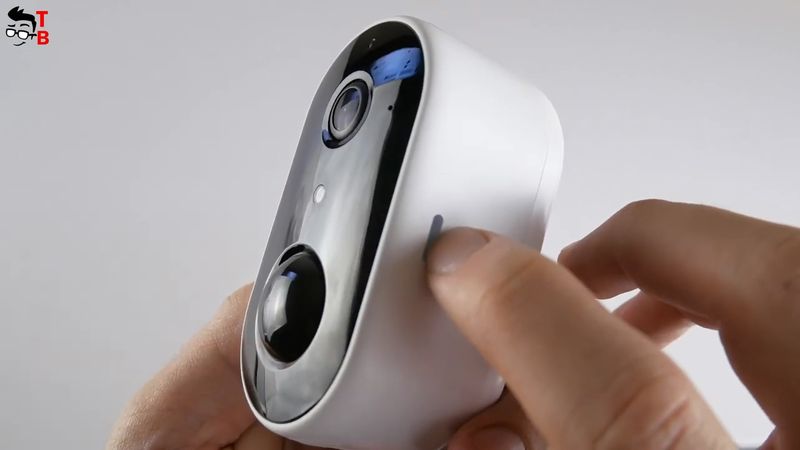 The power button is located on the right side.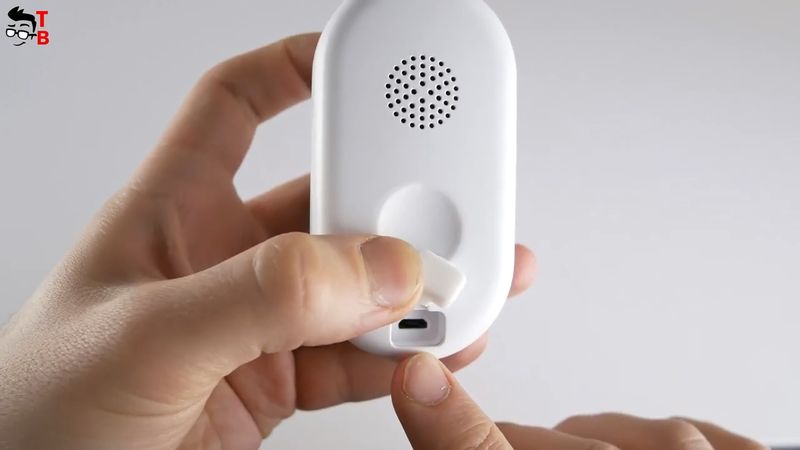 On the back, we can see a speaker, magnetic mount for bracket, and microUSB port under the rubber plug.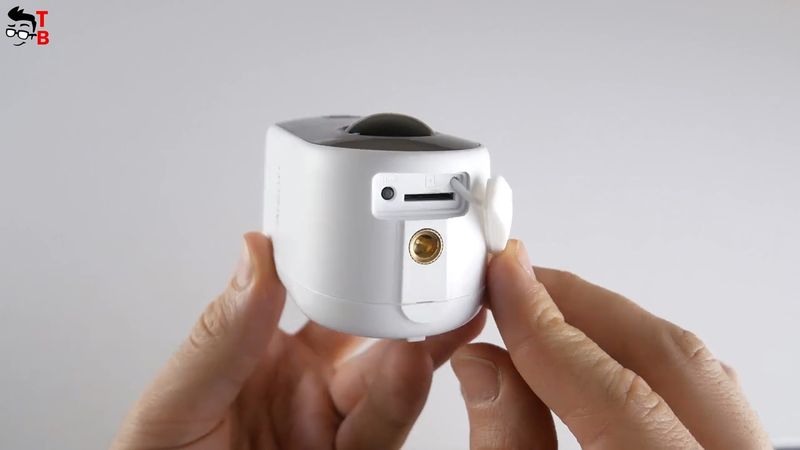 At the bottom, there is a mount for the second bracket, as well as a reset button and memory card slot under the rubber plug.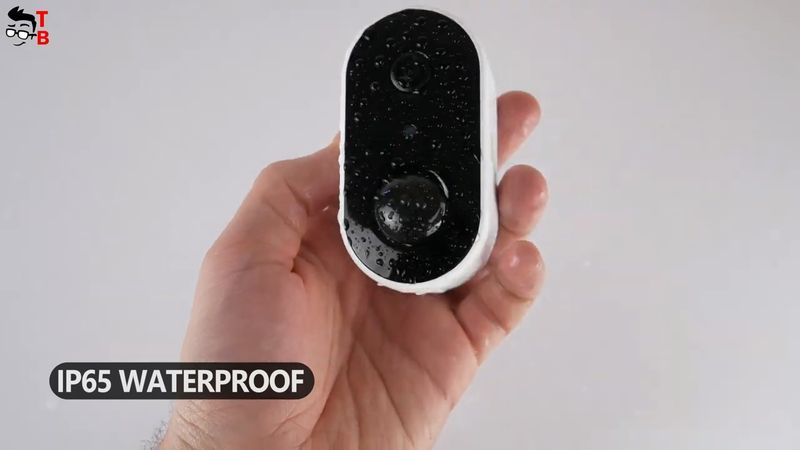 By the way, this is an outdoor security camera, so it has IP65 waterproof rating.
As I already said, there are two brackets in the package. You can use a magnetic side bracket, and install a camera on the wall. The magnet is very powerful, so the wind or other weather conditions are not a problem for it.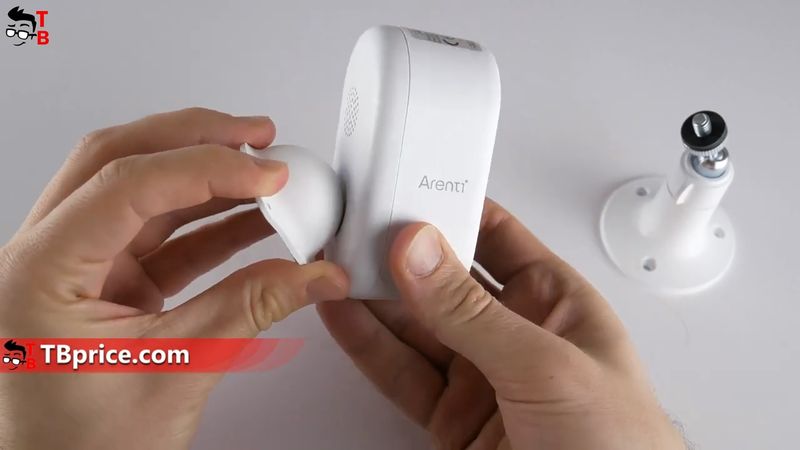 If you don't believe a magnet, then you can use a bottom bracket. I think it is even better, because you can rotate the camera left and right 360 degrees as well as up and down 90 degrees.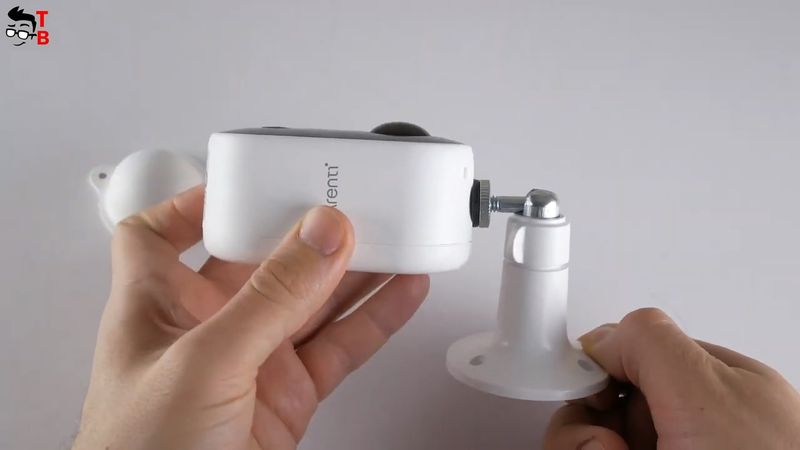 OK, now, let's connect Arenti GO1 security camera to the app on smartphone.
Connection
The app is called Arenti, and it is available on Android and iOS devices.
After installing the app, open it and press on Add button to add new device.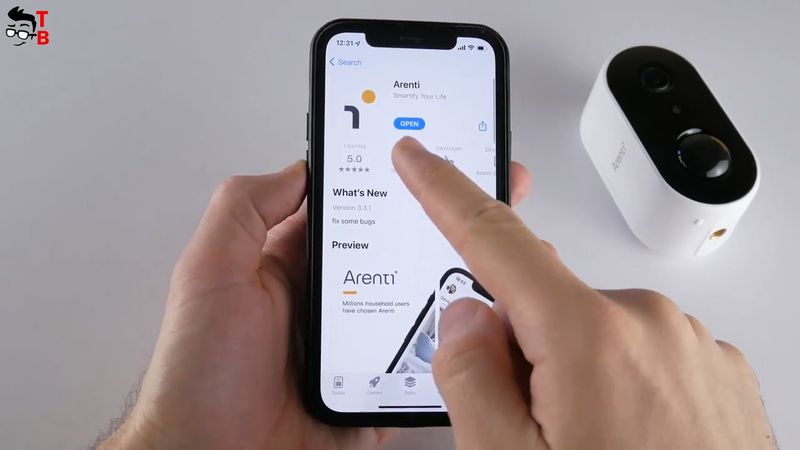 Now, choose battery camera, and there will be only one device. This is Arenti GO1.
The next step is to hold a power button on the right side on the camera to power it on.
Now, open a rubber plug at the bottom of the camera, and hold the reset button.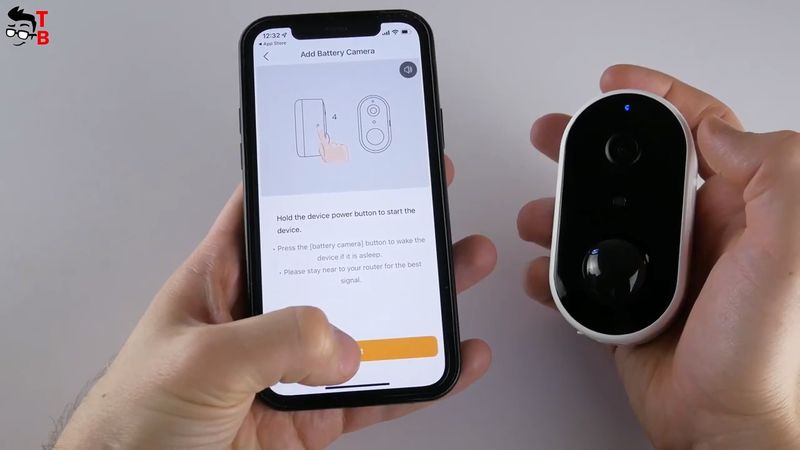 Select your home Wi-Fi network and enter a password from it.
Finally, you need to show this QR code to the camera.
Wait a little, and the camera will be connected to smartphone.
That's all!
App
Talking about the functions in the app, first, we can see a live video from the camera. We can also see a Wi-Fi signal strength, battery level and resolution: SD or HD.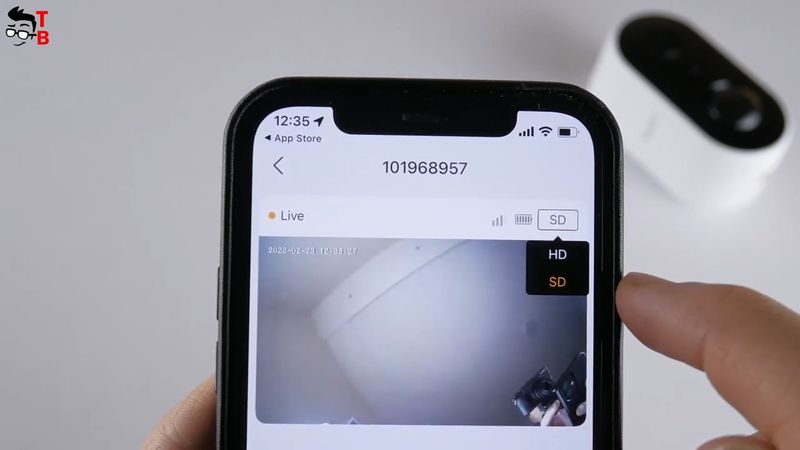 Then, we can mute, take a snapshot, record a video and enlarge the video.
There is also a big microphone button to talk with your visitors.
You can also swipe left to turn on/off motion detection. By the way, a motion detection works very well. Notifications come when the smallest movement is detected by the camera.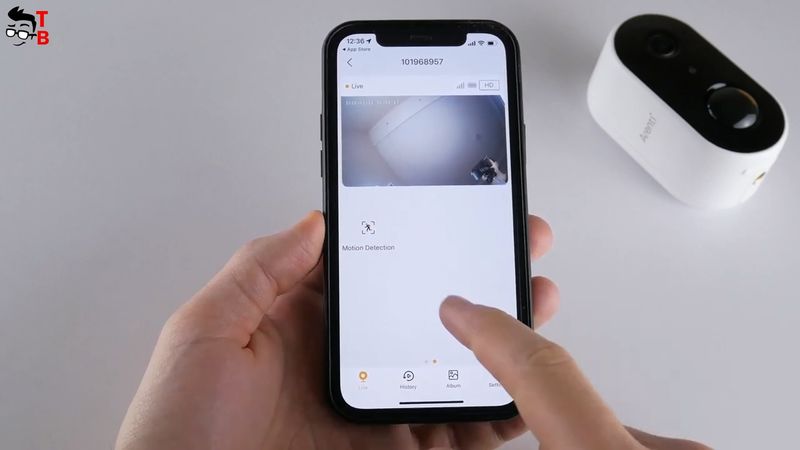 At the bottom, we can choose Live, History, Album and Settings.
Let's take a look at the settings menu.
First, we can change a device name if you don't like the numbers.
Then, there is a tutorial how to share a device, install a camera and information about camera.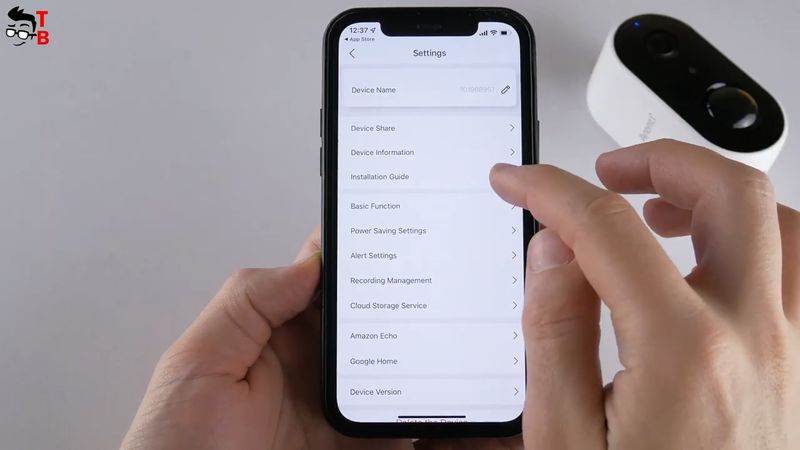 The basic functions include network indicator, speaker volume, 12-hour clock, screen flip, night vision mode and power management.
In the power saving settings, we can change a shooting interval and maximum shooting time.
Alert settings menu has the option of receive alert notifications and motion detection.
There is also recording management, cloud storage service, amazon echo and google home in the settings of the app.
Battery
Another feature of Arenti G01 security camera is built-in battery. It has a capacity of 6700mAh. The manufacturer says that camera can work for 6 months on a single charge based on 5-10 times triggering per day.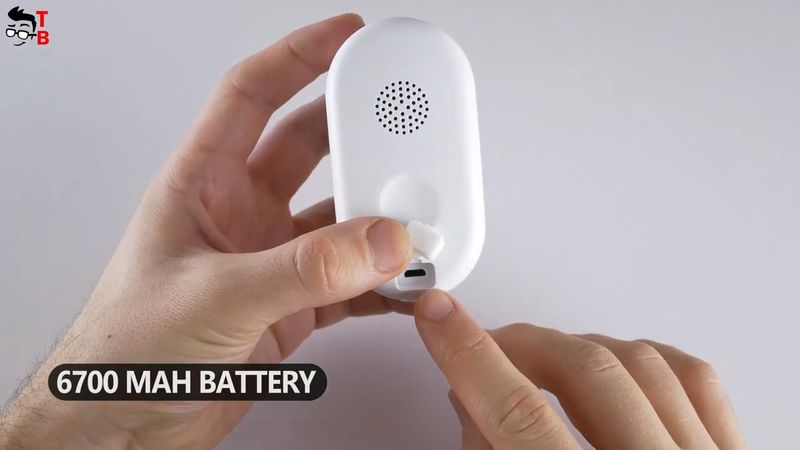 That's a very good battery life.
Video Quality
You know, the new security camera has 2MP sensor with Full HD resolution and 145 degrees viewing angle.
Daytime videos look pretty good, do you agree? Do not forget that this is a security camera with 2MP sensor, and the video quality will not be the same as on your smartphone.
Talking about night videos, the built-in infrared LEDs are really powerful. Probably they are too powerful because the face at close range is overexposed. However, you can see what is happening indoors and outdoors in complete darkness.
Conclusion
So, Arenti G01 is a good outdoor security camera. If you don't want to worry about power supply and cords, then a battery-powered camera is the best choice.