The new smartwatch from Amazfit was launched some days ago. It is called Amazfit Falcon.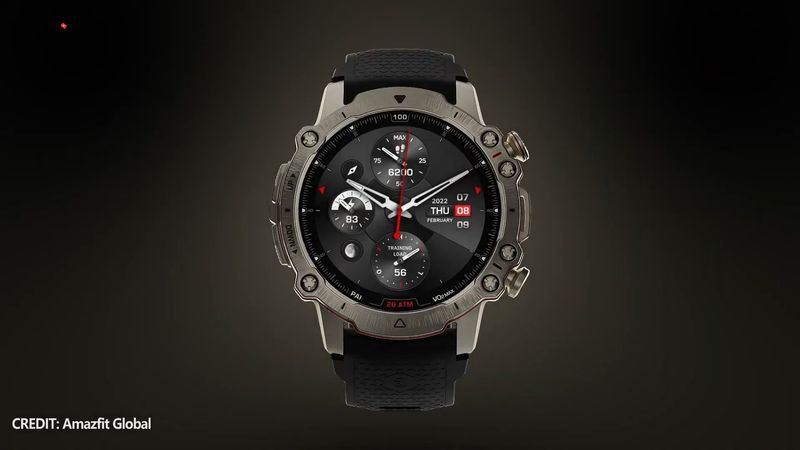 You know, the new Amazfit watch looks durable and strong, but it seems it is not rugged like the previous Amazfit T-Rex 2. However, it is still 20 ATM water resistance, and the body is made of premium materials, such as titanium unibody and sapphire crystal glass screen.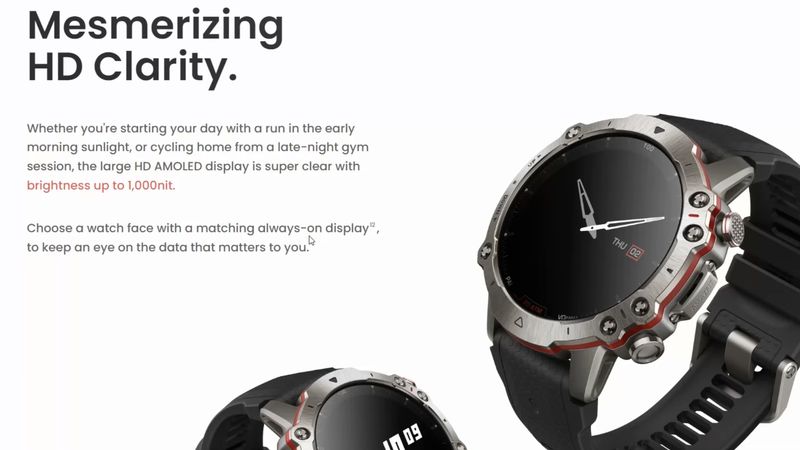 Talking about the screen, it has a diagonal of 1.28 inches. The HD AMOLED panel has a maximum brightness of 1000 nits. So, this is a good smartwatch for outdoor activities.
Like the other Amazfit watches in 2022, the new Amazfit Falcon has Always-On screen, and you can even choose a watch face for it.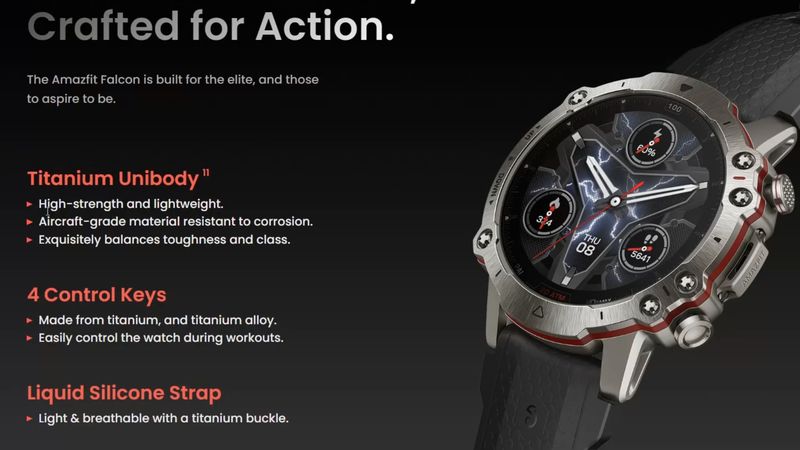 By the way, Amazfit Falcon has four physical buttons. Like the main body, the buttons are made of titanium and titanium alloy. They are very useful for controlling the watch during workouts.
Functions
Now, let's talk about the functions.
First, Amazfit Falcon has a Zepp Coach smart training algorithm. Thanks to it, the smartwatch offers workout recommendations based on your physique and exercise experience.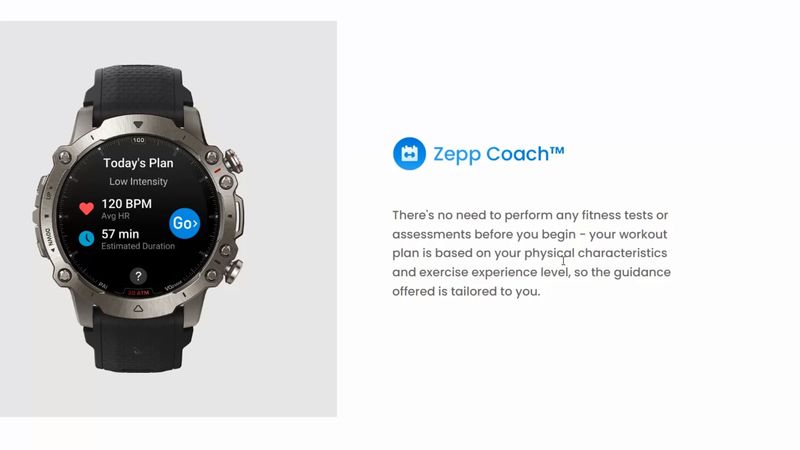 Zepp Coach monitors a fatigue level, fitness level and training status. It will also give you motivation and knowledge. In short, this is your personal fitness trainer.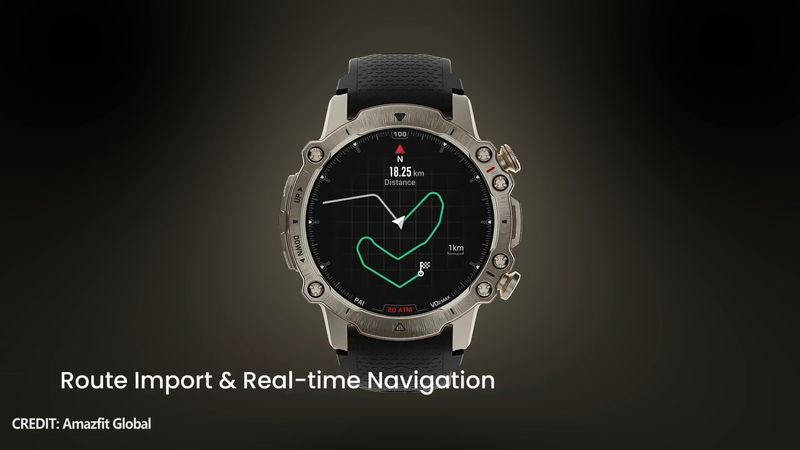 The next feature of Amazfit Falcon is a dual-band GPS. The smartwatch has an accurate six satellite positioning systems.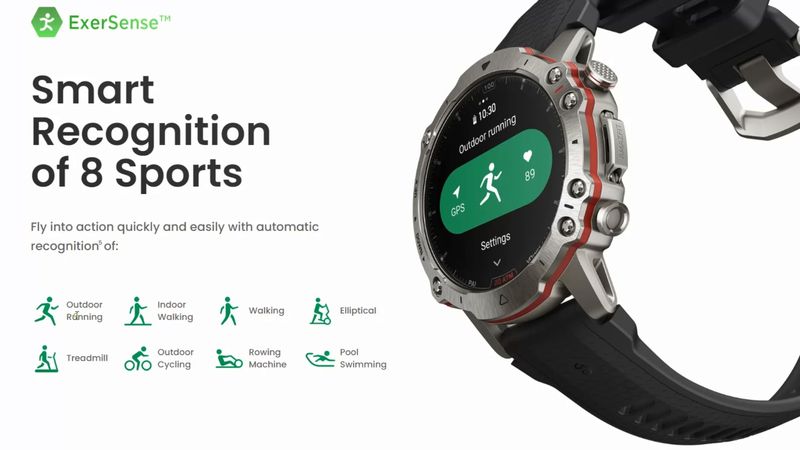 Talking about sports modes, there are more than 150 available, but the watch automatically recognizes eight of them, such as running, walking, cycling, swimming, treadmill, elliptical, and rowing machine.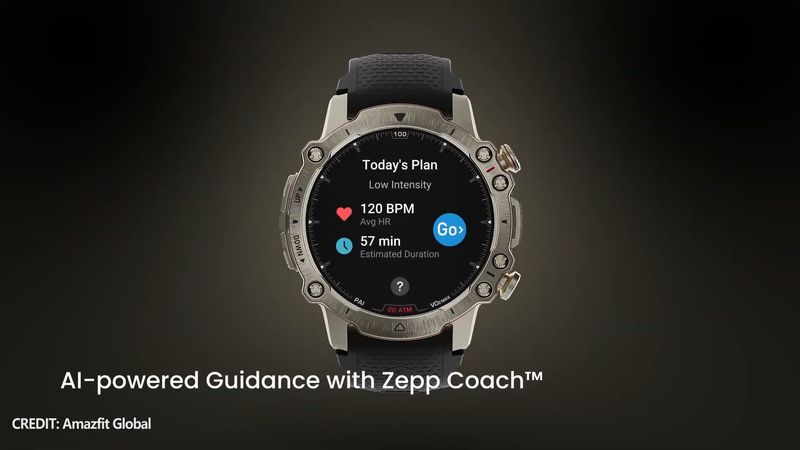 By the way, Amazfit Falcon has 4GB of built-in storage, so you can listen to music through your Bluetooth headphones.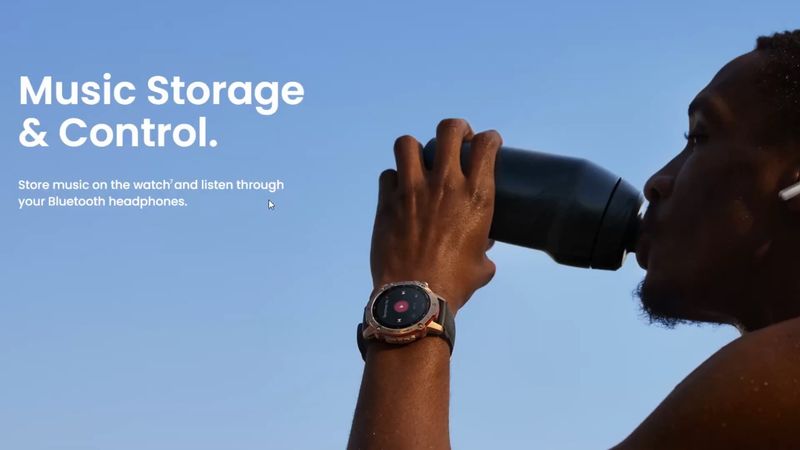 The smartwatch is also synchronized with most popular sports applications, such as Strava, Adidas running, Apple Health, Google Fit.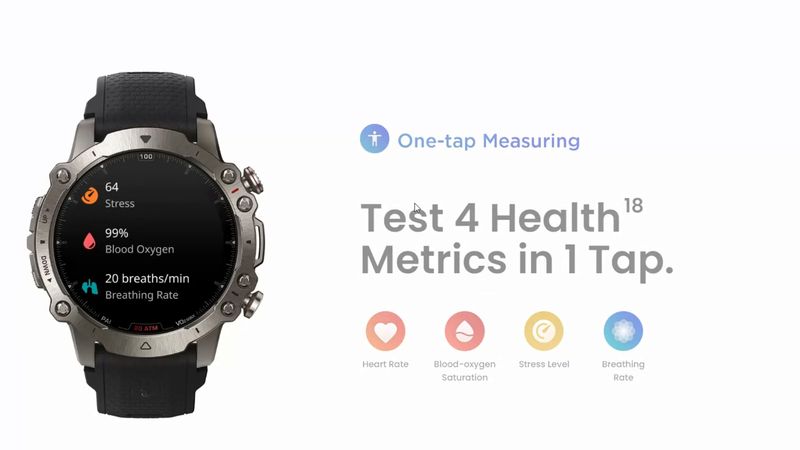 You know, I don't want to tell about all the function of Amazfit Falcon, such as heart rate, blood oxygen monitors, stress level, sleep, PAI, and others, because they are also available on the previous Amazfit watches.
Battery
You know, most people love and choose Amazfit watches because of their long battery life. The new Amazfit Falcon is no exception. The new smartwatch is equipped with 500mAh battery.
In a typical usage, the battery life on a single charge is 14 days.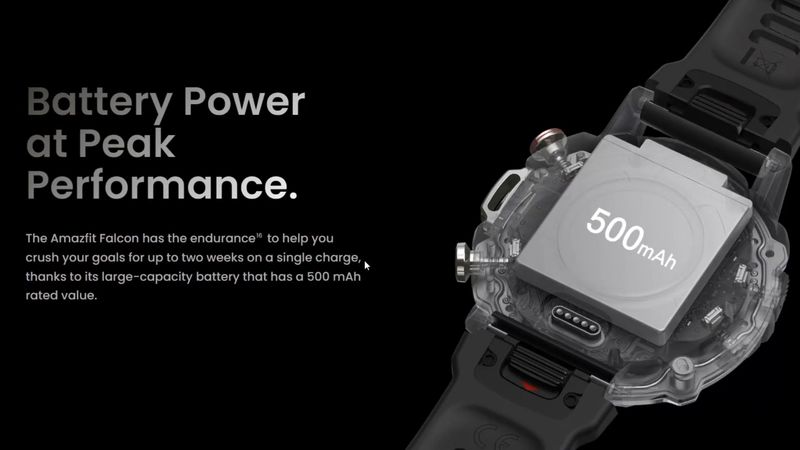 In a heavy usage, the watch will run about 7 days.
However, Amazfit Falcon also has a battery saver mode with a maximum battery life of 30 days.
Using the accuracy GPS mode, the smartwatch will run for 21 hours.
Price
So, we have talked about design and main functions of the new Amazfit watch, and you should already understand that this is not a budget watch.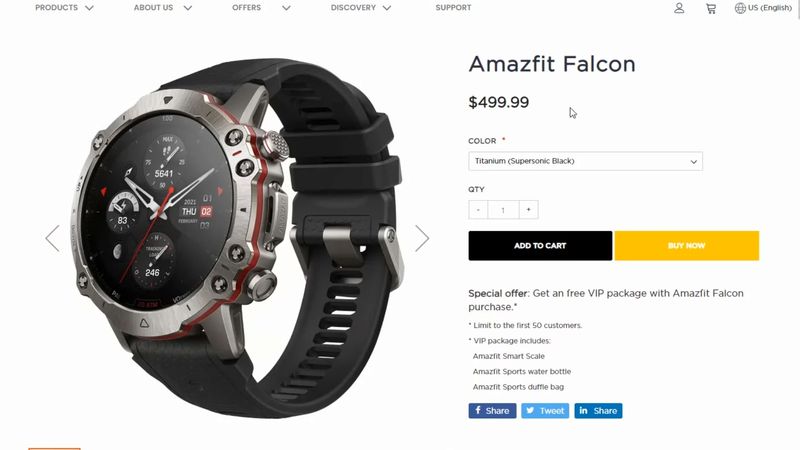 The price of it is $499 in the United States, and 499 euros in Europe.
Amazfit Falcon vs Amazfit T-Rex 2
I think many people will compare the new Amazfit Falcon and Amazfit T-Rex 2, but the price of the T-Rex 2 is only $200. So, it is much cheaper, but it has a similar screen, battery and even functions.
The main advantages of Amazfit Falcon are premium materials, a titanium body, and Zepp Coach smart training algorithm. I am very interested to see how this algorithm works.