Today we have unboxing and review of new phone called AGM X2 SE. It is very interesting rugged phone with 6GB of RAM, Snapdragon 653 chipset, and 6000mAh battery.
However, I am a little confused, because there is already AGM X2, and, looking at specifications list, it is the same as X2 SE model. What is the difference between these phones? If you already have AGM X2, please write in comments below.
And we begin the review of AGM X2 SE with unboxing.
[wpsm_offerbox button_link="https://www.gearbest.com/mobile-phones/pp_1686789.html?wid=1817324&lkid=14427460″ button_text="Buy it now" price="$474.96″ price_old="$499.96″ title="AGM X2 SE 4G Phablet" description="6GB RAM 64GB ROM Fingerprint Scanner Dual Rear Cameras IP68 Waterproof 6000mAh Battery" thumb="http://www.tbprice.com/wp-content/uploads/2018/06/AGM-X2-SE.jpg" logo_thumb="http://www.tbprice.com/wp-content/uploads/2018/04/gearbest-logo.png" ]
Unboxing
Perhaps, the main difference between AGM X2 and X2 SE is the package. Our hero comes in a compact black box. On the front side you can see only company logo, while the back panel has full specifications list. Everything is English, so you can read all information about phone.
Inside the box there is the phone itself, USB Type-C cable, power adapter, SIM needle, user manual and other documentation, additional plugs from water.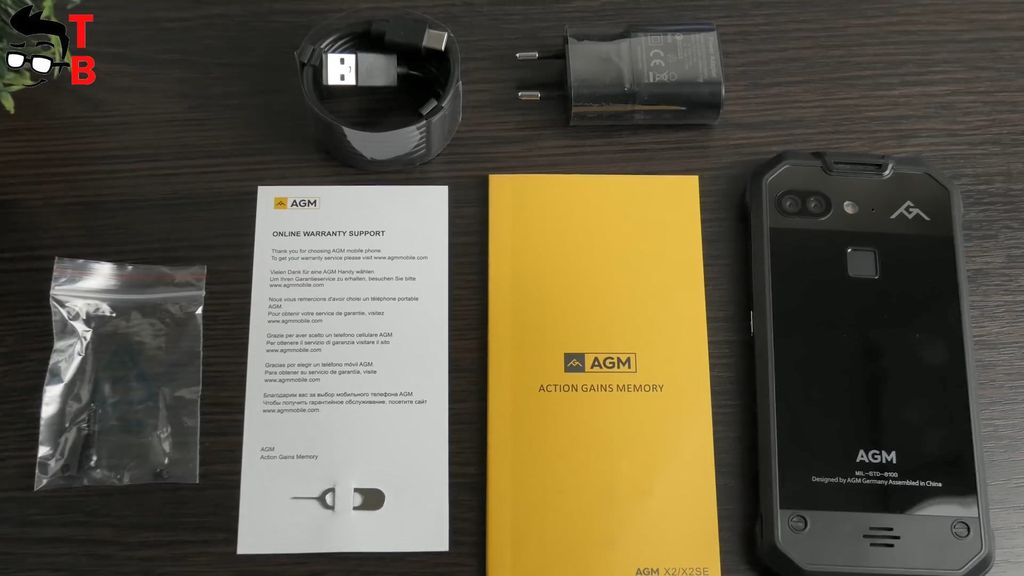 It seems that package is the main difference between these two phones, because AGM X2 SE doesn't have protective case, headphones, and other stuff, like AGM X2. However, I think that many people do not need them, so you can save some money and get AGM X2 SE.
Now, let's look at design of new phone.
AGM X2 SE: Design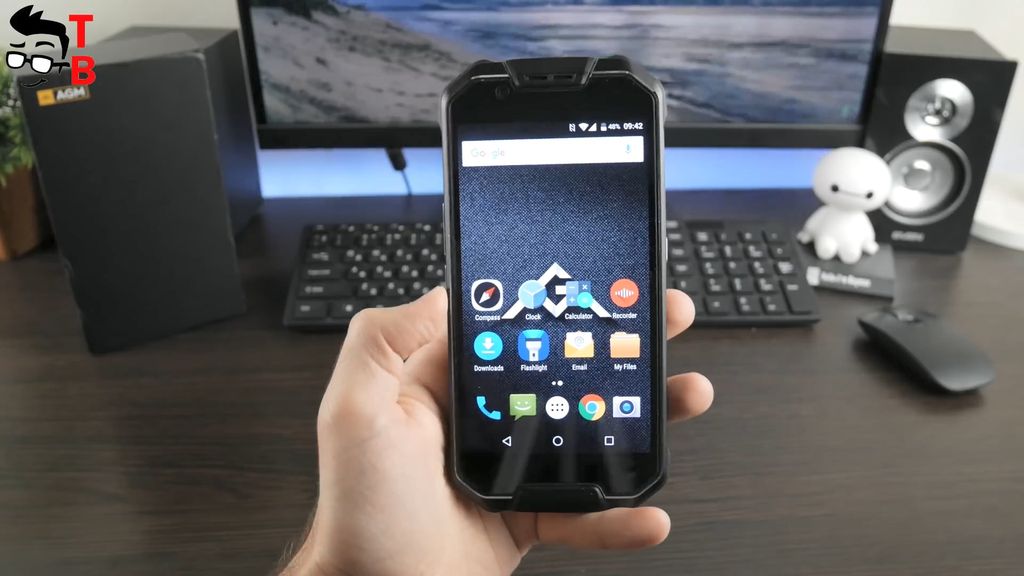 AGM X2 SE is the rugged phone with protection against water and drops by IP68 standard. It means that you can immerse the phone under the water up to 1.5 meters for about 30 minutes. From the other side, it has plugs on ports and connectors, and if you forget to close them, then the phone will be damaged. We already tested some rugged phones without plugs, and it is much more comfortable, because you don't need to close them before going to swim.
AGM X2 SE, like many other rugged phones, is not compact device. Its dimensions are 16.8 x 8.34 x 1.4 mm. Also, it weighs 250 grams.
The phone is made of rugged plastic with glass back panel. By the way, the front and back panels have Corning Gorilla Glass 5, so they are very durable.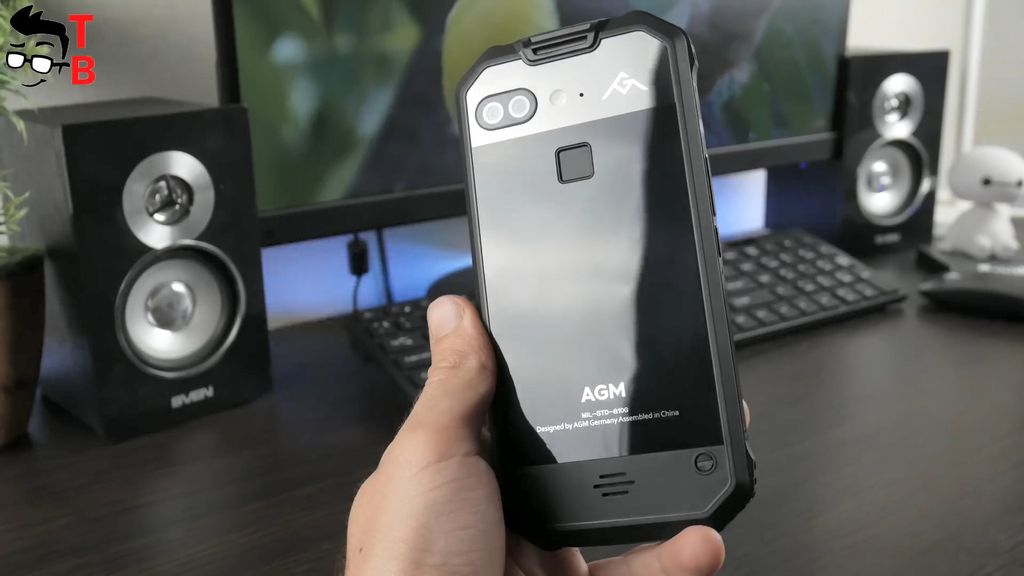 I really like the design of AGM X2 SE, especially its back side. There are dual rear camera, flashlight, fingerprint reader and even company logo. At the bottom, you can see a speaker and two screws. Yes, you can unscrew them, but they don't make any sense, because the back panel is not removable.
As for the front panel, there is 5.5-inch display with 16:9 aspect ratio. It has very thick bezels, and low screen to body ratio. To be honest, it is very uncomfortable to use AGM X2 SE in 2018, when there are many phones with almost bezel-less displays.
Above the screen you can see front camera, earpiece, light and proximity sensors and LED notification.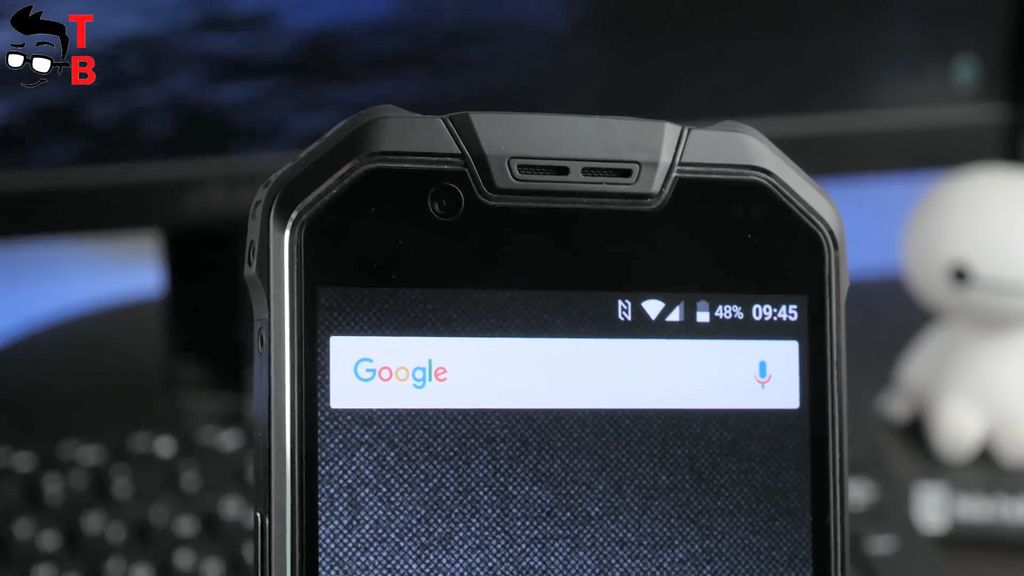 At the bottom there is USB Type-C port, while 3.5 mm audio jack is located on the top.
The right side has Power button and hybrid SIM card slot. The volume rocker and even camera button are on the left side.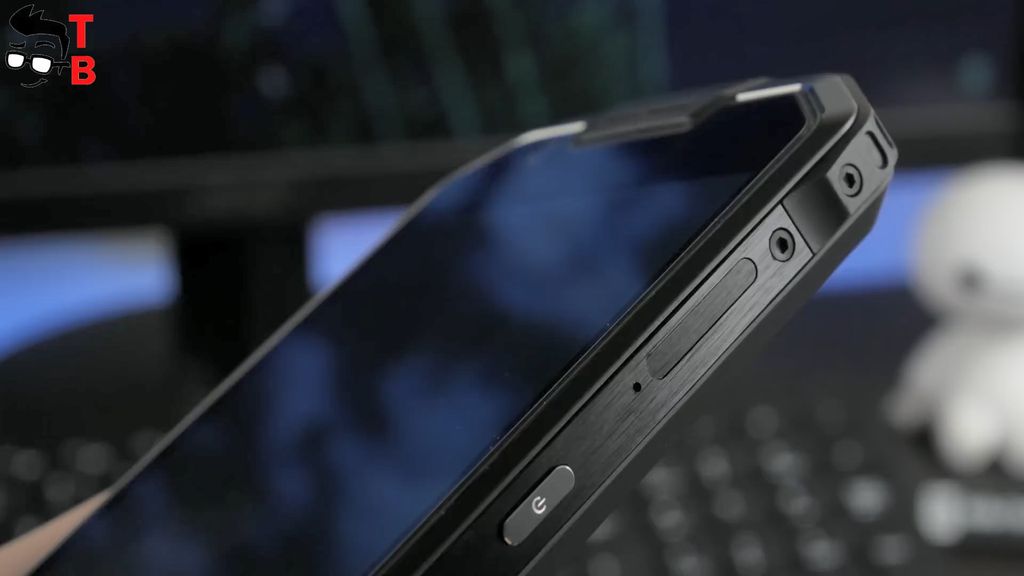 So, AGM X2 SE is another rugged phone with very interesting design. We have a model with glass back panel, but also you can find with leather backside.
AGM X2 SE: Display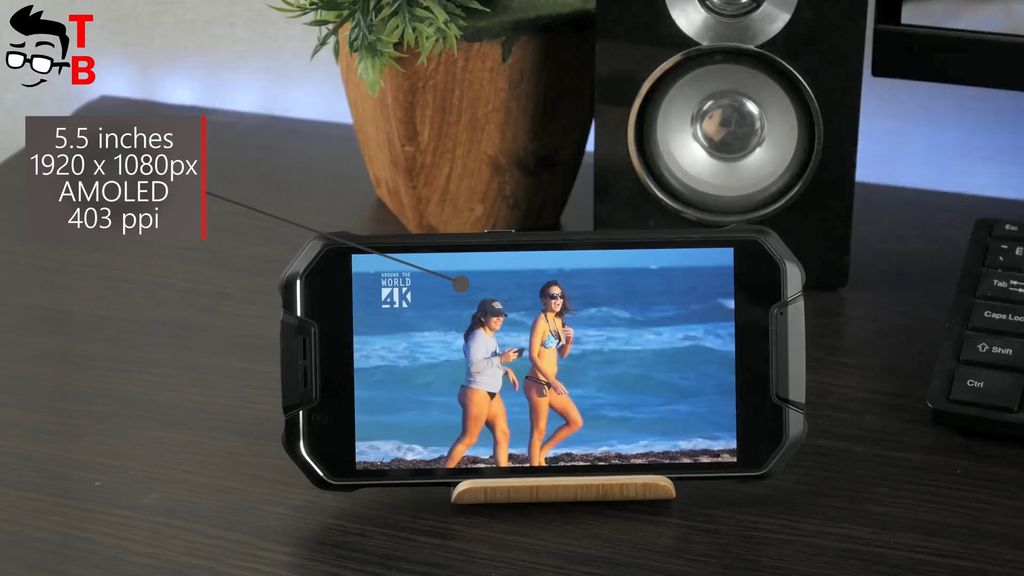 AGM X2 SE comes with only 5.5 inch diagonal and 16:9 aspect ratio. However, its dimensions are almost the same as rugged phones with 18:9 aspect ratio. The screen has Full HD resolution, 1920 by 1080 pixels, and AMOLED panel.
Yes, it is high quality, detailed and bright, but it is quite strange to meet 16:9 displays in 2018. It looks a little outdated, however I know some people that don't care about full screen trend or even don't like it.  So, if you are one of them, then AGM X2 SE display is excellent.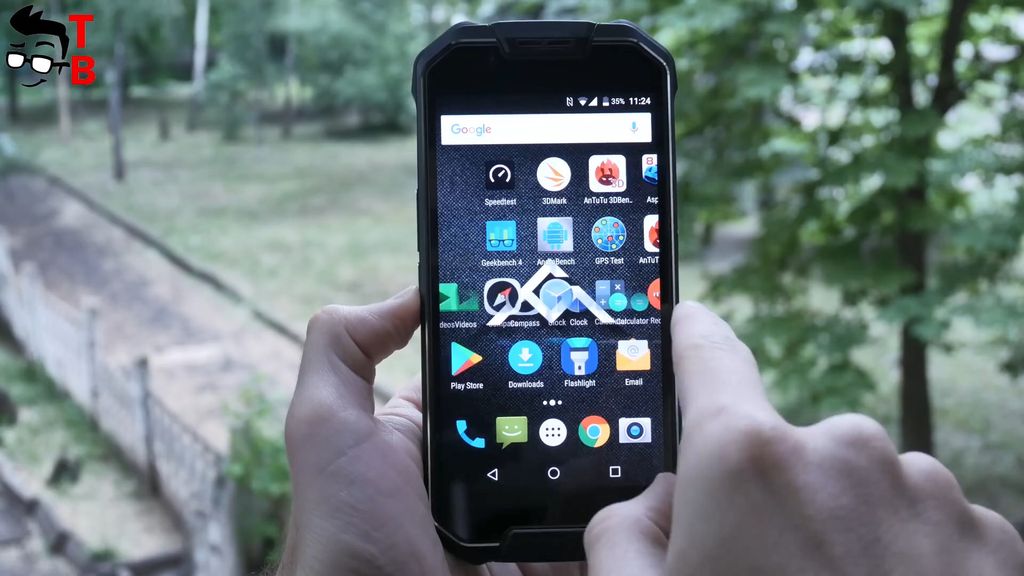 AGM X2 SE: Performance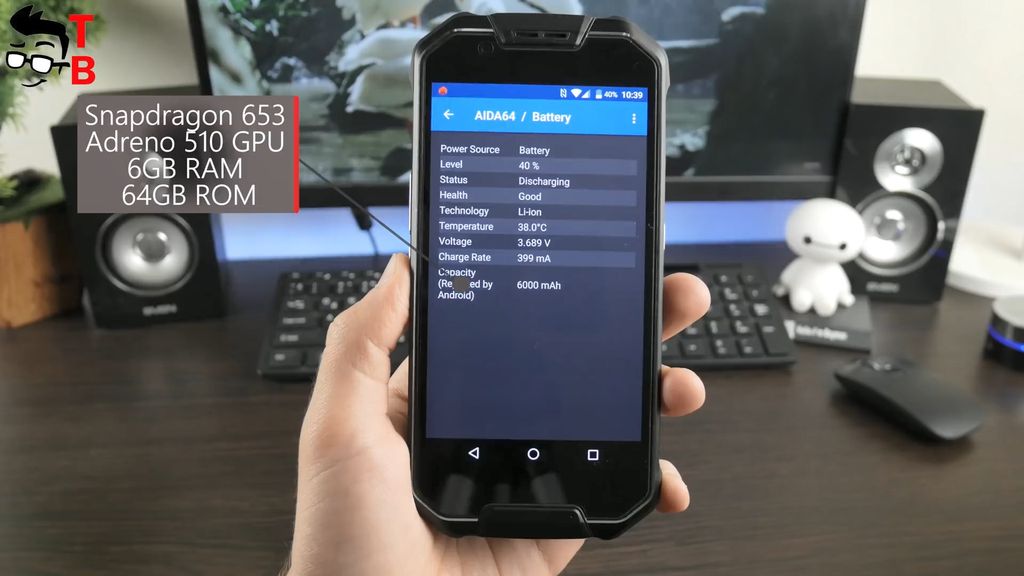 AGM X2 SE is powered by Snapdragon 653 processor and Adreno 510 graphics. This is not flagship chipset, because even Snapdragon 660 is much better, however it also provides very good performance.
New phone has 6GB of RAM and 64GB of internal memory with microSD memory cards support.
The first impressions, AGM X2 SE works very fast and smooth. I did not notice any breaks or slowdowns while surfing user interface or internet. Now, let's look at benchmarks.
Benchmarks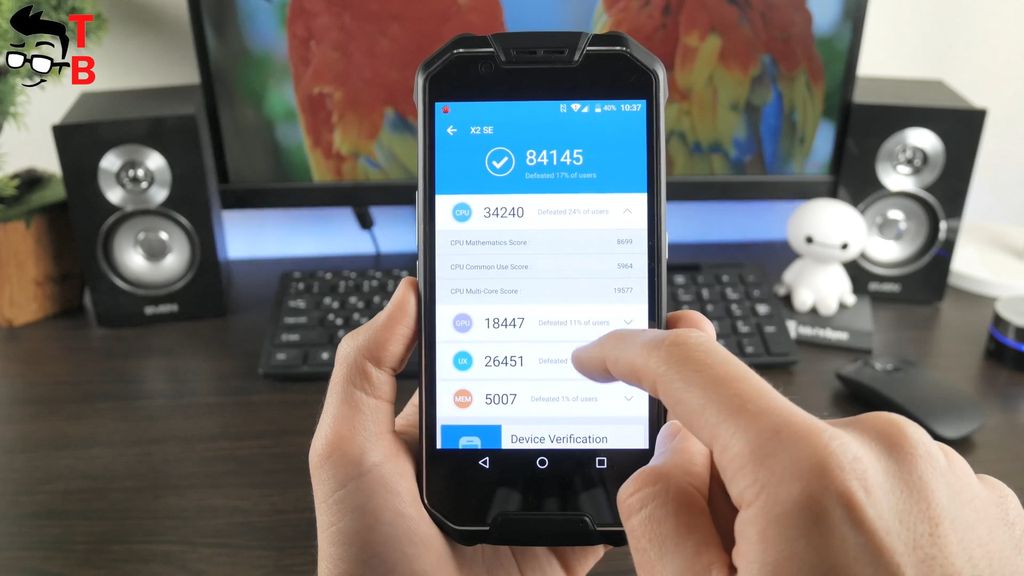 As usual, the first benchmark is AnTuTu, because it is the most popular benchmark for Android devices. As you can see, AGM X2 SE has about 84000 points in AnTuTu. This is pretty good result for rugged phone. However, the phones on Snapdragon 660, for example, Elephone U Pro with the same price as AGM X2 SE, scores almost twice as much – about 140000 points in AnTuTu.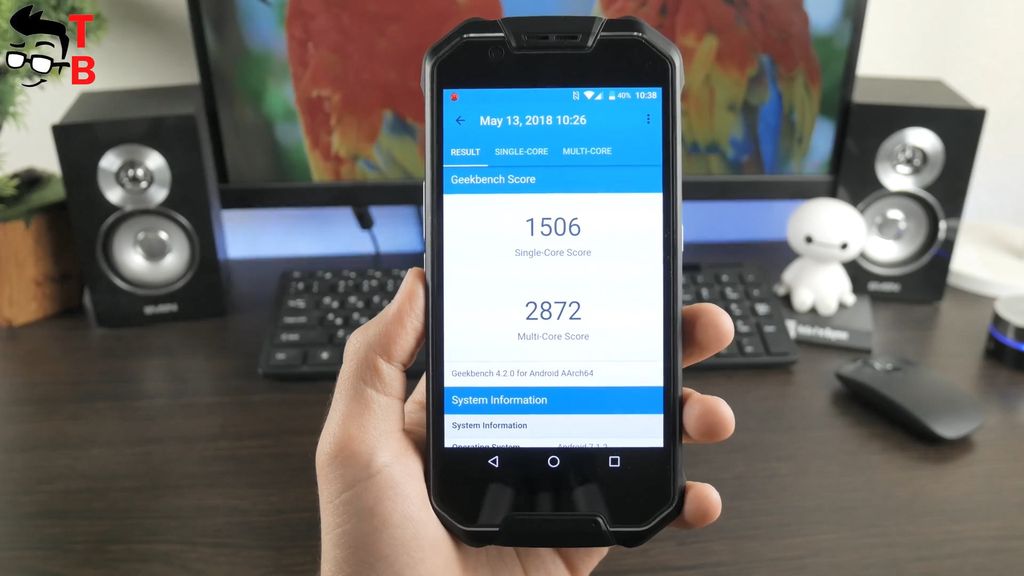 The next benchmark, GeekBench 4, shows 1500 points in single core test and 2900 points in multi core test.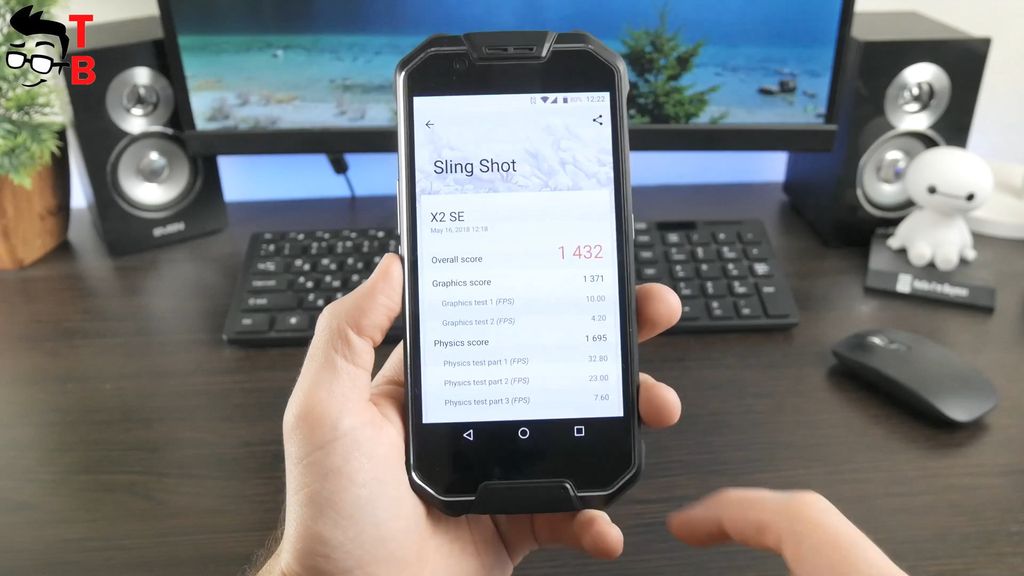 Also it is important to show 3DMark test. It allows to evaluate graphics capabilities. Here you can see 1432 points.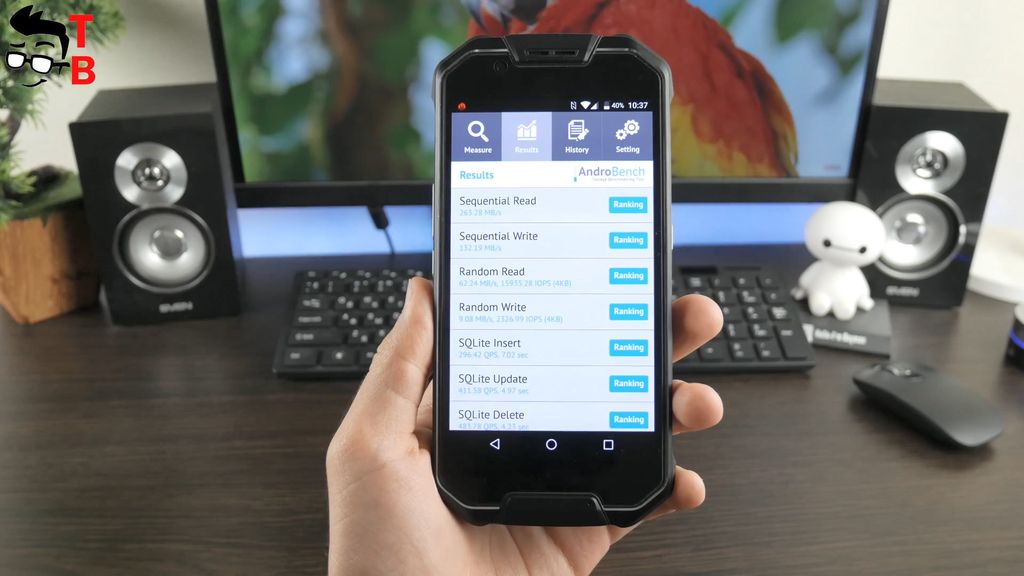 Finally, I want to show you memory speed test. Perhaps, it will be interested to some of you. There is 265 MB/s of reading speed, and 132 MB/s of writing speed.
Of course, I tested Wi-Fi, GPS and cellular networks, everything work fine. Now, let's play games!
Games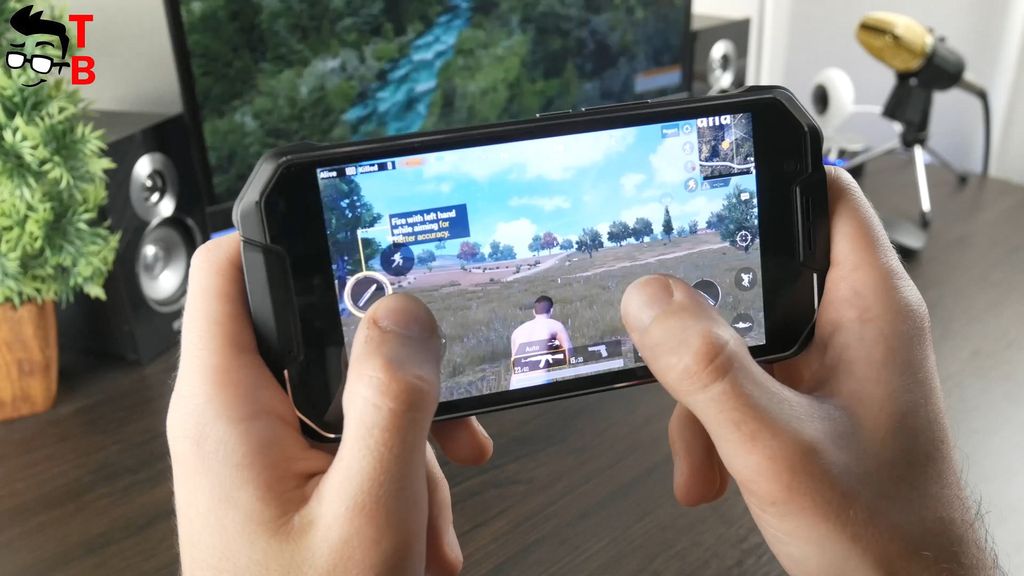 The first game I want to play is PUBG Mobile, because right now it is the most popular Android game. I run it with default settings, and you can see its performance on your screen. I think it is pretty good. You can comfortably play this game without lags or slowdowns.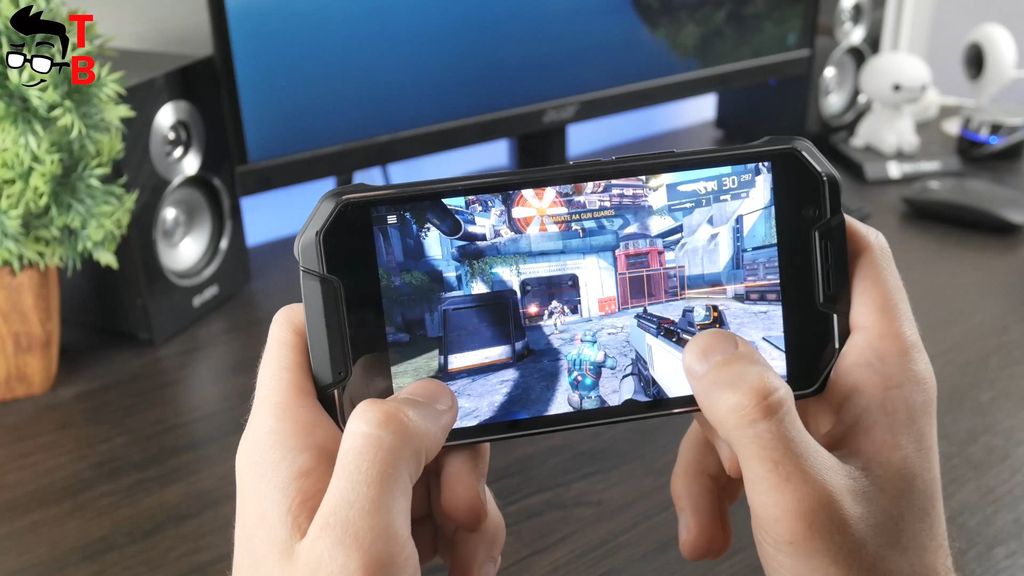 The next game is Shadowgun Legends. I found this game for myself not so long ago, and now I am a big fan of it. I already played it on HOMTOM HT70, you can find this video by the links in description. It seems that AGM X2 SE runs it very good too.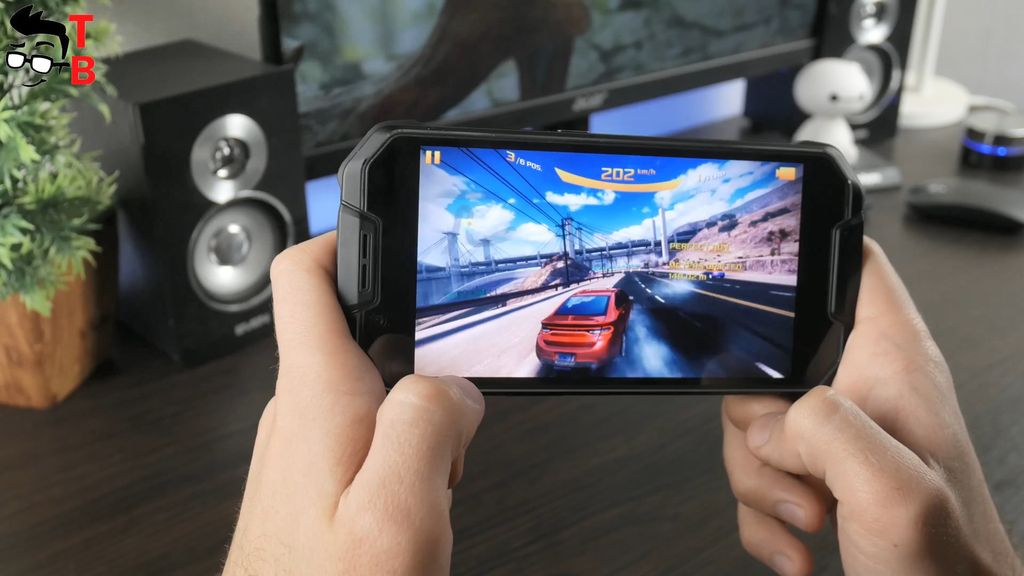 And the last game for today is Asphalt 8. I think that these games will be enough to make a conclusion about performance of this phone. Asphalt 8 doesn't cause any problems to AGM X2 SE. The game is smooth, and I don't see any lags or even FPS drops.
I cannot say that AGM X2 SE is the most powerful smartphone on the market, especially for its price – about $450. However, it is one of the best rugged phones. It didn't notice any problems with user interface, surfing internet, different apps, etc. Also it runs any Android games on low or medium settings. Anyway, first of all, AGM X2 SE is rugged phone, not gaming device, and it provides very good performance for regular user.
Software
As for the software, AGM X2 SE runs on Android 7.1 Nougat. It is stock Android system without any Chinese apps or settings. However, the phone has built-in NFC, so you can make contactless payments. Moreover, there is a special app called Tap and Pay. It helps to make Android Pay with one click.
AGM X2 SE: Camera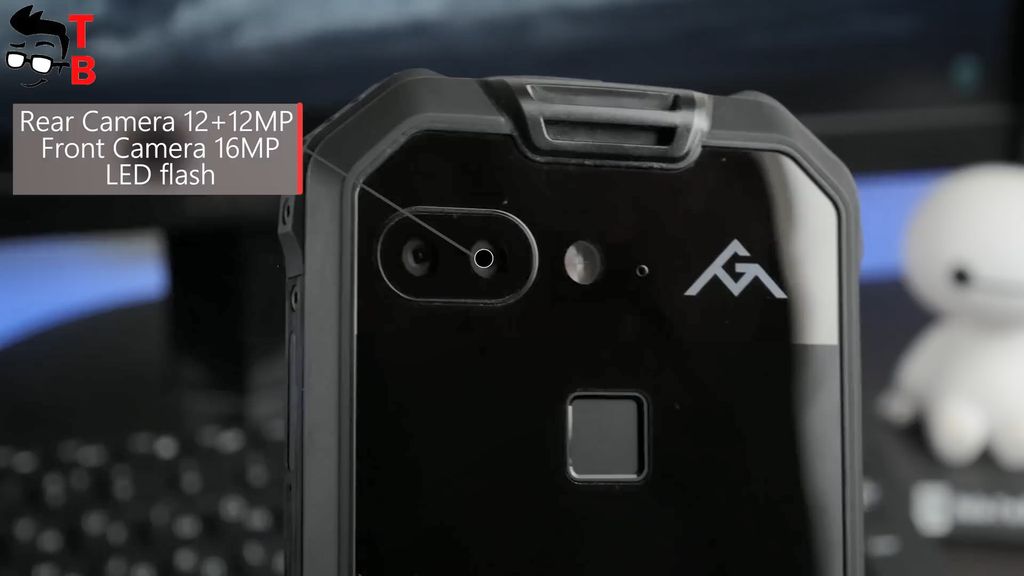 AGM X2 SE comes with dual camera on the back. The main sensor is Sony IMX386 with 12-megapixel and secondary sensor has also 12-megapixel resolution. Also, there is 16-megapixel camera on the front side.
The maximum image resolution is 4000 x 3000 pixels, while video is recorded in Full HD, 1920 x 1080 pixels at 30 fps.
By the way, the main camera of AGM X2 SE has dual LED flash. It should help to take good images in low light conditions.
Camera App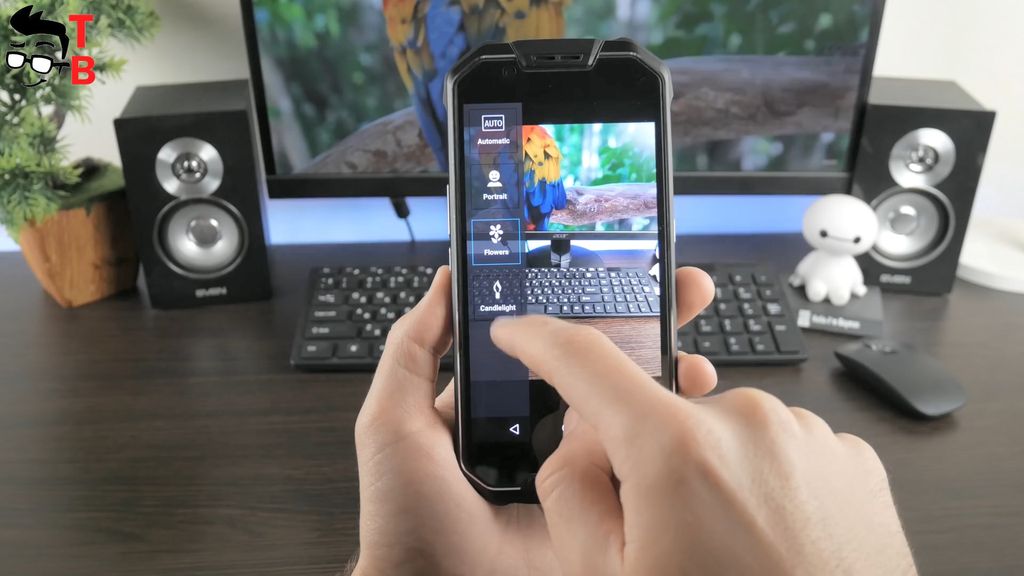 The camera app is standard. At the bottom of the main screen there is shutter button, change to selfie camera and video button. On the top, you can find icons with Auto mode, HDR mode, Portrait mode, Night mode and settings menu.
As usual, the settings menu provide some more options, such as tagging position, photo/video resolution, shutter sound and others.
Now, we are ready to show you real sample photos.
Sample photos
AGM X2 SE really surprised me with its main camera. It takes very good images in good lighting conditions. They are detailed, bright and have natural colors. I think the photos on AGM X2 SE are the same as on Xiaomi Mi Note 3. As you remember, Mi Note 3 has one of the best cameras on the phone market.
AGM X2 SE has dual rear camera, so it can make portrait photos. It has real secondary sensor, unlike many budget Chinese phones. The photos with blurred background are very good.
As for the selfie camera, it also very good. 16-megapixel sensor takes high-quality images. I do not have complaints to it.
If we talk about shooting in low light conditions, I'm a little disappointed. I expected the same quality as Xiaomi Mi Note 3, but AGM X2 SE takes worse images at night. I don't know what's the problem, because these phones have the same sensors, but the fact is Xiaomi Mi Note 3 shoots better at night.
Do not misunderstand me, AGM X2 SE makes good photos at night, especially compared to budget phones. However, they are lack of details. I expected something more from $450 phone.
More original photos here: flickr
Sample videos
If we talk about the video recording, it is good. The video is detailed and colorful. However, there is no image stabilization, so the video will jump when you move.
In low light conditions the situation is the same as with photos. The video is much better than budget phones, however, it falls short of flagship phones.
What can I say about camera of AGM X2 SE? When I tested the camera of this phone, I forgot that it is rugged phone. As you know, most rugged phones have entry-level camera, but AGM X2 SE can take really good images. Perhaps, it has the best camera among rugged phones in 2018. However, AGM X2 is not the best cameraphone in this price category. You can find something better for $450.
AGM X2 SE: Battery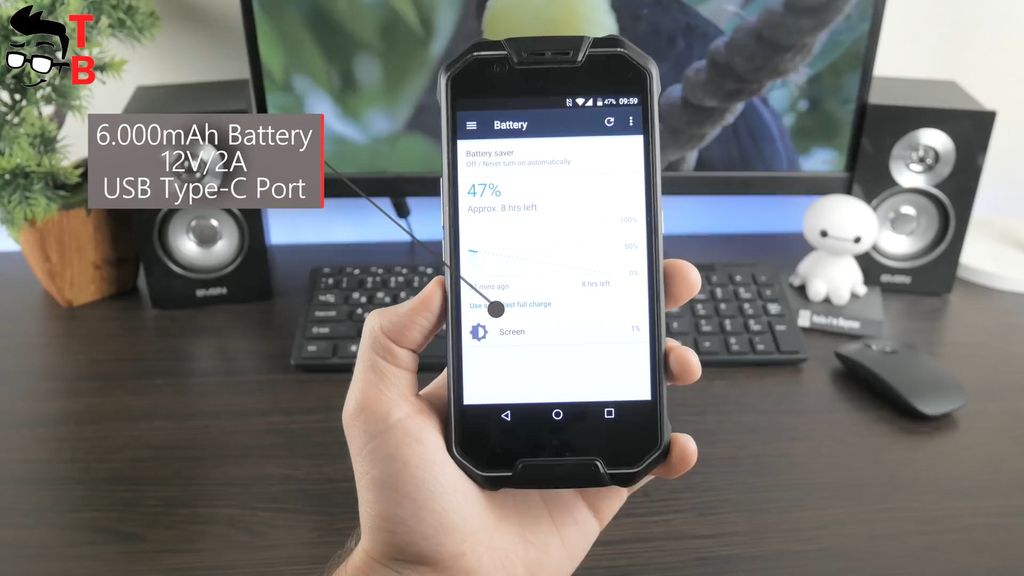 The battery is another big surprise of this phone. AGM X2 SE comes with 6000mAh battery capacity. The manufacturer promises up to 5 days of battery life on a single charge. Also, there is support for quick charge 3.0 technology. The official website says that full charge takes an hour.
Connectivity
The smartphone supports not only 3G networks, but also 4G. In description, you can find all supports networks. Be sure to check them before buying this phone.
As for other connections, they are standard for modern Android phone: GPS and Glonass, dual band Wi-Fi, Bluetooth 4.0, USB 2.0 with OTG support. Also there is NFC sensor. We didn't notice any problems with connections during our review. Everything works well.
AGM X2 SE: Sound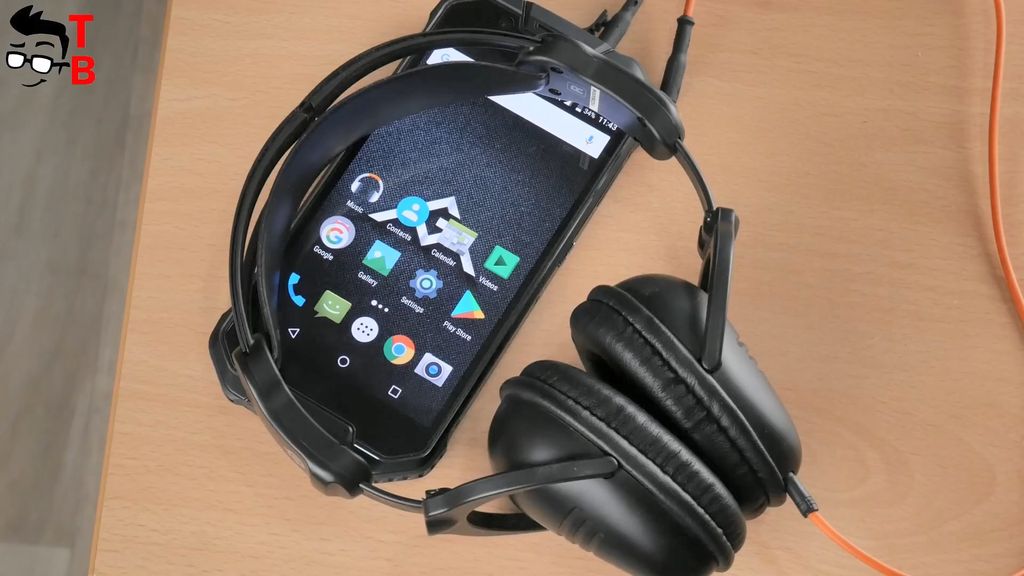 AGM X2 SE is equipped with single speaker, however it is very loud. The quality of sound is pretty good. The phone has built-in equalizer Snapdragon Audio, so you can adjust the sound to yourself. I cannot say that AGM X2 SE is music phone, but it is pretty good for watching movies, videos on YouTube, and listening to music.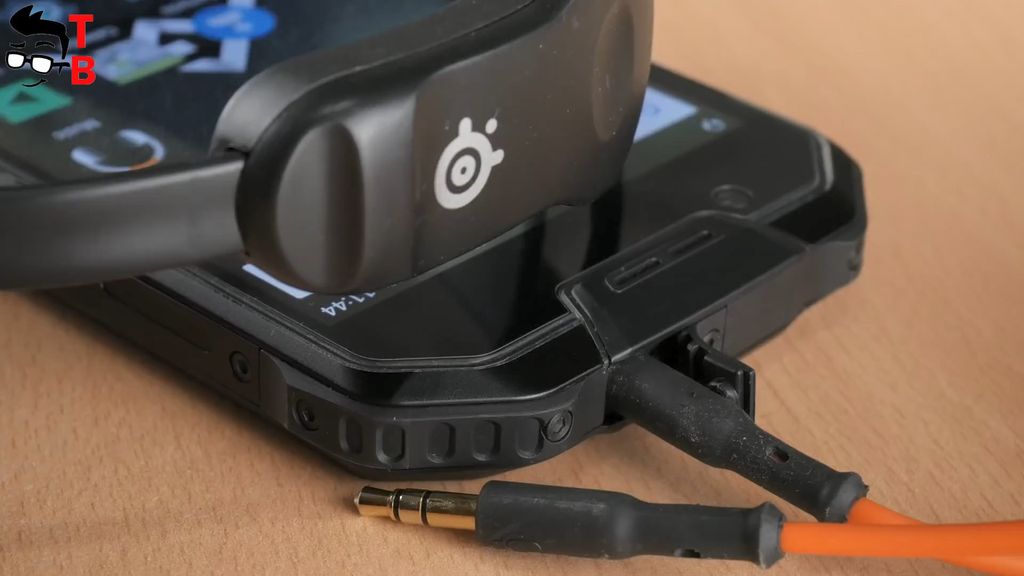 Conclusion
AGM X2 SE is very good phone. It has everything you need from mobile device in 2018, such as good performance, excellent display, big battery and stunning cameras. Among the disadvantages may be quite large dimensions, but you should not forget that it is rugged phone. Also, it comes with 16 by 9 display, and bezels around the screen are quite big. It looks strange for 2018, when most phones are bezel-less.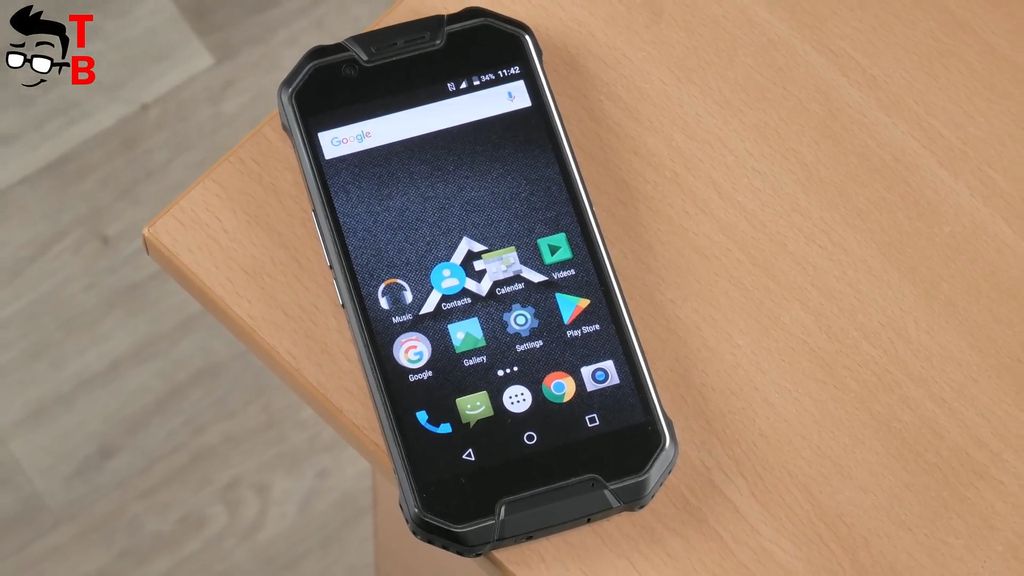 In general, AGM X2 SE is excellent rugged phone, perhaps, even the best in 2018. Also, there is a model AGM X2, and it doesn't differ from X2 SE, but only the package is different. It has protective case, earphones and other accessories in package. The design and specifications are completely the same.
[wpsm_offerbox button_link="https://www.gearbest.com/mobile-phones/pp_1686789.html?wid=1817324&lkid=14427460″ button_text="Buy it now" price="$474.96″ price_old="$499.96″ title="AGM X2 SE 4G Phablet" description="6GB RAM 64GB ROM Fingerprint Scanner Dual Rear Cameras IP68 Waterproof 6000mAh Battery" thumb="http://www.tbprice.com/wp-content/uploads/2018/06/AGM-X2-SE.jpg" logo_thumb="http://www.tbprice.com/wp-content/uploads/2018/04/gearbest-logo.png" ]
AGM X2 SE Video Review