Today we are going to review the new projector from Meauro Company with the model name APT01.
The Amazon product page says that this is an upgraded version, but there is no information what was upgraded. So, just know that I am testing an upgraded version of Meauro APT01 projector.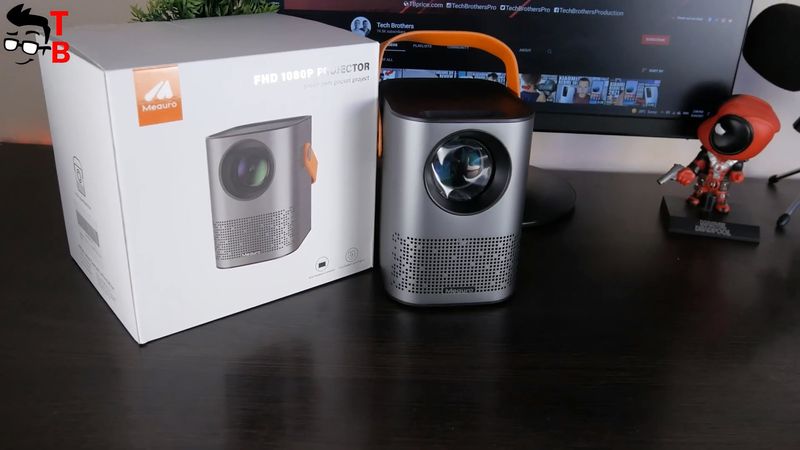 The main features of this projector are pocket-size, Full HD native resolution, 6000 Lumen brightness, auto keystone correction, Android operating system, and 8GB of storage.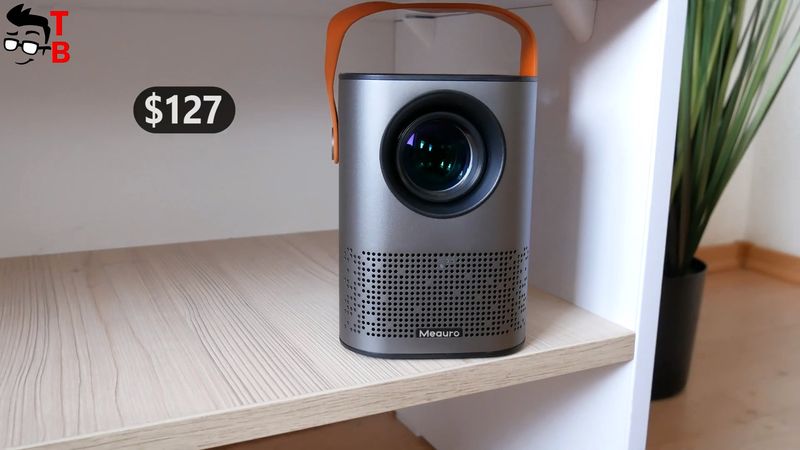 The price of Meauro APT01 projector on Amazon is $169, but I have a 25% OFF Coupon Code for you. So, the final price will be only $127. The code is valid until August 31, so please hurry up to use it.
OK, finally, let's start the review.
Unboxing
On the box, we can see how the new projector from Meauro looks like.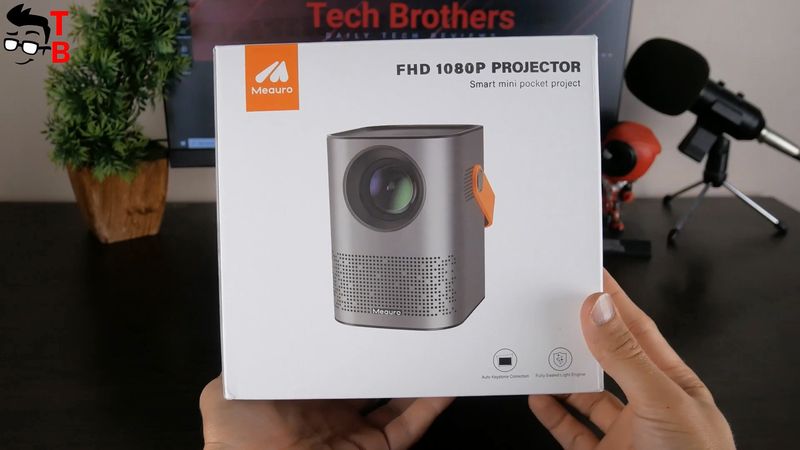 There is also some information about the projector and manufacturer on the back of the box.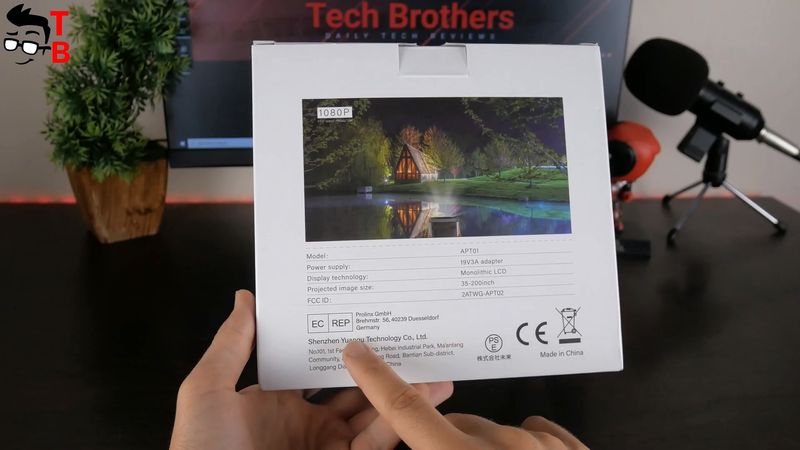 Inside, we have a projector itself, user manual, power adapter, power cable, and remote control.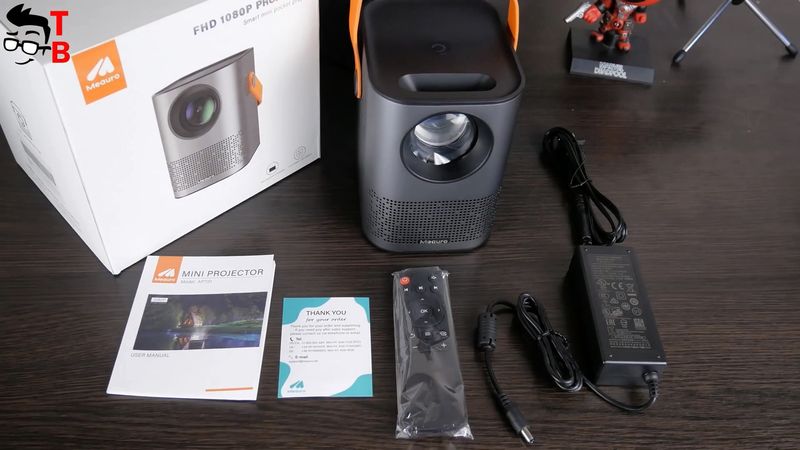 You know, I am surprised by this power adapter. Typically, the laptops come with such big adapters, but I haven't seen any projector. All right, let it be.
Design
Meauro projector is really compact. It is only 150 by 130 by 105 mm.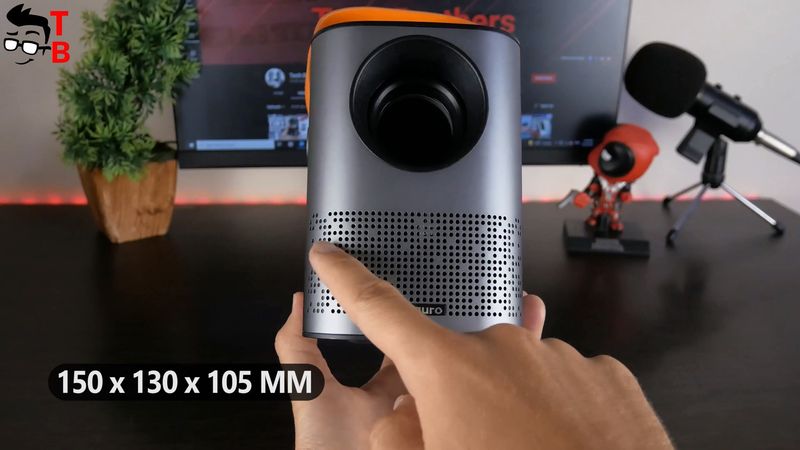 The weight is 990 grams.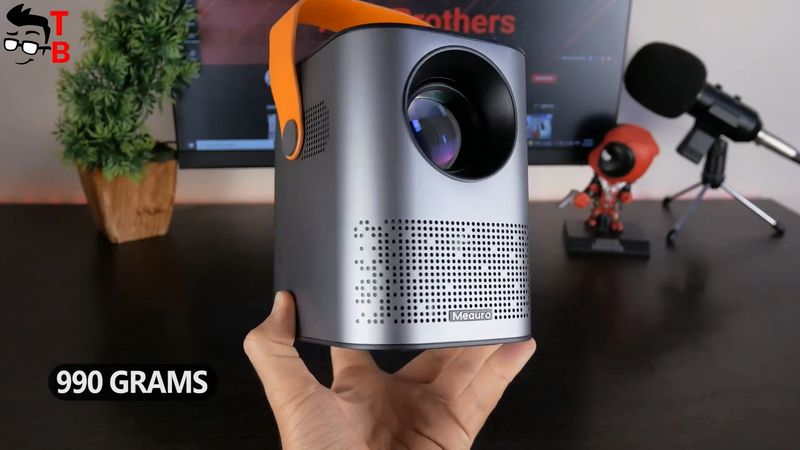 I also like the handle at the top. It looks like it is made of leather, but I think it is silicone.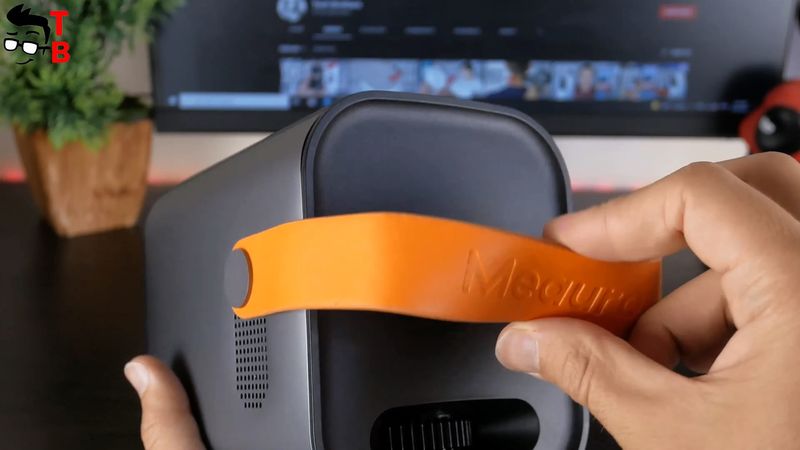 The body of the projector is grey, while the handle is orange. This combination of colors is amazing. I like it very much.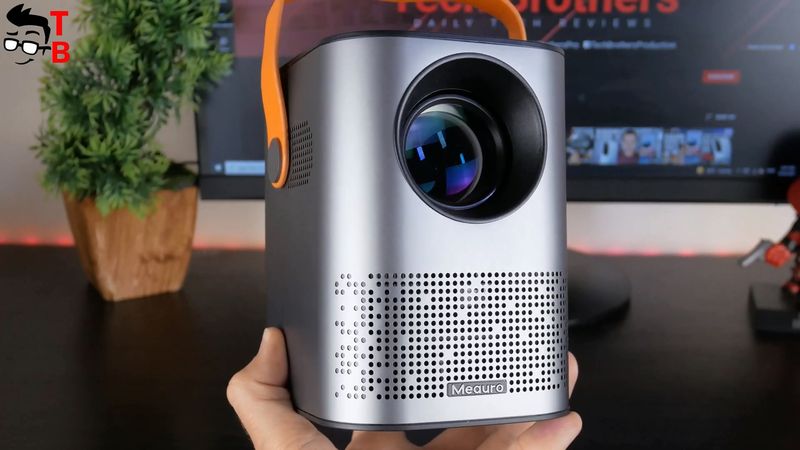 There is a lens and air vents on the front of the projector.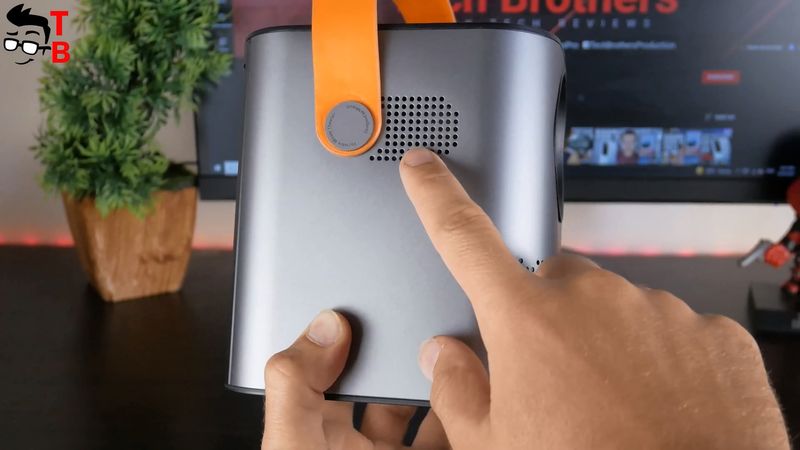 The dual speaker is on the left and right sides.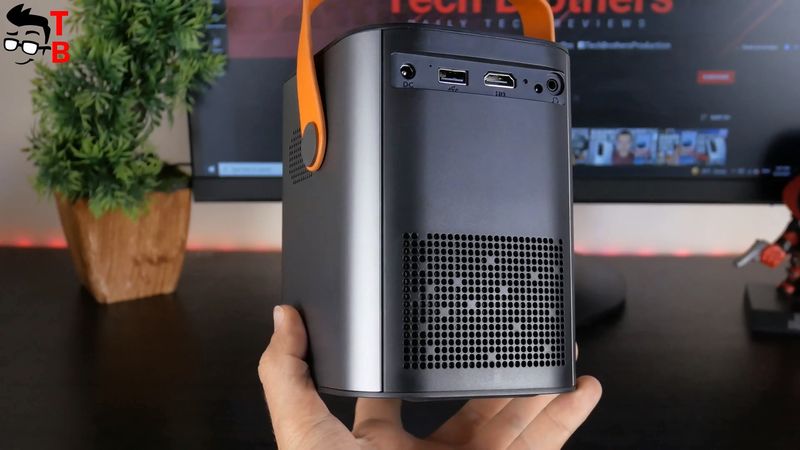 On the back, we can see DC input, USB port, HDMI port, 3.5mm audio jack. There is also an infrared receiving window for remote control.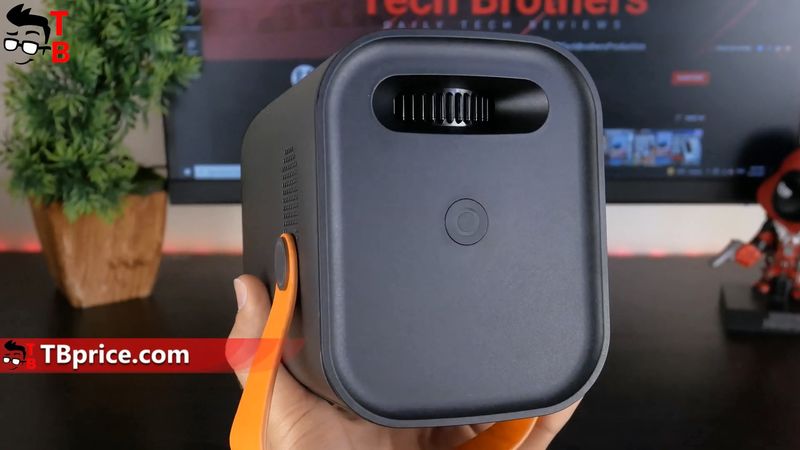 The power button and manual focus wheel are at the top.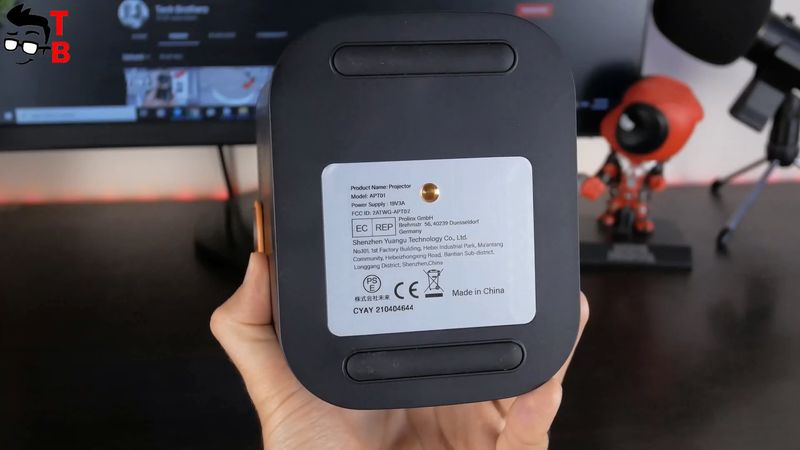 Finally, at the bottom, there is a sticker with the same information about the projector and manufacturer as on the back of the box and tripod screw hole. There are also two anti-skid silicone pads at the bottom.
I think you will agree with me that Meauro APT01 projector looks very stylish.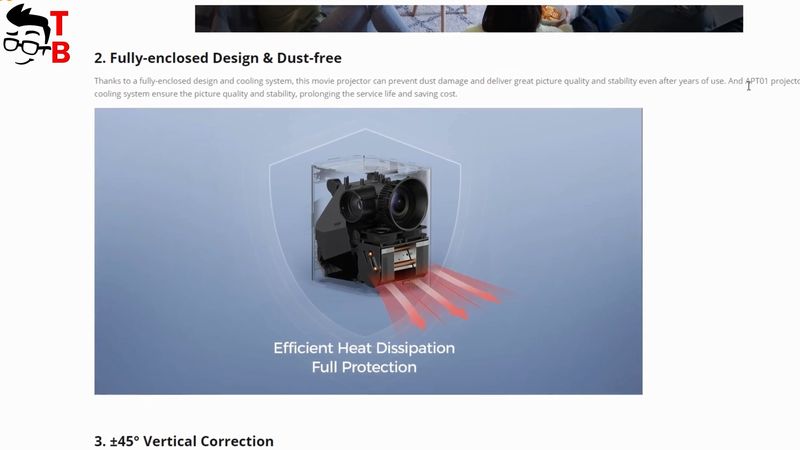 By the way, I found the information on the official website about fully enclosed and dustproof design. It is really cool because the projector will last longer.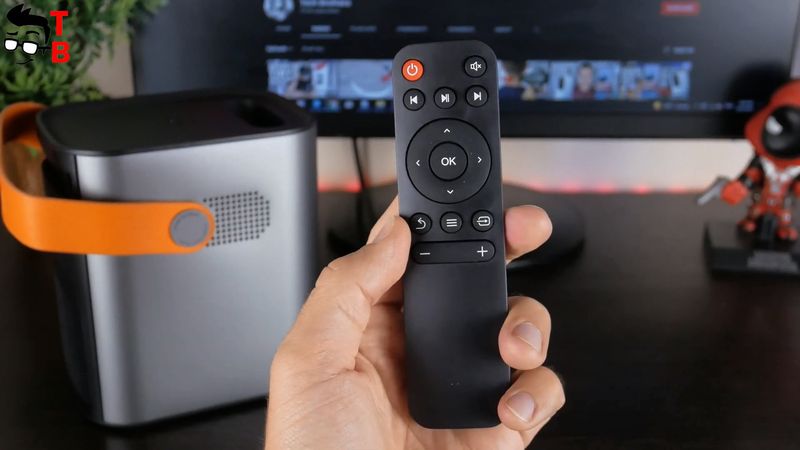 The remote control is quite standard. There are no quick access buttons for Netflix or YouTube, for example, but you can choose the source, volume up and down, play/pause, etc.
OK, now, let's turn on a projector and look at the user interface.
User Interface and Settings
As I already said, Meauro APT01 has an Android operating system, so it is very interesting to look at a user interface.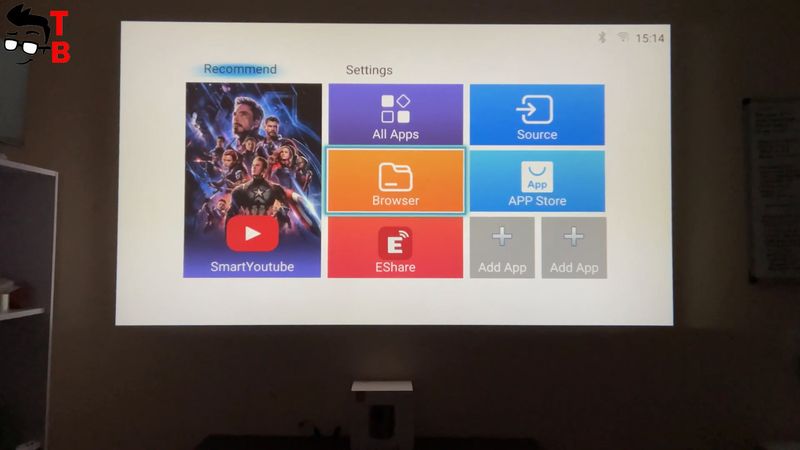 I have tested another budget Chinese projector last week, and it has the same user interface and settings.
On the main screen of the MeAuro projector, we can choose SmartYouTube, All Apps, Source, Browser, App Store, EShare and Add other apps.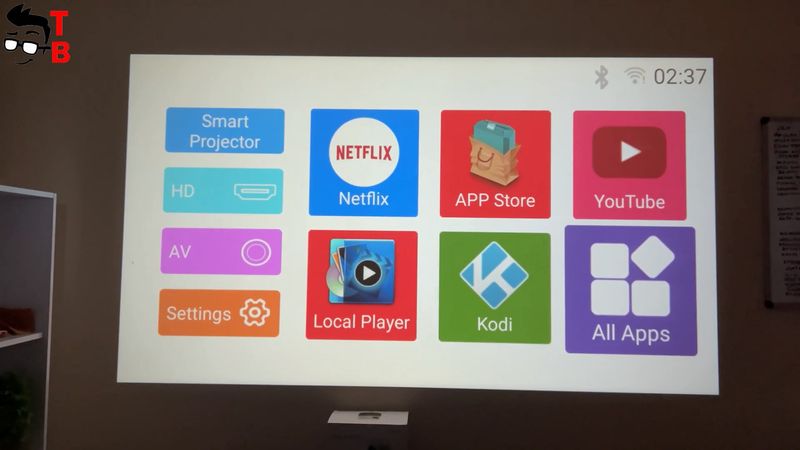 The new projector has many pre-installed apps, such as Netflix, Prime Video, Spotify, WPS Projector, and others.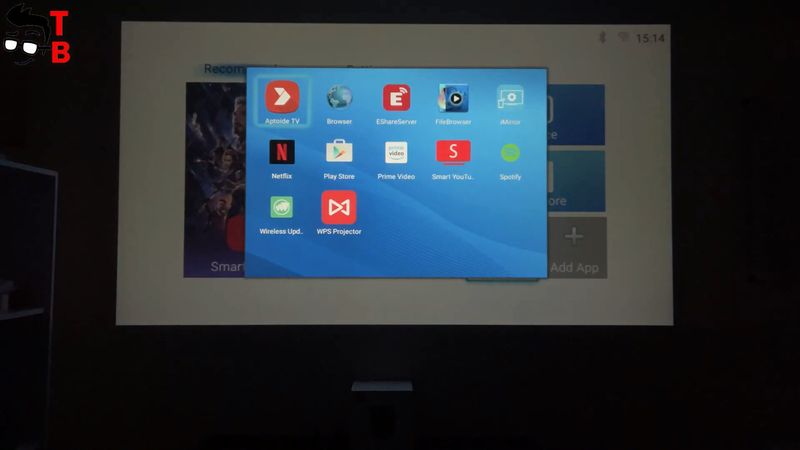 In the settings menu, we have Wi-Fi settings, Bluetooth settings, application, language date, other, projection Image, system update, and about. If you want to use the Android operating system on a projector, for example, watch YouTube or Netflix, then you need to connect to a Wi-Fi network.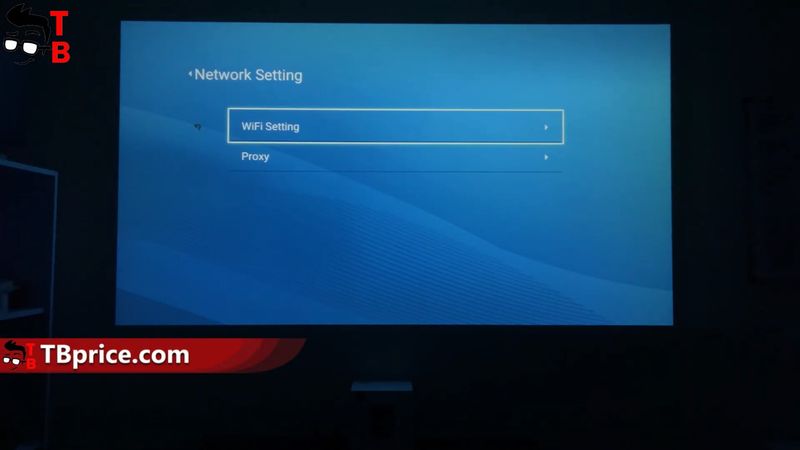 By the way, when I first connected to the Wi-Fi network, I received an OTA software upgrade. You should install it, because the software upgrade fixes many problems with HDMI connection, crash and freeze problems with Netflix, as well as optimize the memory as improve the system stability. It takes about 30 minutes to install the update.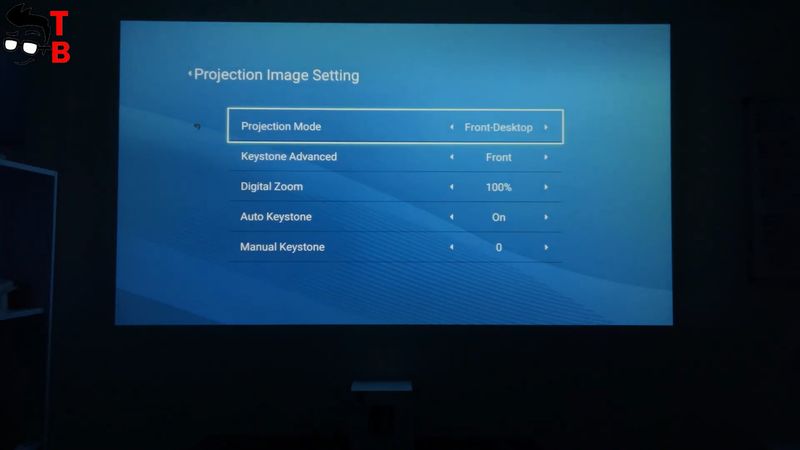 By the way, I have to show you projection image settings. Here, we can choose projection mode, and keystone advanced.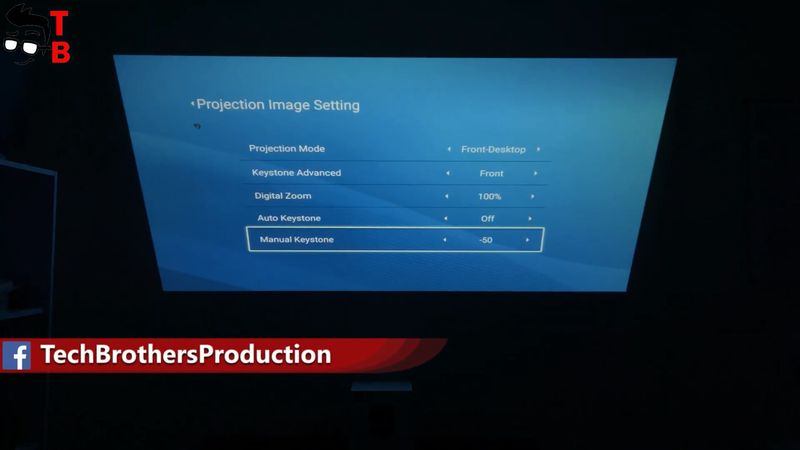 We can also change a digital zoom from 80 to 100%. MeAuro projector has auto keystone correction, but you can turn it off and use manual keystone.
Volume and noise levels
You know, it is very important to check the noise level, because it is not very pleasant to listen to the noise of the projector while watching a movie. So, the maximum noise level of Meauro APT01 projector is 40 dB.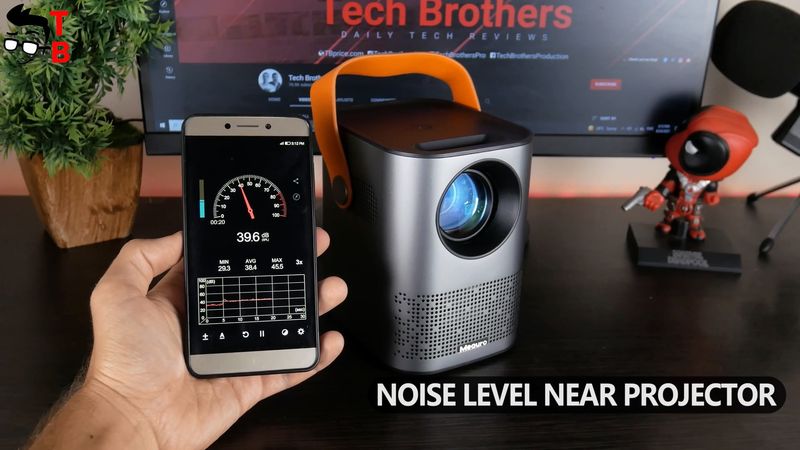 A little later, I will show you the videos that I shot very close to the projector, and you can hear the noise. However, most likely, you will place a projector at a distance of about 1 meter or even more from you, and then the noise level will be 32 dB.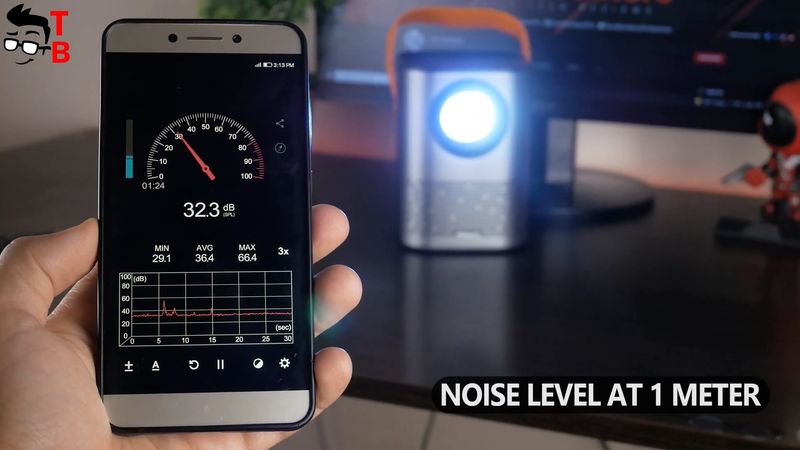 Meauro projector has a dual speaker. The sound has a pretty good quality, but the speaker is very quiet.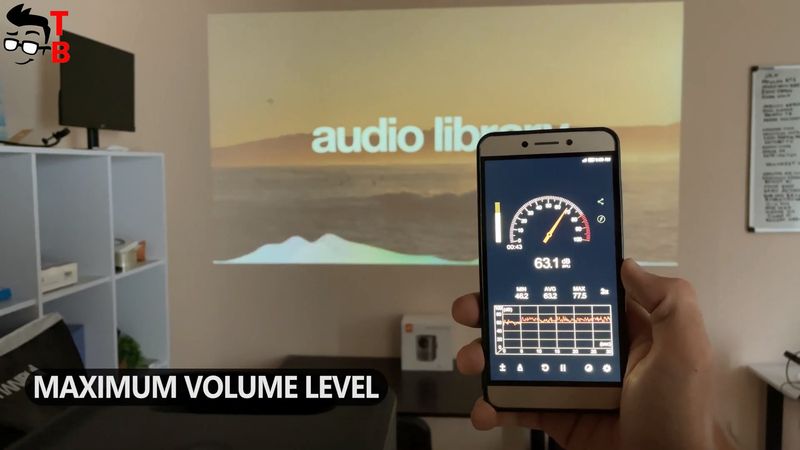 The maximum volume level is 63 dB. I would recommend connecting external speakers. You can use a 3.5mm audio jack for that.
Projection Quality
Meauro projector has Full HD resolution, and the image is really clear. There are no pixels on projection even at a close distance. The edges are also clear, and they are not blurred.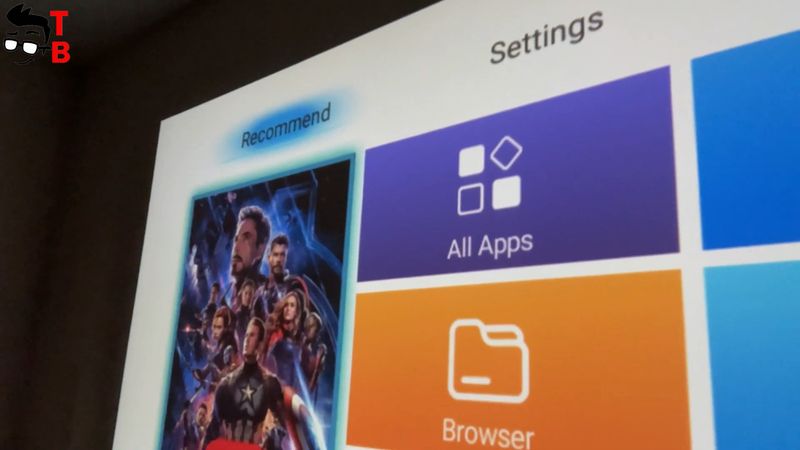 I found a table in the user manual on how to install the projector. So, if you want a 40-inch projection size, then you need to install a projector at a distance of 119 cm from the wall.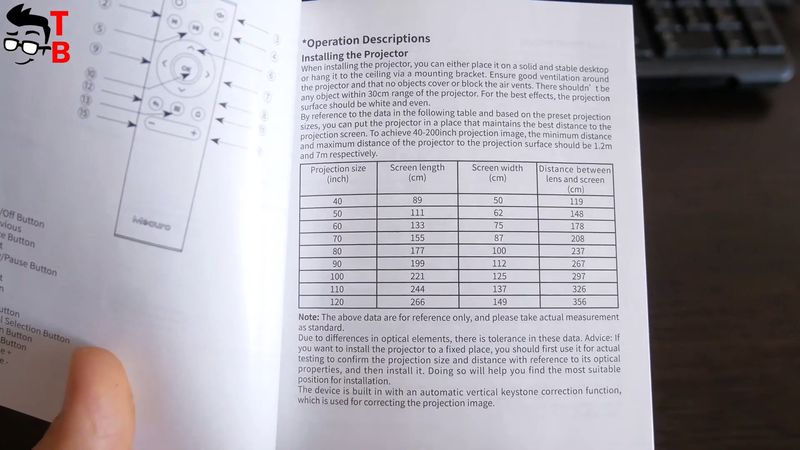 The maximum projection size of Meauro projector is 120 inches, and the distance between the lens and the wall should be three and a half meters.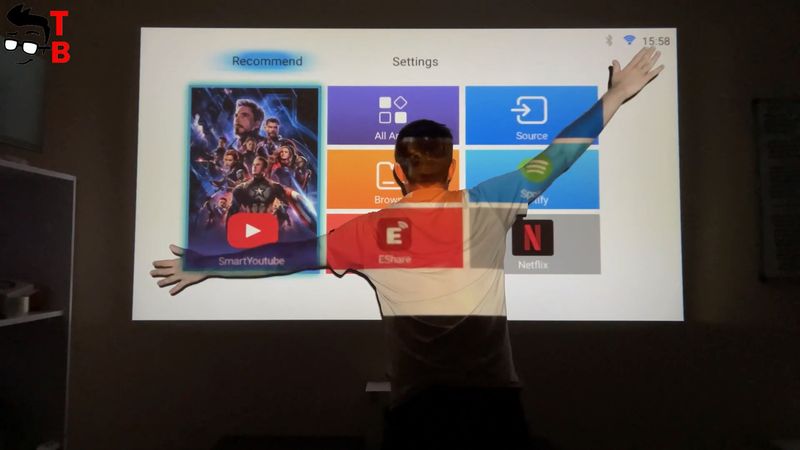 I have about 80 inches projection size.
Now, let's watch some videos that I shot in complete darkness and in a bright room.
Conclusion
So, one of the main features of Meauro APT01 projector is its compact size and stylish design. It really looks very nice, and it will be a highlight in your room.
Meauro APT01 is a smart projector because it has an Android operating system. You can just power on a projector, open YouTube, and watch videos.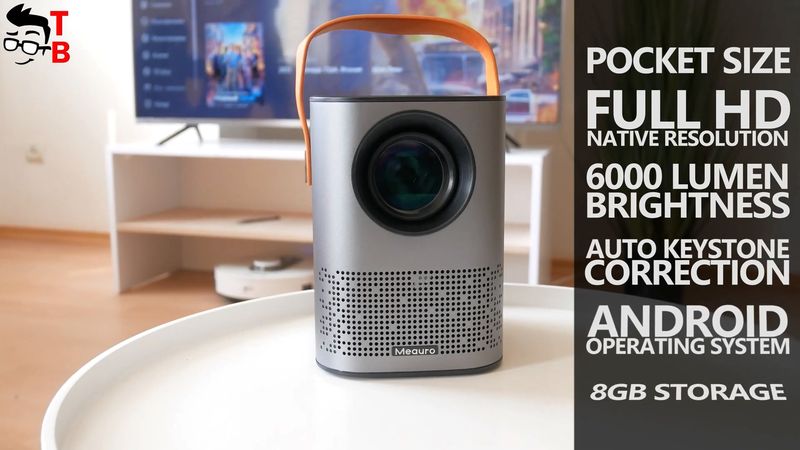 Using an HDMI port on the back, you can connect PlayStation, Xbox, laptop, or any other device.
Talking about projection quality, it is pretty good for a budget projector. By the way, I have read on Amazon that this projector is perfect for use in low-light conditions, and it is not intended for business presentations. However, I think you can use it for presentations, but it is better to close the windows.