Today we are going to talk about a not-so-common device for our channel. This is a hair dryer called Laifen Swift.
We haven't tested hair dryers before, but this one has some really good features, such as smart temperature control, built-in negative ion generator, one-key hot and cold air circulation, a super powerful 110,000 rpm motor.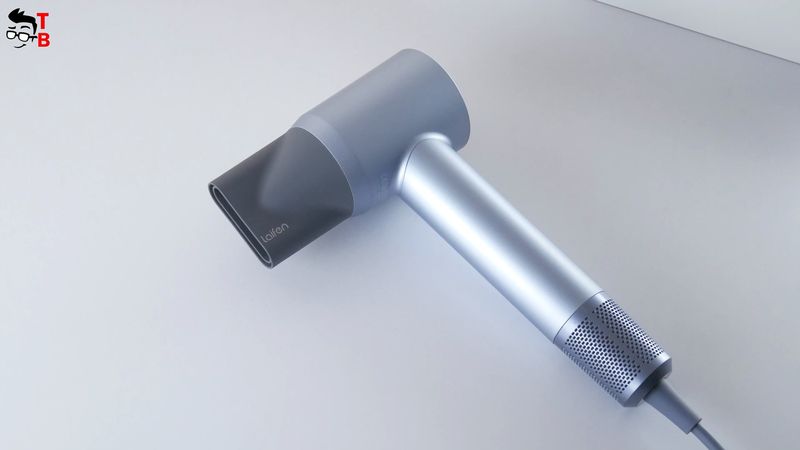 By the way, I think you have already noticed that Laifen Swift looks like Dyson SuperSonic. Unfortunately, I don't have it, so I cannot compare these hair dryers side-by-side. Anyway, Laifen Swift is about three times cheaper, and this is its main advantage.
OK, as usual, let's start a review of the new product with unboxing.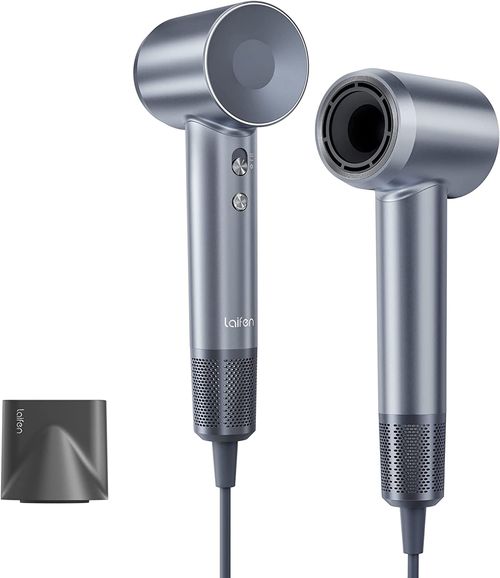 Laifen Hair Dryer, Negative Ionic Blow Dryer - Amazon - Extra $20 OFF COUPON
as of September 21, 2023 11:30 pm
Unboxing
You know, the box is very simple.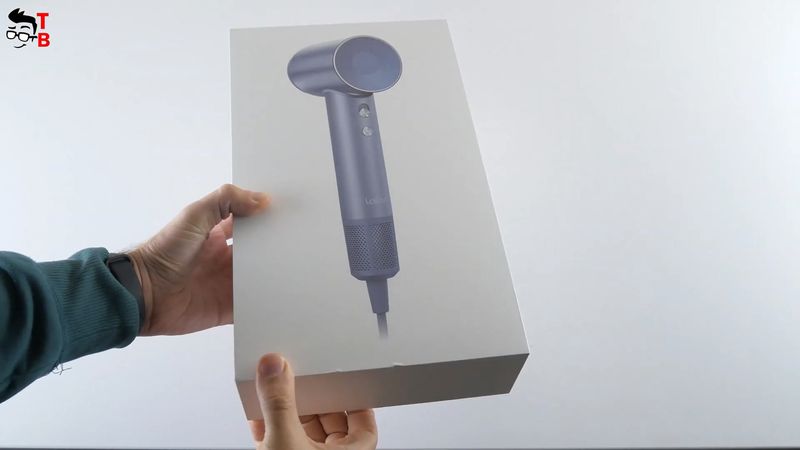 There is only the product image on the front, and a sticker with some specs on the back.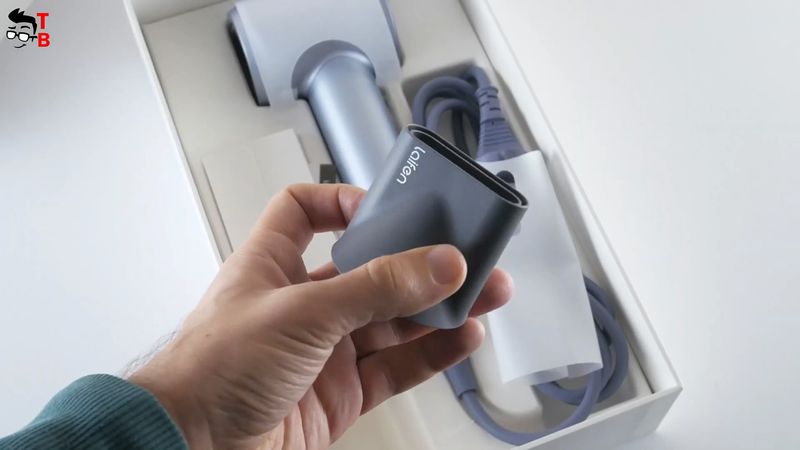 Inside the box, we have a hair dryer itself, smooth nozzle, and user manual in different languages. There is even a quality certificate in the box.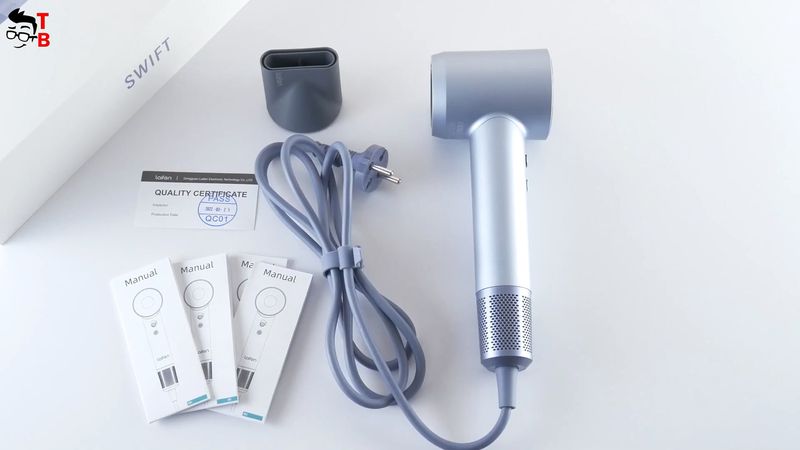 By the way, you can also order a Laifen Swift with three nozzles. It is only $20 more expensive, but the nozzles can be very useful.
Design
As you can see, I have a silver blue color version of the hair dryer. It is also available in the matt black, pearl white and ruby red colors.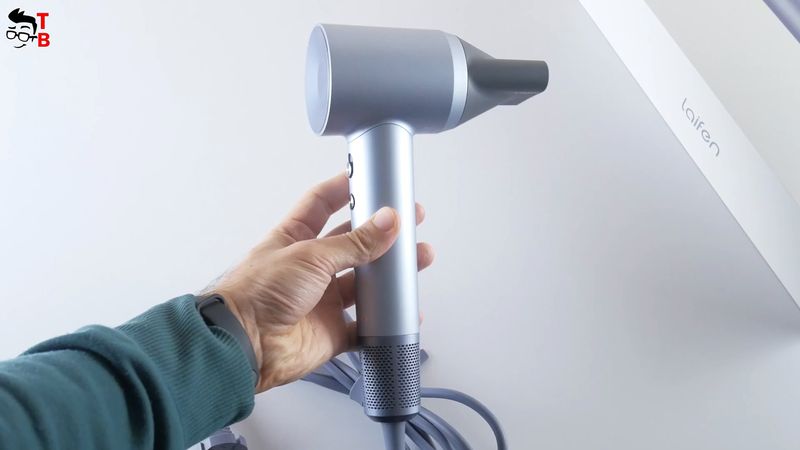 I also have a European plug, but you can choose a plug for USA/Canada, United Kingdome and Singapore, or Australia.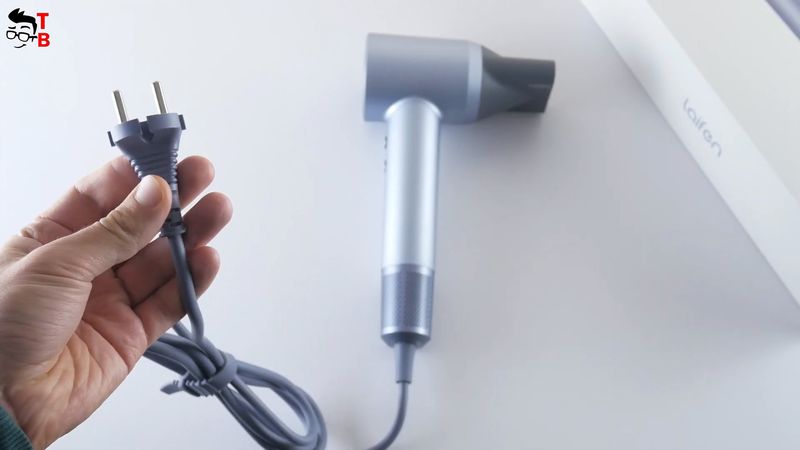 I am surprised that the company took care of the different plug versions. The other companies just put adapters in the kit.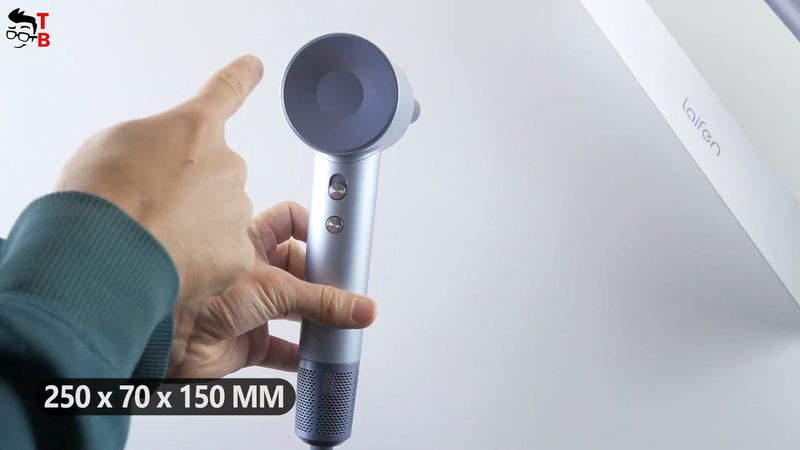 The dimensions of the Laifen Swift are 250 by 70 by 150 mm. The weight is 470 grams. So, this is quite compact and lightweight hair dryer. However, I wish a power cable was removable.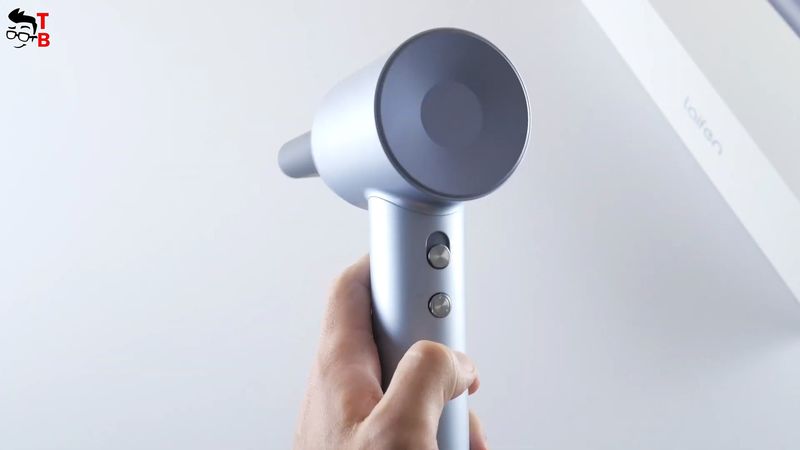 Laifen Swift has only two physical buttons. We will talk about control a little later.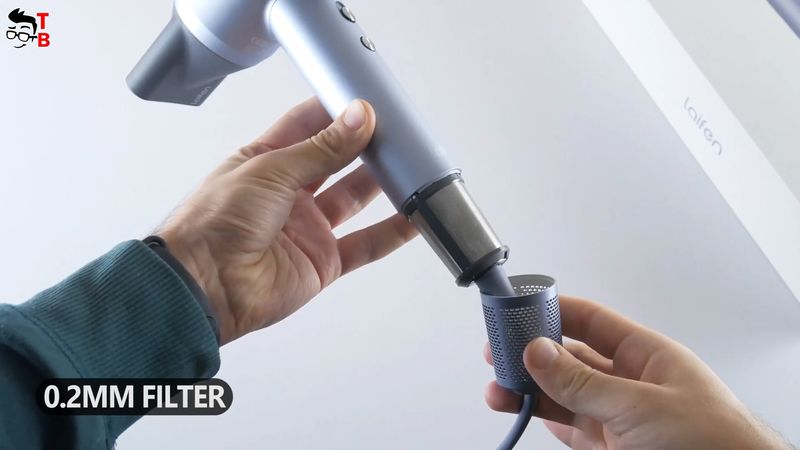 The new hair dryer also has a 0.2mm filter. From time to time, you will need to remove this part, which is attached on magnets, and clean the filter. As you understand, the air intake comes from here.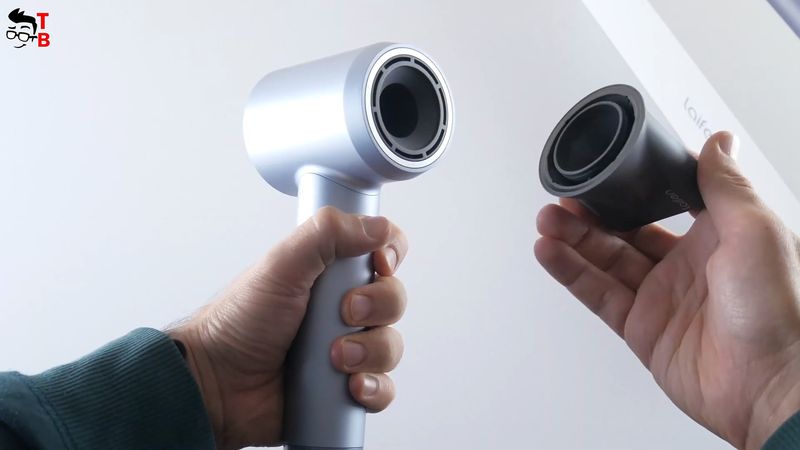 By the way, a nozzle also has a magnet attachment. It is very convenient and reliable. The nozzle is not easy to remove, so you don't have to worry about it falling off.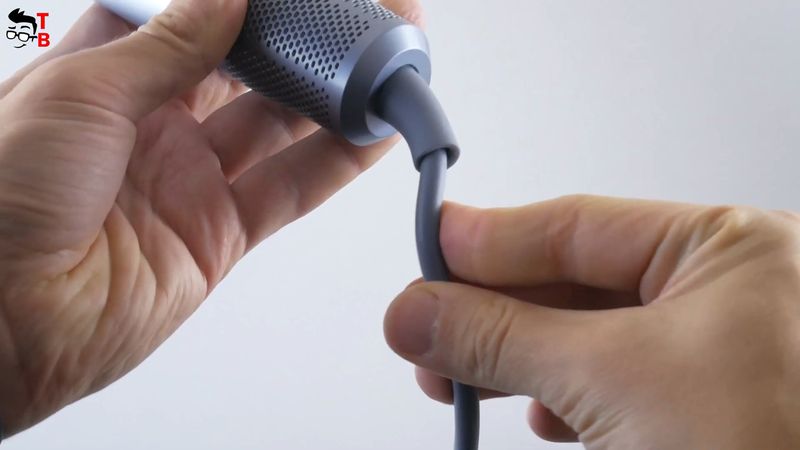 I also want to say that the power cable is made of thick rubber. I know that many hair dryers have problems with a broken power cable in this part. However, it doesn't look like Laifen Swift will have that problem.
Overall, the new Laifer hair dryer looks and feels very expensive and premium.
Now, let's talk about control.
Control
As I already said, Laifen Swift has two control buttons. Actually, there is a switch button to turn on the hair dryer, and change from the first and second speed modes.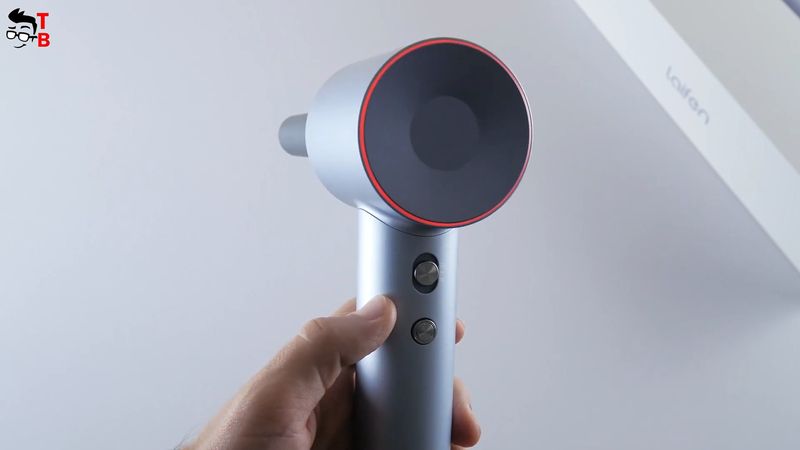 You can also press another button to change between cold, warm and hot air.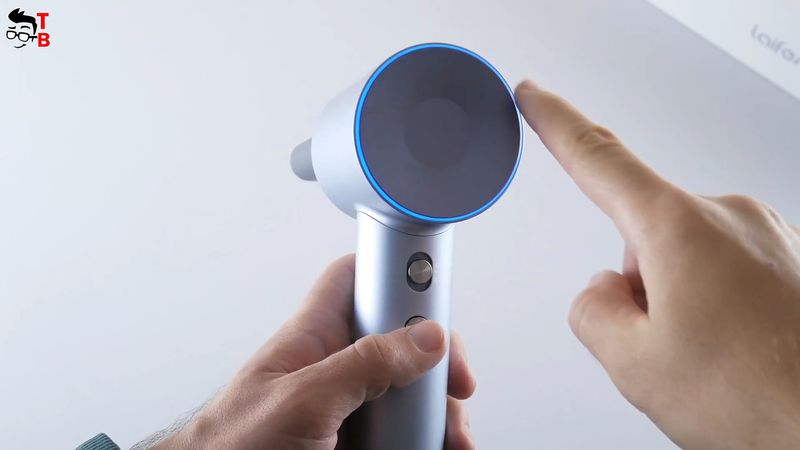 You know, Laifen Swift has 3-color LED indicator to let you know about cool, warm and hot air. By the way, the cool air is actually a room temperature. A warm air is 50 degrees by Celcius, and a hot air is 80 degrees by Celsius.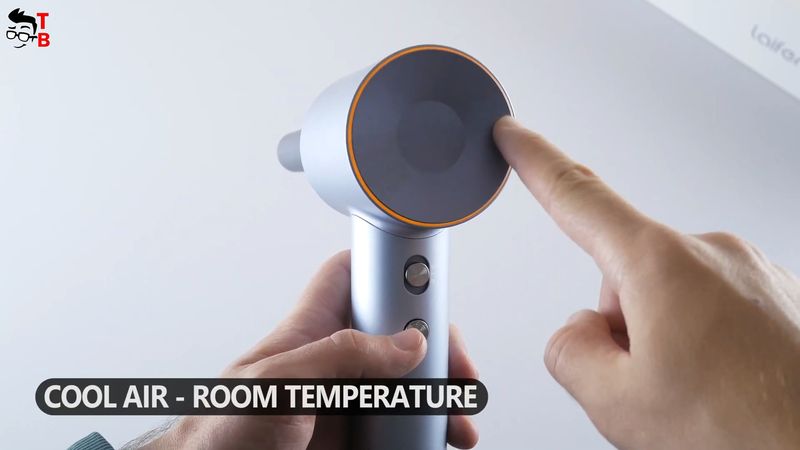 You can also long press on the button to turn on auto-cycling. The Laifen Swift has a built-in thermo-control microprocessor to monitor the air temperature 100 times per second, and makes automatic adjustments to protect your hair from being damaged by extreme heat. I think this is a terrific feature.
Motor power
Talking about a motor power of the new Laifen Swift, it is up to 100000 rpm.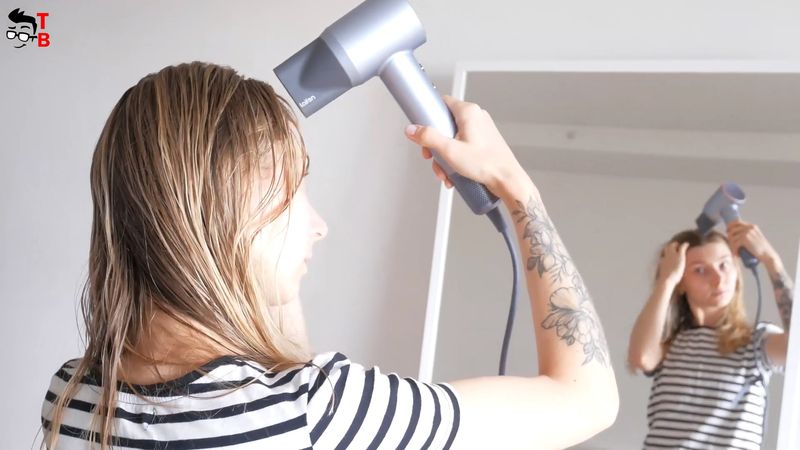 It is really powerful, and the company says that it takes only 1 minutes to dry the short hair, 3 minutes to dry a medium-length hair and only 5 minutes to dry a long hair.
Negative Ion Protection
Another feature of Laifen Swift is a built-in negative ion generator.
To be honest, I didn't know about this thing before testing a new hair dryer from Laifen, but it looks like a very useful feature. Laifen Swift releases over 200 million negative ion per cubic centimeter to protect and restore your hair.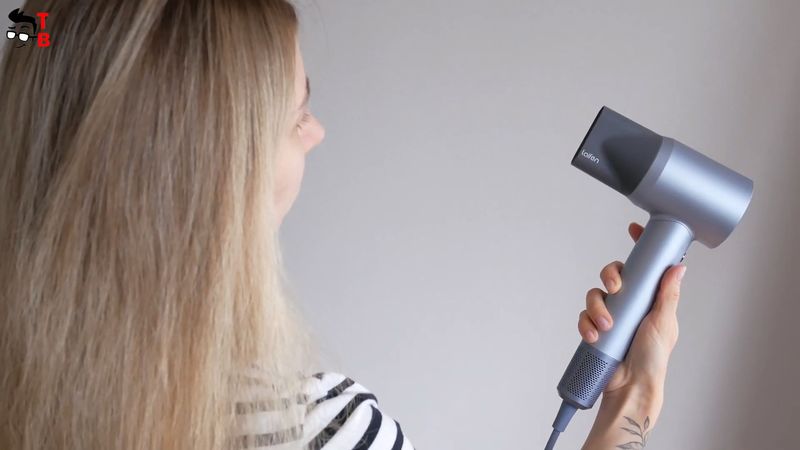 Did you have problems with static, frizz and flyaways after drying with other hair dryers? Well, that will not happen with Laifen Swift thanks to negative ion generator.
Noise Level
I also want to measure the noise level in different modes.
As I already said, there are two speed settings available in the Laifen Swift.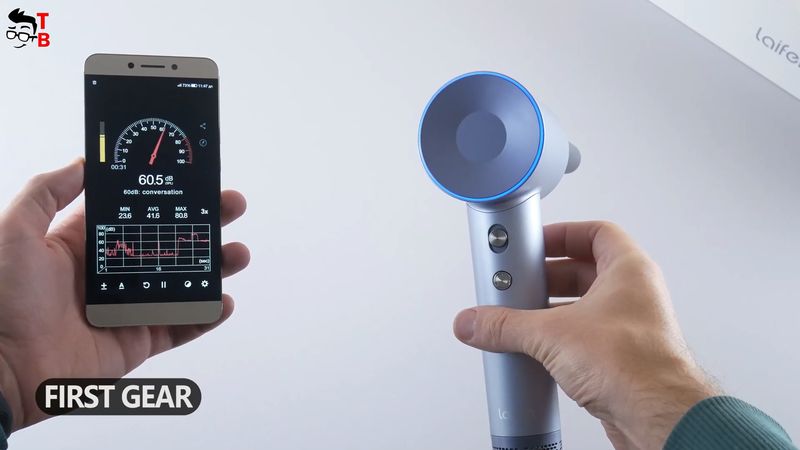 The noise level in the first mode is 60 db.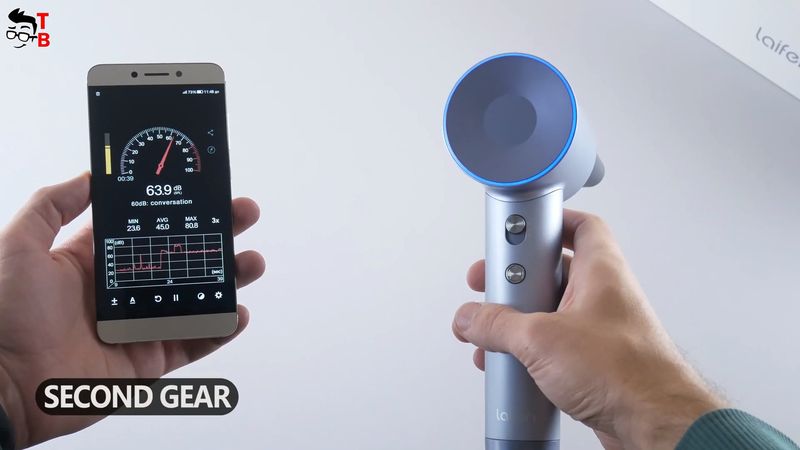 It is about 64 db in the second gear. So, this hair dryer is not very loud.
By the way, the noise level in the cold, warm and hot temperature modes doesn't change.
Conclusion
So, Laifen Swift looks like a premium hair dryer, but it is more affordable than its competitors. It has a powerful motor of 11000rpm, negative ion generator, temperature control, and many other features.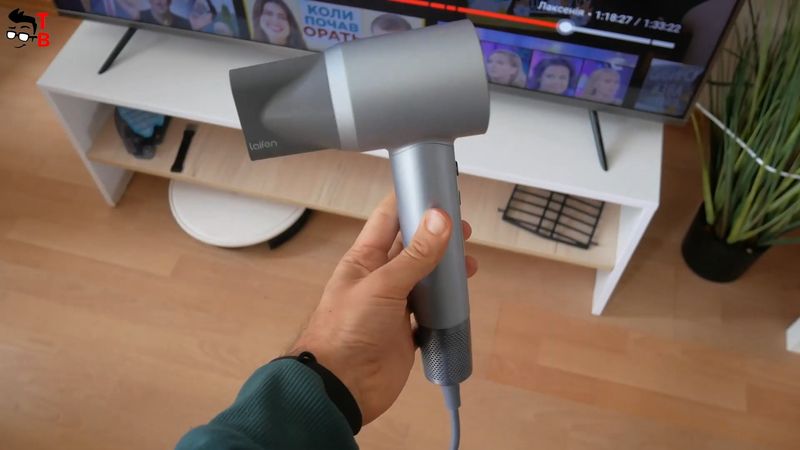 If you really care about the health of your hair, then you should take a look at Laifen Swift.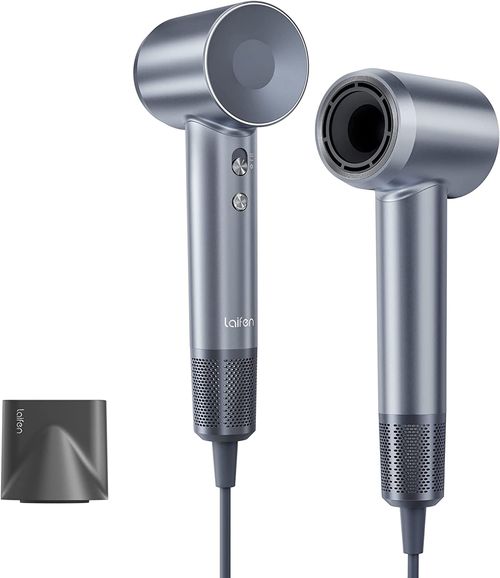 Laifen Hair Dryer, Negative Ionic Blow Dryer - Amazon - Extra $20 OFF COUPON
as of September 21, 2023 11:30 pm