You know, there are many smartwatches and smart bands in 2021. All of them have sports functions, such as steps, calories, and distance count, as well as heart rate monitor. Some of them even have built-in GPS. However, they are only fitness watches.
I know only Garmin produces professional smartwatches for sports. However, the products from Garmin are very expensive.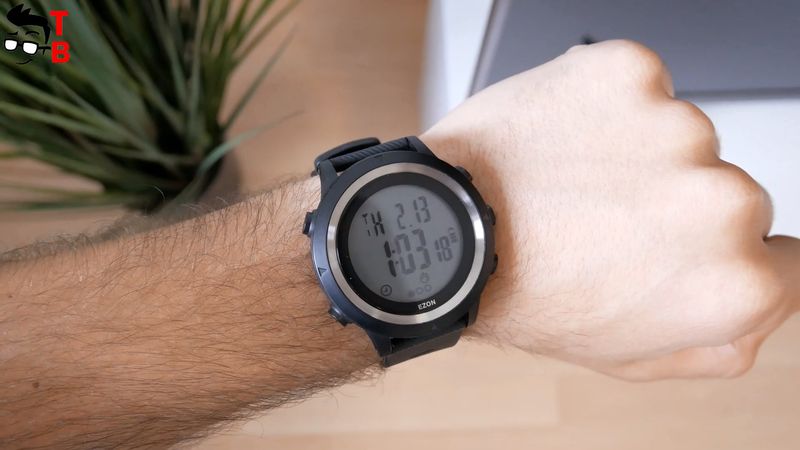 In this article, I want to tell you about a budget alternative to Garmin smartwatches. This is EZON T909C. The new watch has a built-in GPS, pedometer, optical heart rate monitor, 5ATM waterproof, and battery life up to 12 weeks in standby mode.
OK, it is a very unusual and interesting watch for me, so let's do an unboxing and a full review of it.
Unboxing
The new watch comes in a simple white box.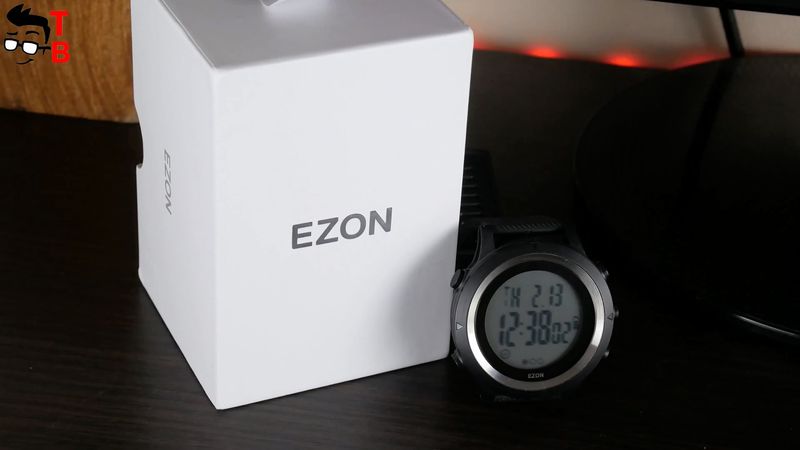 There is only a sticker on the back with trademark, standard, origin, and model.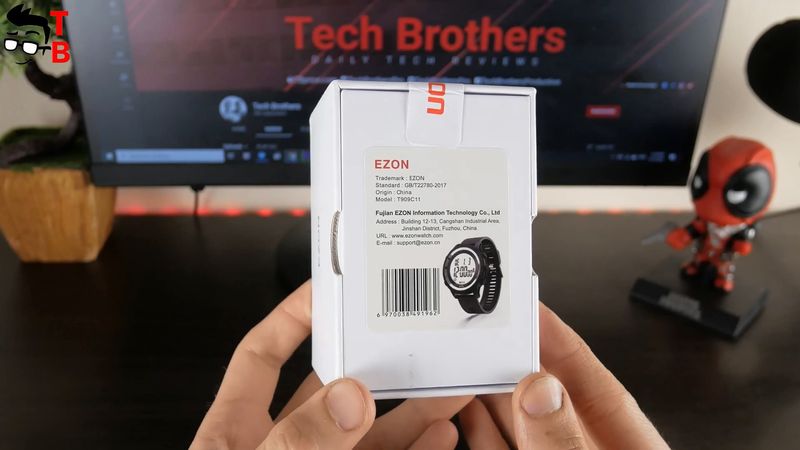 Inside the box, I found the watch itself, magnetic charging cable, and user manual.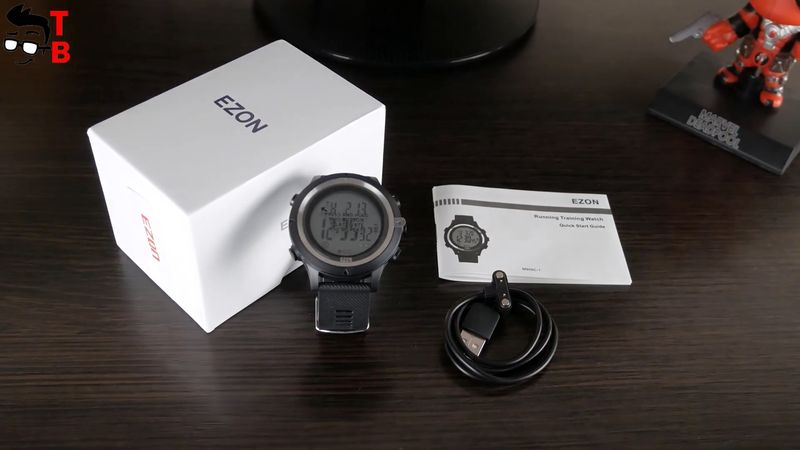 By the way, the user manual is really necessary because the controls and functions of this watch are not the same as on other fitness bands.
Design
As you can see, the EZON T909C watch has a round dial. There is a silver circle around the dial, and five physical buttons on the left and right sides.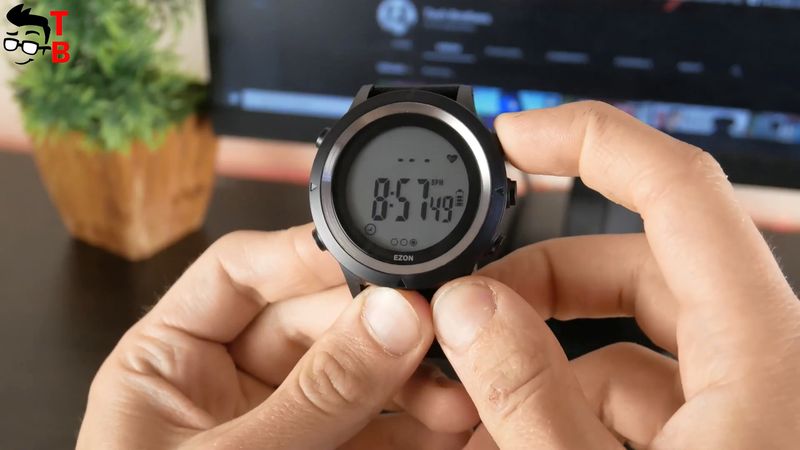 The screen is not touch-sensitive, so you can use only physical buttons.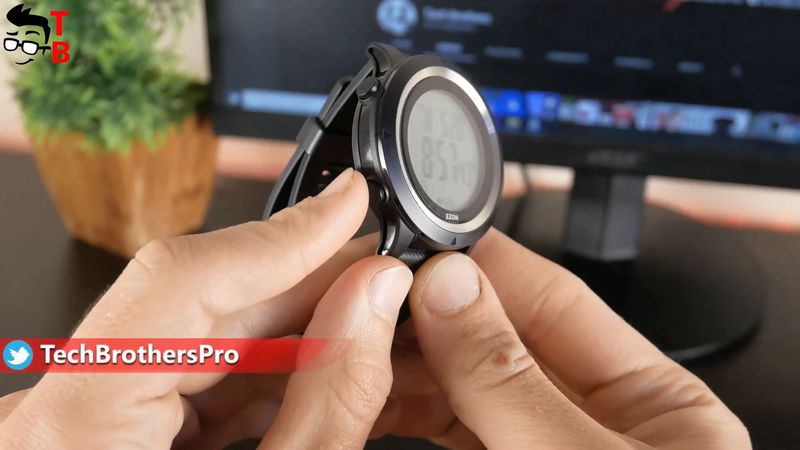 On the back, there is a heart rate sensor and charging contacts.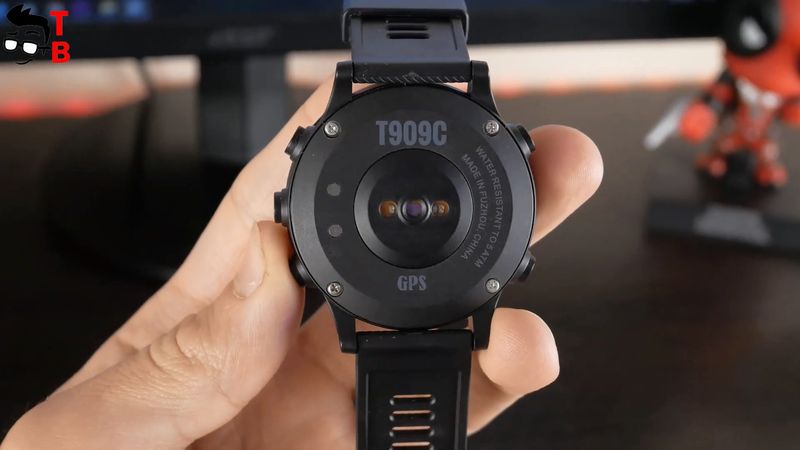 The strap is made of silicone, and it is not removable.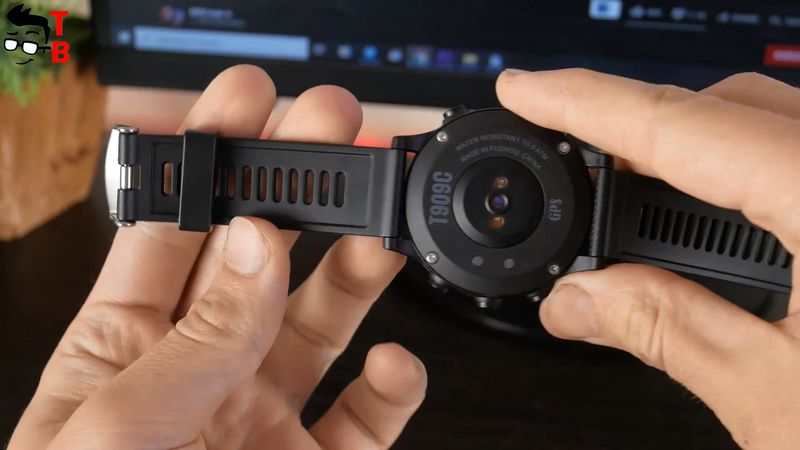 As I already said, the watch is waterproof by ATM5 standard.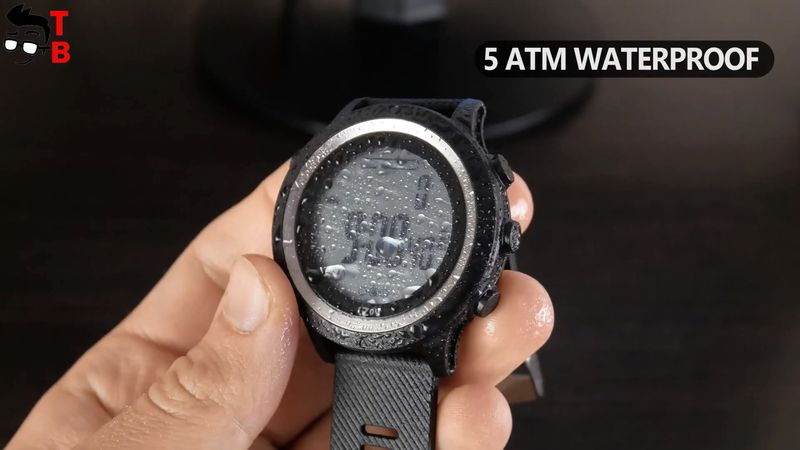 It means that you can wash your hands, take a shower, and even swim with this watch, but the manufacturer doesn't recommend diving or go in the sauna with it.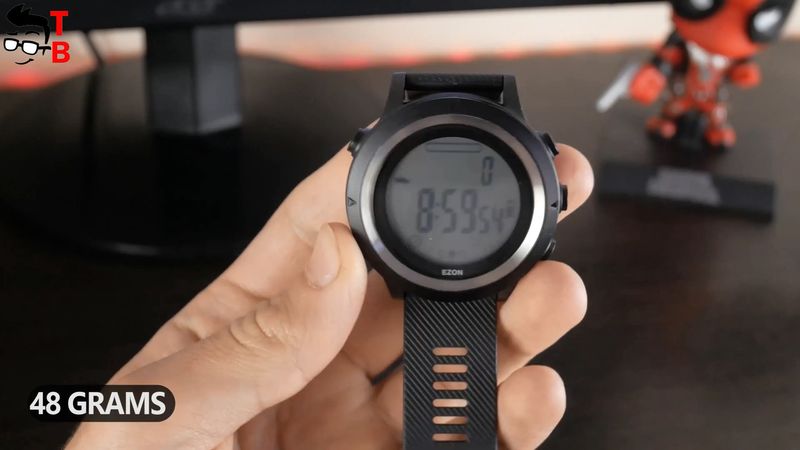 You know, EZON T909C really looks nice, but more importantly, it is very comfortable. The weight of the watch is only 48 grams.
Functions
As I said, all control of the watch is done with physical buttons. In the user manual, I found that this is an A button, B button, C, D, and E Buttons.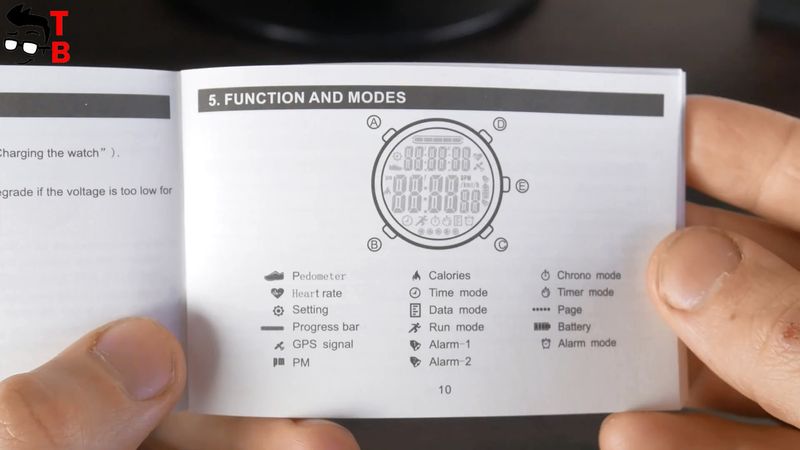 When you do nothing on the watch, then you see a screen called time mode. Here we can see the time, day of the week, date, and battery level.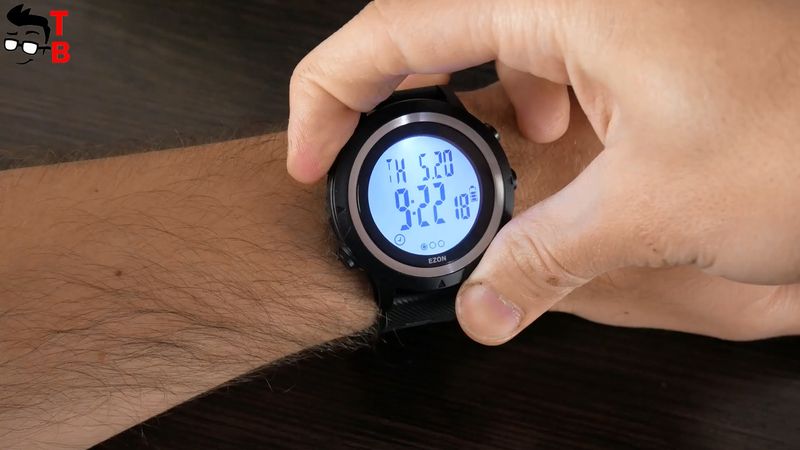 You can press and hold the A button to set the time.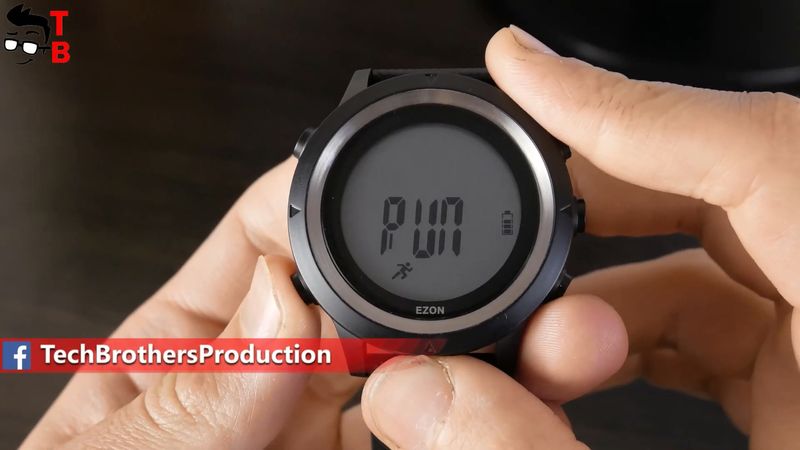 The watch has six modes, such as time, run, chrono, timer, data, and alarm.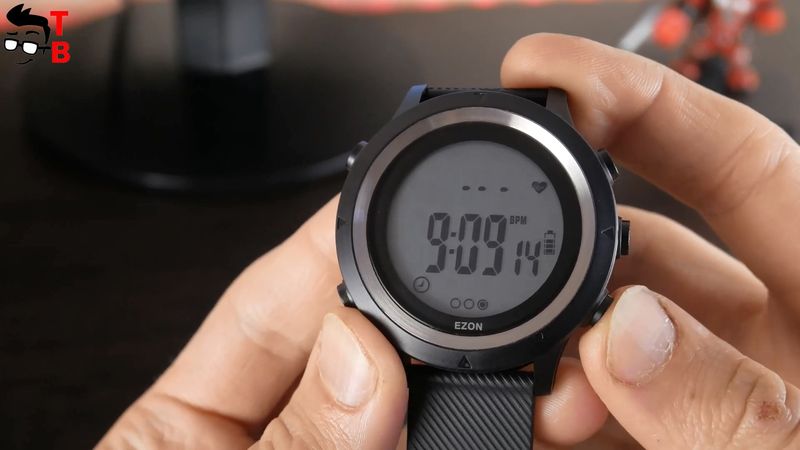 If you can want to see the steps, you have taken during the day, then press the C button in time mode. You can press the same button again to measure heart rate.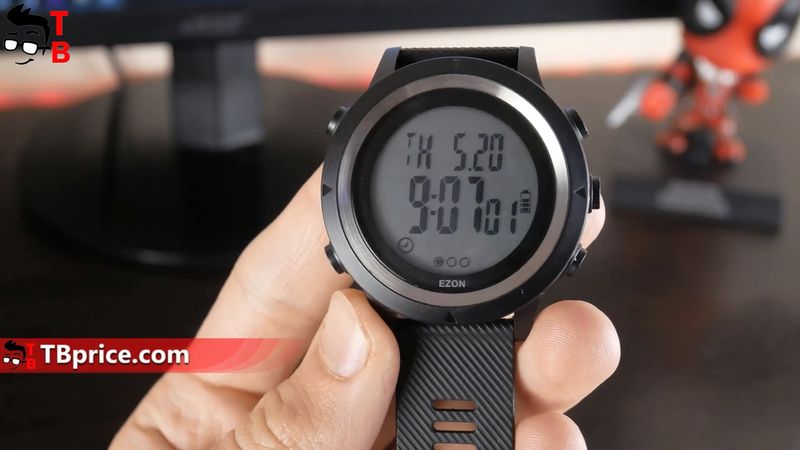 The D button makes the same but in reverse order.
There is also an E button, and if you press it, you will go into run mode. First, the watch will search for GPS signal, and then you will see running time, distance, heart rate, pace, speed, and time. You can press the E button to pause/start the running.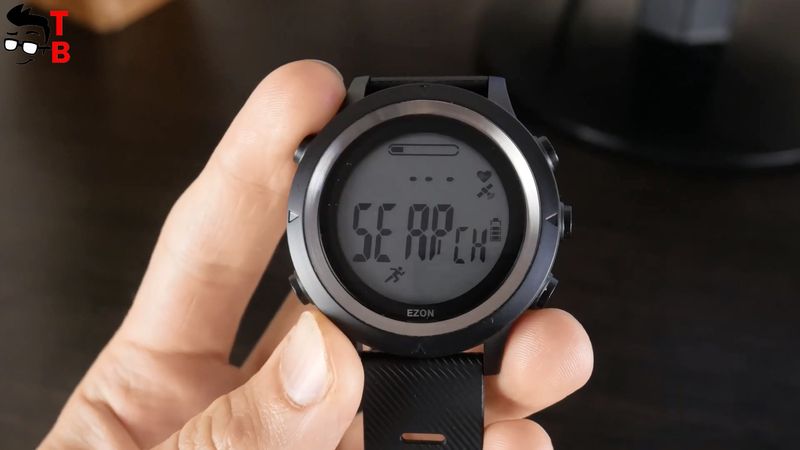 Also, I want to show you chronograph mode. When running or racing on the track, you can use the chronograph to measure each lap's duration. At the top is a total time, and at the bottom is a lap duration.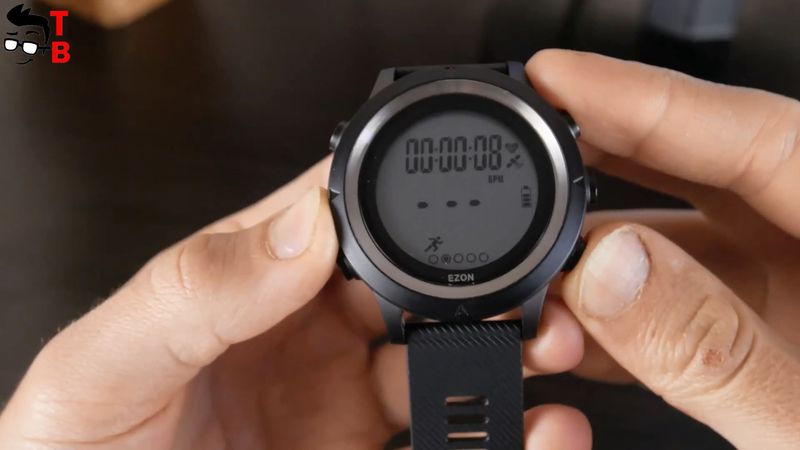 You know, at first, it is quite difficult to understand the controls and settings of the watch, but after reading the user manual, everything becomes clear. So, if you have some problems, just read the user manual. It is really good. You can also write your questions in the comments below, and I will try to answer them.
Battery
One of the main features of the EZON T909C is battery life. The watch is equipped with a 250mAh battery. The manufacturer promises 14 weeks of battery life on a single charge, but this is in standby time.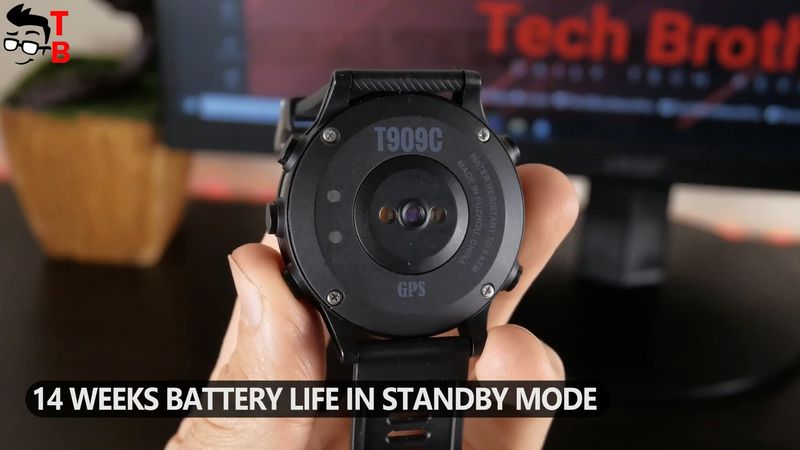 If you use GPS and a heart rate monitor all the time, then the watch will last 8 hours. You know, it is still very good battery life.
Conclusion
Unlike other fitness watches and bands, EZON T909C is a real sports watch. It has a monochrome screen, which is great in direct sunlight. There are also physical buttons instead of the touch screen to control the watch. If you run, cycle, or do other sports, you know that using a touch screen is not comfortable.
The watch also has built-in GPS, chronograph mode, and long battery life.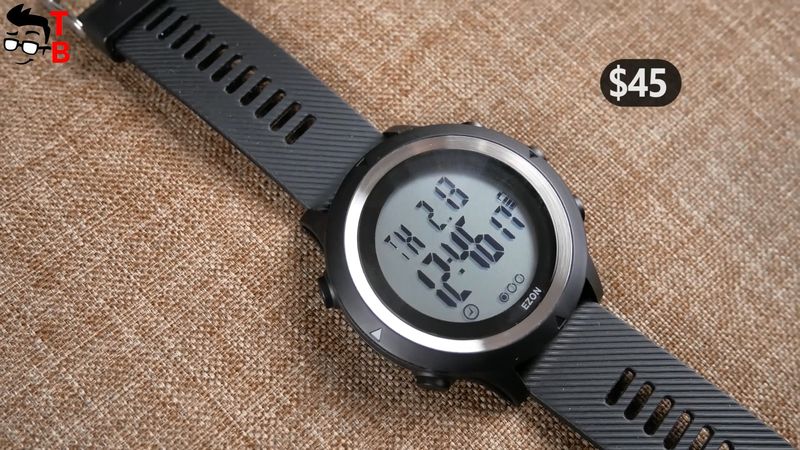 By the way, I didn't tell you the price of this watch. You can buy it on Aliexpress for only $45. I think EZON T909C is a good budget sports watch, as well as an alternative to expensive Garmin smartwatches.