As you might have already guessed from the title of this article, as well as the image on this box, today we will be doing a full review of the new projector from GROVIEW Company with a model name JQ818C.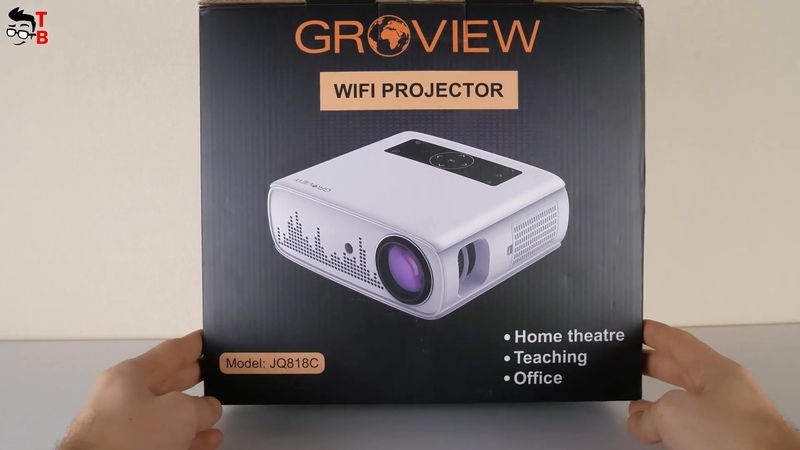 We can also read on the box that this projector is designed for home theater, teaching, and office.
Let's do a quick unboxing and then I will tell you about the main features of the GROVIEW projector.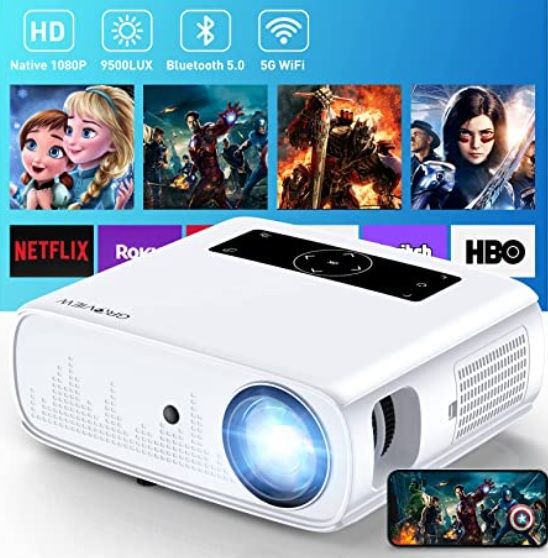 GROVIEW 9500L Native 1080P Projector - COUPON: Groview10 - 34% OFF DISCOUNT
Buy it now

Amazon.com
as of June 26, 2022 11:12 pm
Unboxing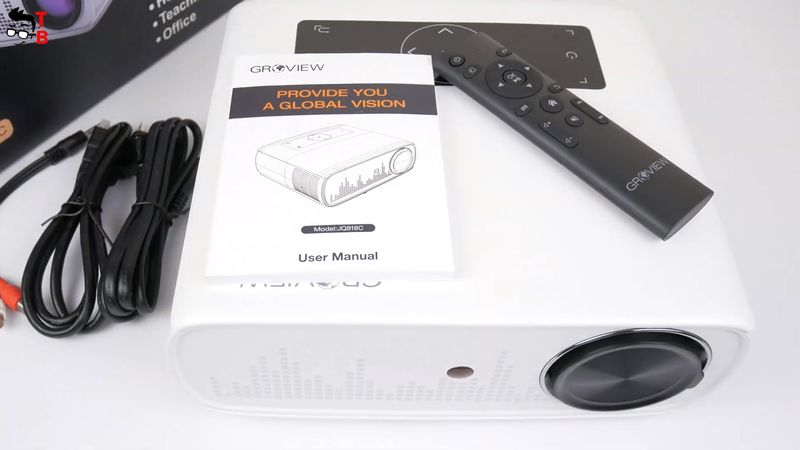 So, inside the box, we have a projector itself, remote control, power cable, HDMI cable, and audio cable. However, the new projector supports 5G Wi-Fi, so probably you won't need any of these cables except the power cable, of course.
Key Features
So, 5G Wi-Fi is one of the main features of the GROVIEW projector. You can connect Android, iOS mobile devices, or even laptops to a projector via Wi-Fi. Later in this article, we will check this function.
GROVIEW projector also has Full HD native resolution, 9500 Lux brightness, Bluetooth 5.0 support, Dual Speaker, and up to 300 inches screen size.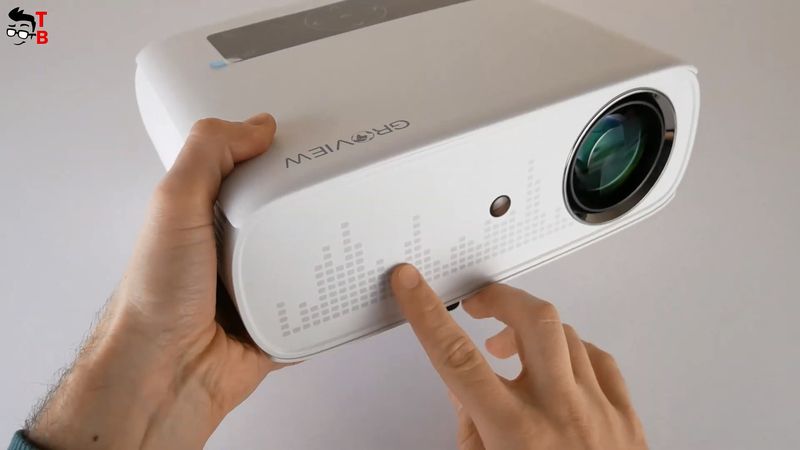 Design
Talking about the design, the projector has a white plastic body. Only the control panel at the top is black.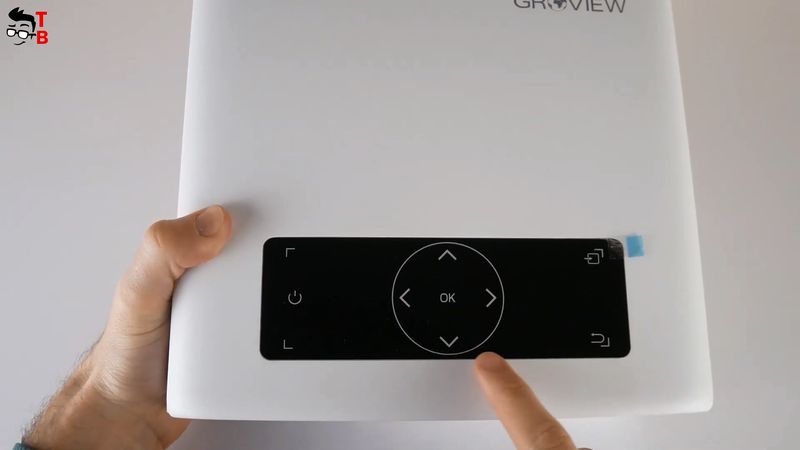 By the way, there are touch buttons on the control panel. It is very unusual and interesting. There is a power button, source, return, arrow keys, and OK.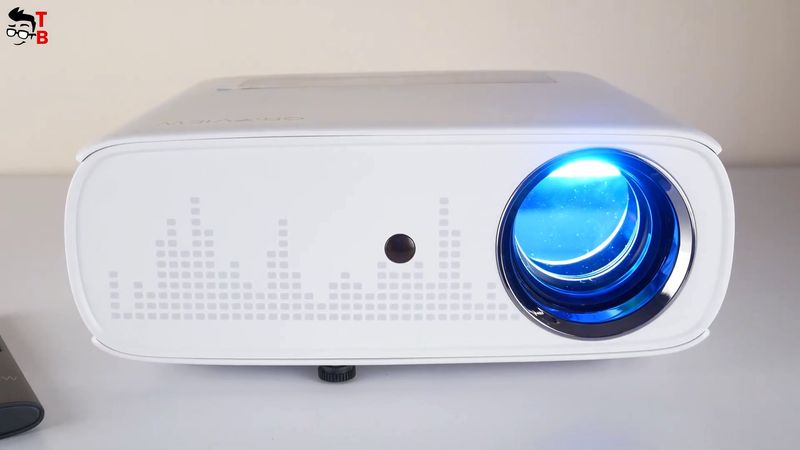 On the front of a projector, we can see a lens, IR receiver, and a pattern similar to the sound equalizer. I think it looks very nice.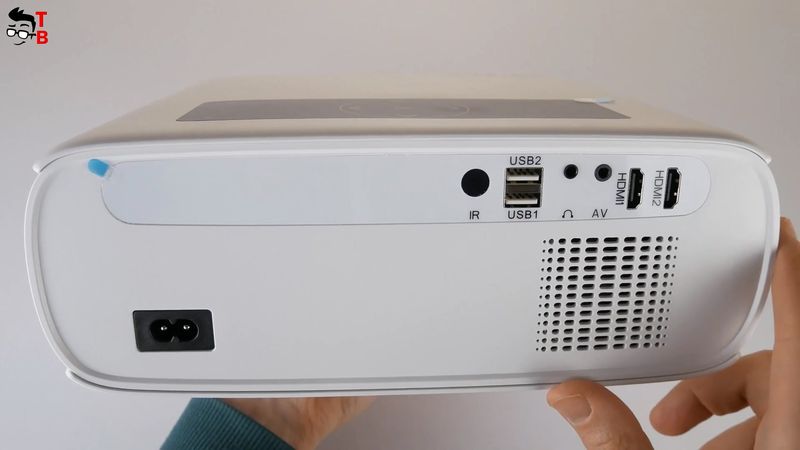 On the back, we have a power switch, the second IR receiver, two USB ports, a 3.5mm audio jack, an AV port, and two HDMI ports. There is also a speaker grill on the back of the projector.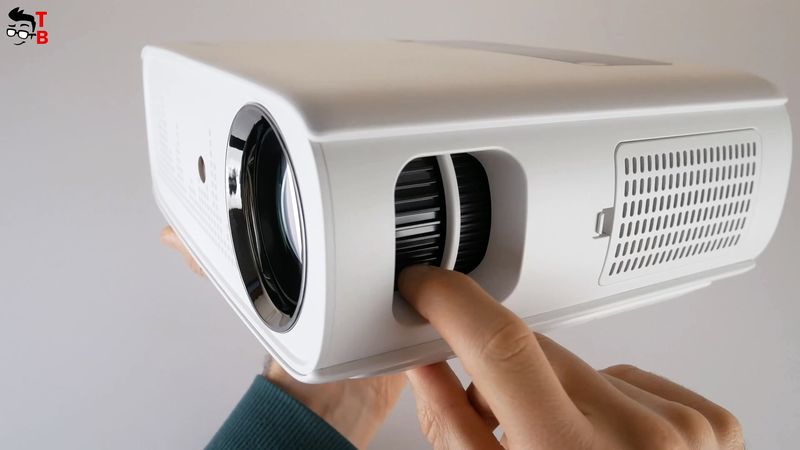 The focus adjustment wheel and keystone correction wheel are located on the left side. You can also pull this lock to remove the dust screen. You should clean this filter from dust at least once a month.
On the right side of the projector, there is only a cooling window.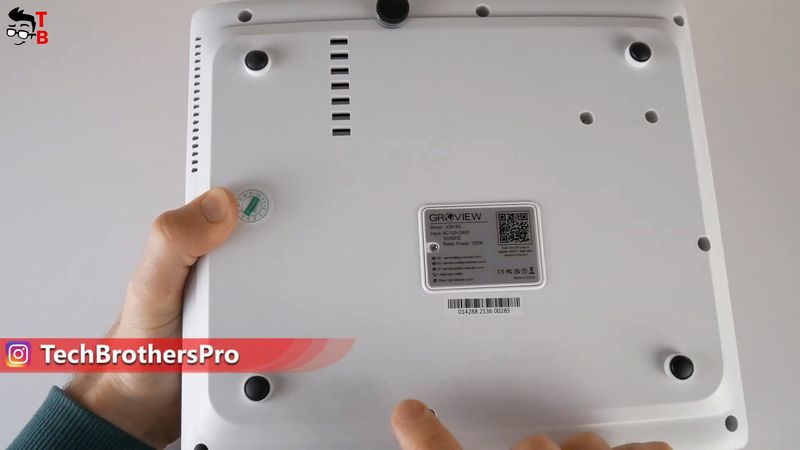 Unfortunately, there is no tripod mount at the bottom, but we have kickstand and ceiling mount holes.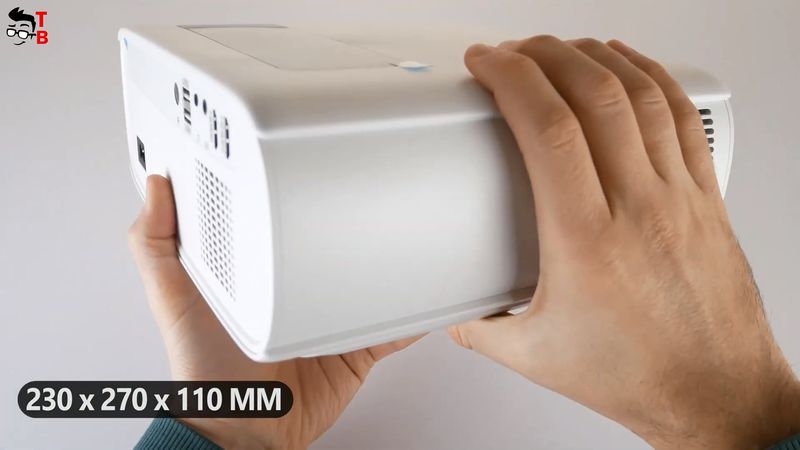 I should also mention the size of the GROVIEW projector. It is 230 x 270 x 110 mm.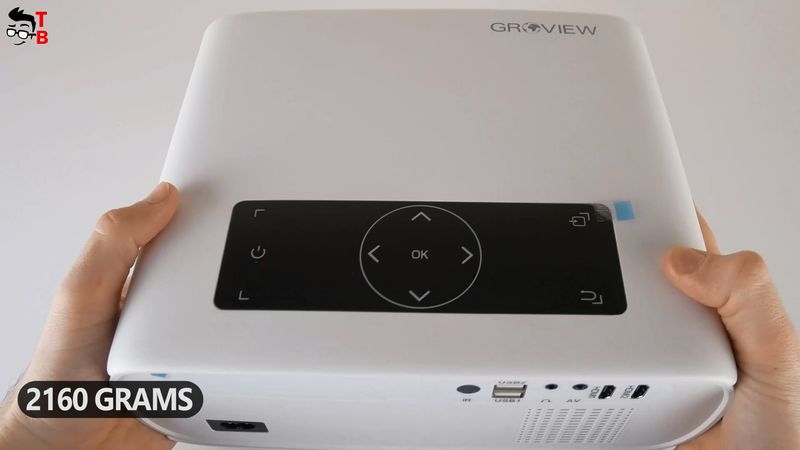 The weight is 2160 grams.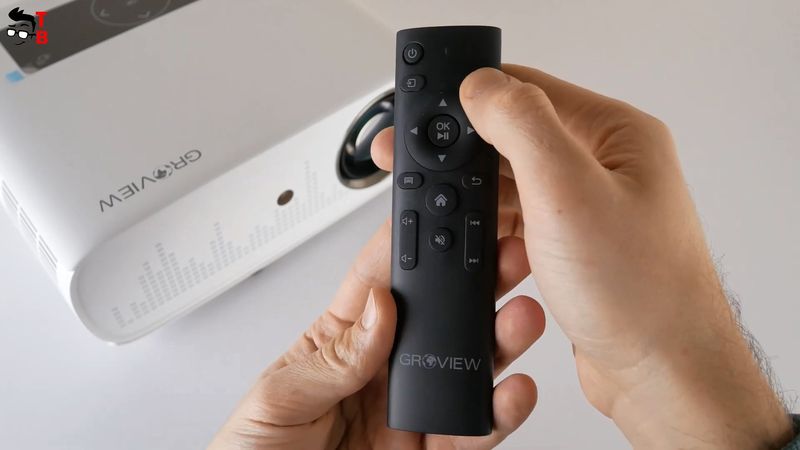 Remote Control
The remote control has a brand logo GROVIEW, and some useful buttons, such as source, flip the screen, navigation buttons, home, return, volume up/down, and mute.
By the way, a remote control is powered by two AAA batteries.
Settings Menu
OK, that's all about design, and now we can turn on the projector and look at the settings menu.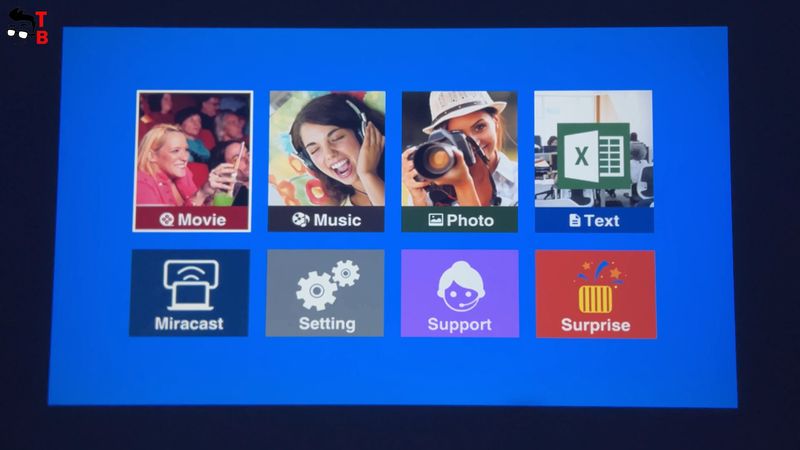 First, we can select a section, such as a movie, music, photo, and text.
Then, there is a Miracast, settings menu, support, and surprise. What is a surprise? As you can see, this is a warranty, new item test, and VIP customer group. If you want to get them, you need to contact the company directly.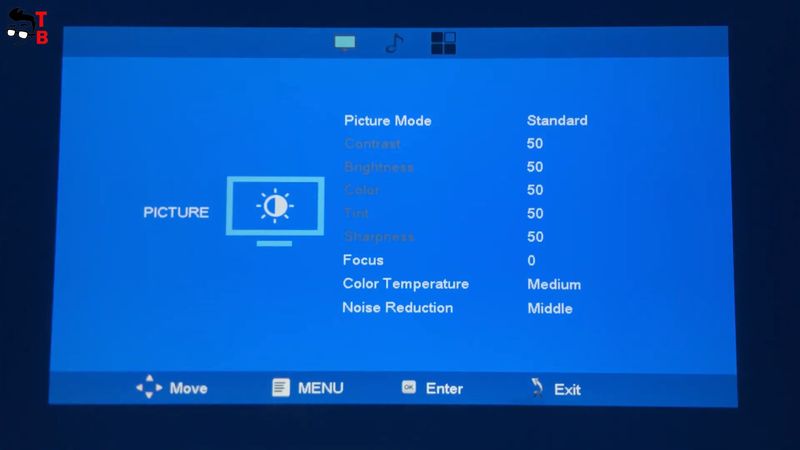 In the settings menu, we can choose a picture mode from standard, dynamic, mild, and user. We can also change contrast, brightness, color, tint, sharpness, and focus in the settings menu. The other options in this menu are color temperature and noise reduction.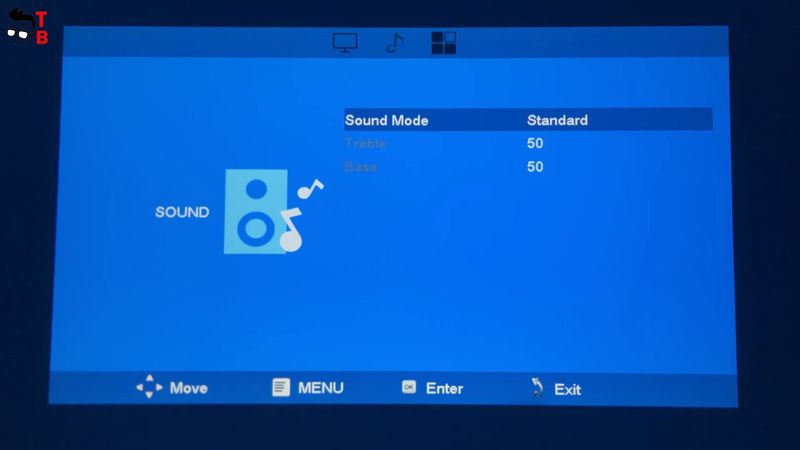 In addition, the new projector has sound settings, where we can select a sound mode and change the treble and bass.
By the way, GROVIEW projector supports different languages, including English, Spanish, Italian, and many others.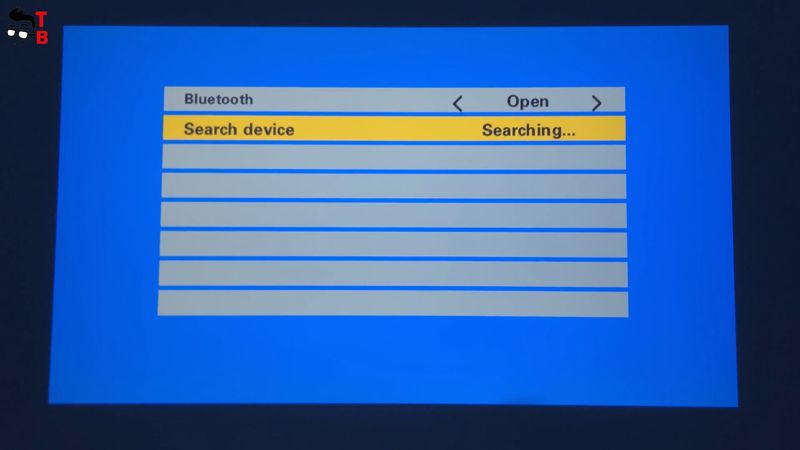 There is also a Bluetooth option in this menu. As I already said, the projector supports Bluetooth 5.0 technology. You can connect an external speaker to a projector. However, I have tried to use a projector as an external speaker to my smartphone, but it doesn't work.
Speaker Quality
If we started talking about the speaker, let's check its quality.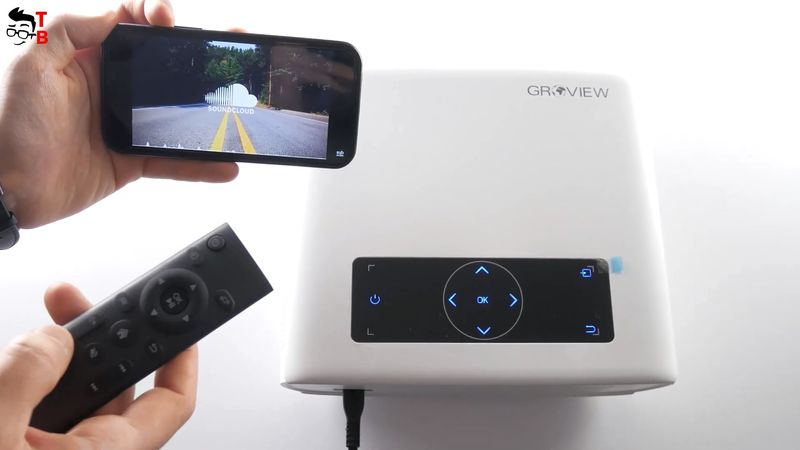 You know, a speaker is very loud. I think it is better to use at 60-70% of volume. It also has good bass. In my opinion, the built-in speaker of the GROVIEW projector is enough for home theater. You don't need the external speaker. However, if you want, there is a 3.5mm audio jack and AV port on the projector.
Noise Level
I also want to measure a noise level. I feel like the projector is not noisy.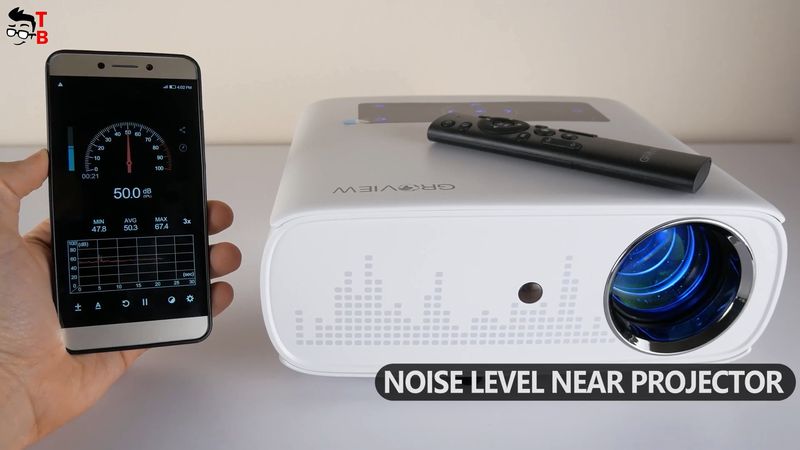 As you can see, the noise level is about 50 dB close to the device, and about 35 dB at a distance of 1 meter.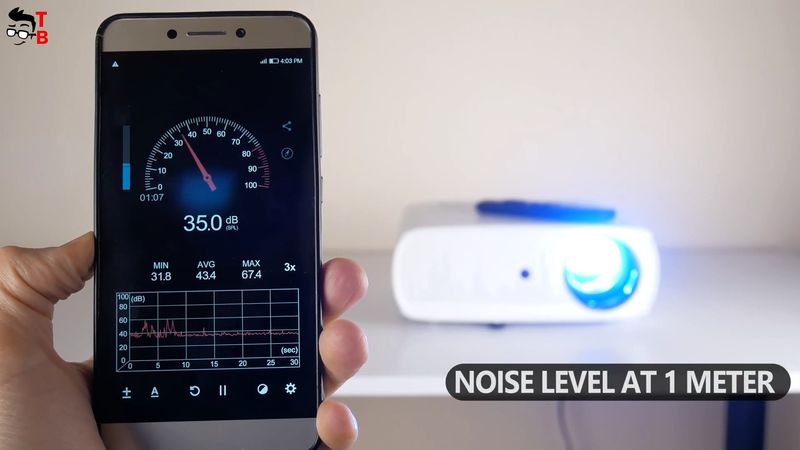 That's very good.
Wi-Fi and Screen Mirroring
We also need to check another feature of the GROVIEW projector. I mean 5G Wi-Fi and screen mirroring. It is very simple to connect a smartphone to a projector via Wi-Fi. You just need to go to Wi-Fi settings on your mobile device and select DualCast80DAB.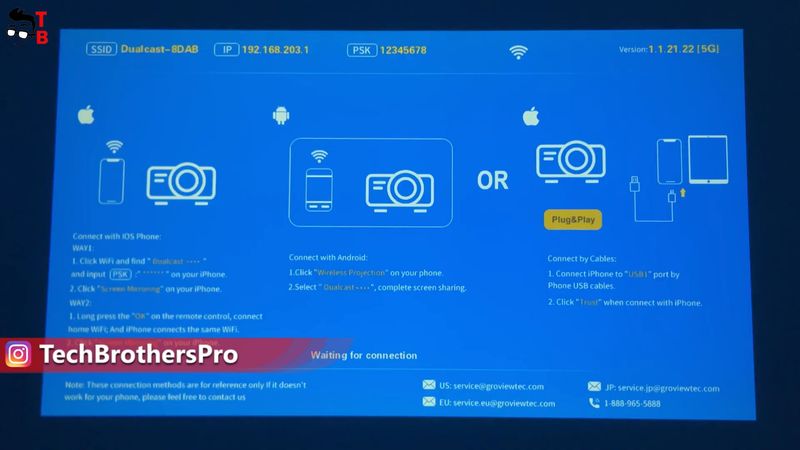 After that, go to screen mirroring and select DualCast80DAB. That's all!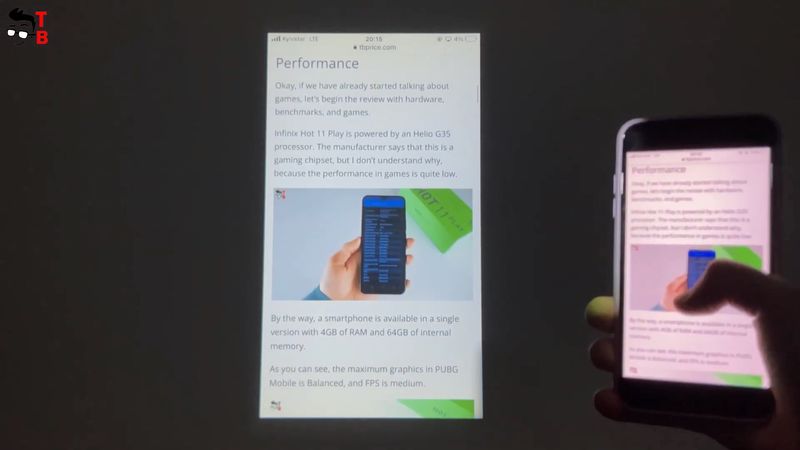 You know, latency is really lower through 5G Wi-Fi, but I'm still not sure if playing games will be comfortable. However, the projection quality is good, so you can use this method for watching videos or even document demonstrations in the office.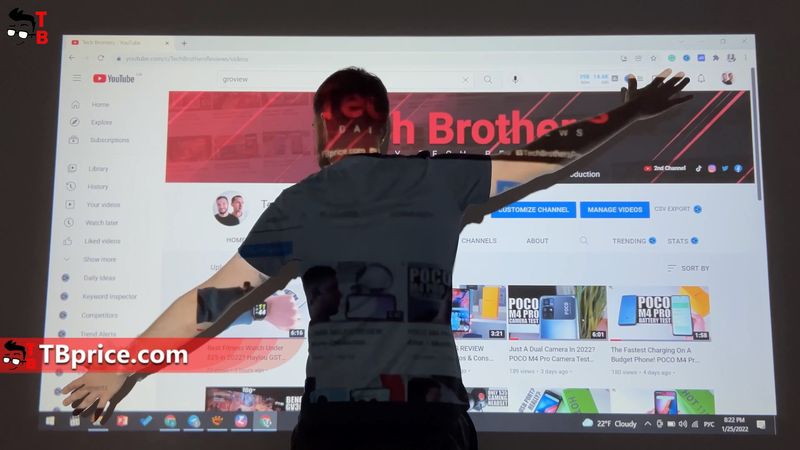 Projection Quality
Finally, we can check the image quality of GROVIEW projector. So, I have placed a new projector at a distance of about 2 meters from the wall, and I have a screen size of about 100 inches. By the way, a projector is connected to the laptop via HDMI cable.
You know, the picture is very clear, thanks to Full HD resolution. You can really use it for teaching and office. The text is very readable.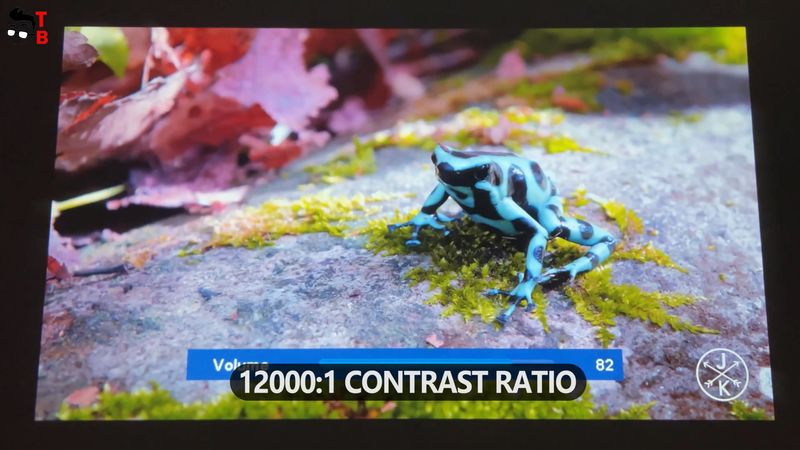 Talking about colors, the GROVIEW projector has a 12000 to 1 contrast ratio. I think that colors are not blurry, as it often happens with budget projectors.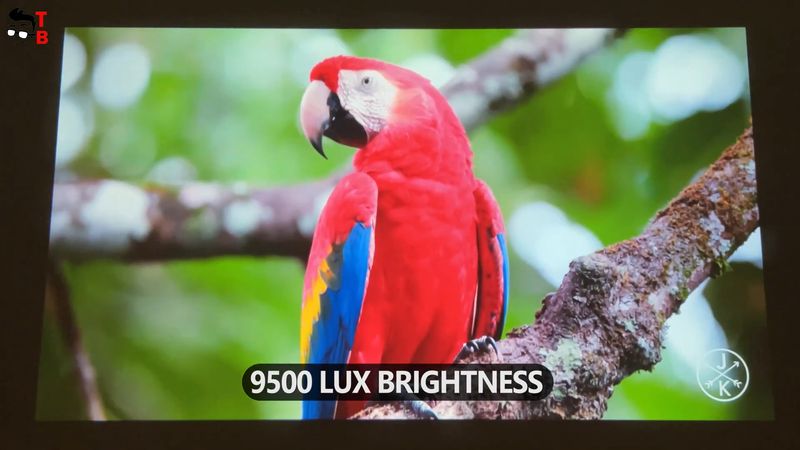 The brightness of GROVIEW projector is 9500 Lux. I have a very useful article about different units of brightness for projectors. So, LUX is not the same as lumens or ANSI.
On this picture, we can see that lumens are a luminous flux. In other words, this is the total amount of light produced by a light source.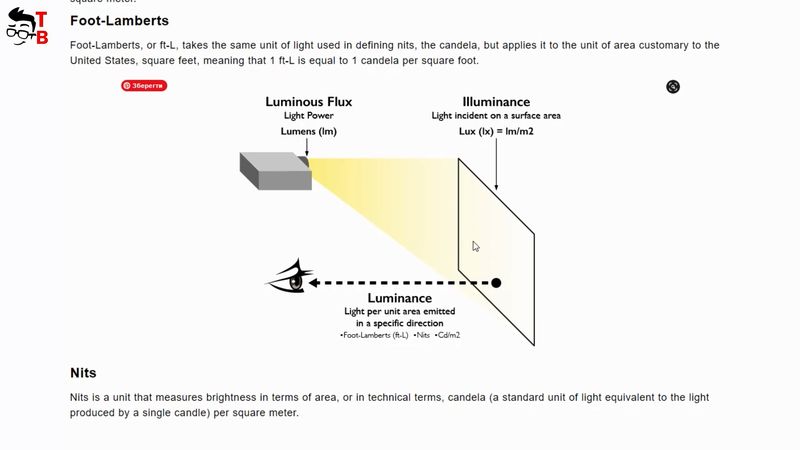 However, the GROVIEW Projector has 9500 Lux, not lumens. The lux is an illuminance or the light incident on a surface area.
Unfortunately, I didn't find any information about the lumens or ANSI of the GROVIEW projector. Anyway, the brightness of it is very good.
The projector can also be used during the day, but it is better to close the blinds.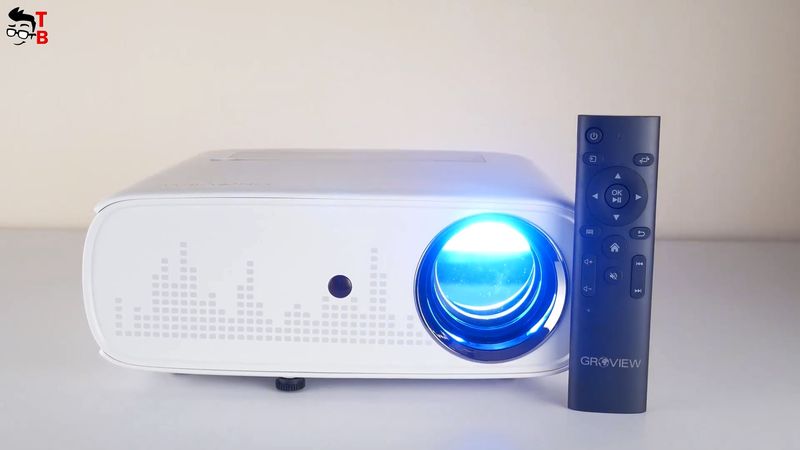 Conclusion
You know, I like the new GROVIEW projector. First, it has a good image quality, thanks to Full HD resolution, 12000 to 1 contrast ratio, and 9500 Lux brightness.
One of the main features of this projector is dual-band Wi-Fi support. The connection of a smartphone to a projector is very fast and easy. I am not sure that it is suitable for gaming, but it is definitely a good method for mirroring videos, photos, and documents.
I also like the design of this projector. It has a clean white body, touch control panel, removable dust filter, and many connectors.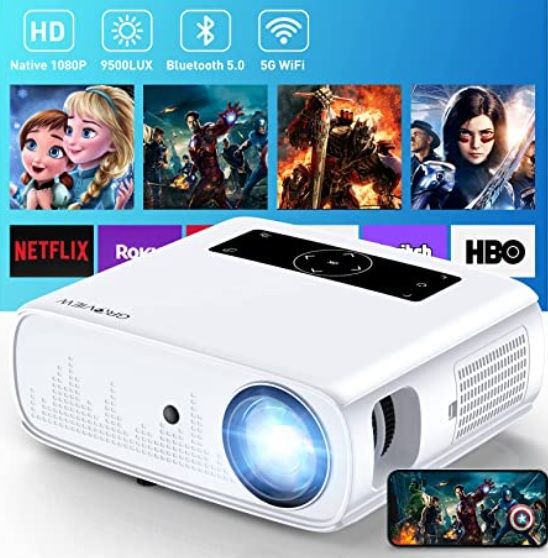 GROVIEW 9500L Native 1080P Projector - COUPON: Groview10 - 34% OFF DISCOUNT
Buy it now

Amazon.com
as of June 26, 2022 11:12 pm